Complete Guide to Cannabis Dispensary Tours in Los Angeles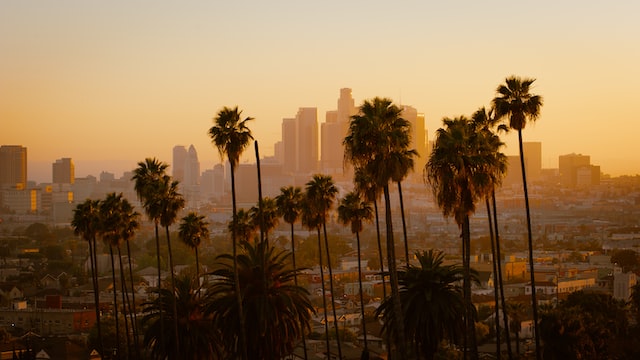 Since California became one of the states to lead the way in legalizing marijuana, the cannabis tour has become one of the fun ways that you can see the sights of this world-renowned city, find the best spots for marijuana, and have a fantastic time. Weed has been legal since 2018 in the city, and there's always plenty to do in LA, including some very exciting cannabis tours.
What is a Dispensary Tour?
A dispensary tour is a chance to explore some of the hotspots for weed. It's a bit like a music fan going on a tour of the best places for buying vinyl. You can go to a legal medical marijuana dispensary in Los Angeles and take advantage of all of the fun of recreational cannabis. In fact, you can go to a whole bunch of them on one of these cannabis dispensary tours.
Why is Los Angeles the Best Location for Dispensary Tours?
LA has led the way in cannabis tours, and because of the fact that it is popular with tourists of all varieties, the weed tours cater for everybody's needs. Californians know how to have a great time. There are a few different tours you can go on, and they allow you to find all the best, trusted, and legal cannabis spots.
How to Buy Cannabis during Dispensary Tours?
Most of the recriational marijuana dispensaries you'll visit on your tour won't require you to be a resident of the city, to buy recreational marijuana. They will all ask you for ID cards to prove your age though, so make sure you take something with you for this. On top of this, some cannabis dispensaries only take cash. The legalities of marijuana are a complex issue, and this means banks don't always work with dispensaries. It's totally legal, just make sure you have some dollar bills with you. When visiting a dispensary, budtenders can offer advice and guidance on choosing the right cannabis strain for your desired effects and experience.
Best Cannabis Tours in LA
Green Line Trips
Green Line Trips is a really luxurious day out! It starts in some of the coolest spots, like Hollywood or Venice Beach. You can learn from experts on marijuana and actually pick up loads of exciting info as well as tips on what you can buy. It's about sightseeing as well as buying, and it also shows how the cannabis industry works in the city, including where is weed grown. It's still a party atmosphere, though!
Weed Bus LA
All aboard the weed bus. This takes you through weed dispensaries and more, and even some pot lounges where you can chill and enjoy your weed. There are daily deals on marijuana, and you can visit dispensaries with specific offers linked to the bus. The "munchies crawl" is a great idea, too. You can go in the weed bus on a tour of some great spots to get food to satisfy those cravings.
Dispensary Tour
If you just need to find a reliable legal marijuana dispensary in Los Angeles, there are some dispensary tours you can use to go around the ideal spots to pick up some recreational weed.
What are the common questions from tourists?
One of the most common questions is "is this allowed?" and the answer is "yes" as a tourist you can take weed in the city, but be aware that there are some guidelines, and just because it is legal doesn't mean that your workplace won't carry out drug tests. Tourists visiting areas where cannabis is legal for recreational use often have questions about the laws, regulations, CBD/THC ratios and products available. Here are some common questions from tourists:
What are the

legal age and possession limits for cannabis

? Legal age and possession limits for cannabis vary depending on the state or country. It's important to research the specific laws and regulations in the area you are visiting to ensure compliance. Similarly, regulations around where you can

consume cannabis

also vary and may prohibit public consumption or consumption on federal land.
What is the ideal CBD/THC ratio? The ideal CBD/THC ratio varies based on individual preferences and desired effects. It's important to consult with a healthcare professional or experienced budtender for guidance on choosing the right ratio.

 

What are the different types of cannabis products available? There are various types of cannabis products available, including edibles, concentrates, topicals, and more. Each product type can have different effects and potency levels, so it's important to research and choose the right product for your needs.
How can I ensure the quality and safety of the products I purchase? To ensure the quality and safety of the products you purchase, look for dispensaries or licensed retailers that adhere to testing and labeling requirements. Check for labels indicating the product's THC/CBD content, testing results for contaminants, and other important information.
Can I

take cannabis products with me on a plane

or across state lines? It is illegal to take cannabis products across state lines or on a plane. Tourists should consume or dispose of their cannabis products before leaving the state.
Where can I find dispensaries or licensed retailers? To find licensed dispensaries or retailers, research the area you are visiting or use online directories or maps to locate nearby dispensaries or retailers. It's important to verify that the dispensary or retailer is licensed and adheres to regulations before making a purchase.
It's important to note that the laws and regulations regarding cannabis vary by location, so tourists should research and familiarize themselves with the specific regulations in the area they are visiting.
Social Cannabis Consumption Laws
Social cannabis consumption laws refer to regulations that allow for the legal consumption of cannabis in social settings, such as at lounges, cafes, or other designated areas. These laws vary by jurisdiction and can include specific rules around age limits, licensing requirements, and consumption guidelines.
You can't just consume weed wherever you want. If you have a private location in the city, you can enjoy marijuana there, or you can use specific spots for smoking weed. The cannabis recreational laws state that local jurisdictions might allow you to smoke on premises, so this means it is up to businesses what they allow.
In some places, such as parts of California, Colorado, and Oregon, social consumption lounges are legal, allowing individuals to consume cannabis in a social setting outside of their private residences. However, in many other places, social consumption is still illegal and can result in fines or other penalties.
Some jurisdictions have also enacted "bring your own cannabis" laws, which allow individuals to bring their own cannabis to designated consumption areas, while others require businesses to provide the cannabis products for consumption.
Overall, social cannabis consumption laws are still a relatively new and evolving area of regulation, and the specifics can vary significantly by location. It's important for individuals to research and understand the laws and regulations in their specific area before consuming cannabis in a social setting.
Conclusion
The marijuana industry is truly thriving in California, and the weed buses and tours in LA prove that this is one of the best places to go as a marijuana tourist. Take a little time to familiarize yourself with the rules first, and you can enjoy the cannabis dispensary tours like a local. There are also some amazing spots to satisfy your "munchies."
News
Stay home & get your daily
needs from our shop
Start You'r Daily Shopping with Nest Mart
Best prices & offers
Orders $50 or more
Free delivery
24/7 amazing services
Great daily deal
When you sign up
Wide assortment
Mega Discounts
Easy returns
Within 30 days