The Best Badass Dab Rig for Your Style and Preferences: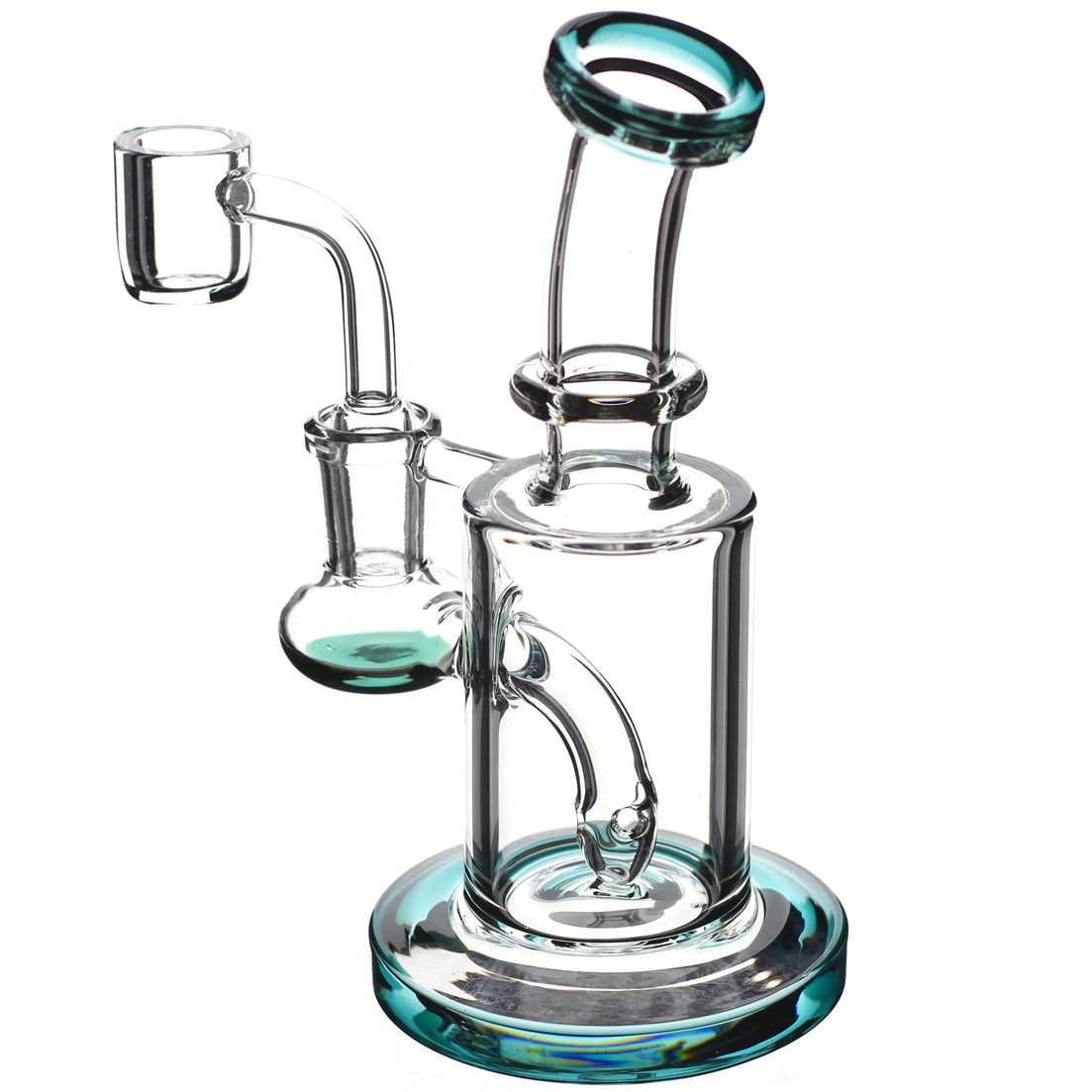 Your needs may need clarification when choosing the proper Badass dab rig. Still, we've compiled an overview of dab rigs with various features to consider when selecting the most suitable Badass dab equipment.
Types of Dab Rigs:
Recyclers: Recyclers combine the silky smooth feeling of a bong with the strength that a dab rig can provide. It can give you some of the best smoking experiences.
Glass: The glass rigs are great for easy hits, an elegant appearance, and capturing the full flavor of your Terpenes. However, remember that they are glass, and breaking is possible.
Silicone: Silicone rigs are intended for smokers who may break their pieces.
Mini: Portable and convenient Mini rigs can be the best way to go, as they easily fit into your bag or backpack. They are also ideal for their subtle appearance and more accessible storage.
Electric: Avoid the use of butane using an electronic dab rig. To ensure optimal temperature control and quick warm-up, e-rigs can be powered by batteries.
Dab Rig Size:
Small dab rigs typically are less than 6-7 inches and are more convenient to smoke on the move. For more intense smoking sessions or more consistent daily dabbers, a 9 to 10" tall dab rig is ideal for big hits and simple cleaning.
Durability:
A general rule is that the more solid the glass is, the stronger it will likely be. Of course, all glass can break over time. To get the most durability, silicone dab rings are the best option.
Brand:
Selecting the best brand depends on several variables; however, you should choose a brand with positive reviews and transparency in its processes and manufacturing. Badass Glass is one of our favorites for its quality smoking, smoking, and general maintenance.
Budget:
Be aware of the amount you are willing to pay, as it can affect the quality of your dab device.
Why Choose Badass Glass Dab Rigs?
Badass hopes to make the buying experience as easy as possible by offering top-quality products that align with their requirements. Be assured that the rig you purchase for dabbing will be of top quality and checked for defects before sending it to you.
They adhere to the highest quality of service and are committed to ensuring your product is of excellent quality. The dab rigs they sell are complete and ready to use. The crystal clear glass they use comes from trusted brands and includes some of the most popular companies.
Badass glass is committed to giving customers the best shopping experience, so they ensure that each glass item they include on their site has appealing designs and weight. Contrary to other sites that offer cheap items in their catalog. They have some tremendous miniature Badass dab rigs that you can dab with. They offer many options if you're looking for glass dab rigs or sturdy silicone.
Are Badass Glass Dab Rigs Worth It?
Glass dab rigs are a favorite because of the ease at which they can vaporize concentrate. Dab rigs are worthwhile if you like concentrates, which many people do. Rigs are excellent for a variety of reasons.
They maximize the production of vapor and minimize the amount of waste.

They can last for a long time when properly maintained and cleaned.

They perform better than other gadgets and gadgets.

You can regulate the temperature by simply applying heat more or less.
A dab nail functions similarly to a bong bowl, so people are so into them. However, dab nails are usually made from quartz to withstand higher temperatures and give a pleasant flavor. This is why glass dab rigs are suitable for all kinds of concentrates regardless of consistency. Although many electronic rigs work at a single temperature, a conventional glass dab rig allows you to adjust the temperature using more significant or lesser heat.
How Do Badass Dab Rigs Work?
The Badass dab rig operates by heating the nail or banger until the appropriate temperature. The exact temperature will depend on the particular product that is consumed. A dab extract is put into a super hot nail and then vaporized. A carb cap or dome prevents the vapor from escaping. Inhaling the smoke, it moves from the nail, down the downstem, before entering the chamber for water, like a bong of old in which that water chills vapor creating a smooth, delicious inhalation.
Precautions of Dabbing
Dabbing is one of the most potent types of Cannabis and should be handled with respect and caution. Start small pin-sized dabs and then gradually alter the size of your dab according to your requirements. It is always possible to take another dab.
When You Consume Too Much Cannabis Concentrate:
It is impossible to overdose on Cannabis. If you take too much, reduce dab consumption and let your body break down the cannabinoids within your system. Relaxing, drinking plenty of water while resting, or even showering can aid in calming you down if your dab experience is intense. Also, peppercorns and lemon peels have been proven to reduce any effects of Cannabis. Following your dose, you'll experience the severe impact of Cannabis for one to two hours.
Be Careful with Your Torch and Nail:
The nails and torches can become extremely hot. Nails can heat up to 900 degrees Fahrenheit that's far enough to cause third-degree burns. Dab torches are made to create intense heat and must be kept away from all flammable substances and surfaces. When handling torches and nails with high temperatures, always be cautious.
If properly used, the dab rig could be an unforgettable experience. It allows you to discreetly and easily smoke Cannabis in a non-toxic form that doesn't cause ash inhalation. Be sure to take it slow, keep your temperature at a minimum, and be cautious about extreme temperatures.
News
Stay home & get your daily
needs from our shop
Start You'r Daily Shopping with Nest Mart
Best prices & offers
Orders $50 or more
Free delivery
24/7 amazing services
Great daily deal
When you sign up
Wide assortment
Mega Discounts
Easy returns
Within 30 days