What Are Bong Bags And What Are They Used For?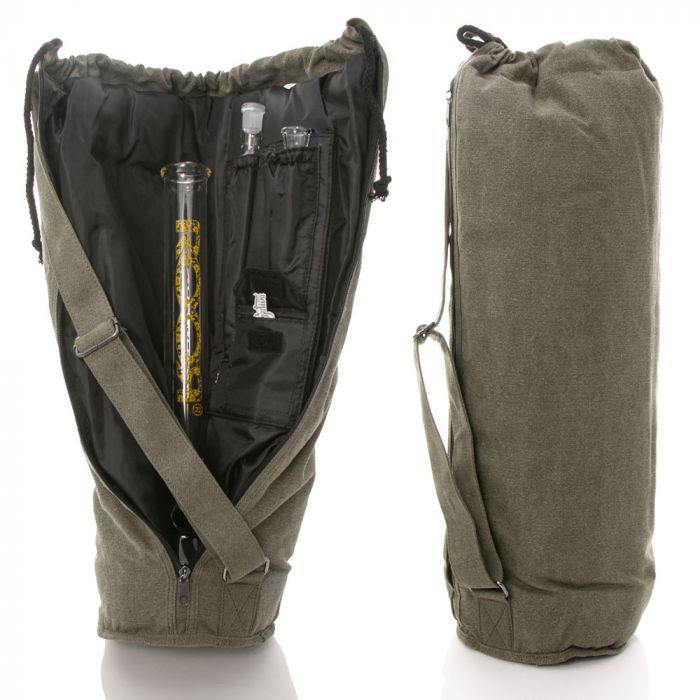 Bong bags are bags designed specifically for carrying bongs. They are typically made of sturdy materials and have padded compartments to protect the bong from damage. You can find bong bags at most head shops or online retailers that sell smoking accessories. Bong bags protect your bong while you transport it from place to place. 
Bong Bags are often used to store and transport bongs, pipes, and other smoking paraphernalia. They can also be used to protect your bong from breakage or damage. Bong Bags typically have compartments for different items, and some even have built-in ashtrays.
Compartments and Safety Considerations in Bong Bags
A bong bag is a carrying case designed for bongs and water pipes. Bong bags typically have several compartments to accommodate different types of bongs and accessories and padding to protect the delicate glass. Many bong bags also have features like straps and handles for easy transport.
When using a bong bag, it's important to be mindful of the different types of bongs and how they should be packed. For example, straight-tube bongs should be placed upright in the bag, while beaker-style bongs can be packed lying down. It's also a good idea to wrap each bong in a protective layer, like a towel or bubble wrap, before placing it in the bag.
As far as strains and effects go, many different types of bongs can be used to enjoy a variety of cannabis strains. Some common strains that are often used with bongs. The effects of these strains can range from relaxation and stress relief to euphoria and increased creativity.
Regarding safety considerations, it's important to remember that bongs can get very hot. Be careful when handling hot glass; never touch a hot bong directly with your bare skin. It's also important to keep your bong clean and free of debris, as this can lead to problems like clogged airways or dirty water.
Some tips for choosing the right bong bag or case
When you're ready to take on the go, you need a bong bag or case to protect your investment and keep your smoking gear organized. Here are some tips for choosing the right bong bag or case:
Consider the size of your bong. You'll want a bag or case that's big enough to accommodate your bong but not so big that it's cumbersome.
Think about how you'll be using your bong bag or case. If you plan on traveling with your bong, you'll need a durable bag or case with plenty of padding to protect your bong from bumps and to jostle.
Choose a material that's easy to clean. Bongs can get pretty dirty, so you'll want a material that's easy to wipe down or wash out.
Pick a style that suits your personality. Bong bags and cases come in all sorts of designs, so choose one that fits your style.
Remember the extras! If you want to be able to store other smoking gear like pipes and lighters, look for a bong bag or case with extra compartments or pockets.
How to Choose the Best Bong Bags?
Bong cases also offer protection for your bong, allowing you to store it in a discreet location. Bong bags come in all shapes and sizes, so how do you know which is right for you? Here are a few things to consider when choosing the best bong bag for your needs:
Size: How big is your bong? You'll want to ensure the bag you choose is large enough to accommodate it.
Material: Bong bags are typically made from nylon or canvas. Consider which material will better protect your bong during transport.
Padding: Some bong bags have extra padding to help protect your bong. If you're concerned about breakage, look for a bag with padding.
Style: Bong bags come in all styles, from plain and simple to flashy and colorful. Choose the style that best suits your personality.
Things to Consider When Buying Best Bong Bags
Bong bags and cases offer a variety of benefits for those who enjoy smoking out of bongs. These bags help protect your bong and keep it clean, making it easier to transport. When you are looking for the best bong bag, there are a few things that you will want to take into consideration.
The first thing is the size of the bag. You will want to ensure that it is large enough to fit your bong and all the accessories you need.
The second thing is the material of the bag. You will want to ensure that it is durable, lasts longer, and protects your bong.
The third thing is the price. You will want to find a bag that is affordable but also has all of the features that you are looking for.
What Are The Different Types Of Bong Bags?
There are a few different types of bong bags available on the market. The most popular type is the zippered bong bag, which features a zipper closure and typically has a padded interior to protect your bong. 
Another popular type is the drawstring bong bag, which has a drawstring closure and is often made from a durable, water-resistant material. Finally, hard-case bong bags are also available, offering the ultimate protection for your bong, but they can be more expensive.
Bong Bags for Sale:
Bong bags are a new way to enjoy your marijuana. These fun and unique containers help you smoke your weed in style. Whether you're a fan of colorful designs or prefer classic monochrome styles, there's a bong bag for you. And if you need some inspiration, check out our selection of the best bong bags on the market.
Are you looking for a unique gift for that marijuana smoker in your life? Well, bong bags are sure to fit the bill. These fun and functional bags can be bought in a variety of colors and designs, and they make great gifts for any occasion. These bags come in all sizes, so they're perfect for either adults or kids. And since they're made from durable materials, bong bags can last for years. So whether you're a new pot smoker or an experienced one, don't be without your very own bong bag.
News
Stay home & get your daily
needs from our shop
Start You'r Daily Shopping with Nest Mart
Best prices & offers
Orders $50 or more
Free delivery
24/7 amazing services
Great daily deal
When you sign up
Wide assortment
Mega Discounts
Easy returns
Within 30 days