What is Mathematix Glass and How Does it Work?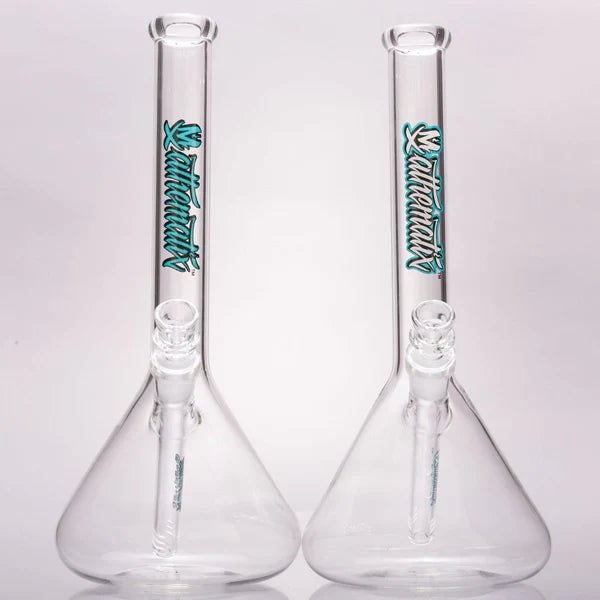 Have you ever heard of Mathematix Glass? If not, you're in for a treat. Mathematix Glass is one of the leading pipe and water vapor rig manufacturers based in Los Angeles. They specialize in creating handmade pipes and rigs with a variety of fun, funky, and imaginative designs. From realistic-looking fruit pipes to delicious ice cream cone pendants to colorful bubblers, they have something for everyone.
But what is Mathematix Glass and how does it work? In this article, we'll explore the manufacturing process behind Mathematix Glass, from glass blowing to polishing and engraving. We'll also take a look at some of the unique product designs that make Mathematix stand out from the competition. Finally, we'll discuss why Mathematix is a great choice for those looking for high-quality glassware for their smoking needs.
Exploring the Different Types of Mathematix Glass Available Today:
Mathematix Glass creates beautiful and unique pipes, water pipes, and vapor rigs with a variety of designs. From realistic-looking fruit pipes and delicious ice cream cone pendants to colorful bubblers, there's something for every style.
You can find mini bubblers and hand pipes that are perfect for everyday use, as well as medium-sized or large bubblers for those looking to share with friends or family. Mathematix also offers dab rigs for those looking for a dabbing experience that stands out from the crowd.
Whichever design you choose, all of Mathematix's products are made with high-quality borosilicate glass which is heat-treated to produce exceptionally durable glassware. The creative craftsmanship of these pieces makes them true collector's items that you'll be proud to show off.
Why Mathematix Glass for Smoking is the Best Choice for Stoners?
Mathematix Glass offers a wide range of high-quality American-made smoking and dabbing products that are perfect for any stoner. Whether you prefer to smoke flowers, concentrates, or a mixture of both, you'll find something to your taste with Mathematix Glass.
Mathematix Glass is well known for its unique designs and styles, allowing stoners to express themselves through artful and functional glass pieces. From colorful fruits and ice cream cones to intricate abstract designs and beautiful heady glass, no two pieces are alike.
What sets Mathematix Glass apart from the rest is its commitment to quality. Each piece is handmade with meticulous attention to detail. They use premium-grade borosilicate glass which is much less likely to break than other types of glass pipes. 
This means that your Mathematix piece can last for years if taken care of properly. So if you're looking for an esthetically pleasing and long-lasting smoking device, Mathematix Glass is the best choice for stoners everywhere.
Benefits of Using Mathematix Glass:
Mathematix Glass offers many benefits from the average glass pipe. Their products are made from high-quality Borosilicate glass, which is extremely strong and durable - making it resistant to heat and chemical damage. Plus, their products come with several features that make them stand out:
Heating Element Control:
Mathematix pipes are designed with an adjustable heating element, allowing users to easily control the temperature of their smoke. This makes it much easier to create flavorful hits that don't burn too hot.
Airflow Optimization:
Mathematix pipes are equipped with an air intake port that allows for more efficient airflow when smoking. This makes it much easier to take a deep hit without feeling like you're getting too much air.
How to Clean and Maintain Your Mathematix Glass for Smoking?
Cleaning and maintenance are essential to make sure your Mathematix Glass pipes stay functional for a long time. Here are the easy steps to keep your pipes in great condition:
Cleaning:
Start by boiling some water in a pot. Once the water is boiling, turn off the heat and let it cool down for a few seconds before pouring it into the pipe.

Make sure that all of the water gets inside the pipe and that all of the crevices are full, including any percolators, spouts, carb holes, or mouthpieces.

Let sit for a few minutes before emptying the pipe and discarding any residue that was washed away.

Rinse with cold water until all soapy residue is gone from the pipe and voila, you have now cleaned your Mathematix Glass piece.
Maintenance:
To keep your Mathematix Glass piece looking brand new and functioning optimally, it is important to store it properly when not in use. This can be done by making sure that your Mathematix Glass piece is in an area with minimal moisture and dust exposure avoid storing it in damp rooms or areas prone to dust accumulation such as under furniture or equipment.

Ensure that any percolators, spouts, carb holes, or mouthpieces are sealed tightly when not in use as this will help prevent them from picking up dust or debris while stored away.

Finally, be conscious of handling your Mathematix Glass pieces with care, and avoid dropping them on hard surfaces which will increase the risks of breakage.
Mathematix Glass for Smoking vs. Traditional Smoking Methods: Which is better?
If you're looking for a cleaner, smoother smoking experience, then Mathematix Glass is the way to go. Here are just a few of the benefits of using Mathematix Glass over traditional smoking methods:
Easy Cleaning:
Unlike traditional pipes, Mathematix Glass pieces are easy to clean. Since they're made from high-quality borosilicate glass, they won't corrode or discolor over time and can be easily wiped down with a damp cloth. This makes them perfect for those who want to keep their pipes clean and sanitary.
Cooler Smoking:
Mathematix Glass pieces help to cool your smoke before it reaches your lungs. This means that you'll get a much more enjoyable smoking experience and one that won't leave you with a nasty throat burn. The glass also helps to filter out some of the more harmful elements in smoke, which reduces your overall exposure to toxins.
Unique Esthetics:
The designs on Mathematix Glass pieces are unlike anything else on the market. From bright colors and unique shapes to intricate details like bubbles and marble designs, there's something for everyone. With Mathematix Glass, you can truly customize your smoking experience.
News
Stay home & get your daily
needs from our shop
Start You'r Daily Shopping with Nest Mart
Best prices & offers
Orders $50 or more
Free delivery
24/7 amazing services
Great daily deal
When you sign up
Wide assortment
Mega Discounts
Easy returns
Within 30 days