What Should You Look Out For When Buying CBD Gummies?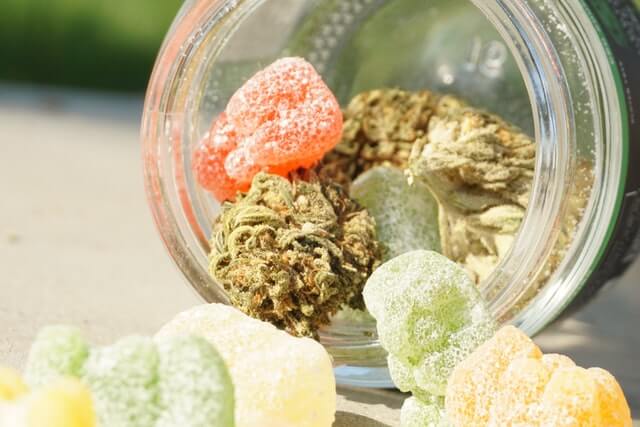 Besides their health value, CBD gummies are like regular gummies. This means you can take them almost anywhere. You can take them to your workplace, on the airplane, and any other place where you can take regular gummies. 
If you want to buy CBD infused gummies, you need to look out for a number of things to buy the right pieces. Which are these things? Here they are:
Type of CBD gummies
While all CBD infused gummies might look similar, they aren't—they vary depending on their composition. The most popular types being:
CBD isolate gummies: These have nothing in them other than CBD. You get all the CBD benefits without getting the THC effects when you take them.
Broad-spectrum CBD gummies: These contain CBD, all cannabinoids, and plant compounds other than THC.
Full-spectrum CBD gummies contain a full range of cannabinoids from hemp to fatty acids, flavonoids, and terpenes. The unique thing is they contain less than 0.3% of THC, which makes them the best CBD gummies to go for as they have been shown to have the best entourage effect.
Flower-only CBD gummies: These are sourced from the hemp flower, and they often have high CBD content, as CBD is more abundant in a mature hemp flower than in any other part of the plant.
Ingredients in the CBD gummies
The other factor to consider is the ingredients in the CBD gummies. Besides the usual CBD, the best CBD infused gummies should have a range of premium ingredients so that you reap the full benefits of the CBD gummies. Some of the ingredients you should look out for include:
Organic cane sugar: This is an unrefined sugar, free from any damaging pesticides you will often find ingrown sugar. The sugar provides a full-bodied taste of sugarcane, without going through extensive processing. This means that sugar retains most nutrients, including antioxidants that support bodily wellness.
Organic Tapioca: This is a natural sweetener made from tapioca starch. It's an alternative to sugar, and it delivers a neutral flavor. It has high solubility and can release energy almost immediately, making you feel energetic after taking the CBD gummies.
While the sweetener has a similar composition to sugar, it has a higher nutritional value than sugar crystals.
Natural ingredients: The best CBD gummies should also contain natural flavors from organic fruit and vegetable juice, ensuring an excellent taste.
To stay safe and avoid complications, keep a close eye on the ingredients of the gummies and ensure that the CBD gummy manufacturer is using healthy and safe ingredients that you are familiar with.
Be on the lookout for butane, as they are harmful and can cause a complication, especially if you have a medical condition.
If you see an ingredient you aren't familiar with, research it or ask your physician to avoid complications.
Third-party laboratory report
Due to the CBD hype, many unscrupulous people have joined the market, and there are plenty of fake and mislabeled CBD products. Although the FDA is on the hunt, it's wise to play your role and be vigilant when buying the gummies.
Besides checking the FDA-approved stamp on the product, also ensure that a third-party laboratory has tested gummies. A reputable and transparent CBD manufacturer will post this information on the product site or attach the information to the product.
If there is no information on the product or its website about third-party tests, stay away from the CBD gummies as the chances are high that the manufacturer doesn't comply with the COA for hemp.
Dosage and concentration
Most gummy bears will have no more than 0.3% THC, but they will come in different dosages. For example, flower-only, full-spectrum gummies come in 10 mg and 50 mg packages.
To stay on the safe side and avoid complications, follow the recommended dosage given on the label.
Due to the delectable taste, it's easy to be tempted to take more CBD gummies than recommended on the label, but avoid it. Although, there are not enough studies on overdosing on CBD gummies, you should never exceed 1500mg per day.
If you are a first-time user, stick to the recommended amounts. This calls for you to take a maximum of two (10mg) gummies a day. 
Besides failing a drug test when you take higher levels of THC, there is also the risk of having cardiovascular problems due to ingestion of large amounts of organic cane sugar.
Taste
CBD gummies are like regular gummies, and they come in a variety of tasty and fruity flavors. We have different tastes and preferences, and the last thing you want is to buy gummies you don't even like.
To enjoy taking your gummies and CBD intake, choose gummies you like the flavor. Thankfully, the flavors are written on the label, and all you need to do is read the label.
The best CBD gummies
The best CBD gummies are made from hemp sourced from the best places. In the United States, the best-cultivated hemp is available in Colorado, California, Oregon, and Kentucky.
The farms in these places use strict farming rules and regulations, ensuring that the hemp obtained here is top of the shelf.
When buying the best CBD gummies, don't buy them from any place—always check whether the store is registered to sell CBD products. If you purchase from a brick-and-mortar store, ask to see the store license.
If you don't want to go through the trouble of visiting a physical store and want to order your gumming online, instead, you can proceed with it, but you need to be more cautious. As a rule of thumb, ensure that the store has a third-party merchant, contact details, privacy policy, and lab testing results.
You also should do your background checks and confirm that the store is licensed to sell CBD products.
Of course, stay away from a store that looks shady and has no history or reputation.
When it comes to the brands, it's always wise to stick to popular brands with a proven record. The last thing you want is to go for cheap CBD gummies from an unknown brand that doesn't give you the feeling you wish to, or worse, cause complications.
What are CBD GUMMIES?
Cannabidiol Gummies are an easy-to-eat gummy treat that is typically shaped like Bears, Fruits or Cubes and infused in a small jar of CBD. Gummies are commonly used to relieve anxiety and depression but are not predosable and are not a safe substitute. Gummies can also help increase CBD's benefits. The hemp flower can be extracted using many different techniques. However, supercritical oxidation is safer and less harmful. Using this approach is expensive but is only used by most good brands of CBD such as Exhale Wellness. This process strips hemp flower of CBD, resulting in a variety of derived CBD products.
News
Stay home & get your daily
needs from our shop
Start You'r Daily Shopping with Nest Mart
Best prices & offers
Orders $50 or more
Free delivery
24/7 amazing services
Great daily deal
When you sign up
Wide assortment
Mega Discounts
Easy returns
Within 30 days