10 Best Glass Bong Bowls For Sale In 2023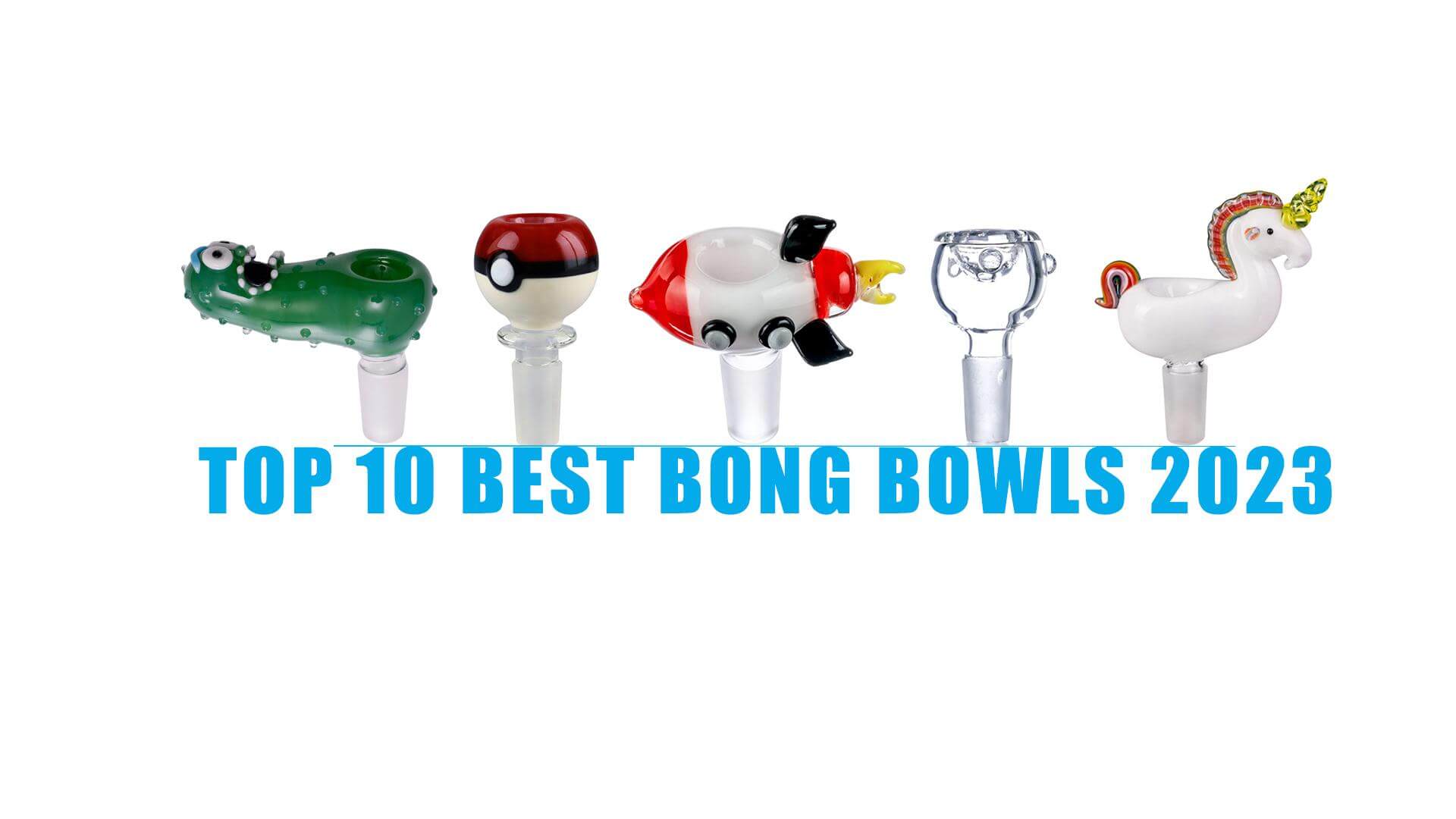 Today we will look at an online shop with some of the best glass bong bowls for sale. The most common bong bowl sizes range from 10 mm to 18 mm and are described by females or males based on the insertion part. For instance, a 14 mm male bowl will fit into a bong with a 14 mm female insert. It's easy to identify the size of your bong bowl using a coin as a reference to scale. We made a list of the top 10 best bong bowls from the World of bongs online smoke shop, which include inexpensive and premium options.
Those looking for a cheap replacement bong bowl don't need to pay much with this option from Eyce. At only $9.99, it has a 14 mm male joint. This slide bowl is super durable and a great addition or replacement piece. 
This small glass bong bowl is a beautiful deep shade of black. It has an awesome grip piece to help make clearing the water pipe even easier. Functional and simple, there is no fluff with an added bowl replacement like this option.
It is a 14 mm male joint bowl that is durable and ready to be used. Reviews for this product talk about how it is more than meets the eye, is visually appealing and is tough. Enhance your smoking sessions with this dope piece. 
With a UV-reactive glowing horn, this unicorn bowl is all the rage. Handmade by none other than Empire Glassworks, this magical species lives in every smoke session. Perfect as a new bowl and has a 14.5 mm male joint. It measures 3.5 inches by 2.8 inches and is perfect in all its mystical glory.
Become part of the mystery and intrigue of the unicorn realm with this bowl. Accented with a yellow horn and a rainbow mane and tail, the thick white glass is strong and sturdy. Make you collection magical with this unique unicorn piece!
Get ready for take-off with the amazing spaceship bowl by Empire Glassworks. Awesome and strong, it is made from borosilicate and infused with dichroic glass. Blasting you off, this space cruiser has a 14.5 mm male joint and a few neat glow in the dark accents. 
Flying at you and into the beyond, this spaceship is colored in traditional childlike patterns of red white, and black. Yellow flames shoot out of its backside, accelerating it and you into the cosmos. Little glass accents act as windows for those brave travelers one could imagine on the inside. Prepare the herb and blast off!
Cacti are a beautiful statement of deserts, Mexico, and the South West of the United States. Seeing the blooms on a cactus is a sentiment of nature's resilience to harsher terrains. This Cactus Flower Bowl is a lovely statement piece that brings the joy of nature right to your smoking sesh. 
Small yellow flowers dot the green bumpy landscape of this 14 mm Male joint bowl. The grip is fantastic in fitting into a female 14 mm and clearing it. 
Empire Glassworks is a brand that comes unrivaled in its amazing bong bowls and water pipes. Nothing is better than a good ole Rick and Morty adventure, so why not have one with this custom-created Scary Terry Bowl. It is about the size of a pickle with little notches reminiscent of that favorite tangy snack. 
The screaming face is detailed with dotted teeth and raised eyebrows. A tint of vivid green illuminates this solidly made borosilicate glass piece. The direct-inject style joint is a 14.5 mm male, while the bowl measures 2 inches by 2.5 inches. 
4. Glass Tits Double Weed Bowl
Get laughs and smiles with twice the hits with this double-tits weed bowl. A great piece for those seeking heavy smoke sessions. Call it modern art, this is the Double B's Boobies bowl piece created by the artists at Empire Glassworks. Created from borosilicate and pyrex glass, it will be shatter-resistant and heat-resistant in most circumstances. 
This is a 14.5 mm male piece that is individually handcrafted, so there is limited quantity and availability. A piece like this is one that everyone can enjoy, with users claiming that this double bowl is the absolute tits!  
3. Super Mario Inspired Bong and Bowl 
This is the Hemper Gamer Bong, it is gorgeously designed and crafted with delightful hues of green, red, white, and gold. Classic Mario colors ready to take you down the tube and to a different level. 
This beauty is 7 inches tall with a base-mounted showerhead perc. A pitched neck allows for deep and smooth hits. The custom-made "Flower Chomper" bowl is a male 14 mm. It has a barrel-style chamber that acts as a splash guard and is made from strong borosilicate glass.
The second-best bong bowl on our list is affordable and a common type that comes with most bongs. This may look like a basic piece, but it is far from it! Simplicity is best, and this bong bowl is perfect for those who like functional, well-made, thick crystal clear borosilicate glass. A well-made bong bowl such as this is shatterproof and heat-resistant. There is more to this bowl than meets the eye due to its deep and large size. Packing this with herbs will be an absolute delight!
The Fat Bong Bowl is great as a spare, replacement, or new addition for those looking to size up! 
Influenced by the famous Pokémon anime, this Pokeball-inspired bong bowl will help you smoke them all. It is designed as a 14 mm male joint to fit almost every 14 mm female joint. The bowl is large enough to pack a nice amount and then some. This is perfect for any game or anime lover of the Pokemon genre. 
Smoke Shop Online
World of Bongs will be the place to look first, no matter what type of piece you are looking for. Their amazing selection doesn't stop at just bowls, they have everything from dab bongs, hand pipes, rolling trays, weed grinders, and more. Don't miss out on their awesome stock and sometimes limited items!
Stay home & get your daily
needs from our shop
Start You'r Daily Shopping with Nest Mart
Best prices & offers
Orders $50 or more
Free delivery
24/7 amazing services
Great daily deal
When you sign up
Wide assortment
Mega Discounts
Easy returns
Within 30 days