AirVape Legacy Review - everything you need to know and more!
David and Leah Kaye Weathers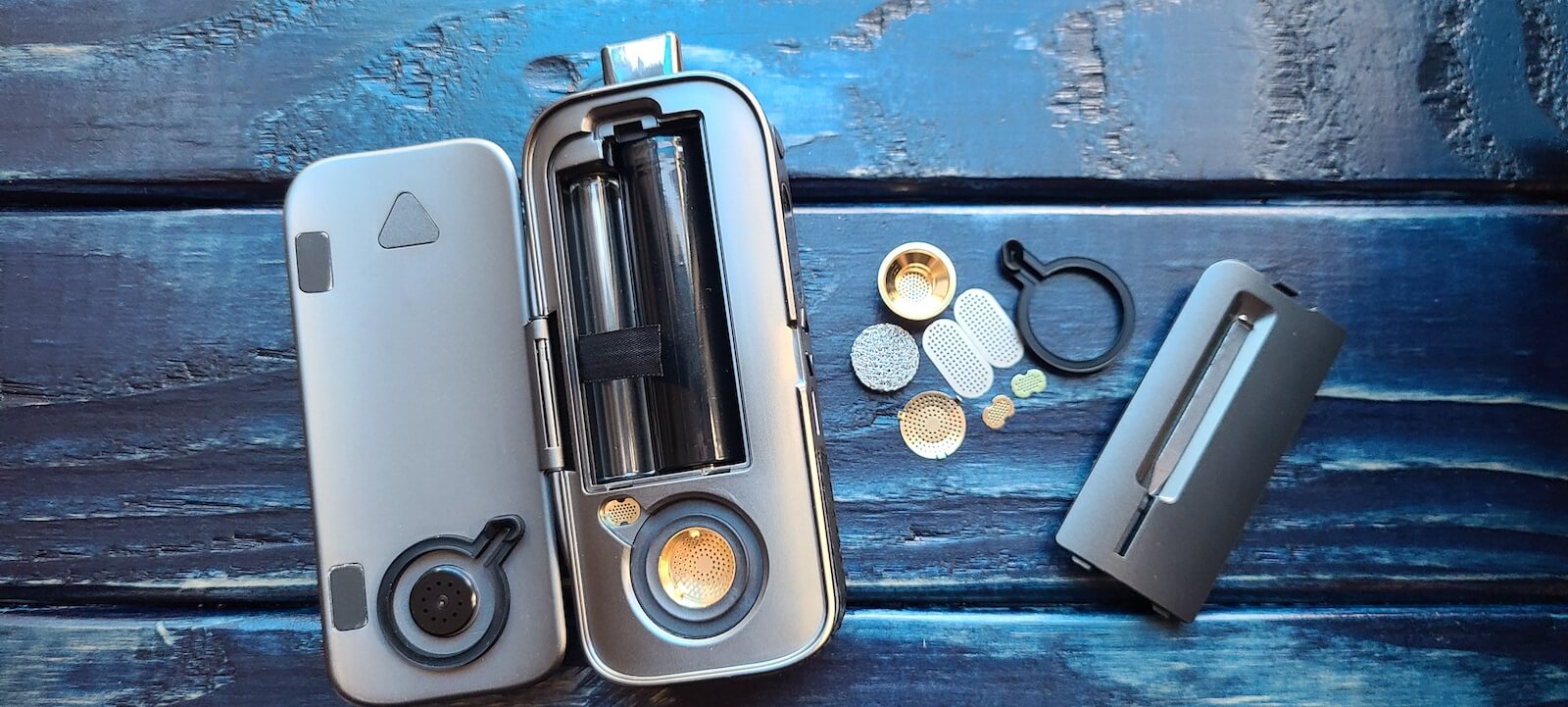 The vaping world is constantly growing and improving as its popularity hits new heights daily. If you've tried vaping everyone's favorite herb, you'll already know why this new consumption method is so popular. For those that haven't, vapes and their many benefits may be a bit much to take in all at once. What is a weed vaporizer anyway?
Vaporizers are a great way to use your dry herb and wax with no need for a bowl or papers (or even a lighter!) Rather than relying on combustion to heat your bud, vapes heat by means of either convection, conduction, or both. Generally, we prefer convection vaporizers, as these get the most out of your bud without running the risk of accidentally igniting it along the way like some conduction vapes can do.
AirVape has a long history of crafting high-quality portable vaporizers. Their many years of experience, combined with their close attention to customer feedback, has culminated in the top-of-the-line AirVape Legacy. With its single-degree temperature control, unbelievable battery life, and flexibility of use, this incredible device packs a lot of vape into a handheld package. We'll break down all these awesome features and more!
What's in the box?
Before it's even out of the package, you know you're in for a treat when you hold this box in your hands. The sleek, stylish packaging does this beautiful vape justice. Once you get inside, the first thing you notice is the look of this vape: the hemp-based textile on the front and back of the unit, the eye-catching vegan-friendly faux leather around the sides, and the black ceramic housing. 
Besides just the vape itself, the AirVape Legacy comes packaged with a host of tools, replacement parts, and various attachments to give you the best handheld vaping experience available. The gold-plated heating chamber is backed by a replacement chamber and screen, and you can swap it out for the optional micro-dosing basket if you prefer to take it one-hit-at-a-time. In addition to replacements for the heating chamber and screens, this vape comes with a pad for vaping your favorite concentrates, as well as a complete cleaning kit to keep your accessories good as new.

For inquiring minds, the technical aspects of this vape are impressive, to say the least. With a whopping 3,000mAh, the battery packs a lot of power into a small package, especially for a removable battery. That power doesn't come at the cost of battery life either. After smoking several full bowls in this vape at about 400F, the battery was still well-over 75% charged. This is an impressive feat in a market where most comparable handheld vapes can't make it past 3 or 4 bowls without needing to be charged.
What can it do?
Looking good isn't all this awesome vape can do (although, really, it looks amazing). The functionality is comparable to that of stationary vapes that are twice the size (and cost) of this handheld one. The temperature control is straightforward and precise with the digital screen and three-button interface. It's as simple as turning your unit on, selecting your preferred vaping temp, and in just 15 seconds - presto! - your vape is ready to rock. The default active time for the Legacy is 3-minutes; we found this length to be ideal for finishing a bowl, but you can adjust it up or down to suit your needs. In addition to continuous heating cycles, the AirVape Legacy features an on-demand function that lets you choose your temperature and then only heat the chamber when you hold down the power button. That way the vape won't cook your herb to death if you're not passing it around with friends or taking constant back-to-back rips. The on-demand function is also ideal for dabbing without overcooking or burning your concentrates.
We found ourselves using the continuous heating function much more often than the on-demand. While on-demand can be nice for certain situations, it can get a bit tiresome when you just want to sit and enjoy a bowl or two. In on-demand mode, the Legacy heats up in about 10-15 seconds, and it only stays on for a minute, making it very awkward for smoking a whole bowl in one sitting. While it's a great option to have, the on-demand mode is probably best left for micro-dosing and dabbing.
Why we love it 
While all vapes may function on the same basic principles, the difference in a high-quality vape and a cheaper one is immeasurable. Generally, the two means of vaping dry flower are by conduction (direct contact with the heating element) and convection (indirect contact, such as an isolated heating chamber). Of these, convection is by far the more effective and efficient way to vape, and the Legacy is a pure convection vaporizer. This means you get the absolute most out of your bud, from the taste to the cannabinoids, without accidentally burning the herb itself as can happen in cheaper conduction style vapes. 
The micro-dosing chamber is another incredible feature not found in most similar vapes. While the normal heating chamber isn't exactly tremendous, it's much too large for those times when you only want to take a hit or two. The micro-dosing chamber simply fits into the normal heating chamber, so there's no need to remove and reinstall different parts just to take a rip here and there. Since the two sit in exactly the same place, you also don't lose any vapor quality or efficiency when smoking smaller bowls.
Source:
Marysvapes
Another of the factors that sets this vape head-and-shoulders above its competition is how easy it is to clean. Most pocket vapes are a nightmare to clean, with all their tiny, unmoving parts that get gunked up with vapor resin. The AirVape Legacy tackles that issue head on. Practically every bit of this vape is removable: the mouthpiece, every screen along the airpath, the bowl itself, and, perhaps most impressive, the airpath itself! The glass tube inside the main compartment of the vape comprises the greater part of its airpath, and it simply slides in and out for incredibly quick and easy cleaning. 
It just keeps getting better
AirVape has a long history of making great vapes. An important part of this history has always been listening to consumer feedback on their products and improving upon them constantly. This effort has led to some really remarkable changes and upgrades to their vapes, especially the Legacy! One such improvement is the spacer that is now included with each Legacy. This gold-plated insert goes into the heating chamber itself and creates a small space between the herb and the bottom of the heating chamber. This helps keep the bud away from the heating element, creating better airflow throughout the chamber and resulting in a much more consistent, even heating of the bowl. 
In addition to the spacer, AirVape legacy also upgraded the Legacy to have a removable battery, wireless charging capabilities, and more. If these constant improvements still haven't convinced you, consider the fact that AirVape legacy gave customers who bought the Legacy before these improvements were made the option to upgrade their units for free! A great product is important, but getting it from a great business can be just as important, and with AirVape you're doing just that.
Conclusion
The AirVape Legacy is very clearly the culmination of many years of development. From its gorgeous exterior to the powerful technology housed inside, this handheld vape can easily hold its own against any other (we even prefer it over many stationary vapes). The price mark may seem steep at a glance, but we assure you this vape is worth every penny. Once you get your hands on it, you'll see why the AirVape Legacy is one of our favorite handheld vapes!
Stay home & get your daily
needs from our shop
Start You'r Daily Shopping with Nest Mart
Best prices & offers
Orders $50 or more
Free delivery
24/7 amazing services
Great daily deal
When you sign up
Wide assortment
Mega Discounts
Easy returns
Within 30 days