10 best bob marley shorts on the planet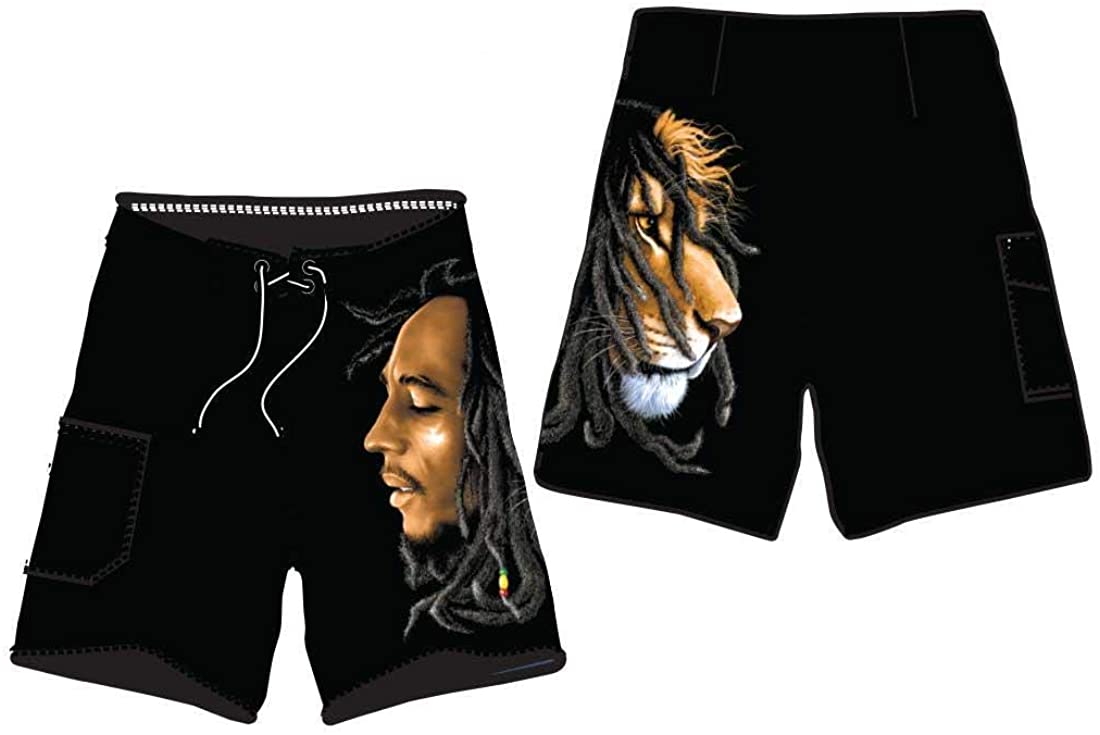 It's impossible to walk into a head shop and not see Bob Marley. His fame in the marijuana community goes well-beyond just his advocacy for legalization. His music was revolutionary, and he shared a culture of love and compassion that the world had rarely seen before. Whether you've been jamming to his music or smoking his signature papers, you've got to try on some of these shorts and add your reggae appreciation to your wardrobe.
 

Bright, sharp graphic
Comfortable
Perfect gift idea

We absolutely love these Bob Marley beach shorts. The classic lion's head is printed over a worn, rustic styled Jamaican flag. They're super light and comfortable, but they're durable enough to last for years to come. This is the perfect piece of Bob Marley gear to gift to the reggae fan in your life.
 

Comfortable nylon
Classic side-wrap graphic
Super durable

These board shorts are a bit more understated than the first pair, with a simple, clean logo on one leg. It's perfect for someone who prefers a more toned down look but still wants to wear their favorite reggae star on their clothes. They're made of a comfortable, flexible, quick-drying nylon, so they're perfect for all sorts of outdoor activities beyond just skating.
 

Unique graphic
Comfortable and flexible
Machine washable

This is another awesome pair of Bob Marley board shorts. The high-def wrap-around graphic is too cool to pass up. And, best of all, the shorts are extremely high quality, so you don't have to sacrifice function for fashion! Pair these with your favorite Bob Marley shirt to flex your rasta lifestyle from head to toe.
 

Flexible
Breathable
Great price

These mesh shorts offer a more subtle way to let everyone see your Bob Marley appreciation. The red, green, and yellow stripes, while originally just the colors of the Jamaican flag, have now also become synonymous with the reggae singer and his fandom. Give these black polyester shorts a try at the gym, and you'll find you're pleased with the results.
 

Great price
Awesome graphic
Quick-drying

Unlike the last shorts, these new Bob Marley swim trunks are the exact opposite of subtle. If you smoke as much as we do and want to wear your favorite pastime right on your clothes, these trunks are the ones for you. The brightly rasra colored, "dripping" pot leaf will catch every eye around, and it may even get you invited to an impromptu smoke session on the beach. Y'know, if you're into that sort of thing.
 

Affordable
Comfortable
High quality

While we're talking about Bob Marley swimming trunks that will stand out in a crowd, we've got to mention these. The pot leaves may not be as outspoken as the last pair of trunks, but the bright red, green, and yellow striped shorts are sure to turn heads. They're also light enough to use for more than just swimming, like jogging and hiking.
 

Comfortable trunks
Durable stitching
Easy to wash

These Bob Marley trunks are another of our favorite pairs. The realistic lion graphic on the front is coupled with the bright Jamaican flag stripes that most Bob Marley items share. Add these to your own Bob Marley collection or give them as a gift - you can't go wrong!
 

Bright rasta features
100% cotton
Comfortable

If you're after shorts for daily use, finish up your Bob Marley clothing line with these awesome new rasta jean shorts. The raw denim offers a classic and stylish look without sacrificing durability or comfort. These are the perfect compliment to your favorite Bob Marley hat, Bob Marley t-shirts, or any other Bob Marley clothes.
 

Unique look
High quality
Official MarleyWear shorts
We love the unique graphic on these black board shorts. The paint splatter is bright enough to stand out, but subtle enough to not be an eyesore. Although they come in men's sizes, the drawstring leaves it open for anyone to wear these shorts. Try these the next time you need to find a gift for the rasta fan in your life.
 

High quality
Unique graphic design
Flexible and comfortable
These are another awesome pair of shorts from the official MarleyWear clothing. The graphic is totally unique (check out the multi-colored version of it too!), and the shorts are extremely high quality. Don't let the price tag scare you - they're worth every penny.
Conclusion
Whether it's gear for the beach, the gym, or your daily wardrobe, these Bob Marley shorts are the perfect way to get more rasta into your routine. Make sure to click and see what sizes are available before you order, and always trust sizing charts when they're available. It's the perfect time to try some new clothes out, so get a pair of these shorts and you'll see why we love them.
Author bio:
Nick Branson is a writer and longtime smoker with a passion for science and education. His hope is to destigmatize the use of marijuana, both medicinally and recreationally.
Stay home & get your daily
needs from our shop
Start You'r Daily Shopping with Nest Mart
Best prices & offers
Orders $50 or more
Free delivery
24/7 amazing services
Great daily deal
When you sign up
Wide assortment
Mega Discounts
Easy returns
Within 30 days