10 best CBD and melatonin products to help you sleep better!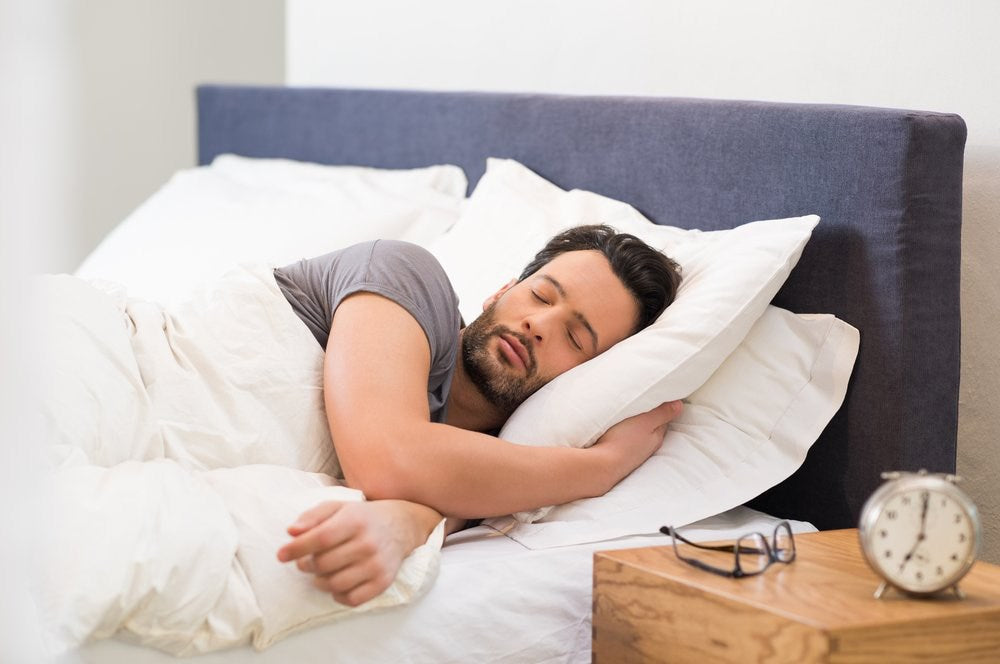 If you've been on the internet anytime in the last few years, you've undoubtedly heard about CBD products and their many uses. They can offer benefits ranging from pain relief to help you get a good night's sleep. If you want to sleep like a log, you can even try combining CBD and melatonin. 
First things first
As with many natural remedies, CBD's benefits have yet to be verified by the Food and Drug Administration. Melatonin and CBD oil are not intended to diagnose, treat, cure, or prevent any disease. That said, with years of anecdotal evidence, many people still find the effects of CBD liquid and melatonin to be very beneficial, especially when it comes to improving sleep. So if you've ever wondered "Can you take CBD oil and melatonin together?" or "Can you mix CBD gummy and melatonin," wonder no more! You can absolutely combine these two natural sleep aids, and here are some of our favorite products that do just that.
FAST-ACTING MELATONIN
TIMED-RELEASE MELATONIN
CBD FOR A CALM MIND
CONVENIENT CAPSULE
NO THC
TAKE LESS, GET MORE WITH SMARTSORB™ TECHNOLOGY
In need of a better night's sleep? You're not alone: 70% of adults in the US experience insufficient sleep once a month and we all know how bad that can be. Enter CBD for sleep gummies. They have taken the best quality CBD and blended it with melatonin. When used together, the calming effects of CBD can potentially enhance the ability of melatonin to help you not only fall asleep, but actually stay asleep. Unlike prescription medications, CBD and melatonin are both all-natural, offering the refreshing sensation of natural sleep without the morning grogginess. When the snoring is so vicious that it sounds like sneezing, hemp gummies with melatonin may help! (But you should probably get some ear plugs, too.)
What we love!
Amazing flavours created with natural juices.

USA Grown Hemp

Formulated with natural ingredients to help support relaxation and sleep.

Gummies are Zero THC, gluten-free, non-GMO hemp, dairy-free, wheat-free, fat-free, artificial color-free, and no artificial sweeteners.

Just 10 calories / total carbohydrate 3g / total sugars 3g

Melatonin 5mg
.
Organic Full Spectrum Hemp Extract

USDA Organic Coconut MCT Oil

USA Organic Terpenes: Myrcene, Linalool, Humulene, Geraniol, Terpineol, Delta-3-Carene, Nerolidol

ORGANIC

NON-GMO
If you are looking to revolutionise your sleep then this nighttime tincture from Plant People is perfect. It helps ensure a tranquil, restorative rest and a rejuvenated feeling in the morning. A full spectrum hemp extract, high in CBD and CBN, with a synergistic botanical complex it Induces relaxation to promote sleep and suppress locomotor activity by activating GABA, CB1 and CB2 receptors.This has the effect of decreasing nocturnal activity to support healthy circadian rhythms, which then helps to give you a better night's sleep. 
All in all Plant People have created an exceptional product that our tester loved. For Optimal Results: Use 15-20 minutes before bedtime and squeeze one full dropper or more under the tongue and try to take it regularly for maximum success.
What we love!
Induces relaxation to promote sleep and suppress locomotor activity by activating GABA, CB1 and CB2 receptors.

Decreases nocturnal activity to support healthy circadian rhythms. 

Supports hormone balance and adrenals, which are essential in reducing daily stress and promoting calm for better sleep.

Soothes muscles and recovery with circulation and immunity support.
.
 

250 mg of broad-spectrum hemp extract
(CBD, CBG, CBDV)
30 mg of melatonin
5-HTP
Valerian root
0% THC
Natural mint flavor

This compact and easy-to-use CBD oral spray not only tastes great but the spray makes it super simple to administer a consistent does. Not only is it packed full of high quality CBD as you would expect but each does gives you precisely 5 mg of CBD and 1 mg of melatonin. Spray the product directly into your mouth on the inside of your cheek or under your tongue for rapid absorption. Its mess-free, easy to use and perfect for bed time! The unique formula targets three key sleep phases: relaxation before sleep, falling asleep, and staying asleep. Sleep better and wake up feeling great!
 

Full-spectrum CBD promotes relaxation and supports optimal sleep
Plant-sourced Melatonin supports our natural sleep/wake cycles
Wake up feeling refreshed and ready to go
Non habit-forming 15mg CBD per capsule from USA-grown hemp
Liquid, vegetarian capsules with MCT coconut oil base
No isolated cannabinoids
Supercritical CO2 extraction method — no harsh solvents
Serving suggestion: 1-2 capsules about an hour before bedtime

Every night that goes by, we're learning more about the importance of good sleep. It helps our minds de-stress, bodies heal and immune systems kick-in. That's why Elixinol has paired melatonin with full-spectrum CBD. Melatonin is a well known natural hormone that helps our circadian rhythms set the stage for sleep by reacting to light and dark. Paired with CBD, it's a relaxing, non-habit-forming way to promote natural sleep. In short you need to try these!
CBD type: Broad-spectrum
CBD potency: 10 mg per gummy
Count: 30 gummies per bottle
COA: Available online
Price: $

Calm by Wellness CBD Gummies first and foremost are delicious. They're so good that everyone in the office wanted in on these flavoursome, sweet goodness. They also come packed with high quality ingredients and at 10mg of CBD per CBD gummy, they give the average person a good dosage without being overpowering which means you aren't going to get taken by surprise, helping you feel relaxed within about an hour.

Not only that, they come with a 30-day money-back guarantee and a nice 10% saving if you subscribe to monthly shipments.
.
 

Best CBD and melatonin gummies
Simple, adjustable dosage
The delicious natural lemon flavor

Whether it's to fall asleep faster, to sleep more soundly, or just for better sleep in general, these CBD gummies can't be beaten! Each serving of these tasty gummies packs 10mg of CBD and 5mg of melatonin. Using over 90% organic ingredients, these gummies are a surefire way to get better sleep. And who doesn't enjoy a sweet bedtime treat? Cure your insomnia with these natural remedies.
 

Calorie-free, sugar-free capsules
Affordable
Promotes better sleep

These are some of the best melatonin and CBD products around. Melatonin plays a huge role in our sleep cycles, so combining CBD and melatonin can help you get a better night's sleep or fall asleep more easily. If you're trying to find a natural way to better rest, this product is the way to go. 
 

Tasty strawberry flavor
Locally sourced
Lab certified CBD

Gluten-free, non-GMO, and lab-certified, these gummies will help you get back to more restful sleep. The CBD and melatonin interaction will help you sleep better than ever before, leading to a less stressful life. Best of all, when you buy these gummies, you can rest assured that your money is going to a good place; all of Green Lotus' CBD is sourced from small, family-owned farms.
 

Very high quality
More CBD/melatonin than similar products
Easy dosage options

If you're serious about getting better sleep, look no further than this incredible product. At a whopping 25mg of CBD per tablet, coupled with 10mg of melatonin, these tablets are certain to put you to bed. The price may seem a bit steep, but it's an investment worth making. Each tablet is even scored so you can easily take half of the recommended dose!
 

Easy to dose, small or large doses
Specifically formulated for sleep
Full-spectrum

Specktra is a brand of CBD products that really stands out in a huge and rapidly changing field. These powerful tinctures will help you get better sleep than ever before, and they taste wonderful to boot. Specktra has a wide variety of CBD products, touting effects such as pain relief, anxiety relief, and promoting sleep. Made from totally organic hemp, their product line is also available in vape pens.
 

Unique formula
Promotes healthy sleep
Very bioavailable

Combining the relaxing powers of CBD, melatonin, lavender, and more, this oil is a guaranteed hit if you're looking to get better sleep. This product is 100% THC free and designed for better absorption using NanoPlex technology. Using high-quality broad-spectrum CBD ensures you get nothing but the best in your CBD/melatonin oil.
 

Durable
Convenient
Rechargeable

Ok, this one doesn't actually have melatonin in it, but we couldn't pass it up for our convenient nighttime CBD needs. This rechargeable pen offers discrete and convenient CBD that can even be used inside without leaving any smell behind. You can also use this awesome product discreetly any time of day, anywhere that allows vaping. 
 

Affordable
Delicious
Discrete

They had us at naked, but they really sold us with the incredible mango flavor! Tasting like mangoes and peaches topped with yoghurt, this product offers a delicious way to dose your CBD with your favorite vape. Have some of this for dessert, and you'll sleep like a baby.
 

Time-release for simple dosing
Promotes sleep onset
Helps maintain sleep longer

Bedtime doesn't get easier than this convenient product. Just stick it on a veinous area and drift off to sleep. With CBD, melatonin, and 0% THC, this time-released patch will give you relief for up to 12 hours. Make sure to consider the lengthy effects of this patch before using for the first time.
 

Traditional smoking experience
Great smell and taste
Great sleep without the buzz

If you're well-accustomed to smoking, this may be the CBD for you. This product provides an experience much like more "traditional" weed, but without the buzz. Just roll it up or pack it in your favourite bowl, and you're set for a sleep-inducing smoke session.
Conclusion
Although the food and drug administration hasn't verified it, CBD, melatonin, and many other natural remedies have been used for sleep for years. Keep in mind that dosing will vary from person to person, and from product to product, so start with small doses and increase as necessary. And as with any medication, it's always wise to consult with your doctor before starting a CBD routine.
Author bio:
Nick Branson is a writer and longtime smoker with a passion for science and education. His hope is to destigmatize the use of marijuana, both medicinally and recreationally.
Stay home & get your daily
needs from our shop
Start You'r Daily Shopping with Nest Mart
Best prices & offers
Orders $50 or more
Free delivery
24/7 amazing services
Great daily deal
When you sign up
Wide assortment
Mega Discounts
Easy returns
Within 30 days