Best Hemp Towels | Organic And Natural Hemp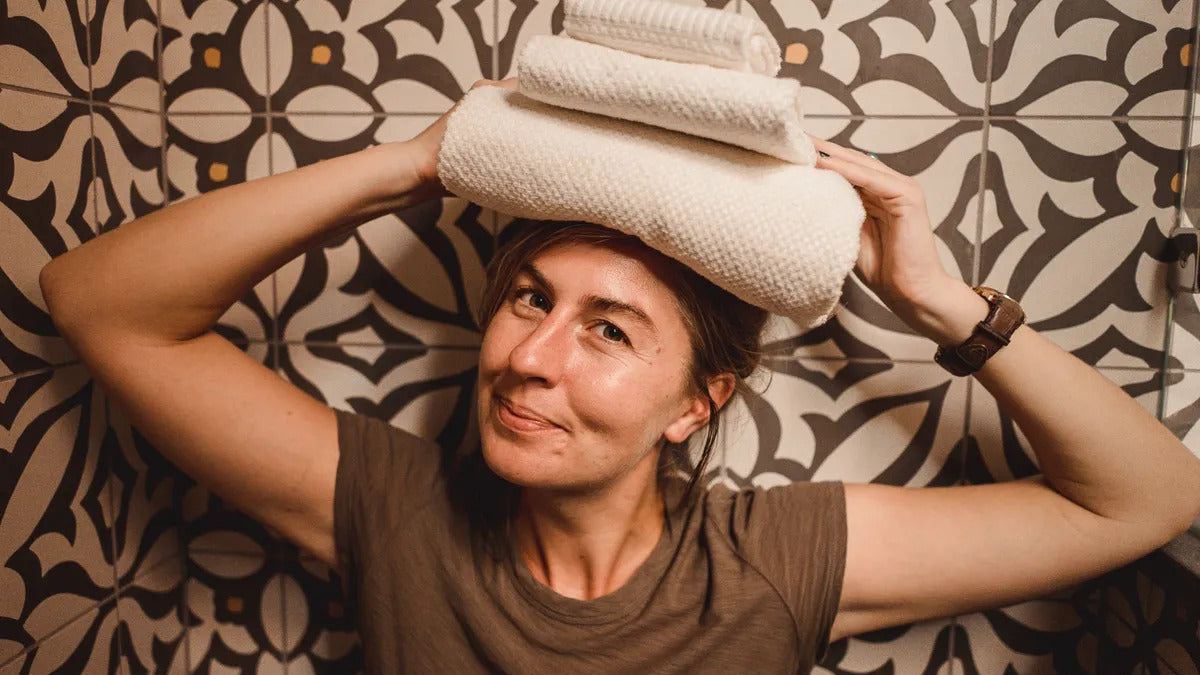 Are you looking to make the switch to a more sustainable and environmentally-friendly towel? Whether you're in the market for a bath towel or an eco-friendly paper-towel alternative, we've got you covered! Many of the towels on this list are made with a blend of organic cotton and hemp, but all of them are all-natural and organic! 
Unbelievably soft
All-natural and organic
Absorbent
Dye- and chemical-free!
This soft and comfy towel is hypoallergenic and chemical- and dye-free! These hemp bath towels are made of organic and natural hemp; they're soft, absorbent, and honestly, our absolute favorite towels. A word to the wise, it'll take a few washes before the linting will stabilize and drying them in a dryer will only make it worse. Also, do not use fabric softener when washing these towels.
 

Soft
Blend of organic hemp and cotton
Affordable
Super absorbent and dries quickly

This soft towel is an awesome blend of 55% all-natural hemp and 45% organic cotton. These towels are very absorbent and they dry much faster than bamboo or cotton. Hemp is a natural deodorizer and it's naturally resistant to mildew and molds! Talk about the perfect towel!
 

Soft
Absorbent
Sustainably sourced
Environmentally friendly
Come in a variety of beautiful colors

These lovely and soft bathroom towels are made up of 60% Cotton, 20% Recycled Polyester, 20% Hemp. They are sustainably made and sourced and environmentally friendly. It's recommended to not wash them with fabric softeners, as that can ruin the absorbancy, but drying at a low heat is still fine.
 

Affordable
A great alternative to paper towels and napkins
Soft
Easily washable
All-natural

This set of 3 hemp towels is the perfect organic and sustainable paper towel alternative for your home! These are reasonably priced hemp towels, wholesale prices don't even get better. They're easy to use, soft, reusable, easy to wash, and the perfect sustainable and environmentally-friendly alternative for single-use paper products in your kitchen. Give them a shot; we know you'll love them and at that price, you have nothing to lose!
 

Sustainable alternative
Cheaper than paper towels that waste more
Affordable beyond belief
Infinitely reusable

Speaking of organic, sustainable alternatives, the Every Day Willow Forever Cloth is the best towel to replace all your paper products. It works well on everything, is made of sturdy and long-lasting hemp, and is sure to last you for years to come. The best part? It's ridiculously affordable! We recommend buying 5 of these and never using paper towels again!
 

Great texture
Durable combination of organic cotton and hemp
Works great as a bath or beach hemp towel

This hemp towel is made up of a winning combo of 55% hemp / 45% organic cotton terry cloth. It's soft and light while being extremely durable and absorbent. Hemp absorbs better than cotton and bamboo, plus is very sustainable and affordable. You'll love these organic cotton and hemp towels, we're sure of it!
 

Knit texture
100% natural hemp
Quality bath towels

This 100% hemp towel is unbleached, dye- and chemical-free, and all-natural. It's sustainably made and sourced, making it the perfect edition to your green home. The knit texture is soft with just enough of a scrub to help better absorb liquids.
 

Quality product
Organic cotton and hemp blend
Long-lasting

Cheesecloths have a million great uses! One of our favorites is how easily it can be an alternative for paper towels; you can use it to cover dishes, wipe your hands, or cleans spills with ease. This reusable cheesecloth is made with a winning combination of organic cotton and hemp. You can use it as a hemp washcloth, wholesale price, or as a convenient and affordable alternative to disposable paper towels.
 

Sustainable
Environmentally friendly
Soft and warm
Highly absorbent
affordable

This terry bath towel is made with 100% hemp of the highest quality. This towel is super cozy when you first get out of the tub or shower. Plus, it's more absorbent and more sustainable than organic cotton or bamboo towels. You'll love the terry cloth-like feel of this towel. It is also unbleached and dye-, chemical-, and acid-free! 
 

Naturally exfoliating
Great deal! (you get 2!)
Long-lasting
Sustainably sourced

So, we know this isn't technically a hemp towel, but it's so awesome we couldn't live with ourselves if we left it out! This naturally exfoliating hemp back scrubber is the perfect companion to your relaxing shower or bath. Unlike the organic cotton scrubbers, these are highly absorbent, long-lasting, and sustainably sourced! Hemp is a natural exfoliant and the texture of this cloth helps to exfoliate even further. It's also one of the highest rating items on Amazon right now, so you know it's got to be good! 
Conclusion
No matter your reason for getting new towels, hemp is definitely the way to go. Not only are these more sustainable and cheaper, but they're also longer lasting and even more absorbent than cotton. You really can't go wrong with one of these great towels, but don't take my word for it: try them for yourself!
.

Written by Megan Medeiros (BA)
Megan Medeiros has a bachelor's degree in English and is currently working on a master's in English at James Madison University. She's the owner and operator of Medeiros Writing, and has been working as a cannabis writer for the past three years, mostly following the legal climate of marijuana, especially in areas like California, Colorado, Oregon, Canada, and other legal areas.
This post contains references to products from one or more of our advertisers. We may receive compensation when you click on links to those products. For an explanation of our Advertising Policy, visit this page. All photos were sourced from Pinterest.com | updated 2021
Stay home & get your daily
needs from our shop
Start You'r Daily Shopping with Nest Mart
Best prices & offers
Orders $50 or more
Free delivery
24/7 amazing services
Great daily deal
When you sign up
Wide assortment
Mega Discounts
Easy returns
Within 30 days