Best Lighters on Amazon | Lighters for Bongs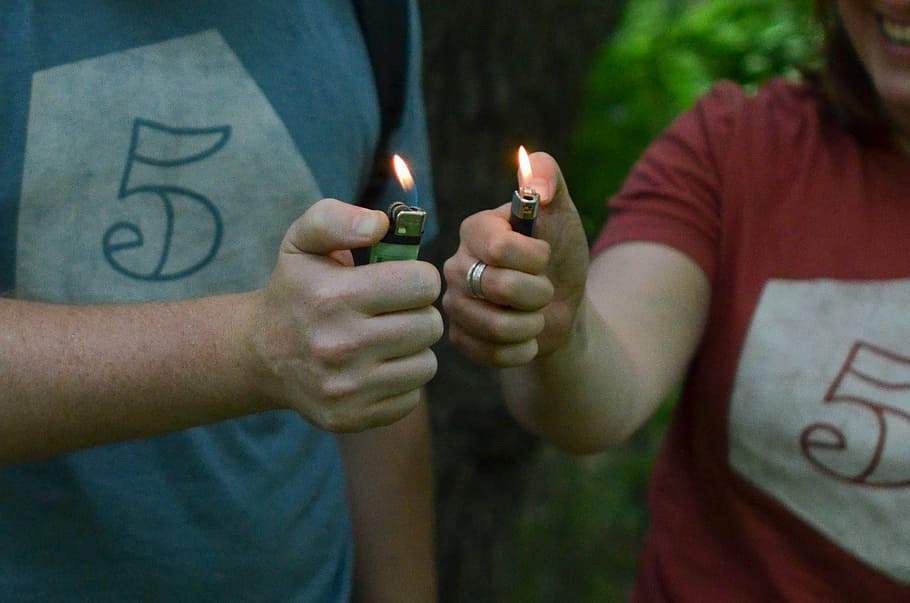 Are you in the market for a newer, better lighter to spice up your smoking sessions? Look no further! Whether you're looking for a butane, refillable, disposable, or windproof lighter, our amazing list has you covered! We've done all the research so you don't have to.
In this article you'll learn:
Our top 10 best lighters from Amazon
The difference in flameless electronic lighters and butane lighters
Tommy Bahama Table Top Cigar Lighter - $99
 

Unique Tommy Bahama design
Reliable performance
Adjustable flame wheel
Refillable
6-vent air supply
This one-of-a-kind lighter comes with a quad torch, dual squeeze trigger, fold-in adjustable flame wheel with internal refill valve, and a 6-vent air supply for maximum power and efficiency. This is by far the coolest lighter we found based on looks alone, let alone its amazing quality. Due to its rarity, it may not be the best idea to use it for everyday carry, however. This lighter is sure to offer you reliable and consistent performance while also looking amazing! 
Waterproof Arc Lighter - $14.99
 

Multipurpose
Multiple color options
Waterproof and windproof
Affordable
Great for the smoker on the go and outdoor enthusiast
This waterproof arc lighter is certainly one of a kind. It's both windproof and waterproof with a flashlight option when safely locked! It also comes with a lanyard hole, so you can hang it from your neck for increased ease if you so choose. It's rechargeable and requires one lithium-ion battery, one of which is included. It's easy to clean, highly durable, and offers reliable performance. It's one of the best lighters amazon, no question.
Bic Special Edition Bob Marley Series 8-Pack - $13.49
 

Special Edition Bob Marley design
Reliable, classic Bic lighter
Reliable flame
Butane lighter
Affordable
Bulk pack
Bic has been the household name for cigarette lighters and best lighters for bong, alike for a long time. These are the best butane lighters that are also super inexpensive. Unlike other cheap best lighters, though, you can count on this one to be high-quality. This particular set is the limited, special edition Bob Marley collection. It comes with all 8 Bob Marley best lighters for bong at a very reasonable price.
Icfun Dual Arc Plasma Lighter - $17.49
 

Multiple colors
Quality design
Refillable
Affordable
The Icfun Dual Arc Plasma Lighter is an amazing and affordable rechargeable lighter. It comes in a variety of colors and a 60-day guarantee. It's charged by USB charger and heats up 5x faster than a single arc lighter. This refillable lighter is definitely worth the cost. 
Ronxs Torch Lighter - $14.99
 

Affordable
Refillable
Durable, metal design
Butane
This pocket-sized refillable lighter offers an adjustable triple jet flame. It comes with a 12-month warranty and unique gift box. This butane lighter is windproof and has a durable metal lighter design, making it the perfect look that men's lighters try to emulate. It's perfect for everyday carry too! This is a great inexpensive option for refillable lighters.
Windproof Arc X Plasma Lighter - $13.89
 

Sleek design
Pocket-sized
Refillable
Rechargeable
Flameless
Windproof
This windproof lighter is rechargeable via USB, offers an LED display, and comes in multiple colors. It comes with a stylish design and a 60-day warranty. This lighter has the amazing quality of much more expensive lighters at a much more reasonable price. This windproof lighter offers the same electronic design as many windproof lighters but at a cheaper cost.
Icfun Gold Dragon Dual Arc Plasma Lighter - $19.99
 

Unique arted design
Affordable
High-quality lighter
Refillable and rechargeable
This amazing lighter offers the same great windproof, flameless design as the previous Icfun lighter, but with an amazing arted dragon design. This cool lighter is amazing and unique. It's super affordable, well-made, and durable. It features a 1.5-hour battery life, overheats protection, and has a 60-day guarantee.
Vector Elio Angled Flame Pipe Lighter with Built-in Tamper - $28.95
 

Great for weed smoking
Affordable lighter
Reliable flame
Additional built-in tool
This lighter is the perfect weed smoker's companion. This is one of the coolest lighters on this list as it comes with its own built-in tamper that can be used as a poker too! It's great for every day carry in your smoking kit. It features an easily accessible flame adjustment wheel and comes in multiple colors.
Zippo Matte Pocket Lighter - $16.54
 

best lighter brand 
Reliable
Dependable
Lifetime guarantee
Classic design
The reliable Zippo brand is at it again with this amazing matte pocket lighter perfect for everyday carry. Zippo is one of the first names in fancy lighters that has also stuck around the longest. It still offers the classic zippo lighter design, because why fix what isn't broken? Zippos are windproof lighters that are known for their reliability and consistency. You won't be disappointed with this classic, go-to brand. This even comes with the classic zippo stamp on the bottom of the lighter.
Bic Classic 12-Pack Full-Size Lighters - $13.74
 

Value pack
Affordable
Reliable, quality lighters
The classic Bic lighter has long been a staple in every smoker's toking kit. The classic Bic offers a million lighter uses. While it's not a windproof lighter like the Zippo, it is the best lighter for weed brand for inexpensive flame lighters that you can be sure to find anywhere. This particular lighter value pack is very affordable and reliable.
Conclusion
If you're in the market for a new lighter or pack of lighters, look no further than Amazon. They offer a wide variety of flameless, windproof, jet flame, and classic lighters. Whether you're looking for a gas cigarette lighter or a best lighter for weed that uses lighter fluid, we've got you covered.  Didn't find the right light for you? Check out the Weed Republic for more great products!
Written by Megan Medeiros (BA)
Megan Medeiros has a bachelor's degree in English and is currently working on a master's in English at James Madison University. She's the owner and operator of Medeiros Writing, and has been working as a cannabis writer for the past three years, mostly following the legal climate of marijuana, especially in areas like California, Colorado, Oregon, Canada, and other legal areas.
This post contains references to products from one or more of our advertisers. We may receive compensation when you click on links to those products. For an explanation of our Advertising Policy, visit this page. All photos were sourced from Pinterest.com | updated 2021
Stay home & get your daily
needs from our shop
Start You'r Daily Shopping with Nest Mart
Best prices & offers
Orders $50 or more
Free delivery
24/7 amazing services
Great daily deal
When you sign up
Wide assortment
Mega Discounts
Easy returns
Within 30 days