10 Best Marijuana Growing Books that you need to read!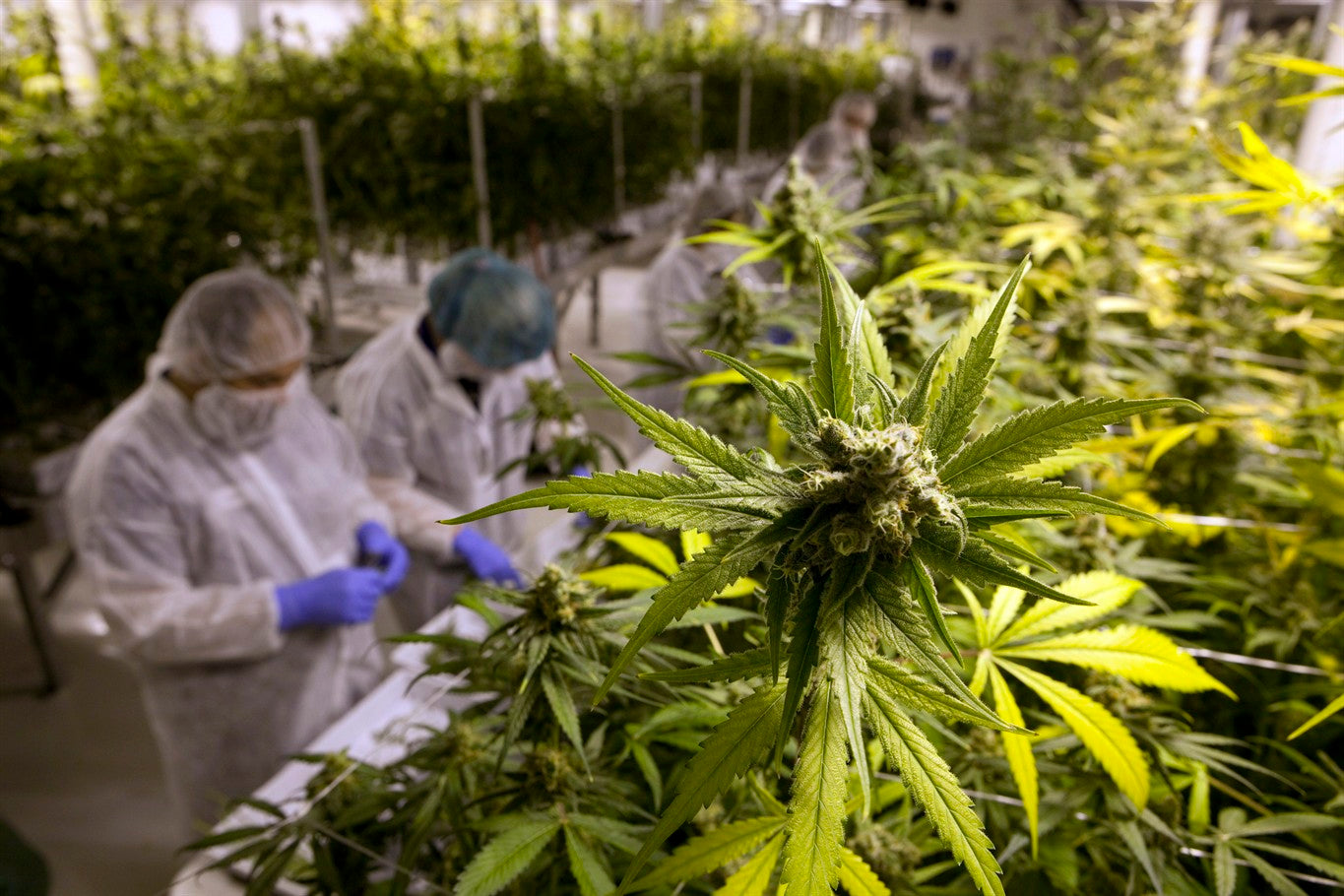 We all love smoking the best of the best weed, and it's never been easier to come by than it is now. With so many states legalizing both medical and recreational use, high quality cannabis is cropping up everywhere. But some of us just aren't content to stick to the standard store bought bud (especially at some of those prices). That's where growing cannabis comes in. 
You can grow your own cannabis in your backyard or your bedroom. There's never been more information or technology available for growing world class weed in the comfort of your own home. But all that information and technology can get a bit overwhelming, especially when you're looking at investing in a major piece of growing equipment. Grab a book from our top ten marijuana growing books, and you'll be able to start growing confidently in no time!
The Cannabis Grow Bible - $38
 

Comprehensive guide
Best grow book
Startup business advice

If you're looking to start your own marijuana grow operation, look no further than this all-inclusive, comprehensive guide. This has been one of the best go-to grow books for years, and the updated version makes it even better than before with new equipment info, better grow techniques, and extensive details about cannabinoid extraction. Whether you're just starting to grow marijuana or marijuana cultivation is second nature, this book will set you up for success.
 

Respected author
Comprehensive information
Easy to understand

Jorge Cervantes has maintained his status as a big name in the cannabis growing world for a while now, and it's easy to see why when you pick up this award-winning book. With over 2,000 full-color, highly detailed images spanning nearly 600 pages, it's unlikely that you'll have any questions this guide to growing can't answer. It is truly the definitive guide to marijuana cultivation.
 

Condensed information
Great guide book
Best casual grower book

If you don't want to dive into that lengthy tome, Jorge Cervantes has written another marijuana grow book which is a bit more condensed. While it may not be as hefty as some grow books, this can still act as a complete guide for your marijuana cultivation endeavor. Whether you want to grow marijuana indoors with a grow room or in your own backyard, this is the simplest, best marijuana growing book.
 

Detailed information
Complete guide to growing
Perfect for professionals

Ed Rosenthal is another of the biggest names in cannabis cultivation and marijuana grow books. This Is truly a complete guide for any cannabis grow operation. It has such incredibly detailed information that it may be better suited for an upstart marijuana cultivation business, rather than someone growing cannabis in their backyard for personal consumption. If you have a knack for science, you'll be able to get the best use out of this guide and its deeply detailed information.
 

Perfect for beginners
Editor of High Times
Easy to use

If you're a fan of High Times, the popular marijuana enthusiast magazine, then you've probably seen the name Danny Danko once or twice. As the senior cultivation editor for High Times, Danny's book offers tried-and-true information for the beginner cannabis grower. Referred to by some as the "beginner's grow bible," this book breaks down all of the essential information for cannabis cultivation, from setting up your first grow room to the genetics of cannabis and more. 
 

Simple, clear information
Ideal for beginners
Affordable

This is another great source for any new and inexperienced growers. It takes you step-by-step through picking the perfect variety, deciding a grow method and location, the best grow techniques, and how to harvest and cure your crop. This guide to growing is one of the best books for any newcomer to the cannabis grow scene.
 

Concise grow book
Easy-to-follow guide
Great price

The "Idiot's Guide" series has been helping us survive all kinds of situations for years. Now there's a simple, definitive guide for growing the best cannabis possible right in your own home. This book covers methods both old and new in depth so you can choose what's best for your personal grow operation. There's step-by-step photos to go along with the information, so it's the ultimate guide for someone looking to keep things simple.
 

Up-to-date info
Accessible writing
Concise yet informative

This is another extremely helpful grow book from Ed Rosenthal. It's a much more up-to-date offering from the "guru of ganja" himself, combining all sorts of modern research and techniques into what is effectively a grow "bible." Amateurs and professionals alike can gain a great deal from this cannabis grow book. The information is detailed and informative enough to improve even a seasoned grower's crops, yet it's presented in a way that is accessible to even total beginners. 
 

Best medical cannabis book
Comprehensive cross-referencing
Great price

If you use cannabis medically and want to start growing your own, this is one of the best books you could get. It covers over 500 strains of cannabis and their various medical benefits, and cross-references them with over 120 medical conditions. This means you can narrow down which strain could best be used to treat your condition, so your own cannabis grow operation may be the best way to get the exact right strains for your medical needs!
 

Brief yet informative
Great quick reference book
Available in audiobook form

If you're after a quick, understandable cannabis growing book, this handy guide is perfect for you. It covers all the same topic areas as most of the other books on our list, but removes a bit of the detailed information and condenses it into a more quickly readable and understandable format. It definitely won't get you up and running with a professional grow operation, but if you're just trying to wrap your head around growing some cannabis for personal use, check out this book.
Conclusion
Growing your own marijuana can be an extremely fun and rewarding experience when done right, but it can be a terribly frustrating and heartbreaking endeavor if your efforts don't come to fruition like you'd hoped. Any of these great books will help save you from that heartbreak and get you rolling towards your first homegrown smoke session. If you've already read some of these books and want to delve deeper into the cannabis world, check out these topics:
What states are legal to grow cannabis at home?

How big do cannabis plants get?

Hydroponic planting techniques
.

Written by Megan Medeiros (BA)
Megan Medeiros has a bachelor's degree in English and is currently working on a master's in English at James Madison University. She's the owner and operator of Medeiros Writing, and has been working as a cannabis writer for the past three years, mostly following the legal climate of marijuana, especially in areas like California, Colorado, Oregon, Canada, and other legal areas.
This post contains references to products from one or more of our advertisers. We may receive compensation when you click on links to those products. For an explanation of our Advertising Policy, visit this page. All photos were sourced from Pinterest.com | updated 2021
Stay home & get your daily
needs from our shop
Start You'r Daily Shopping with Nest Mart
Best prices & offers
Orders $50 or more
Free delivery
24/7 amazing services
Great daily deal
When you sign up
Wide assortment
Mega Discounts
Easy returns
Within 30 days