Deluxe Leaf - Healing Via Transparency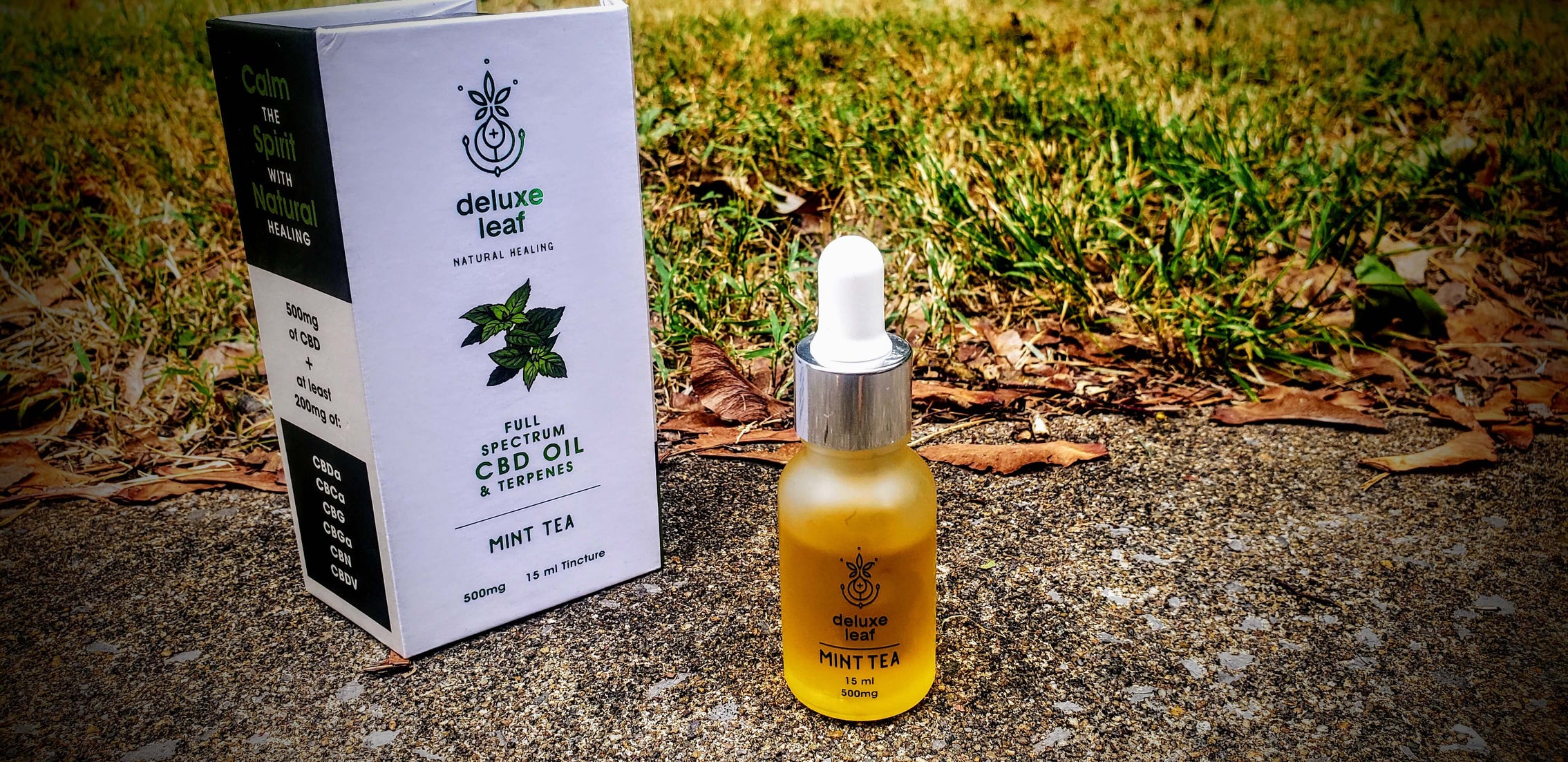 Everyone, at this point, has heard at least one person talk about the miracle drug CBD. It's praised as a highly effective treatment for anxiety, insomnia, chronic pain, muscle spasms, and more. With the murky legality surrounding CBD, it's incredibly difficult to select a company and product. How do you know which businesses to trust and which products are worth your money?
We're here to make that journey a little simpler. Today, we tried Deluxe Leaf CBD: a company you can trust to make a healthy, clean, and effective product. As with all CBD tinctures, the dosage needed may vary based on your size, tolerance, and diet, among other things. It's also important to note that CBD is still unregulated in the United States and thus not inspected or FDA-approved. Always make sure you're doing extensive research before you purchase and consume CBD products.
Each and every product created by Deluxe Leaf CBD is made of all-natural CBD extracted from organically grown hemp using the CO2 extraction method. They put each one of their products through rigorous testing before allowing it to enter the customers' hands, so you know that the product you're getting is exactly what it says it is. 
Deluxe Leaf CBD makes a variety of products (edibles, vapes, tinctures) that all have one thing in common: they're handled with the utmost care and paid the utmost attention every step of the process. As their website says: "From the moment the earth produces the plant to the second our packaging is sealed, the goods are under our watch." 
All of their products have a shelf-life of about 12 months when stored in a cool, dry place. Deluxe Leaf offers free shipping to the United States with all products. You can return new, unopened items within 30 days of receiving them. If your order is incorrect or defective, you can receive a full refund but you have to report it within 72 hours to receive an exchange with no additional cost or a full refund.
What We Tried:
Product: Deluxe Leaf 500mg CBD Mint Tea Tincture - 15mL
Price: $84.99
Contains: 200mg of the following: CBDa, CBG, CBN, CBC, and CBCa. 500mg CBD
Tested: Rigorously 3rd-party tested; results available on the website.
Review 
We found this CBD to be highly effective; it relaxed the muscles and the brain, easing us to sleep within 30 minutes of taking it. The taste, however, is a little strong. The mint tea flavor is a bit overpowering and the tincture itself is harsh. If you're a big fan of strong minty flavor this may just be your cup of tea but for me it packed a little too much of a punch for my taste buds. 
Despite the strong taste, this CBD is quite amazing. It's a very high-quality product that's incredibly effective. Unlike the Specktra Awake, this CBD will put you to sleep, so it's not ideal for taking early in the day. However, when taking it at night, it's extremely effective and will have you relaxed and ready for bed in no time. 
While this isn't the cheapest of the CBD products we've reviewed, it's well worth the investment. This tincture is a very clean product, guaranteed all-natural and organic. With Deluxe Leaf, you know 100% what you're getting. If you have any doubts, you can always check the lab results on their website.
What We Love
High-quality product

Highly-effective

Clean product
What We Don't Love
The price is a little high (it's worth it, though)

The taste is unpleasant; too much mint. We also barely tasted any tea flavor
Dosing Deluxe Leaf CBD Mint Tea Tincture
Dosing CBD is a bit of a tricky situation. Due to the fact that CBD is still largely unregulated and uncontrolled, there's no designated dosage. Most CBD companies recommend starting with a 1 mL dose at first, taking more if they don't see an effect. 
There are several factors that could cause you to require a higher or lower dosage. If you've eaten recently, it can help speed up and improve your absorption of the CBD, but if you've eaten a really large meal, particularly one with a lot of starches, you may find that you require a higher dosage to feel any of the effects. Likewise, if you smoke a lot of marijuana, you could start out with a much higher tolerance than others.
When trying CBD for the first time, we recommend starting low and working your way up. This way, you can be sure that you don't get in too deep and exceed the amount you're comfortable with taking.
Recommended Way to Take Deluxe Leaf CBD Mint Tea Tincture
There's a couple of different ways people choose to take CBD tinctures. The recommended method is squirting the entire 1 mL dropper full of CBD oil under your tongue, as there are endocannabinoid receptors there, eager to bond with the cannabidiol. Others choose to simply squirt the oil into their mouth, not trying to get it under the tongue at all. A few people have been known to put it in beverages or baked goods, but we don't recommend that method as highly.
Deluxe Leaf CBD is a high-quality, clean, all-natural CBD company that uses CBD extracted from hemp grown with organic farming methods. We tried their Mint Tea 500mg CBD tincture and while we weren't too crazy about the taste, the product was amazing. If you're like us and aren't a huge fan of the mint tea flavor, we highly recommend giving one of their other flavors a shot, as the CBD itself is very high quality and effective.
Recap
Deluxe Leaf CBD is all-natural, organic, full-spectrum CBD

Deluxe Leaf is trustworthy and makes terrific products

Products rigorously third-party tested to ensure quality

Taste isn't the best, but they offer other flavors

A little on the pricier side, but worth every penny

We recommend taking it at night as it caused us to fall asleep within 30 minutes.
.

Written by Megan Medeiros (BA)
Megan Medeiros has a bachelor's degree in English and is currently working on a master's in English at James Madison University. She's the owner and operator of Medeiros Writing, and has been working as a cannabis writer for the past three years, mostly following the legal climate of marijuana, especially in areas like California, Colorado, Oregon, Canada, and other legal areas.
This post contains references to products from one or more of our advertisers. We may receive compensation when you click on links to those products. For an explanation of our Advertising Policy, visit this page. All photos were sourced from Pinterest.com | updated 2021
Stay home & get your daily
needs from our shop
Start You'r Daily Shopping with Nest Mart
Best prices & offers
Orders $50 or more
Free delivery
24/7 amazing services
Great daily deal
When you sign up
Wide assortment
Mega Discounts
Easy returns
Within 30 days