Galaxy Treats Delta 8 Gummies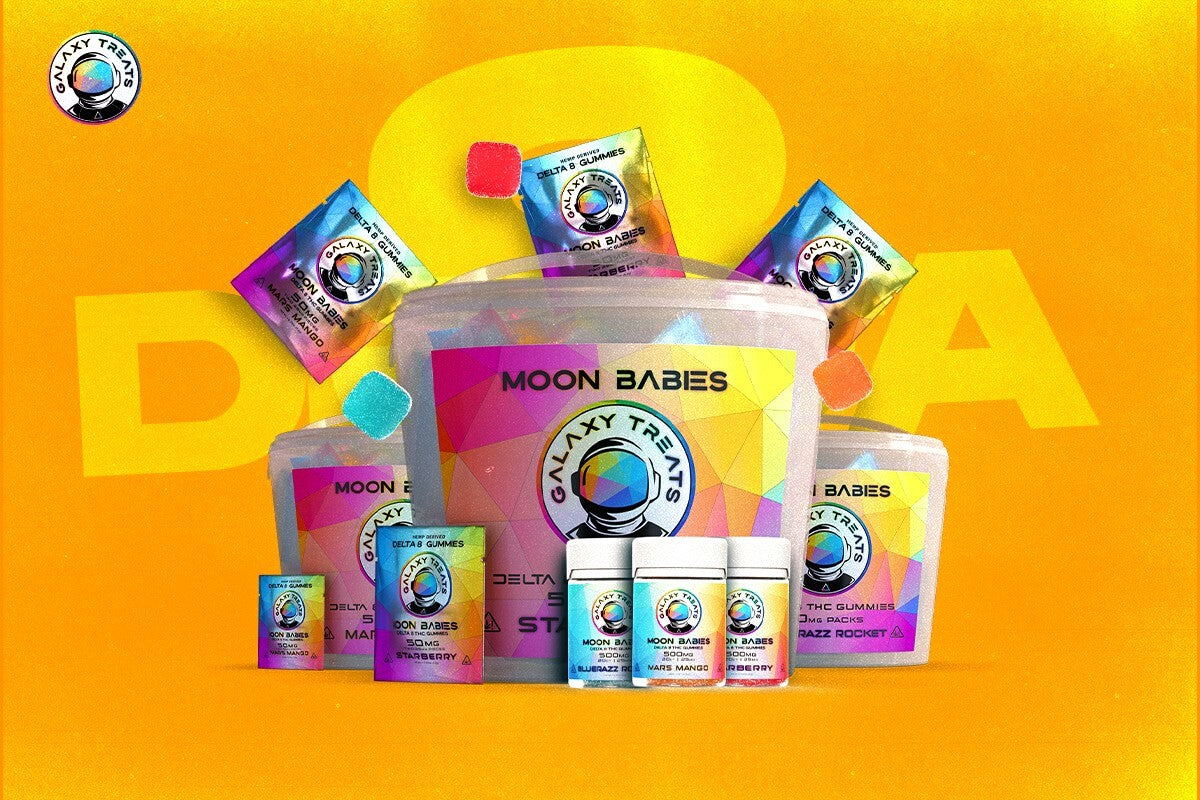 Whether you're looking for a legal THC buzz or simply curious about the therapeutic value of lesser-known cannabinoids, delta 8 THC is bound to attract your interest. If you're looking for one of the most popular ways to consume delta 8, delta 8 gummies will slip across your radar. And, one brand in particular is likely to catch your eye with its iconic, cosmic-themed branding: Galaxy gummiesTreats.
Delta 8 edibles are everywhere, but not every manufacturer offers a quality product. By contrast, Galaxy Gummies Treats is known to offer some of the best delta 8 gummies you can get your hands on. Here's a comprehensive Galaxy Treats Delta 8 Gummies review.
Flavors
It shouldn't be a surprise if the manufacturer puts a premium on the taste of their edibles, especially the gummies. Galaxy Treats delta 8 gummies are said to be some of the best-tasting Galaxy Gummies edibles you can find. This comes as no surprise since the company uses hemp-derived terpenes and natural flavors to make its products. So, what you get is a nice pop of authentic flavor that's not overpoweringly sweet or artificial. Galaxy Treats delta 8 gummies come in three yummy flavors, including:
Instead of mingling flavors together in one package, Galaxy Gummies Treats are offered in distinct flavors per pack. Therefore, you don't have to be picking around the gummies to get to your favorites.
Quality
Above all attributes, it is the quality of an edible gummy that should make or break your purchase. It doesn't matter if it looks or tastes good if the gummies are made from substantial ingredients.
One big reason Galaxy Gummies Treats has grown to be a leader in delta 8 gummies is that the brand is recognized for its quality. All Galaxy Treats products are made right here in the United States and done so with the highest level of quality control. The extracts used to make the delta 8 gummies are 100 percent hemp-derived, and every product undergoes full-panel lab testing through a third-party lab.
You can actually see the certificate of analysis on every product right on the website. The gummies are third-party lab-tested for:
Cannabinoid content/potency

Heavy metals

Pesticides

Residual solvents

Pathogens

Mycotoxins

Listeria Monocytes
The difference in quality truly shows when you open a package or bottle of delta 8 gummies from Galaxy Treats. The gummies are perfectly shaped, never clumped together, melted, or discolored, which can be an issue with some lower-quality products.
Pricing
The pricing for Galaxy Gummies Treats is yet another big win for this delta 8 brand. Right now, a 20-count bottle of gummies is $34.99, which is an excellent price point compared to other products on the market. You can also nab a two-pack of any flavor for just $4.99 if you don't want to financially commit to a full bottle, or you if you want to try all the flavors first.
But the dollars saved won't matter if you're not getting enough of the delta 8 goodness you're after. With Galaxy Gummies Treats, you're getting 500mg of delta 8 for right at $35, which is roughly $0.07 per milligram. Some of the latest numbers in 2022 say delta 8 gummies usually come with a cost between $0.05 and $0.10 per milligram. This makes Galaxy's gummies on the more affordable side of the scale already.
In addition the brand offers free shipping on orders over $30, and they regularly run promotional discounts for even more savings.
Customer Feedback
There's a reason why delta 8 gummies from Galaxy Gummies Treats were actually voted as the 2nd Place Winner of the High Times 2022 Hemp Cup. These delta 8 edibles get some of the best reviews from happy customers with remarks on everything from the flavor and effects to the price. Check out what a few customers have to say about Galaxy Treats delta 8 gummies straight from the brand's website:
"These are the best gummies I have ever had, will continue to keep ordering!" —Erin
"Galaxy Treats are by far the best delta 8 edible I've found! Not only are they effective and tasty, but I [get] good results *consistently* when I use them. They're a game changer for my chronic pain and anxiety!"—Allyson
"Great flavor and great feelings. These are more consistent than other Delta 8 gummies I've used. I would definitely recommend."—Michael W.
" ... I'm not sure how you guys did it, but your formula is not only potent, but it doesn't leave that 'chemical' after-taste that you get with some of the other more popular gummies on the market ... I know that everyone has their own brand preference and tolerance level, but based on my overall experience everyone should give these treats a try. You won't be disappointed- Galaxy- you've got a fan for life!"—PW
Galaxy Treats Company Background
Galaxy Treats is a Nevada-based company that set out on a mission to meet the skyrocketing demand for affordable, reliable-quality delta-8 products a few years ago. With its signature selection of delta 8 gummies at just the right price point with well-tested ingredients, the brand has grown to be a leader in terms of delta 8 edibles. However, Galaxy has also grown since its launch in terms of product offerings. They now offer other edibles made with unique cannabinoids like hemp-derived delta 9, HHC, and THC-O, as well as vape cartridges, disposable vapes, and Cosmic Krispies.
Are Galaxy Treats Gummies Worth a Try?
All things considered, Galaxy Treats delta 8 edibles are definitely worth a try. The brand is well-established with a top reputation and has actually received awards due to product popularity and reviews. The flavor lineup is the perfect mix to please just about anyone, and the overall taste is said to be out of this world (pun intended). Plus, with a fair price point and sample packs for just a few bucks, you really don't have anything to lose.
Ready to try Galaxy GummiesTreats for yourself? Head to GalaxyTreats.com and save 20% off your entire with code "REPUBLIC20"
Stay home & get your daily
needs from our shop
Start You'r Daily Shopping with Nest Mart
Best prices & offers
Orders $50 or more
Free delivery
24/7 amazing services
Great daily deal
When you sign up
Wide assortment
Mega Discounts
Easy returns
Within 30 days