Pilgrim Soul Review: The Best High Activity on the Market!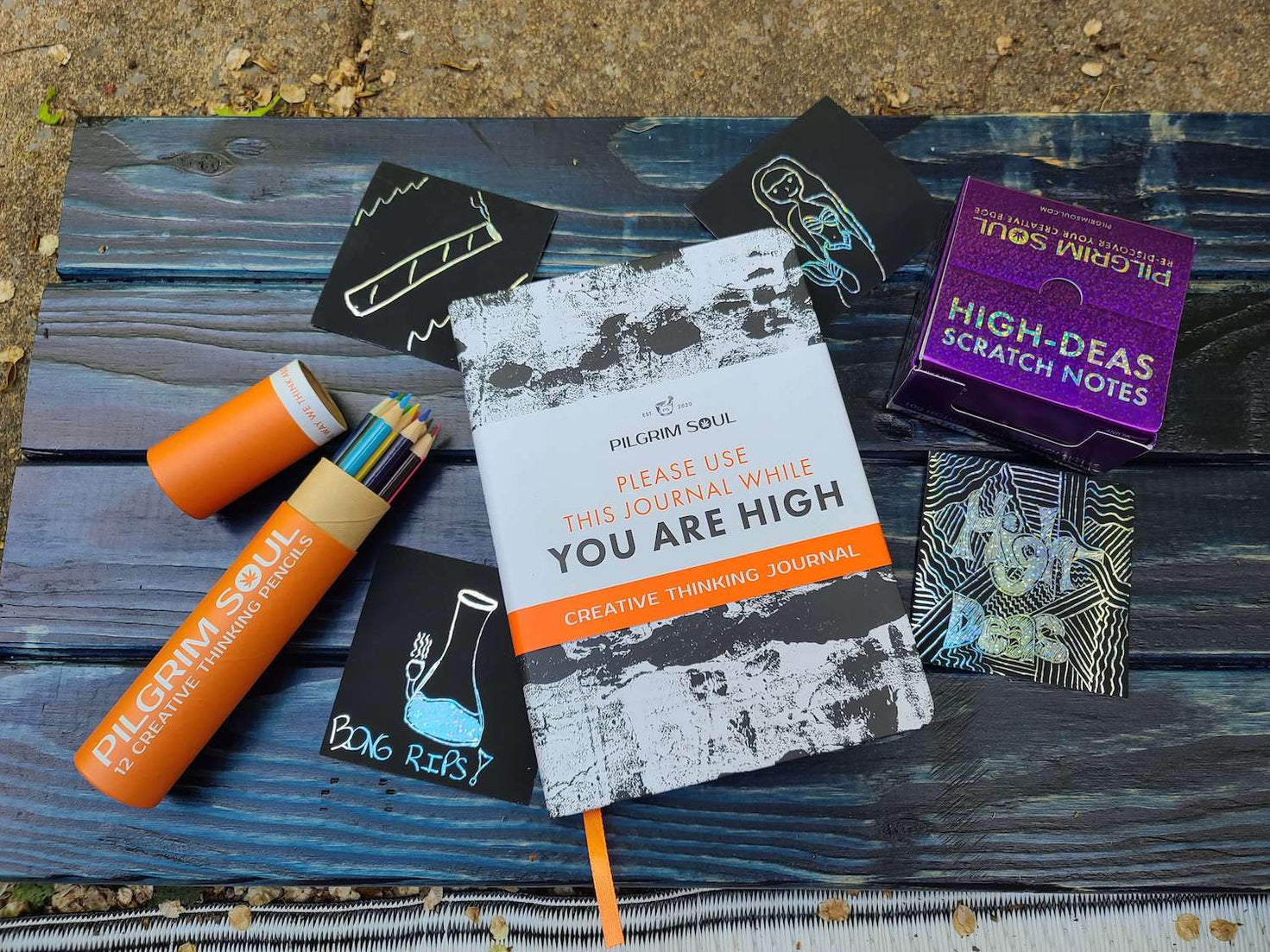 Are you a creative that finds yourself in the slump of creative block? 
Do you love getting creative when you're high? 
Do you love activities that really get those creative juices flowing in the best way?
Then listen up, because Pilgrim Soul is for you! This incredible company has released a Creative Thinking Journal, complete with tons of prompts designed to get those creative juices flowing and recommended for use while you're "under the influence." So light up and get comfortable! In this article, we'll review the following great products:
Who is Pilgrim Soul?
Pilgrim Soul is a company all about encouraging creative thinking. From the articles found on their website to the products available in their shops, Pilgrim Soul is committed to helping you encourage positive creative thinking habits and improve and develop your creative thinking skills. What's even better is the fact that Pilgrim Soul supports inner-city artists and other marginalized creative talents..
The Pilgrim Soul Creative Thinking Journal isn't your standard, every day journal. This journal is full of fun prompts, spaces for doodles (of course, complete with prompts), and fun activities that are designed to promote creative thinking and get those creative juices flowing. But that's not all! They're actually designed with the idea of being completed while stoned. Each of the challenges found in the Creative Thinking Journal are designed to "push you to rethink the way you see yourself and the world around you to uncover new possibilities and ideas," according to their website. In their exercises, they "reveal misconceptions about creativity, annoying aspects of the mind that lead us to repress creative thinking, and the research behind these methods." 
You don't have to be high to use this journal, though. It's all about boosting your creativity and learning how to fend off that evil little monster, the creative block. You can meditate and then do an exercise, you could do a couple with your morning coffee, you could do one after a yoga break; Pilgrim Soul just recognizes that cannabis can help enhance your creativity and get those juices flowing, so they encourage it full-force.
.
The Pilgrim Soul Creative Thinking Journal is a fun activity book with a great look and interesting exercises. We tried a couple of the exercises stoned and sober; admittedly, they were much more effective in the inebriated condition. Some of the exercises may seem sillier than others, but alas, with over 50 exercises they can't all be winners.
.
The Pilgrim Soul Creative Thinking Pencils are high-quality colored pencils that aren't professional-grade, but they're also not the colored pencils you use with your nephew. The Thinking Pencils are a great companion to the Creative Thinking Journal, especially since there are many opportunities to add a fun pop of color to your creative exercises. 
These 12 colored pencils come in a useful and aesthetically pleasing orange cylindrical case that's 7.5 inches. They're designed with smooth colors that are perfect for blending and mixing colors to find your perfect shade. Whether you're using them to write your thoughts or color the background of the page, you're sure to love them. These colored pencils work well and aren't overly fragile, though due to their soft nature, you will have to brush away shavings, but that's pretty standard.. They do blend really easily and mix well; they write smoothly on the page without being too waxy. They're affordable and the case is nice and convenient.
.
This pack of silver holographic note cards covered in black matte coating (scratch paper) is one of the most fun ways to keep a scratchpad by your bed or on your desk we've ever seen! If you're a '90s kid, you'll remember the metallic scratch paper that was all the rage; it's back and in a fun new stoner-ific package. This pack comes with 100 sheets of holographic scratch paper and two stylus pens and is packaged in a cute and convenient box for easy storage and easy access.
We loved doodling on this paper while stoned; I now keep the box right with my bong for a little bit of creative fun in my smoke session. The scratch paper is high-quality, and the holographic silver fun. They're affordable and seriously the most fun spare notepad you'll ever have. Whether you're a stoner or not, you'll love Pilgrim Soul's amazing, creative boosting products. All of their products (and blog posts!) are designed with the help of experts and scientists to ensure that they truly promote creative thinking to the utmost. You don't have to be stoned to enjoy these great products or their creative-boosting benefits. What are you waiting for? Try them today!
Author bio:
Megan Medeiros
is a freelance writer and editor in Harrisonburg, Va. She's the owner and operator of
Medeiros Writing
, providing freelance writing, editing, and social media management services. She's been working as a cannabis writer since 2017, mostly following the legal climate of marijuana, especially in areas like California, Colorado, Oregon, and Canada and reviewing CBD products and vapes. Since 2019, she's focused more on the science behind the endocannabinoid system, CBD, and other cannabinoids as well as potential medicinal benefits these cannabinoids might offer. She has both a BA and MA in English from James Madison University.
Stay home & get your daily
needs from our shop
Start You'r Daily Shopping with Nest Mart
Best prices & offers
Orders $50 or more
Free delivery
24/7 amazing services
Great daily deal
When you sign up
Wide assortment
Mega Discounts
Easy returns
Within 30 days