Top 10 Cannabis Flour Brands You Need To Try!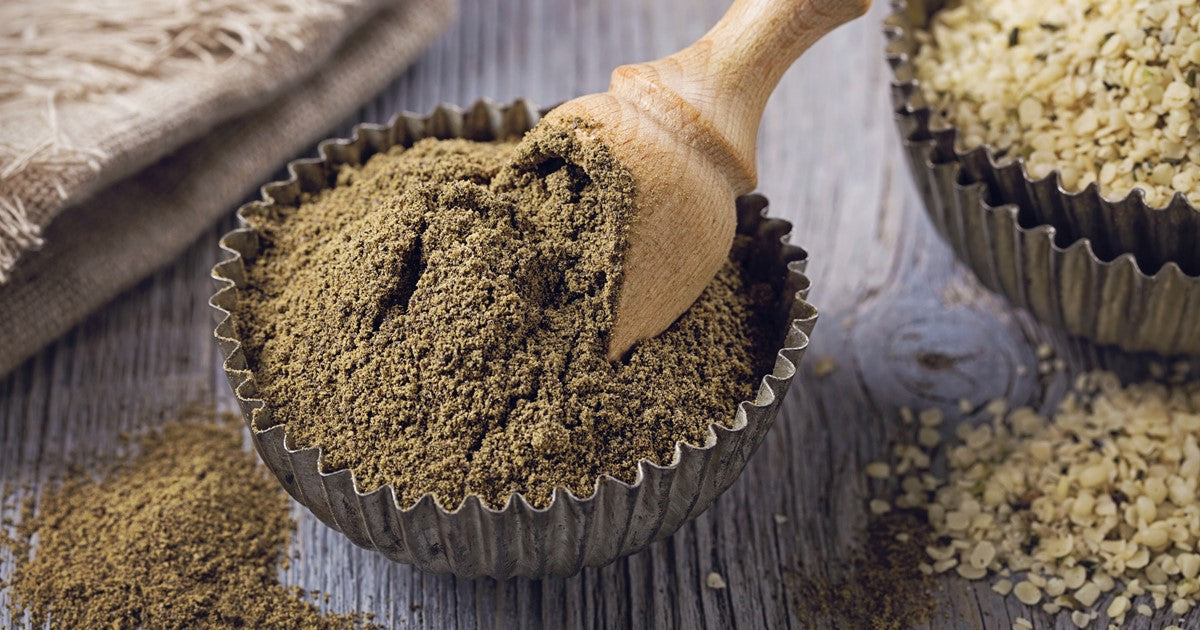 Marijuana has been used in various cultures for thousands of years for many purposes including cooking. Hemp seed powder is basically cannabis protein powder but with less protein. Canna flour will make any food stand out because it can be used to bake, fry, and blend into any food. It is a fantastic source of protein and fiber, as well as minerals and amino acids. 
Some brands use the whole-plant method, milling actual cannabis buds. However, some industrial cannabis brands use hemp seeds, which are quite oily, so they must be pressed to take out the oil before turning it into a flour. Industrial canna flour is made by cold-pressing hemp seeds to extract their oils. Then, the seeds are mechanically ground and then sieved to collect the remaining press cake, which is further filtered to make a fine powder.  
You can substitute or add hemp flour to any recipe and can even sprinkle it as a topping to add protein and nutrients to any diet. It is a great source of easily digestible and nutrient-dense protein for vegan and vegetarian cooking. Marijuana flour also contains essential fats, amino acids and other vital nutrients your body needs. It's a great addition to smoothies and cereals, and is even low carb! Most cannabis powder is gluten-free, vegan, and organic. Here are some of the best (and our favorite) brands:
 

Organic 
Soil Association approved
GMO-free
Vegan and gluten-free
Great taste

Forest Whole Foods Organic Weed Flour is one of the best ways to add a health boost to an otherwise less nutrient dense food, such as baked goods like cakes and muffins. It has a nutty flavor and is light brown in color, and can be sprinkled over your food as a topping or added to raw or baked recipes. They use the cold press method to produce their marijuana flour for a clean taste without any chemical or thermal treatment involved. To keep this marijuana flour fresher longer, store it in a cool, dry place away from direct sunlight in a tightly sealed container or bag. You can order it in several quantities from 500g to 15kg.
 

Good source of minerals
High protein content
High in Omega 3 and Omega 6
Made exclusively with raw ingredients
Use as a gluten free alternative
This cannabis flour is vegan, and free from sugar, yeast, lactose, and gluten. Hempiness Premium Organic Hemp Flour is high in essential omega oils, fiber and is enriched with protein. Because of how much protein this flour contains, Hempiness suggests you use only a small amount in substitution for regular flour: about ¼ to ⅓ of the flour should be marijuana flour. Hempiness Premium Organic Weed Flour is made exclusively from raw ingredients which have not been treated with excessive heat or any chemicals to ensure that the protein stays intact and doesn't denature to make sure enzymes stay happy and alive.   
 

contains all 10 essential amino acids
High in vitamins and minerals
Easy way to add more fiber to your diet
Bulk pricing including whole pallets 
Great for businesses working to make their own hemp edibles recipe
This American bulk hemp warehouse offers several products to "hempower" yourself. Their marijuana flour comes in an industrial size: 50lbs, and includes 23% hemp protein flour, so it's perfect for shops that bake their own edibles! If you'd like an even bigger order, you can complete their quote request. HempUSA's cannabis flour can help you build more lean muscle, and even supports healthy skin, hair, bones, and hormone balance. If you're on a search for a flour rich in vitamins, minerals, and antioxidants, this flour is perfect for you!
 

Free from gluten and lactose
Organic and GMO free
Completely raw food source
Vegan and vegetarian
100% compostable packaging

Bioenergie's cannabis flour is made from peeled marijuana seeds. The seeds are pressed gently, partially deoiled, and finally ground into a fine powder. This organic cannabis flour is ideal to add to pastrieds, cakes and bread. It can also be used to add protein and a nutty flavor to your smoothies, oatmeal, and cereals. The packaging is sustainable and 100% compostable, resealable, and ideal for proper storage. Bioenergie recommends adding 1tbsp of their cannabis product to 500mL of liquid and replacing a maximum of 10% of regular flour with their marijuana flour in your recipes. They also mention that you may need to add more liquid to the recipe to make sure the dough has the right consistency for your purposes.
 

Supports digestive health
Great for smoothies and protein shakes
You only need 1 part cannabis flour to 4 parts of your regular flour
Non-GMO
Gluten-free and 100% organic

This cannabis flour is perfect for use in baked goods, raw bars, and cracker recipes! You can also add it to your granola for a delicious nutty taste. After removing the oil from the cannabis seeds, the remaining dense marijuana cake is ground to a fine texture into a usable flour. Simply replacing a small amount of your regular baking flour with their cannabis flour, you can add a lot of nutrients to any recipe, even cupcakes! It offers many vitamins and minerals as well as plenty of fiber to benefit your digestive health. Every 100g of this cannabis product contains over 30g of protein! It should be stored in a dry, cool, dark place out of direct sunlight. 
 

Makes protein easier for your body to digest
Hippie Butter is running a BOGO 50% off deal on their website
Vegan certified
Clear recommendations for accurate substitution amounts
Provides a nutrient-rich alternative for those with certain food allergies

Hippie Butter is a delicious and nutritious source of energy with 33% protein and is right behind soy in regards to protein content. Their marijuana product is made by milling and then sifting their hemp seed cake. Hippie Butter recommends substituting their cannabis flour for half of the regular amount of breadstuff in your recipe. This will thicken the texture of bread and give your body healthy nutrients like omega fatty acids and lots of fiber. It can also be used in smoothies for an extra health boost. Hippie Butter makes this product in small batches to make sure it's super fresh when it arrives in your recipe! 
 

A fantastic source of fiber and protein
Vegan and vegetarian friendly
Precise recipes on product site
Can be used as breading
Coarser texture allows for different applications than a fine grind
Great taste

This cannabis flour is whole-grain, so the texture is a little coarser than standard wheat flour. Health Embassy recommends substituting their cannabis product for 50% of standard flour in baking recipes. They also suggest using it to add flavor and protein to smoothies and protein drinks, as well as using it to thicken sauces. You can also use this marijuana powder as breading when mixed with seasonings and bread crumbs. Health Embassy lists two recipes on their website for Hemp Crackers and Hemp Bread, so you know you're using the right ratios. 
 

Gluten-free and organic
Available in 1lb, 5lb, and 50 lb bags
Quality resealable container
Low carb
Great reviews 

This perfect addition to almost any recipe is 100% Canadian grown, non-GMO, certified organic, and contains all 20 amino acids. It is produced without chemical processes or additives, so the flavor of this superfood is all-natural. For those who find themselves in a constant search for low carb foods, at only 4g of net carbs per serving, cannabis flour is a great substitution for normally high-carb recipes. It's made of all-natural ingredients and 100% raw. On top of all these benefits, Chii is offering 25% off their products right now.  Chii does mention that the shelf life of this cannabis product is best used before 14 months of the manufacture date, and 4-6 months in the freezer after opening.
 

Plant-based source of whole protein
Energy-boosting 
Perfect to substituting or adding to any cooking recipe
Excellent source of fiber and minerals
Gluten-free, dairy-free, kosher and vegan

Containing 13g of protein and 4g of net carbs per 4tbsp serving, this hemp powder is a powerful plant-based superfood. It is Non-GMO Project verified and USDA organic. It is an excellent source of fiber and minerals to add a health boost to any recipe! Navitas even includes ratios and recipes on their website including a Blueberry Hemp Protein Shake recipe. They recommend using their cannabis flour in smoothies, breakfast cereals, and as a flour substitute. Navitas Organics Hemp Powder should be stored in a cool, dark and dry place.
 

Can be used as a partial or whole substitute in baked goods recipes
You get 29.5% - 32% protein per serving
Gluten-free, lactose-free, and paleo
Raw ingredients
Is not treated with heat or chemicals

This marijuana seed powder is gluten-free and suitable for baking, as well as several cooking applications like thickening a sauce or adding a nutty flavor to any recipe. Its high protein and fiber content make it an excellent choice for baked goods because you can use it in a ratio to substitute part of the recipe, or exclusively use this as your flour for bread recipes. SaludViva's cannabis flour is paleo-approved and contains no additives; just simple deoiled cannabis seeds.  
Conclusion
Hopefully, your search for the perfect cannabis flour has concluded with this list. But just in case, here's how to make your own! This technique is the easiest and quickest way to make yourself cannaflour for use in your home cooking. 
You will need to get  7g of cannabis, a food processor or coffee grinder, and a sifter. Prep time is 10 minutes and cook time is 45 minutes. First, place your cannabis on a baking sheet in the oven at about 240 degrees F for around 45 minutes to decarboxylate/activate the THC. Make sure not to burn it! Allow the marijuana to cool for several minutes, then grab your coffee grinder or food processor. Pour the decarboxylated cannabis from the baking sheet into your food processor or coffee grinder, and use them to grind your marijuana into a fine powder. For best results and use in your recipes, store your DIY cannabis flour in an airtight container in a dark, cool, dry place and use it within three months.
To get the most out of your meal prep and make delicious edibles, these options make any recipe a little better. Marijuana has many applications and this is one of the best. It provides an alternative to those with gluten allergies and those practicing a keto diet.  You can rest easy and eat more of what you love guilt-free knowing that just adding a sprinkle of this stuff boosts energy and helps your digestive system.
.

Written by Megan Medeiros (BA)
Megan Medeiros has a bachelor's degree in English and is currently working on a master's in English at James Madison University. She's the owner and operator of Medeiros Writing, and has been working as a cannabis writer for the past three years, mostly following the legal climate of marijuana, especially in areas like California, Colorado, Oregon, Canada, and other legal areas.
This post contains references to products from one or more of our advertisers. We may receive compensation when you click on links to those products. For an explanation of our Advertising Policy, visit this page. All photos were sourced from Pinterest.com | updated 2021
Stay home & get your daily
needs from our shop
Start You'r Daily Shopping with Nest Mart
Best prices & offers
Orders $50 or more
Free delivery
24/7 amazing services
Great daily deal
When you sign up
Wide assortment
Mega Discounts
Easy returns
Within 30 days