Top 10 CBD Gummies Right Now – Most Powerful and Best Tasting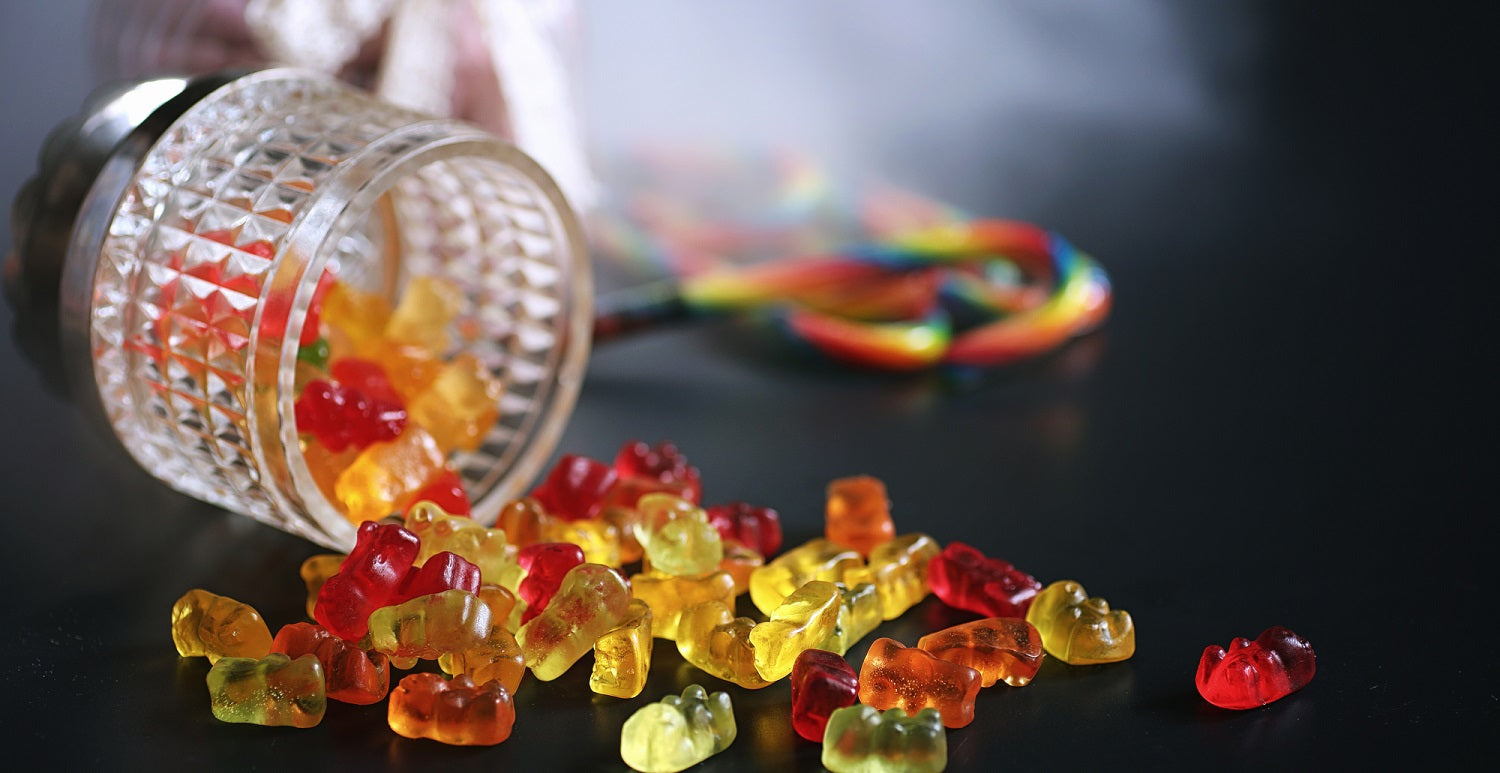 CBD Gummies are quickly becoming the most popular method for taking cannabinol. Gummies are discrete, mess-free, consistently dosed, and incredibly delicious. For CBD users looking to try gummies, we recommend Kanibi's Organi Gummies. There isn't any reason why you can't have a great tasting gummy confection and get your CBD too.
The shortlist to why gummies make good CBD vectors include:
Precisely dosed gummy-by-gummy.
No mess while taking or transporting.
Easiest to view how many servings are left.
Most appetizing way to take CBD.
If you have been concerned that taking CBD in gummy form is a gimmick, don't worry – there are several reputable brands that make very high-quality CBD gummies. Below we're going to cover everything you need to know to pick the right CBD gummy for you.
Table of contents:
What to look for in CBD Gummies.
Are Gummies the right way for me to take CBD?
Top 25 Best CBD Gummies Available Online.
Sit back and enjoy as we quickly share with you all the important details about picking the right CBD Gummy product.


What to look for in CBD Gummies: 5 Ways CBD Gummies Can Vary in Quality
When picking the right CBD Gummy there are a few key differences to consider that go beyond typical brand-to-brand subtleties. As a general rule of thumb, if you are unsure about one metric of quality for a product, consider looking at a few more until a clear and transparent winner immerges.
1. How the CBD hemp was grown – Look for USA Grown Organic PCR Hemp.
The way hemp is grown matters for CBD products. This is because the fast-growing hemp plant has a natural tendency to accumulate things like pesticides and fertilizers. This problem is compounded when CBD extracted from the hemp plant is then concentrated for supplemental use. During this process, any pesticides or synthetic fertilizers get concentrated too.
The solution? Look for CBD sourced from organic PCR Hemp, at least until proper pesticide safety can be established with hemp plants.
If a plant is organic, that means it has not been treated with pesticides or synthetic fertilizers during its lifetime. Pair that with PCR (phyto-cannabinoid rich), and less concentration is necessary to produce valid dosages of CBD. Win-win.
2. How CBD is extracted – Look for CO2 extracted.
The process of extraction refers to how CBD is separated from the rest of the hemp plant material after harvest. There are several ways to extract CBD, both commercially and at home. The current gold standard for extracting CBD is CO2 extraction.
CO2 extraction uses pressure, temperature changes, and CO2 to extract CBD from the hemp plant. CO2 extraction isn't cheap, however, it is the preferred method when compared to chemical extractions that use several volatile solvents.
3. How CBD is added to the gummy – Look for CBD infused.
The way that CBD is added when making CBD gummies is an important yet often undisclosed feature. Overall there are two main ways that CBD can be added:
Infused CBD: Added during gummy formation evenly throughout each gummy.
Coated CBD: A CBD concentration is sprayed onto gummies, coating them in CBD.
Hands down, infused is the preferred way for CBD gummies to be made. Infused gummies contain a more consistent dosage, maintain their dosage, and aren't oily and messy. Products that are coated or sprayed are just plain disappointing.
4. How the Gummy is flavored and sweetened – Look for naturally flavored and sweetened.
There are a lot of ingredients in CBD gummies besides the active cannabidiol. Just take a look at the "other ingredients" list and you will see everything that goes into each CBD chew.
When we take gummies, we specifically look for products made with natural flavors and sweeteners. Not only is this healthier, but it also gests towards the moral compass and integrity of a brand.
5. Check if CBD Gummies contain THC or not (Personal Preference).
Whether or not a CBD Gummy contains THC isn't a matter of quality, but rather personal preference. For new CBD users, there are three main categories:
THC Free: The majority of CBD gummies are completely THC free by containing CBD isolate.
Full-spectrum CBD (<0.3% THC): These gummies contain less than 0.3% THC, but also come with many naturally occurring terpenes and cannabinoids from hemp. Full-spectrum CBD products will not get you high or make you fail a drug test.
CBD and THC Gummies: Gummies that do contain intoxicating levels of THC will be labeled so, and only available in legalized states. If you are unsure about a product, scan the back label looking for THC.
For the average CBD user, either THC free or Full Spectrum is what you will want.

Are CBD Gummies Right for Me?
CBD gummies and chews are an extremely convenient and tasty way to take specific dosages of cannabidiol. However, that doesn't mean tinctures and topicals aren't useful.
If you are looking to spot-applicate CBD directly to a pain or inflammation point, a topical product will perform better than gummies.
If you need to take a larger dosage, a tincture can be more economical than gummies.
If you want the CBD to absorb as quickly as possible, a tincture under the tongue may be better than ingesting gummies.
At the end of the day, gummies are just another method of delivery for CBD products. It just so happens to be our favorite!
Top 10 BEST CBD Gummies Right Now
There are countless CBD products on the market and it's not a surprise that many people get overwhelmed with decision fatigue when trying to determine the best product. Fortunately, operating Weed Republic as allowed us to test nearly every single CBD brand! Below, we have our ranking of best CBD gummies out right now. The top 3 have special designations each.
Notice: None of these CBD Gummies are available on Amazon. Currently, Amazon does not allow the sale of CBD products, so any hemp oils you see listed there are not true CBD products.
#1 Organi Gummies by Kanibi – The Overall Best Gummies Right Now.
 

Stress relief, relaxation and clarity.
Sleep support (falling asleep and staying asleep)
Low to moderate pain and inflammation reduction (tinctures/lotions may work better)

Out of all the brands we've tried, Kanibi Organi Gummies are the CBD chews we find ourselves gravitating towards time and time again. These delicious chews are sourced from organic USA PCR hemp plants, CO2 extracted, CBD infused, THC free, and naturally flavored and sweetened – checking off every criterion on our list.
Organi Gummies are also double third-party tested for purity and concentration, providing peace of mind that every bottle will perform just like the one before.
Each Kanibi Gummy provides 10 milligrams of THC-Free CBD goodness.
Kanibi Organi Gummies are only available directly from the manufacturer to maintain freshness and guarantee authenticity. They're priced well compared to other brands and we couldn't be more pleased.

#2 Kiva Confections Camino CBD Gummies with THC – Best Gummies with medicinal THC
 

Recreational fun.
Relaxation and sleep support.
Hunger and appetite support.

Designed to be both medicinal and recreational, Camino Gummies by Kiva Confections provides 2 mg THC and 6 mg CBD per every chew. This is low on the CBD side, compared to Organi Gummies 10 mg CBD per chew – however, it contains THC.
All Kiva Confection products are single the third-party tested, and available in-store in green-friendly states.
There is no denying that Kiva Confection products are beautifully crafted. The same appreciation can be experienced when ingesting these CBD and THC infused gummies.

#3 CBDfx CBD Gummy Bears – Best Full Spectrum CBD Gummies (<0.3%)
 

Anxiety support and collectiveness of thought.
Getting to sleep easier and staying asleep.
Taking CBD with other added ingredients.

CBDfx is one of the largest and first CBD companies to begin mass-marketing hemp-infused products. Based out of southern California, we appreciate CBDfx's commitment to using only organically grown hemp, natural flavors, and natural sweeteners.
CBDfx's CBD Gummy Bears contain 10 mg of cannabinoids from 12 mg of hemp extract. The CBD is CO2 extracted, and while the bottle doesn't say, from sampling we believe it to be a CBD infusion and not spray.
If you are interested in seeing CBD gummies with other active ingredients like spirulina, vitamins, and the sort – CBDfx may be of interest to you. Granted, we don't think the FDA approves of combining CBD with healthy ingredients.

#4 MedTerra Stay Alert CBD Gummies

The Medterra gummies that we enjoyed the most are their Stay Alert CBD Gummies. They contain 25 mg CBD isolate, gingko biloba, green tea and guarana.
Similar to CBDfx on paper, MedTerra is also one of the initial CBD brands to enter the market. Lead by CEO Jay Hartenbach, Medterra is on a mission to move the CBD industry forward while also being charitable. 
These gummies definitely gave us energy! Though, Medterra claims they are caffeine-free, we're not sure if that's the case with the added guarana (which typically is high in caffeine).
PROS
High 25 mg CBD Isolate dosage per gummy.
Unique Energy Blend.
Great tasting CBD gummies.
CONS
Last 3rd party test result 7 months old.
Currently out of stock.

#5 Charlottes Web Calm CBD Gummies
Each serving of Calm contains 10 mg of CBD sourced from 20 mg hemp extract. In addition, there is also 75 mg lemon balm and 50 mg l-theanine which may further support relaxation.
A large majority of CBD users take their gummies to help calm down and temper anxiety. Charlottes Web makes their own Calm CBD Gummies that are specialized for this task.
Overall Charlottes Web Calm CBD Gummies are great tasting and effective, however, they do come in at a higher price point.
PROS:
Great tasting gummies.
10 mg CBD from 20 mg hemp.
Trusted brand reputation.
CONS:
Two gummies per serving (15 servings in $29.99 bottle).
Not available without added ingredients.

#6 FabCBD CBD Chews
Fab CBD makes an interesting assortment of Colorado-hemp sourced products. In particular, we enjoyed their potent CBD Chews in the fruit flavor.
Each Fab CBD Fruit Chew contains 25 mg of CBD Isolate with a total serving count of 30 per bottle. We like that Fab Chews are made with only organic ingredients, though the $59 price tag still feels high.
Overall FabCBD makes quality products, and we look forward to the release of new flavors and variations of these CBD Chews.
PROS:
Strongly dosed at 25 mg CBD per serving.
All organic ingredient selections.
Gluten-free and non-GMO.
CONS:
On the expensive side
Only available in one flavor type

#7 Purekana Vegan CBD Gummies
PureKana makes strongly dosed CBD Gummies as we experienced with their Vegan CBD Gummies. Made with CBD isolate, these potent gummies will not contain any traces of THC. And at 25 mg per gummy, PureKana touts that a 50 mg CBD dosage can be achieved with two gummies.
Pricing can be a little more confusing with Purekana, as bottles contain only 20 gummies, as opposed to the industry norm of 30. Though that doesn't take away from how enjoyable PureKana gummies are.
PROS:
Large 25 mg dosage per gummy.
Made with CBD Isolate.
Sweetened with organic cane sugar.
CONS:
Only 20 servings per container.

Just CBD has the biggest selection of gummies by far, with countless shapes, sizes, flavors, and colors! The pricing isn't bad either, at $37.50 per 30 count jar of 25 mg CBD gummy worms.
We love JustCBD and a lot of other CBD users do too, however, we didn't like the use of artificial flavors and colors in these gummies.
The full lineup of JustCBD gummies includes: gummy worms, gummy bears, happy faces, rings, and we're sure they will add more variations in no time.
PROS:
A wide selection of flavors and varieties.
Well-priced at $37.50 per 30 servings.
Made with 99% pure CBD.
CONS:
Includes artificial flavors.
Includes artificial color dyes.

#9 Trubliss CBD Gummy Bears
Trubliss is a rather under-appreciated brand that makes potent gummy-bear shaped CBD chews. Having served over 493 thousand customers, TruBliss works hard to be customer-focused, offering their phone number on every page.
TruBliss CBD Gummy Bears are potent, containing 25 mg of CBD isolate per gummy and 30 servings per container. At a price point of $59.95, this is a relatively reasonable deal for a naturally flavored and sweetened product.
PROS:
Powerful CBD gummy bears.
Made with CBD Isolate.
Big product line-up aside from gummies.
CONS:
Social media links do not work on the site.
The website and branding are out-dated.

#10 cbdmd 750 mg Gummies
Finishing strong on our 10 best gummies ranking is WebMD's own CBD Gummies. Despite being last on this list, CBDMD is at the top of the market, beating out all the other brands we've tried but didn't make the top 10.
CBDMD Gummies come in two potencies, 10 mg, and 25 mg. For this placement, we really prefer our experience with the 25 mg CBD per gummy version!
Priced at $69.99, CBDMD gummies are a bit on the pricey side, however, they taste great and are well made. We only wish that they would directly label whether this is CBD isolate or full-spectrum being used, on their label.
PROS:
Trusted by golfers and athletes.
Well established brand with 3rd party testing.
Potent 10 and 25 mg dosages.
CONS:
A bit pricier than other brands.
The product page is a bit misleading with dosage mentions.

Wrapping up our ranking
There are a lot of CBD gummies out there and we've thoroughly enjoyed trying them all while working here at the Weed Republic. We hope that our trial, error, and hemp industry expertise help guide you in picking the perfect CBD gummy product for you. Remember, when choosing a CBD product, ask these questions:
How was the hemp grown?
How was the CBD extracted?
How is the CBD added to the gummies?
How is the gummy made/flavored/sweetened?
Does this product contain THC, and how much?
Now you're all set to critique the sea of CBD confection products! We hope that our ranking has both enlightened and saved you time.
.

Written by Megan Medeiros (BA)
Megan Medeiros has a bachelor's degree in English and is currently working on a master's in English at James Madison University. She's the owner and operator of Medeiros Writing, and has been working as a cannabis writer for the past three years, mostly following the legal climate of marijuana, especially in areas like California, Colorado, Oregon, Canada, and other legal areas.
This post contains references to products from one or more of our advertisers. We may receive compensation when you click on links to those products. For an explanation of our Advertising Policy, visit this page. All photos were sourced from Pinterest.com | updated 2021
Stay home & get your daily
needs from our shop
Start You'r Daily Shopping with Nest Mart
Best prices & offers
Orders $50 or more
Free delivery
24/7 amazing services
Great daily deal
When you sign up
Wide assortment
Mega Discounts
Easy returns
Within 30 days