Bruce Banner Strain | Bruce Banner Weed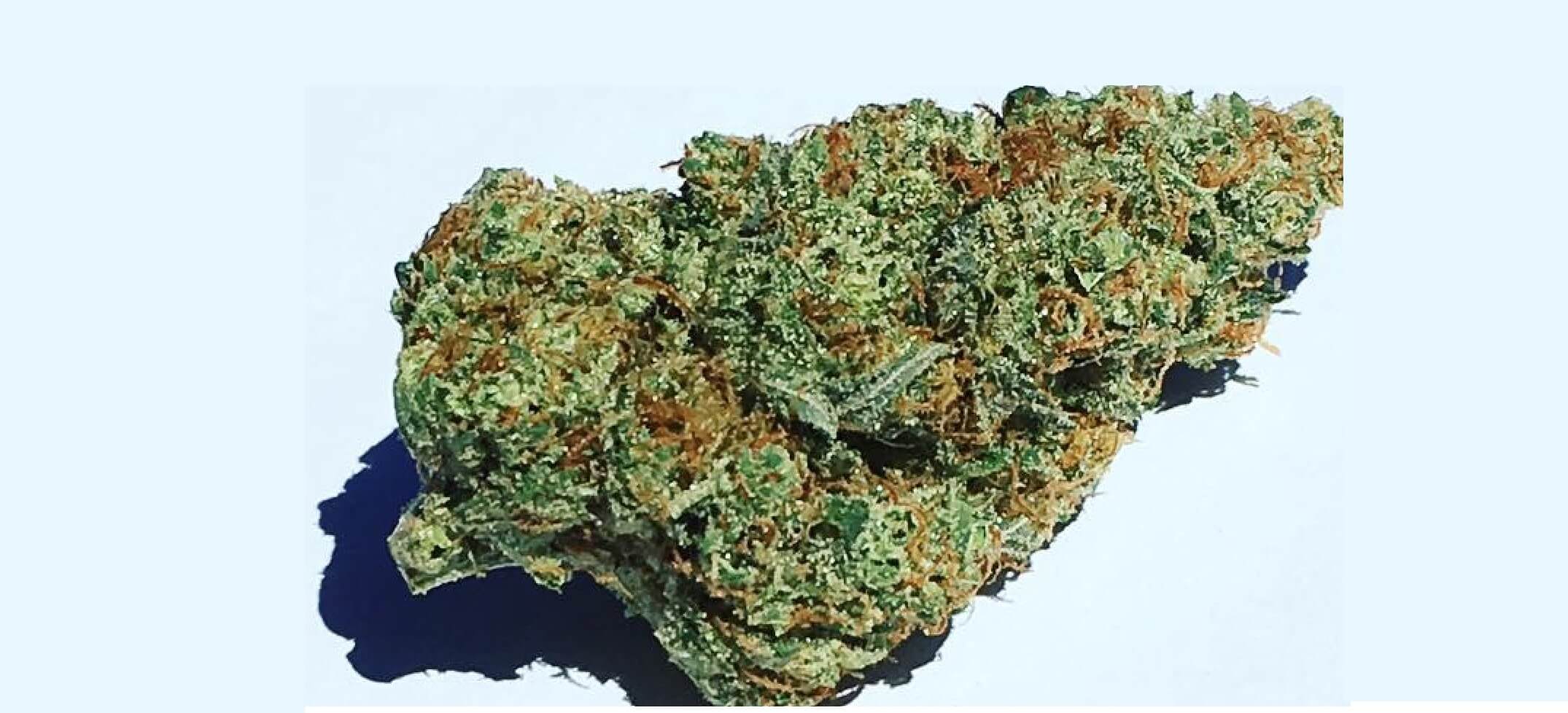 Named after one of the most famous and fierce superheroes, Bruce Banner Strain is a highly potent hybrid strain capable of relaxing the most stressed minds. This green beast packs a strong punch of THC with some phenotypes containing up to 30%. First bred by Dark Horse Genetics, Bruce Banner Strain is a crossbreed of the legendary
OG Kush
and Strawberry Diesel. These genetics gives it its distinct sweet taste accompanied by its pungent, sometimes diesel-like aroma. Its generally well-balanced indica and sativa high make it good for midday use; the stimulating cerebral high gives users a boost in creativity and mood, while the relaxing body high helps users relax by eliminating aches and pains.




Meet Bruce Banner, as potent as it is beautiful. Photo: @lokigro


Bruce Banner: Indica or Sativa?
Bruce Banner Strain is a 60:40 Sativa-leaning hybrid strain, although some strains can be more balanced. I Love Growing Marijuana (ILGM) reviews this good ass weed as being one of the most potent readily available on the market.


Cannabis Genetics: Who is Bruce Banner?
Bruce Banner is a crossbreed of OG Kush and Strawberry Diesel, first bred by Jason Holck of Dark Horse Genetics. For those who don't know, Bruce Banner Strain is a marvel superhero who turns into Hulk when angry or stressed. It often jokes that this potent strain of marijuana can tame even this green monster, keeping him in his relaxed and shy human form, hence giving this strain its name. It is worth noting that in some shows, Bruce Banner was renamed David Banner, therefore, some diehard fans prefer to call this strain by his alternate name.
 
Bruce Banner weed originally came in 5 different variants: Bruce Banner Weed Strain #1, #2, #3, #4 and #5. Bruce Banner Strain #2 and #4 however were quickly retired leaving Bruce Banner Leafly #1, #3 and #5. Bruce Banner #3 is the most popular of the three having won the Denver US Cannabis Cup; it is also one of the most potent strains ever tested by the High Times Cannabis Cups.  
Bruce Banner THC percentage
Bruce Banner Strain is considered a highly potent strain, with an average THC concentration of 20%. Some phenotypes have even been tested to contain up to 30% THC! For comparison, the average hybrid strain only contains 13% THC. Therefore, beginner users should stick to low doses.

If you are looking for something similar to Bruce Banner Strain but less potent, we can recommend Sun Berry strain, Purple Diesel strain, and Northern Berry strain.
Bruce Banner Price
Bruce Banger Strain is available in a number of dispensaries across the West Coast, with a gram on average costing 8 dollars ( 25 dollars an eighth). Consumers in Europe can expect to pay closer to 12 dollars a gram.
Bruce Banner taste 
Bruce Banner's fragrance can be rather harsh. For this reason, we recommend you use
 flower vaporizer
! Almost no plant material is combusted when vaped, leading to a much smoother and more enjoyable toke.  


Bruce Banner shatter edibles, etc.
Edibles, shatter, wax, etc. can be made from any strain of marijuana, and Bruce Banner Strain is a particularly good choice because of its high concentration of THC. Its strong, sweet taste goes well with edibles, but, given its high potency, you should use already vaped bud (AVB). If you do not have access to a vape, you can always
decarboxylate
your weed first. This will give a much more enjoyable high.
In addition, don't forget to use a high-quality
grinder
to make the most out of your weed!


Mighty, green, powerful Bruce Banner. Photo: @squid_lyfe_og




Nugs of Bruce Banner, ready to kick into action! Photo: @thegrowguruhawaii


| | | |
| --- | --- | --- |
| Bruce Banner General | Bruce Banner Medical | Bruce Banner Negative |
| Euphoric 100% | Stress Relief 100% | |
| Happy 95% |   Pain Relief 90% | |
| Uplifted 95% |   Depression 85% | Paranoia 45% |
| Relaxed 90% | Fatigue 55% | Dizziness 40% |
Bruce Banner Strain gives a well-balanced Sativa and Indica high, perfect for midday and afternoon use. Its cerebral, euphoric buzz can elevate your mood and improve creativity, while the relaxing body high can eliminate your aches and pains. In addition, Bruce Banger Strain popular medicinal strain, not only for those who suffer from physical pains but also those who have been diagnosed with mental conditions such as PTSD and bipolar disorder. ADHD/ADD patients have also found this strain useful for helping them focus in both work and social activities.
As mentioned previously, this is a very potent strain that shouldn't be taken lightly. With high enough doses, Bruce Banner Strain can make you feel sleepy and possibly very lethargic or anxious. If you do feel unwell after consuming, you should prepare yourself a warm drink or take a cold shower; this will make you feel better shortly!  


Bruce Banner flowering time

Bruce Banner Strain has an average flowering time of around 8 - 10 weeks. Although some phenotypes are known to flower earlier, it is recommended to wait at least 8 weeks in order to give buds the time needed to develop the highest possible level of THC.
Bruce Banner Growing tips
Bruce Banner is a moderately difficult strain to grow and should, therefore, be avoided by beginner growers. Its plant is sensitive and a failure to maintain a suitable environment can have a large effect on the overall THC levels.Bruce Banner Strain prefers cooler growing conditions compared to other marijuana plants; temperatures should be kept between 18 to 25 degrees Celcius in a semi-dry environment. It can also be grown outdoors if these conditions can be replicated.

Like other plants of the OG family, this Bruce Banner Strain can get rather bushy. Plants should be trimmed to ensure light reaches its lower parts. It is also suitable for techniques such as a sea of green or a screen of green. Though more mold resistant than other strains, buds should be checked regularly as they can become very moist, making it ideal for bacterial growth. With a cannabis stretch of more than 200%, be sure to give plants sufficient space to grow.  
Bruce Banner yield 
This Bruce Banner Weed Strain has a relatively high yield, similar to that of its parent strain, Strawberry Diesel. One can expect around 20 ounces of fresh bud per plant, equivalent to 550 grams per meter squared. Given its high levels of THC, one plant can certainly go a very long way!
Bruce Banner seeds
Variants of Bruce Banner are sold by a number of dispensaries across both North America and Europe, including Delta 9 Labs in Canada and the original breeders, Dark Horse Genetics, who still sell the original Bruce Banner Leafly #3.  






Growing Bruce Banner can be challenging, but it'll be worth it once you're done! Photo: @

meddocgreen


What is the Bruce Banner Strain?
Few strains can rival the potency and THC concentration of Bruce Banner Strain. With concentrations of up to 30% THC, this strain has won a number of awards, including the Denver US Cannabis Cup. This 60:40 sativa-leaning hybrid gives the user both a stimulating cerebral high that generally increases their focus and mood without inducing couch-lock; it is perfect for midday and afternoon use. The body high is relaxing and has earnt the love of many suffering from chronic pains and muscle spasms. With its ability to treat ADHD and bipolar disorder, Bruce Banner Strain is also well respected in the medicinal community. One of the most potent Bruce Banner Weed Strain around, beginner users should be cautious with this heavy-weight.
60:40 Sativa-leaning hybrid strain

Crossbreed of Strawberry Diesel and OG Kush

Up to 30% concentration THC

One of the strongest strains of weed

Best for afternoon and midday use

Medicinal strain good for treating pain, anxiety, PTSD and ADHD

Sweet berry taste; good for making edibles

Newcomers should use accordingly
Have you tried Bruce Banner before? Let us know what you thought in the comments below!
.

Written by Megan Medeiros (BA)
Megan Medeiros has a bachelor's degree in English and is currently working on a master's in English at James Madison University. She's the owner and operator of Medeiros Writing, and has been working as a cannabis writer for the past three years, mostly following the legal climate of marijuana, especially in areas like California, Colorado, Oregon, Canada, and other legal areas.
This post contains references to products from one or more of our advertisers. We may receive compensation when you click on links to those products. For an explanation of our Advertising Policy, visit this page. All photos were sourced from Pinterest.com | updated 2021
Stay home & get your daily
needs from our shop
Start You'r Daily Shopping with Nest Mart
Best prices & offers
Orders $50 or more
Free delivery
24/7 amazing services
Great daily deal
When you sign up
Wide assortment
Mega Discounts
Easy returns
Within 30 days