Cherry Pie Cannabis Review | Cherry Pie Strain | Cherry Pie Weed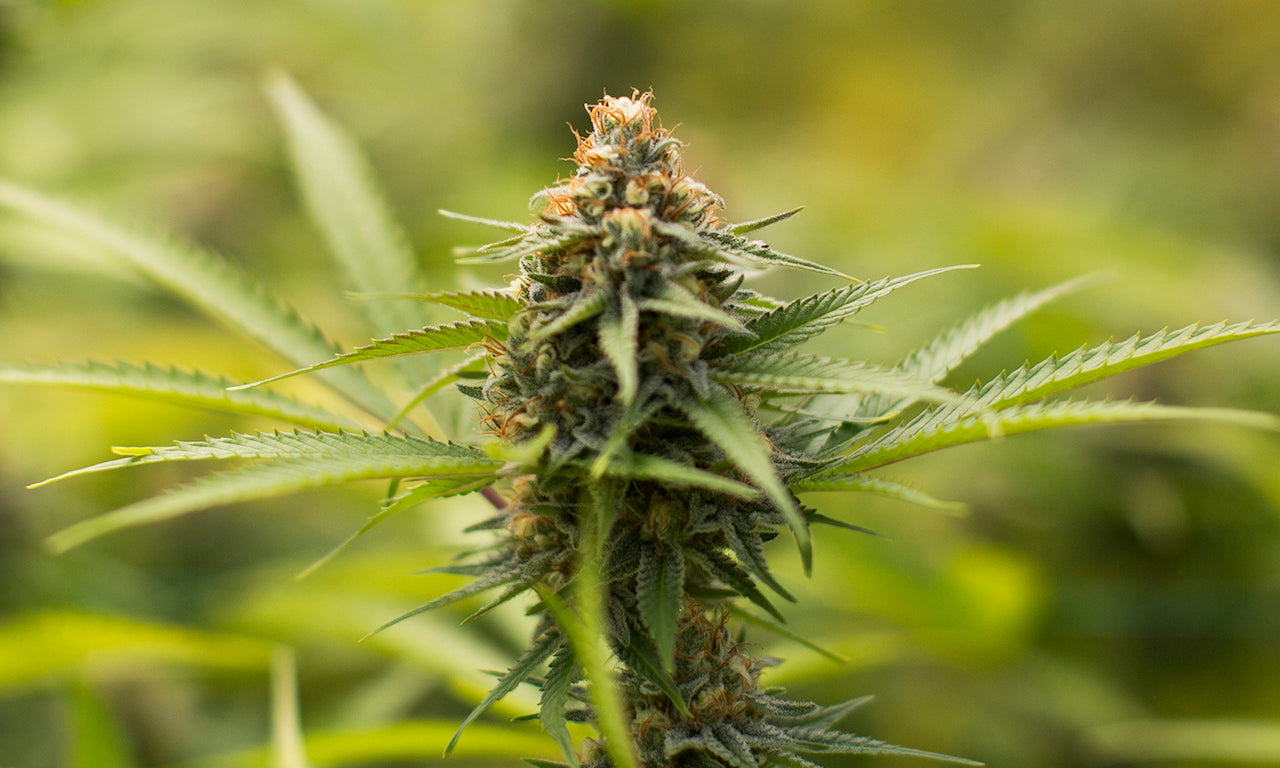 As its name implies, Cherry Pie is a sweet delicacy for cannabis enthusiasts. The Cherry Pie Weed Strain is an Indica-dominant hybrid that packs quite a punch. Unlike the one-hit-wonder "Cherry Pie" song by glam metal band Warrant, this Cherry Pie Indica strain is a gift that keeps on giving. An aromatic balance of sweet and earthy tones makes this Cherry Pie Weed Strain hybrid a delight to smoke. As a 70/30 Indica-dominant strain, Cherry Pie Strain cannabis elicits feelings of elation, relaxation, and giddiness. Visually, you won't find frosty marijuana like this every day.
Background on Cherry Pie Strain
(Cherry Pie Cannabis Plant, image source: Dutch Seed Shop.com)


The Cherry Pie Strain cannabis strain is parented by highly sought after strains, Grand Daddy Purple and Durban Poison. The combination of these unique and powerful Cherry Pie Weed Strain genetics produces a sweet and sour hybrid with a balanced psychoactive experience. The genetics also contribute to the high concentration of terpenes found in this Indica-dominant strain.
Cherry Pie Strain often gets confused or mislabeled as Cherry Kush, Cherry Pie Kush, Cherry Pie OG, and OG Cherry Pie. Cross-breeding has produced varieties of this strain like the earthy and sweet Cherry Cobbler strain (Cookies x Cherry Pie), Cherry Pie OG strain (OG Kush x Cherry Pie), and the Cherry Cookies weed strain (Cherry Pie x Cookies F2).
Cherry Pie Flavor and Aroma
When conducting a taste of cherry review, be prepared to be pleasantly surprised. Similar to other pungent  Cherry Pie Strain  like the Red Cherry Berry strain, the Cherry Pie Indica strain features strong notes of berries, fruit, and pine. Specifically, the cherry scent can be unlocked when breaking up the flower buds by hand. Look for earthy and skunky aromas, as well.
When grown under optimal conditions, the Cherry Pie weed strain carries a distinctive cherry flavor that is both sweet and sour. When smoked or vaped, Cherry Pie Weed Strain releases a slightly saccharine tang reminiscent of cherry medicine.
Cherry Pie Visual Characteristics
(Cherry Pie Cannabis Flower, image source: The Cannabis.co)




Cherry Pie Strain is quite the looker. Pictures of Cherry Pie don't do the strain justice. Tightly compacted buds feature vibrant orange hairs on weed strains like this. Tufts of purple tints are present as a result of its Grand Daddy Purple genetics. The flowers are a striking, deep green color that is covered in a sheet of icy trichomes. You'll stop dead in your tracks when you find this Cherry Tang Strain on dispensary shelves.
When you come across these breathtaking nugs, you'll find that they are moderate in size. As most Indica strains, this hybrid strain has densely curved leaves hold the entire package together.

Cherry Pie Cannabinoid and Terpene Content
(Cherry Pie trichomes, image source: Marijuana Break.com)




First-time users should tread carefully when consuming Cherry Pie Strain. The average tetrahydrocannabinol (THC) content range between 15 and 20 percent reaching up to 25 percent, at most. The high Cherry Pie Strain THC level can make some users paranoid and anxious when taking too much of it. In terms of cannabidiol (CBD) and cannabinol (CBN), expect to find less than one percent of each in every strain. These trace amounts of CBD and CBN enable THC to be the star of the show.
The high concentration of aromatic terpenes interacts with THC to balance the side effects and amplify the therapeutic effects. Myrcene is the most abundant terpene found in Cherry Pie Strain. As a terpene, myrcene has anti-inflammatory and analgesic properties. Other terpenes found include the following:
Linalool

A-Pinene

D-Limonene

Beta-Caryophyllene
Cherry Pie Effects
(Cherry Pie Cannabis Flower, image source: The Laughing Grass.com)




Both novice and experienced smokers will be surprised by the intensity and immediacy of psychoactive effects. Take one puff and you'll notice effects hit you within a minute or two and last for, at least, a couple of hours. While you may notice a slight pressure in your eyes and sinuses, fret not, because these effects even out to provide tension relief.
As a hybrid strain, Cherry Pie Strain has both potent Sativa and Indica effects. You'll immediately feel your muscles relax as you fall into a natural and comfortable position. Progressively, you'll feel cerebral effects that wash away your stresses of the day. The Cherry Pie Strain Sativa Or Indica effects come as deep relaxation and strong sedative qualities.
These cerebral and couchlock effects have anecdotally shown to do wonders for people suffering from mood disorders, anxiety, PTSD, appetite loss, insomnia, and nausea. Cherry Pie Strain Indica Or Sativa can evoke a mindful presence with improved concentration and focus.Cherry Pie Strain Indica Or Sativa Anti-inflammatory and analgesic properties help with headaches, pain, muscle tension, and joint problems. No matter what Cherry Pie Strain Sativa Or Indica  effects you prefer, you'll get a blend of both.
| | | |
| --- | --- | --- |
|  Positive Effects | Medicinal Effects | Side Effects |
| Relaxation 100% | Stress 100% | Dry Mouth 100% |
| Happiness 90% | Depression 70% | Dry Eyes 65% |
| Euphoria 70% | Insomnia 50% | Anxiety 35% |
| Uplifted 60% | Pain 45% | Dizziness 30% |

Cherry Pie Growing Tips
(Cherry Pie buds, image source: Marijuana Break.com)




While not a bumper crop, Cherry Pie Weed Strain produces moderate to high yields to the delight of experienced cannabis growers. As a moderately-difficult strain to grow, you'll need to take special care of this delicate flower. Seeds are available online or you can snag a clone from a grower. As a plant, Cherry Pie Weed Strain doesn't handle stress and environmental stimuli very well. Additionally, it needs to be pruned frequently to prevent hermaphroditic characteristics. Trimming the leaves also maximizes the amount of light that gets to the flowering buds.
The Cherry Pie indica strain thrives in outdoor environments, but can also be grown indoors under hydroponic conditions to produce Cherry Pie dro. Ideal temperatures for growing need to be between 70 to 80 degrees Fahrenheit. This strain flourishes in low humidity environments or roughly 40 to 50 percent relative humidity. Growers can rest easy knowing that Cherry Pie does a great job at repelling pests and diseases that affect other cannabis plants.
The Cherry Tang Strain flowering time takes around seven to nine weeks for it to be harvested, usually, the last weeks of October. Growers can expect to yield anywhere from three to six ounces per square foot planted. Cherry Pie Strain Strain can grow anywhere between 30 to 78 inches tall under the appropriate conditions.

Cherry Pie Strain Overview
(Cherry Pie strain up close, image source: shop. Zenpype.com)




Cherry Pie Strain has been a well-kept secret among West Coast cannabis users. The Cherry Pie strain genetics provide an intense head and body buzz. As more people discover Cherry Pie weed strains in their travels, they are bringing it to the rest of the continental United States for everyone to enjoy. This Indica-dominant strain is not to be underestimated. As a new cannabis smoker, expect a rush of euphoria and stress relief to dominate your experience. Just like a baked good treat, you'll be asking for seconds.
You'll find this unique strain all throughout states like Washington, Oregon, and California. The Cherry Pie Weed Strain price will run you between seven to 15 dollars a gram. An eighth can run you between 20 to 30 dollars. The Cherry Pie weed price depends on the grower and where its sold. You can even find Cherry Pie wax with THC content reaching 70 percent.

.

Written by Megan Medeiros (BA)
Megan Medeiros has a bachelor's degree in English and is currently working on a master's in English at James Madison University. She's the owner and operator of Medeiros Writing, and has been working as a cannabis writer for the past three years, mostly following the legal climate of marijuana, especially in areas like California, Colorado, Oregon, Canada, and other legal areas.
This post contains references to products from one or more of our advertisers. We may receive compensation when you click on links to those products. For an explanation of our Advertising Policy, visit this page. All photos were sourced from Pinterest.com | updated 2021
Strains
Stay home & get your daily
needs from our shop
Start You'r Daily Shopping with Nest Mart
Best prices & offers
Orders $50 or more
Free delivery
24/7 amazing services
Great daily deal
When you sign up
Wide assortment
Mega Discounts
Easy returns
Within 30 days