Sour Diesel Cannabis Review | Sour Diesel Weed Strain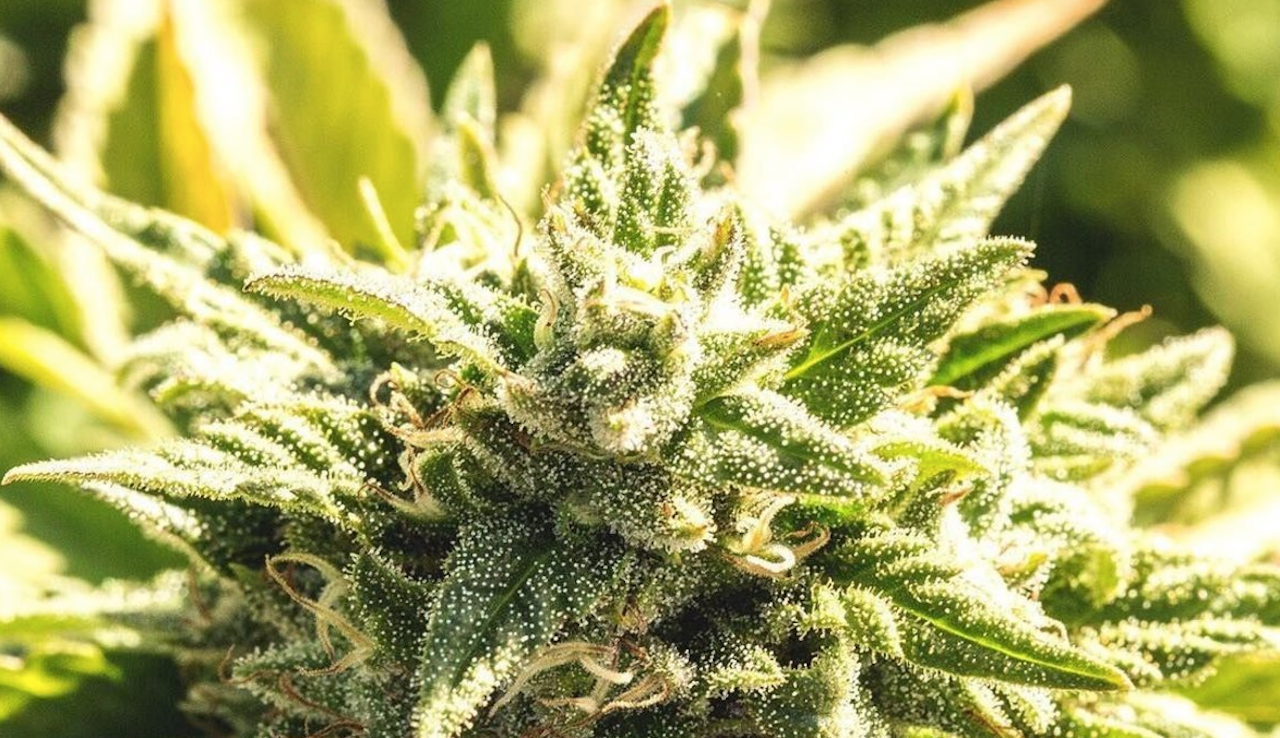 Sour Diesel is a highly-reputable cannabis strain, also known as Sour D, it's enjoyed by medical marijuana patients and recreational users alike. Considered to be one of the best Sativa sour strain flowers on the market, it leaves the user feeling happy while removing pain and stress.
But what is Sour Diesel, and does it have a place amongst the strong weed strains?
With a 20-25% THC content, the Sour Diesel strain creates a positive high with healthy amounts of energy. Medical users favor the Sour D bud due to its ability to help with depression and aches for an extended time. Recreational weed coinsurers like the energizing Sativa head high in combination with an indica body result. Overall, the Sour Diesel strain is a win-win for all types of weed patrons.  
Learn all about the Sour Diesel seed from AJ, creator, and overseer of the bud.
Background And History Of Sour Diesel
The Sour Diesel strain originated from a Grateful Dead concert (shocker). Seeds from the show were later combined with Super Skunk and Chemdawg 91, resulting in a pungently scented bud. Because of its diesel-like aroma and euphoric effects, Sour D became a legend overnight.
While the documentation of the diesel strain is mostly unknown, many have sought after the best sour diesel seeds since its origin in 1991. There are even some cannabis experts who believe certain strains are mixed with Northern Lights and Skunk.
In addition, the Sour Diesel strain includes minor amounts of myrcene, caryophyllene, pinene, and limonene terpenes. Chunky diesel also has the added benefits of around .05% CBD. Put them all together and you have a citrus taste on the pallet to complement the diesel aromas.  
Sour Diesel Effects For Medical And Recreational
As a medical marijuana patient, it's important to know what the effects are for each weed strain. Patients who suffer from depression, PTSD, ADD, and bipolar will enjoy the Sour Diesel effects.
Freeing the user's from anxiety, Sour D creates a pleasant calmness of the mind. It doesn't leave one with a heavy and lethargic feeling. Instead, Sour Diesel weed gets one's day started off on the right foot. 
Medical cannabis patients have said the Sour Diesel strain:
Increases appetite.
Has similar effects on depression medications.
It helps them stay active.
Feelings of confidence and awareness.
Leaves them with a pleasant euphoric feeling all day long.
Sour D scores extremely high with stress relief, pain, euphoric feelings, and depression. Dry Mouth isn't as bad as other strains but beware of paranoid if overdosing.
Sour Diesel General effects

Relaxed 95%
Happy 100%
Euphoric 90%
Uplifted 90%
Hungry 60%


Sour Diesel Medicinal properties

Stress relief 100%
Depression relief 100% 
Pain relief 75%
Insomnia 45%
Fatigue 50%


Sour Diesel side effects

Dry Mouth 70% 
Dry eyes 30%
Dizzy 15%
Anxious 5%
Paranoid 15%

Sour Diesel Review
While the Sour D strain produces good energy, it lacks in focus and concentration. This is especially true when with sour diesel wax or sour diesel shatter. It's great for concerts or working out, but not necessarily for a day at the office. 
Strong weed strains like Sour Diesel won't leave you stuck on the couch as others will. Its Sativa-dominant perkiness quality will have you wanting to do chores or go for a long walk. Which is great for those who battle with daily pain. It isn't, however, ideal for tasks that require heavy amounts of concentration and focus. For those seeking a strain to provide deeper clarity, we recommend Blue Dream or Green Crack (don\'t let the name fool you).
Start off slowly when either smoking or ingesting the Sour Diesel strain. Its side effects is that it produces quick results, meaning beginners should only take a couple of hits at first. Give it about 15-20 minutes to fully evaluate the effects and then decide how much more is needed. Sour D packs quite a punch, especially in concentrated forms like wax and shatter.
Sour Diesel Growing Tips
The Sour Diesel flowering time for growth is approximately 10 to 11 weeks. Pruning the plants is a must with this Sativa-dominant strain, as it'll go through multiple stretches before producing flowers. It's also a tall plant, which requires daily maintenance to keep it from growing out of control.
Sour Diesel yield per plant and other facts
Typical yields for the Sour Diesel strain are in the moderate range. Stretching will often produce higher quantities and better quality. Using regular soil is highly recommended, along with large feedings. Here are some Sour Diesel growing tips and facts.
Warm climate: Keep your temperature in the range of 68 to 85 degrees Fahrenheit.
Grow Outside: Outdoor or greenhouse growing is recommended as opposed to indoor. The Sour D plant needs room to expand, which is why outdoor growing is preferred.
Feeding: Finishing nutrients will help the buds dense up.
Yields: Moderate to heavy. Typically Sour Diesel seeds will produce around 3 to 6 ounces per plant. Plants that are more difficult to grow will yield around 0.5 to 3 ounces. 
Growing time: Around 10 to 11 weeks, on average.
Preferred season: We recommend growing the Sour Diesel seeds during the fall. The months of October and November are highly recommended, depending on location.
Sour Diesel Round-up
Sour D is widely considered to be one of the most popular strains. First-timers should be cautious, allowing the effects to take place before consuming large quantities. While experienced cannabis users will likely find weed invigorating and fun.
Don't be alarmed by the earthy and pungent aromas of Sour Diesel. It's what separates it apart from other strains. Citrus overtones from the terpenes compliment the diesel pungency, creating a full-body and enjoyable hit. Once you get a taste of Sour D, other strains will likely pale in comparison.
Medical marijuana patients should ask their physician about the Sour Diesel Kush strain. This is especially true for those who deal with depression, phycological disorders, and daily pains. It's also been known to help those who suffer from ADD, ADHD, and PTSD.
Side effects are a happy and euphoric feeling. The Sour Diesel weed helps patients get past daily hurdles and become active again. An increase in appetite is to be expected, however, many have claimed to have lost weight due to feeling active and energized. Cannabis doctors recommend using Sour D first thing in the morning and throughout the day. Night time usage is not recommended.
Recreational weed smokers will find Sour Diesel Kush to be uplifting, perfect for getting menial tasks done or when wanting to enjoy an active lifestyle. Sour Diesel effects compliment activities like fairs, concerts, day trips, or a relaxing afternoon at a local park. We recommend using the Sour Diesel strain in moderation until one is comfortable with its overall effects. All users will experience varying degrees of results, depending on one's tolerance.  
Sour Diesel nugs are dense and compact. Colors will vary but often tend to be light green mixed with fall tones. It's a danky weed full of positive effects for all types of cannabis coinsurers. The average Sour Diesel price is around $20-$30 a gram depending on the region.
.

Written by Megan Medeiros (BA)
Megan Medeiros has a bachelor's degree in English and is currently working on a master's in English at James Madison University. She's the owner and operator of Medeiros Writing, and has been working as a cannabis writer for the past three years, mostly following the legal climate of marijuana, especially in areas like California, Colorado, Oregon, Canada, and other legal areas.
This post contains references to products from one or more of our advertisers. We may receive compensation when you click on links to those products. For an explanation of our Advertising Policy, visit this page. All photos were sourced from Pinterest.com | updated 2021
Strains
Stay home & get your daily
needs from our shop
Start You'r Daily Shopping with Nest Mart
Best prices & offers
Orders $50 or more
Free delivery
24/7 amazing services
Great daily deal
When you sign up
Wide assortment
Mega Discounts
Easy returns
Within 30 days