5 Simple Steps To Make Hemp Milk | Trader Joe's Hemp Seeds
David and Leah Kaye Weathers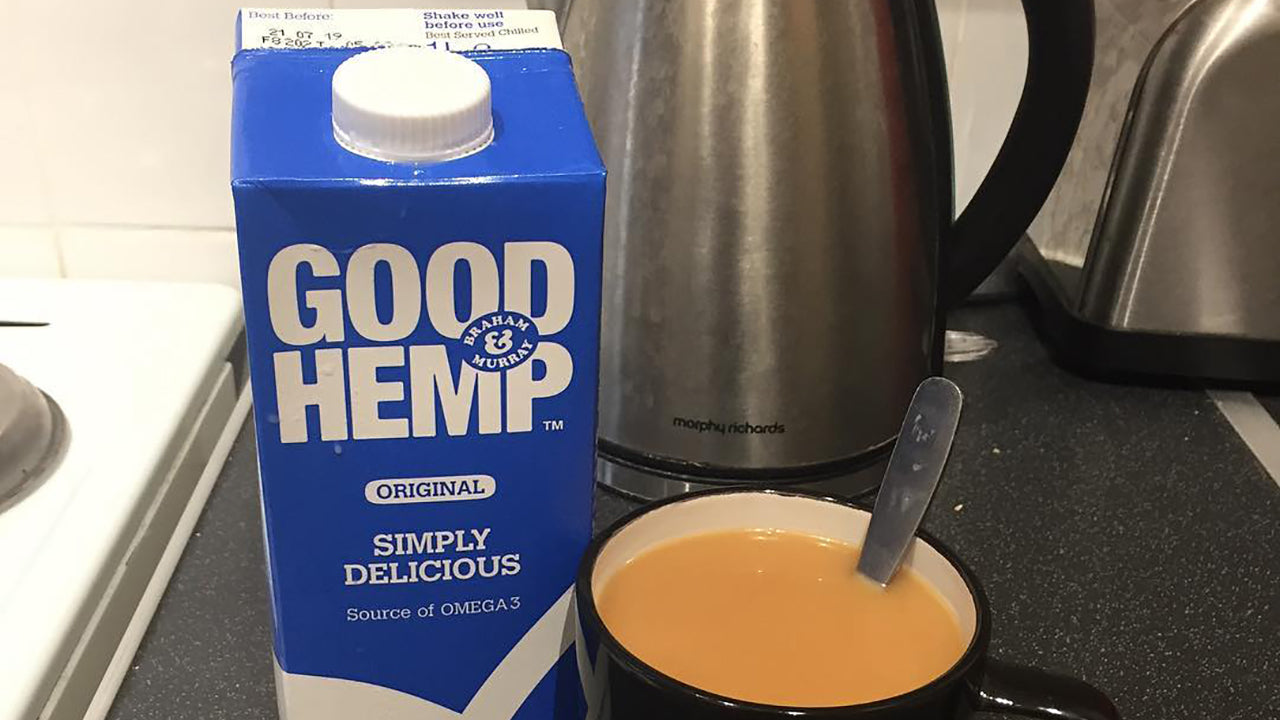 Intro:
Perhaps you've been curious, 'What is hemp milk?' Maybe you've heard about it but don't really know anything about hemp milk. Hemp milk is made from whole hemp seeds and is abundantly rich in high-quality plant proteins, healthy fats and essential minerals. Does hemp milk contain THC? No; hemp seeds may not be as exciting as weed milk, which actually contains THC, but hemp milk is a beverage that you might want to give a chug or two! Whether you're lactose intolerant or just want some hemp milk nutrition for the health of it, organic hemp milk is an excellent alternative to traditional cow's milk. If you have cholesterol and blood pressure related health problems, among hemp seed milk's benefits is a good deal of omega-3 fatty acids that help regulate cholesterol and blood pressure. If you're wondering 'What does hemp milk taste like?', hemp milk has a somewhat nutty taste like almond milk, so it's also a good substitute for that if you have a nut allergy. There's every reason to look further into 'Is hemp milk healthy?' and decide for yourself if you think it would work for you!

(Hemp milk and crushed, shelled hemp seeds, image from All Things Raw and Beautiful on Instagram)
Background – Benefits of Hemp Milk:
Here is a breakdown of hemp milk nutrition…
1) Hemp milk meets or beats regular cow's milk when it comes to nutrition; hemp milk contains more calcium than does cow's milk, hemp milk also has more hemp vitamins like vitamin D and magnesium, and unsweetened hemp milk has zero sugar - whereas regular cow's milk has over 13 grams of sugar per cupful.
2) Organic hemp milk is made by soaking, then grinding, cannabis sativa hemp seeds in water. Because hemp milk is made from hemp seeds - not from marijuana like weed milk, or cannabis milk, or marijuana milk – there's none of the cannabinoids like THC present in hemp milk to get you high.
3) If you were concerned 'Do hemp seeds show up on a drug test?' the answer is no, most drug tests are looking for THC, which hemp milk has practically none of!
4) Also, hemp milk is cholesterol-free, soy-free, gluten-free, non-dairy, and has no known allergies linked to it. So, you don't have to worry about milk allergies, lactose intolerance, nut or soy allergies. Although there are a few people who do develop a hemp allergy, it is pretty rare. Because of the low instance of allergies, hemp milk for babies or hemp milk for toddlers is a low-risk alternative to cow's milk, soy milk or almond milk.
(Hemp seeds, image from The Hemp Kitchen on Instagram)
5) You might consider hemp milk bad for you if you looked at the ingredients of vanilla hemp milk or chocolate hemp milk which often contain added sweeteners, so you want to be sure you're getting unsweetened hemp milk. Any concerns about hemp milk dangers usually involve misinformation about it containing THC, which it does not.
6) One cup, or 240 ml, of unsweetened hemp milk has between 60–80 calories; hemp seeds' calories average 55 calories per tablespoon/10 g.
7) There is some debate between hemp milk nutrition advocates about whether you should make hemp milk with hemp hearts vs hemp seed, or hulled hemp seed instead of unshelled hemp seeds. When it comes to hemp hearts' nutrition, hulled hemp seed does have an increase in overall amounts of protein, it increases your total essential fatty acid level and does lower carbohydrates, but the hemp hull, or shell, that you are removing also contains some other excellent benefits, like important minerals and dietary fiber. So, there are pros and cons to using either plain hemp hearts or hemp seed, and if and when you decide to make or buy some hemp milk, you can choose between hulled hemp seed or unshelled hemp seeds when considering hemp seed benefits.
Where to Buy Hemp Milk:
Because it has no THC, you can actually buy nutritious hemp milk - or its weaker cousin hemp water (which only has two milligrams of natural hemp extract)  - in many vitamin and health food stores throughout the United States and Europe; or you can pick up some organic hemp milk online at websites like Lucky Vitamin which has 32oz/946mL for $5.37 USD; or Hudson River Foods has the same 32oz/946mL organic hemp milk for $3.99 USD.
If you want to pick up some hemp seeds with which you can make your own hemp milk, then you can pick up some Trader Joe's raw shelled hemp seed for $12.99 for an 8 oz package on Amazon. Elsewise, hemp hearts (hulled hemp seed) or unshelled hemp seeds can also be located at many vitamin and health food stores throughout the United States and Europe.

(Trader Joe's Shelled Hemp Seed - Just The Hemp Hearts, image from Cindy Terapak on Instagram)
How to Make Hemp Milk - A Very Basic Hemp Milk Recipe:
Equipment:
Blender
Covered pitcher
Cheesecloth
Ingredients:
1/2 cup hulled hemp seed (hemp hearts) or unshelled hemp seeds, your pick
3-4 cups water - if you use less water, you get thicker, creamier milk (the more water you use the closer you get to hemp water, proportionally)
1 pinch sea salt
Some people do add extra ingredients to their homemade hemp milk to enhance the flavor or add nutritional benefits – some suggested additions include:
1 whole date, pitted *sweetener
1 Tbsp (15 ml) maple syrup *sweetener
1/2 tsp vanilla extract *flavor enhancer
2 Tbsp cocoa or cacao powder for "chocolate milk" *flavor enhancer
1/4 cup fresh berries for "berry milk" *flavor and nutrient enhancer
CBD oil or CBD tincture to make CBD hemp milk
(Making hemp milk from shelled hemp seeds, image from The Natural Journey for Life on Instagram)
Directions:
1) Add together hemp seeds, water, salt, and any optional add-ins to a high-speed blender; cover and blend for about 1 minute or until well combined.
2) Taste-test a small sample with a spoon, add flavorings or CBD oil - or not, as you desire.
3) Strain mixture into pitcher covered with a cheesecloth.
4) Refrigerate your covered pitcher – it should last for up to 5-7 days (sometimes more).
5) Shake well before serving, drink cold straight in a glass or in smoothies or with some healthy snack; enjoy with or even in baked goods - like maybe weed cookies or cannabutter brownies.
(Hemp seeds and hemp milk, image from Dani's Daily Bread on Instagram)
Summary:
We've managed to milk a lot of information out of hemp milk, hopefully now you can make an informed decision about is hemp milk good for you or is hemp milk bad for you! What is hemp milk? Hemp milk is vastly different from marijuana milk (also known as weed milk or cannabis milk) because hemp water has no THC, versus something like PEARL-2-O mineral water, which is infused with 50 milligrams of THC and 50 milligrams of CBD ($30 suggested retail price). Does hemp milk have THC and is hemp milk healthy? Hemp has no THC because it is a different but related plant to marijuana, without psychotropic cannabinoid effects. The many benefits of hemp are getting increasing amounts of attention - even from outside the cannabis community: hemp seeds or hemp oil is rich in protein, fiber, and healthful fatty acids - including hemp omega-3s and omega-6s, so organic hemp has antioxidant effects and may reduce symptoms of a number of ailments, as well as improving the health of your heart, skin, and joints. Hemp milk is a nutty-tasting, nutritious cow's milk alternative made from either hulled hemp seed (called hemp hearts) or from unshelled hemp seeds.
A hemp milk recipe, like we gave you above,  is one of the most popular hemp hearts recipes because it is so easy to make, tastes great and is nutritious, goes with so many things or can be drunk straight from the glass! Because hemp allergies are so rare, hemp milk for babies and hemp milk for toddlers is a great substitute for children who have lactose intolerance, or allergies to soy or nuts. A cup of unsweetened hemp milk has one-third of the daily recommended amount of calcium and is also a good source of phosphorus, 20-35 percent of what is recommended daily for adults. Hemp milk vitamins and minerals include B and D vitamins, plus magnesium. The hemp milk protein amount, per cup, is 3 grams, with 140 calories and 5 grams of fat.
There is little to no evidence to suggest hemp milk is bad for you and ample proofs that hemp milk is healthy. Hemp milk is easy to make and store in your refrigerator, and adds a delicious nutty flavor to cereal in the morning or maybe your cup of coffee. If you're sold on the benefits of hemp seeds and the benefits of hemp milk, then you can visit your nearest health food store - or do some internet shopping - and get yourself some hemp milk or hemp seeds to make your own organic hemp milk recipe. Try hemp milk for yourself and you might find that you really enjoy that nice hemp milk nutrition and the creamy, nutty taste!
.

Written by Megan Medeiros (BA)
Megan Medeiros has a bachelor's degree in English and is currently working on a master's in English at James Madison University. She's the owner and operator of Medeiros Writing, and has been working as a cannabis writer for the past three years, mostly following the legal climate of marijuana, especially in areas like California, Colorado, Oregon, Canada, and other legal areas.
This post contains references to products from one or more of our advertisers. We may receive compensation when you click on links to those products. For an explanation of our Advertising Policy, visit this page. All photos were sourced from Pinterest.com | updated 2021
Stay home & get your daily
needs from our shop
Start You'r Daily Shopping with Nest Mart
Best prices & offers
Orders $50 or more
Free delivery
24/7 amazing services
Great daily deal
When you sign up
Wide assortment
Mega Discounts
Easy returns
Within 30 days