Best Glue To Fix A Bong | Glue for Glass Repair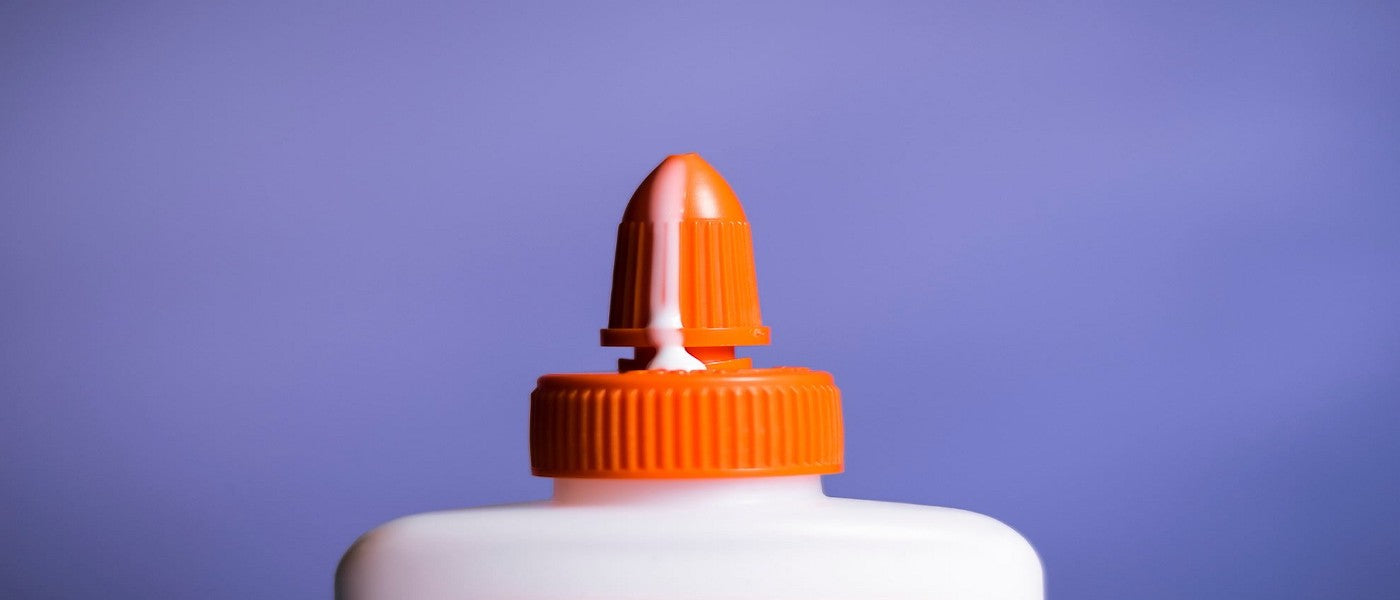 There's nothing else quite like finding the perfect glass bong. It sits in your hand just right, smokes like no other, and catches every eye in the room. Of course, you want to show it off and pass it around, but then it happens: "that friend" knocks over your beautiful new glass. It hits the ground and you hear that painfully familiar glass-breaking, heart-breaking sound.
So there it lies, broken beyond use. Your friend is full of apologies and guarantees to replace it, but you wanted to smoke NOW. Fortunately, you've got just the tool for the job - the perfect bottle of glass glue. Just a quick patch job and your smoke session will be rolling right on time.
Is it safe to use super glue on a bong?
This is important, so take note: do NOT use glue in the areas that actually meet open flame, namely the bowl itself. If your bowl breaks, you're better off replacing it or just rolling a paper while you work on replacing your glass. But if anything else breaks, especially if it's a nice clean break, it is absolutely safe to glue the pieces together!
What is the best glue for glass?
With all these awesome adhesives, it's hard to point out a single best one. Mostly it comes down to your needs and equipment. But you can rest assured that these are going to repair your broken glass and get you back to that sweet herb in no time. 
E6000 Craft Adhesive - $9.33
 

Best glass adhesive
Great price
Clean repair job
This industrial-strength craft adhesive is our top pick to get your broken glass back in working order. It's trusted by thousands from hobbyists to professionals, dries totally clear, and is absolutely waterproof. This all-American product is even heat resistant so you can safely fix minor breaks on dab rigs without worrying about the torch hurting your repair job (but still absolutely NO using this in the actual bowl/banger!).
 

Trusted name
Sets in seconds
Very affordable
We couldn't make a list of the best glass adhesives without this longtime favorite. Loctite glass glue is one of the oldest and most recognized names in the adhesive world. It dries clear and is sure to get your broken glass back together in one try.
 

Gorilla strength
Multi-purpose
Dries clear
Another well-established, trusted name in the adhesives world is Gorilla. They make some of the strongest adhesives in every form imaginable, and now you can have all that power in a clear, non-foaming glue. Once you get your glass back together, use this awesome glue for other repair jobs around your house, inside and out!
 

Super tough
Bonds rough surfaces
Money-saving 40g bottle
While we're talking animal-themed adhesives, Rhino is another powerhouse in the glass glue world. It's fast, tough, and will bond practically anything. The stress-resistant formula helps resist drops, scrapes, impacts, moisture, heat - everything you'll be throwing at it after you put your pieces together again. 
 

Super clear
Ultra-strong
Trusted name
A list of the best glues wouldn't be complete without The Original Super Glue. This special version of their classic product is made specifically for glass-on-glass use. However, it's important to note that this particular glue cures with UV light, so you'll either need to let it sit outside in sunlight briefly or cure it with a UV lamp.
 

Grabs fast
Dries clear
Affordable
This waterproof, weatherproof glass glue will make sure you get your broken bong like new in no time. Part of what makes this repair broken glass so well is its ability to grab onto surfaces fast, so you don't have to hold it in place until the glue sets and your arm falls asleep. Once you feel it set well enough to stay, just leave it and rest assured that your bong will be back by your next smoke session.
 

Extremely strong
Very affordable
Smooth finish
If you're trying to make your investment go as far as possible, way beyond just something you can use to make your glass still works well, give Weldbond a try. It acts as a sealant, an adhesive, is non-toxic, and non-flammable. The only drawback here is you'll have to take a bit more care when you use it to repair your glass. There's also a 24-hour recommended wait period to let this one fully cure, so make sure you can clamp your glass or have a nice clean break that can stand on its own.
 

Great epoxy
Bonds well with rigid surface
Awesome value
This two-part glue is one of the best around if you don't mind doing a little legwork to mix it up. Just mix equal parts of the two tubes, stir it up, and you've got one of the best epoxies around for glass repair. Make sure you use it within three minutes from the time you mix the two parts together, or it could dry up too soon!
 

Easy to use
Lasts over time
Construction strength
This is the biggest powerhouse of all these adhesives. It's truly "construction strength," meaning it can even handle serious load-bearing work. While we doubt your bong will be doing much heavy lifting, it can certainly be reassuring to know you've got such a powerful adhesive holding yours together like new. This is another that needs UV light to cure, so make sure you have a plan to shed some light on it!
 

Easy on skin
Convenient needle tip
Glues lots of surfaces
This adhesive comes in a handy, needle-tipped bottle so you can glue with precision every time. It's waterproof, weatherproof, and dries fast as well. And if you get it on your hands, no worries - it's soft on the skin and easy to clean off.
Conclusion
Once you've overcome the heartbreaking breaking glass, just pick up the pieces and try one of these great glues. You'll be back to smoking your piece like new in no time. Again, NEVER use adhesives or the likes around your actual bowl or banger; burning these could release toxic fumes into your hits. 
If you've already got your Loctite glass formula on hand and would like to get further into bong repair, check out these topics:
How to fix a broken bong stem?
How much does bong repair cost?
Can you hot glue a bong back together?
.

Written by Megan Medeiros (BA)
Megan Medeiros has a bachelor's degree in English and is currently working on a master's in English at James Madison University. She's the owner and operator of Medeiros Writing, and has been working as a cannabis writer for the past three years, mostly following the legal climate of marijuana, especially in areas like California, Colorado, Oregon, Canada, and other legal areas.
This post contains references to products from one or more of our advertisers. We may receive compensation when you click on links to those products. For an explanation of our Advertising Policy, visit this page. All photos were sourced from Pinterest.com | updated 2021
Stay home & get your daily
needs from our shop
Start You'r Daily Shopping with Nest Mart
Best prices & offers
Orders $50 or more
Free delivery
24/7 amazing services
Great daily deal
When you sign up
Wide assortment
Mega Discounts
Easy returns
Within 30 days