17 Best Dab Rigs | Cheap Dab Rigs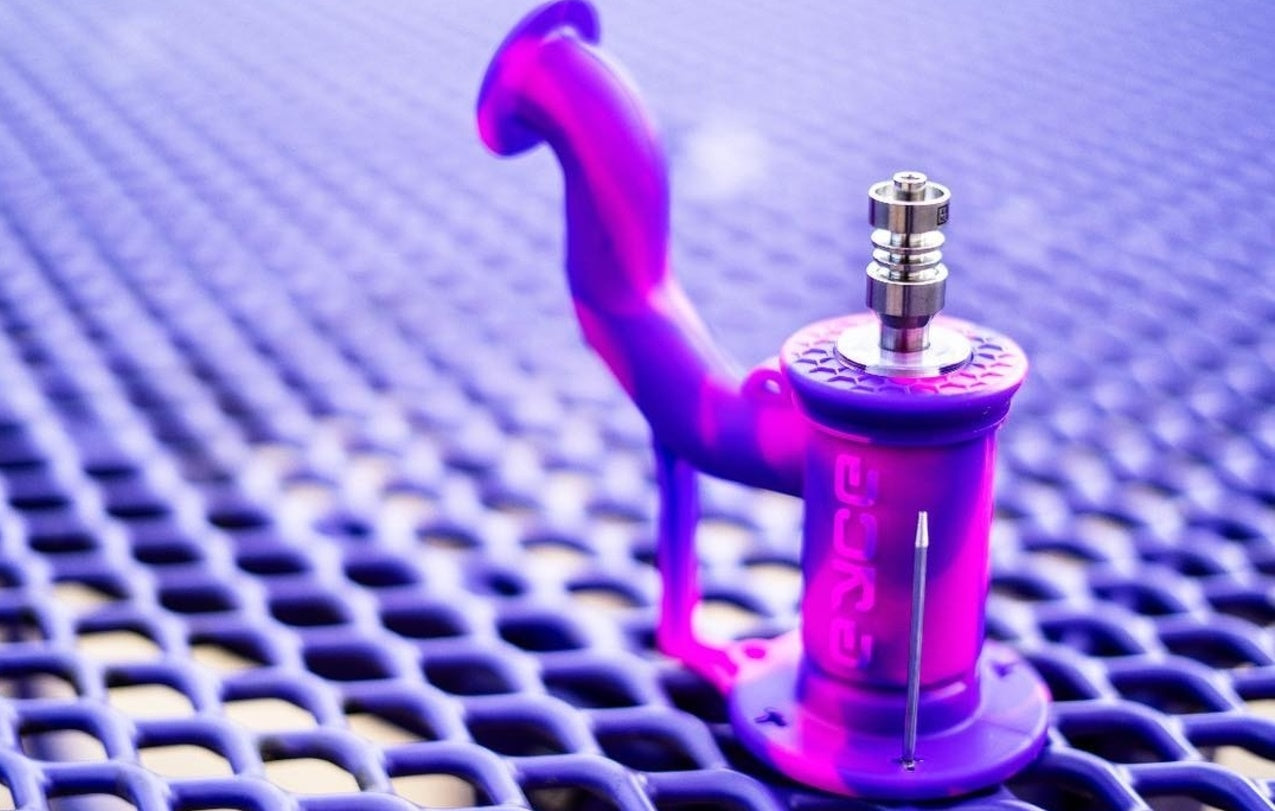 Dabbing is a form of smoking that will take you to another galaxy of high, this I can promise. In simple terms, a dab is a concentrated form of THC that is extracted from cannabis flower using BHO, CO2 or other various solvents, that results in a sticky oil. There are also newer, solvent-free methods such as ice-water hash, rosin, and nitro hash. Dabs take purity and potency to another level but they also need high temperatures of heat to be activated. Enter Best Dab Rigs.
Dab Rigs are essentially a water pipe or bong, typically, made out of glass, that filters concentrate vapor through the water at the base. Attached to the rig is a small platform for heating called a nail. There are four types of nails: glass, quarts, ceramic and titanium. Best Dab rigs come in many different types and styles.
The most popular types of rigs are: 
● Recycler / Incycler Rigs
● Klein Recycler
● Mini Rigs
● Silicon Rig
● Pendant Rigs
● E-Rigs
● Banger & Banger Hanger
● Bubbler Rig
● Showerhead Percolator
● Honeycomb Percolator

We have chosen and categorized the 13 Best Dab Rigs on the market right now, so that you may find the perfect rig for your smoking preferences and pleasure. Whether you are interested in a top of the line rig, a good deal, a durable piece, or a custom creation, we have found that these rigs dab to suit most everyone's needs!
If you're seeking the perfect blend between contemporary and classic design for your dabbing experience, this could be the perfect addition to your virtual shopping cart! Made by reputable glass company, Grav Labs, this dab rig won't take up much shelf space, but the hits you'll enjoy off of it are powerful and smooth. Despite its small package - just 5.5" tall - it comes with what you need, including a showerhead percolator and a ball-and-socket mouthpiece, making for smooth vapor that you can easily inhale. It's also made of thick glass, meaning its a durable little thing. For its thoughtfully done, miniature design, we love this little rig and think you will too!


If you're looking for big, smooth rips at a great price, Hemper's Puck Rig is your new best friend. Coming in at 6" tall, you'll forget all about its small size when you inhale out of the spacious chamber. With its bent neck you won't experience splashback (thank the toking Gods), and the circle percolator inside smoothes out the smoke for ultimate enjoyment. Note the joint size is a 14mm female. We think this cute, puck style rig is well designed and well priced, meaning it's perfect for any smoker, casual or dedicated!


Small in stature, but mighty in craftsmanship details and quality of rips, the Dragon Rig by Empire Glassworks is a great add for anyone looking for a rig with personality. Dragons aren't your thing, but you want a conversation starter? That's one reason we love Empire - they're always coming up with beautiful, unique designs that will get your friends talking. This little rig in particular has a detailed glass dragon that coils around the round chamber and up the pipe. While they don't use borosilicate glass, high quality scientific glass means this detailed work of art is a bit more durable (not that we suggest you test the durability!). Standing at a total of 7 inches tall and with a joint size of 14mm male, this new piece will have you breathing fire in no time!


CHEAP DAB RIG


Photo: weedrepublic.com
If you're wanting to try out dabbing and see if it's for you, it's completely pointless buying a super expensive dab rig setups. Dabs are an especially potent form of cannabis, and some concentrates can contain up to 99% THC. It's best to get a dab setup cheap, or to get a simple dab rig, in case you decide that dabs are not for you! If this is your first dab rig, just get a nice cheap one. You'll be hard-pressed to find a cheaper, more effective one than the CustomLove Tree Perc Bong and Dab rig 2-in-1. This dab rig is also a bong, so if you don't like dabs then you can just simply use this as a new bong. You can't expect high-quality for this price but you can expect some degree of function. This bong and vape is definitely functional and will serve you well for 5-6 months. After that you should take a look at purchasing a more expensive dab rig so that you can start to really get the best taste and effects. Cheap dab rigs will break more easily and become dirty very quickly as well. This dab rig is one of the best dab rigs for under $50. This bong will not only become dirty very easily and prove quite tricky to clean, it will break if you drop it and maybe even if you don't. They're extremely prone to breakages, and the slightest knock may smash an important part of it. There is also no nail for this dab rig, so you will have to use a dabbing tool instead. Most people prefer nails, especially quartz bangers.

CUSTOM HANDMADE GLASS PIPES AND RIGS

 Photo: @hitmanglass


Dab rigs range from $20 - $5000 and beyond. This is because a lot of dabbers love to have dab rigs or dab pipes that are custom created. These cool dab rigs can come in whatever shape and size the customer or artist may want. Some are made to order, others are made into various crazy shapes and snapped up by hungry collectors or just appreciators. The most important and desirable quality of such dab rigs are that they are one of a kind. 
One such custom creator is Glass Dougie of Hitman Glass. Dougie is considered to be one of the best dab rig designers in Los Angeles and is the mastermind behind The Sandblasted Sundae Stack Torch Tube by Hitman Glass. This unique dab rig contains a sealed off chamber for butane, along with many other features, including:
Bent Neck

Clear Glass

Made for waxy oils

Sandblasted glass

Thick glass

Branded glass

Concentrate rig

Highest quality

Scientific glass

Unique


Obviously, this piece isn't in most people's price range, but for those who have the money and are looking to invest in a high quality rig, treat yourself to this creme de la creme of dab rigs. There are not really many negative things to say about this kind of handmade glass dab rig. The Sunday Stacker is extremely nice to look at, well-made, and created by hand.  Although this piece is extremely expensive, it is well worth the money.


CRAZY SHAPED DAB RIGS

Photo: @black.octopus.glass
You can obviously get quite a variety of crazy patterns, shapes, colors, and styles when it comes to dab rigs. One of the most common is the Octopus Dab Rig, which you can find for sale from a few different stores. Stoners in general love trippy things, and there's something about taking a dab from an octopus' tentacle that certainly feels like a trip. The one above is a pretty unique looking dab rig, with an octopus mouthpiece. They are normally pretty expensive compared to dab rigs which aren't shaped, but who cares about that? Some people just want to get stoned from an Octopus. The glass is clear so you can watch the Octopus dab rig setups to build up smoke inside, and then take a huge concentrate hit from it. This rig is created with more focus on aesthetic than function.  A great choice if you have plenty of money to spend and want some funky, unique glass.
MINI DAB RIGS- MICRO DAB RIGS FOR PORTABILITY

Photo: @eycemolds
 An unbreakable rig that you can take anywhere and everywhere! If you're looking to buy wax rigs which are very small and can be carried away then you have come to the right place. We have these rigs in our online store for a good price. If you move around a lot, I highly suggest this rig for you. A good thing about taking a dab is that it's not that long a process, and the smell disappears fairly quickly if done somewhere with a decent breeze. The main problem is that the dab pipe isn't particularly big on these, so it can get easily blocked and will begin to restrict airflow fairly quickly after buying it. If you don't want to clean this rig really regularly, you can get 14mm dab rigs with a quartz banger, making it a pocket quartz dab rig.
The EYCE silcone dab rig above only has a titanium nail, but it does come with a dabbing tool and a silicone pod.  The silicone pod is a great way to easily store your often, very sticky concentrates. It is also pretty cost efficient and the silicone is easy to clean. Although most people consider glass dab rigs to be the best, silicone rigs are much easier to clean and move around. The taste isn't as good inside silicone dab rigs as it might be with something made from borosilicate glass. To be honest, you always get a slightly rubbery taste to your concentrate. Also, you will find that sometimes you may burn part of the silicone, so be extremely careful.


NOT SO PORTABLE SHATTER RIGS OR DAB BUBBLERS

Photo: @theglassgirl420
The Faberge Egg Showerhead Rig with Ceramic Set created by Othership has some great features and can be purchased for just over $100. The main feature that most people love above these kinds of dab rigs is the percolator, which looks amazing when you take the hit. These egg dab rigs are made of 11" durable boro glass, have a showerhead perc, and are designed in the Faberge egg shape for extreme diffusion. They also have a bent neck mouthpiece, a large base for security, a 90-degree stem and a 14mm ground joint. It also comes with a ceramic banger nail and some great design work on the glass. You should definitely pick up one of these if you're looking for a dab rig and you're not too bothered about the size. The big problem with these amazing glass dab rigs is that if you drop them once, which stoners tend to do, you're screwed. The Faberge Egg Rig with a showerhead perc is extremely breakable, even despite its borosilicate glass, so make sure to use caution! If you're a clumsy stoner, this may not be the right fit for you.
COLOURFUL CONCENTRATE RIGS
Photo: @maxqualityglass
These beautifully made, colorful Klein Recyclers are for sale online. You really have unlimited options when it comes to colors, shapes, and designs. Obviously, when supply is lower and demand is higher, the price is grossly inflated. This can lead to very expensive dab rigs. Colorful concentrate rigs are very popular because people love to show off their glass compared to their friends. It's a collectable, just like all the other collectables. The Klein Recycler Percolator Dab Rigs above, includes some of the following features:
Reinforced stemless design to prevent breakages

Inline diffuser for dragless

Dab rig ball-shaped natural midsection

Beautifully colored with accents

Slide joint 14mm dab rig female

Includes a 14mm dab rig male slide

Height is only 9 inches, making it pretty portable

The diameter of the base is 3 inches, helping to balance it

RECYCLER DAB RIGS

Photo: @dankgeek


Recycler rigs are one of the newest offerings by the science behind dab rigs. They offer many benefits to the smoker, as they function through a process allowing for a cleaner, more potent smoking experience compared to regular dab rigs. It recycles water through a loop. After being hit, the smoke and the water travel through the same tubes of the recycler dab rig. The water then goes through the percolator. This process repeats over and over until you take the hit. The PHC Recycler from Maverick Glass is a great example of one of these recycler dab rigs. With a waffle 4-hole perc located inside the already-smoothing recycler, the PHC will ensure you've got a smooth hit with every inhale.
There is a lot of misinformation surrounding cannabis, and to be honest, the smoke may taste cleaner and smoother, but that is only because the smoke has been cooled down. Some people think that there is some filtering, but it's unlikely to filter most of the bad by-products which are created by these dabs. You're lighting concentrated plant matter which has been put through a solvent with a blowtorch and then inhaling all of the smoke or vapor. This isn't a great idea, but the double recyclers are still likely to be slightly cleaner than dab rigs which don't recycle.


PENDANT/POCKET DAB RIG

Photo: thedablabs.com
The Custom Creations Heady Pendant Pocket Dab Rig is perfect for those of you who don't want to carry a bag around. All you need is some water, and you're good to go. This dab rig is not only very small, it has a small hole which you can put a string or chain through and wear it around your neck. These are known as pendant dab rigs, and this particular one has a nice green glow to it with black detail. It also has a 3-slit percolator and was made in California. This incredibly small dab rig has an incredibly big problem, and that is that it's going to need cleaning, a lot. Dabs produce a lot of smoke and they get dirty very quickly and very easily. You also will need to buy a quartz banger separately, which can be annoying when you're already spending just under $100 on a dab rig. This is the ultimate portability. You can also get dab rigs which are made from crystal, which are only better because crystal is considered to be more valuable than glass, it does not add anything to the dabbing experience.


ELECTRONIC DAB RIG - ENAIL DAB

Photo: @chiefinbuds
If you don't want to inhale a lot of horrible by-products, then you should definitely take a look at getting an electronic dab rig - or e-nail. E-nails are basically just dab pens which vaporise concentrates instead of heating them to high enough temperatures to actually combust them. Without combustion, these eRigs are a hybrid of technologies. This portable e-rig gives you the power of concentrates in a healthy dose. The Dr Dabber Boost Black is a fairly inexpensive enail and gives you water filtration, domeless titanium, ceramic, and quarts nail, magnetic loading tool, silicon storage containers, and micro USB charger. Simply click the power button three times or five times to make it even hotter and to use the quartz nail. You should allow it to filter through the water and then you have a perfect dabbing experience but a lot more easily and a lot more healthily.
VAPORIZING CONCENTRATES

Photo: @vaposhop
If you're reading this article and you think that dab rigs are the only way to smoke dabs, you're very much mistaken. Some people prefer to vaporise their concentrates, because it's far healthier than taking a dab. You can easily buy a 3-in-1 vaporiser, like the Storm Vaporizer, or a dab pen and you can be vaporising your concentrates in no time. Cannabis requires heat to become activated, but it doesn't require the heat of a blowtorch. You can simply gently vaporise your concentrates and get utterly and completely stoned from them. There's absolutely no need to heat them to such a high temperature, which undoubtedly will eventually cause you problems. Dab rigs aren't particularly healthy. They're like bongs, and you're effectively just burning a load of plant matter or plant matter extract and inhaling all of the by-products. I have a Storm Vaporizer and it allows me to smoke hash, dabs, and dried flower. This is a simple process, it comes with 3 metal inserts which protect the vaporising chamber from the hash or oil. It works very well, and the Storm Vaporizer is definitely worth the price.


MUST HAVE DAB ACCESSORIES

10mm, 14mm, 18mm, Male, Female Premium Quartz Banger
Photo: @yodabbadabbatools
Why is it important to buy a quartz banger dabbing accessory? Well, the most important thing for some people is definitely flavour, and quartz bangers have a much better flavour compared to titanium or ceramic bangers. A quartz nail supposedly brings out the terpenes much better than regular nails, and this is probably to do with it being made of crystal. They also have a much better ability to withstand heat and therefore last a lot longer than regular nails. Finally, they heat up a lot faster, therefore, you don't have to waste as much butane from your blowtorch. They are just generally superior, and although they're more expensive, the expense is normally outweighed by the fact that they last longer. You can be sure it is a sound investment. Definitely get yourself a quartz banger if you're planning on dabbing for a while.
DAB SPOONS
Photo: @babiesdonttalk
A dabbing or sauce spoon is great for dabbing. There are many different sizes, and they are great for picking up small quantities of all kinds of different materials which are necessary for dabbing. They fit easily into many different types of nail tops, giving you great and easy accessibility. Dabbing is pretty fiddly at times, and you will sometimes need help from a dab spoon. This particular Glass shovel dabber with bubble cap allows you to quickly cover your nail after depositing the concentrate onto your nail or banger. Crumble, sauce, and other types of cannabis concentrates are extremely annoying to put onto nails with anything other than a glass shovel, and this is the reason we highly recommend that you buy yourself a dab spoon. Again, these things are made of glass. Glass breaks pretty easily, so you have to be careful when you're taking the dab spoon to the nail. If you mess up and try to put it there too quickly, it will break. This can not only be annoying and expensive, it could also be dangerous. Obviously, with the extreme heat and the fact that it's made of glass, you can see why it's fairly easy to hurt yourself while doing a dab. It's unlikely, as long as you're careful.


DAB RIG TOOLS
Photo: weedrepublic.com
There are many attachments for dab rings, and it's really up to you whether or not you want to buy them. The main one we've already discussed, which is a quartz banger. However, you can also buy plunger glass dab tools, cleaning kits like the Bakers Dab toolkit. The main reason you would buy these dab rig attachments would be to help make your dab rig last longer. Whether your piece is made of borosilicate glass or silicone, you don't want a bunch of residue building up. It's, therefore, a great idea to get some of these if you're intending on buying an expensive dab rig. If you're not, then you only really need a dab spoon and a quartz banger.


Conclusion: What is the best type of Dab Rig?
There are many different types of dab rigs and can range in price, anywhere from $20 to $5,000. When it comes down to it, the best type of dab rig depends on your preferences, your lifestyle, and most importantly, how much money you've got in the bank. Do you require a showerhead perc to ensure smooth tokes? Perhaps you want a sturdy rig made of borosilicate glass. Do you know what joint size you require for your oil rig?  If you are a newcomer to the dab world, I suggest starting with a smaller and cheaper rig, then working your way up from there. 
.

Written by Megan Medeiros (BA)
Megan Medeiros has a bachelor's degree in English and is currently working on a master's in English at James Madison University. She's the owner and operator of Medeiros Writing, and has been working as a cannabis writer for the past three years, mostly following the legal climate of marijuana, especially in areas like California, Colorado, Oregon, Canada, and other legal areas.
This post contains references to products from one or more of our advertisers. We may receive compensation when you click on links to those products. For an explanation of our Advertising Policy, visit this page. All photos were sourced from Pinterest.com | updated 2021
Stay home & get your daily
needs from our shop
Start You'r Daily Shopping with Nest Mart
Best prices & offers
Orders $50 or more
Free delivery
24/7 amazing services
Great daily deal
When you sign up
Wide assortment
Mega Discounts
Easy returns
Within 30 days