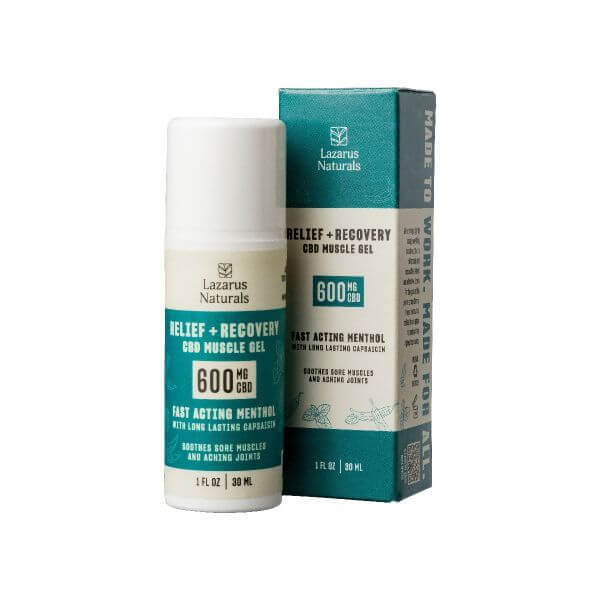 CBD muscle gel, also known as cannabidiol, is quickly becoming one of the most popular and beneficial ways to deal with aches and pains. As CBD muscle cream popularity continues to rise, it's no surprise that many brands are popping up with new CBD muscle products that promise to deliver even better pain relief than the ones before them.
With so many new CBD gel products coming to market, it can be hard to keep track of them all and figure out which ones will be effective enough to relieve your pain without causing unnecessary side effects. But in our store we have listed top brands that are fit for your use.
Is CBD Gel for Pain perfect solution?
CBD cream is a topical gel that can be applied to the affected area to provide relief from pain. CBD gel is made with CBD extract and a carrier oil, such as coconut oil or olive oil. It is effective in reducing inflammation and pain in the muscles and joints. It can also be used to relieve pain from arthritis, back pain, and migraines. CBD cream is safe to use and does not have any side effects.
It should be rubbed into the skin of the body part where there is pain, inflammation, or muscle spasms. CBD cream should not be rubbed onto your face, chest, or genital areas because these are sensitive areas of your body. CBD gel has no psychoactive properties which mean it will not make you feel high or stoned.
CBD will simply interact with your endocannabinoid system to lessen pain and reduce other symptoms associated with various ailments without any psychotropic side effects for most people. It is an excellent alternative for many people who don't want to take medications containing opioids.
The Vitality of CBD Muscle Gel
CBD is known for its anti-inflammatory and pain-relieving properties, which is why it's become a popular treatment for conditions like arthritis. CBD muscle gel can be applied directly to the skin to target specific areas of pain or inflammation. The gel formulation allows for more targeted relief than other CBD products like oils or edibles. Plus, It is fast-acting and easy to use.
Simply apply the gel to the affected area and massage it in until it's absorbed. The greatest benefit that it has over other CBD products is its ability to reach deeper layers of muscles without disturbing the skin. If you're feeling sore from an intense workout or any strenuous activity, CBD muscle cream will reduce your aches and pains within minutes of application.
Plus, if you suffer from chronic pain then CBD muscle cream can help with that too. Unlike topical creams, ointments, or lotions that only provide localized relief at best, CBD offers benefits on a more systemic level throughout your body when applied topically.
Simply apply it to where you feel discomfort and notice how it starts taking effect almost immediately. CBD helps to promote homeostasis in the body by supporting natural processes such as fighting inflammation and aiding in detoxification. These same processes contribute to mood regulation, relaxation, sleep quality, and immune system function. Applying it directly also avoids having to deal with THC psych activity because CBD interacts with a different receptor system than THC does.
Does CBD Cream Relax Muscles?
CBD is a natural compound that has been shown to have therapeutic properties. CBD muscle gel is a topical application of CBD that can be used to relieve muscle pain and tension. CBD has anti-inflammatory and analgesic properties that make it an effective treatment for muscle pain. The study found that it was more effective than other topical treatments in reducing inflammation and pain.
It is a safe and effective treatment for muscle pain and can be used regularly to relieve chronic pain.
The effects are cumulative, meaning the longer you use it, the better the results will be.
You should find out what works best for your needs before purchasing any particular product. Here we are available to help you out. Different people may react differently to certain products so experimentation may be necessary. There are different brands of best CBD muscle creams on the market that offer varying concentrations of CBD and other ingredients but we have a long history of trusted customers.
How long does CBD Muscle Gel last?
It is a topical CBD product that can be applied to the skin. It is said to work quickly to relieve pain and inflammation. It depends upon the amount used. Itis said to be non-addictive and does not contain any THC.
With continued use, it has been reported to help alleviate chronic pain without the side effects of other medications.
We provide consumers with an affordable way to purchase CBD products, allowing them access to quality ingredients in a convenient way. Our products are always responsibly sourced so we can guarantee you're getting real CBD in every single bottle.
Conclusion:
Buy your CBD muscle gel today and say goodbye to the days when your muscles ache after working out or sitting too long at your desk. It will reduce inflammation, and provide relief from joint pain. You can even use it on yourself before bed to calm your mind before bedtime.
News
Stay home & get your daily
needs from our shop
Start You'r Daily Shopping with Nest Mart
Best prices & offers
Orders $50 or more
Free delivery
24/7 amazing services
Great daily deal
When you sign up
Wide assortment
Mega Discounts
Easy returns
Within 30 days