17 Best Beaker Bongs - Every Style & Budget Covered!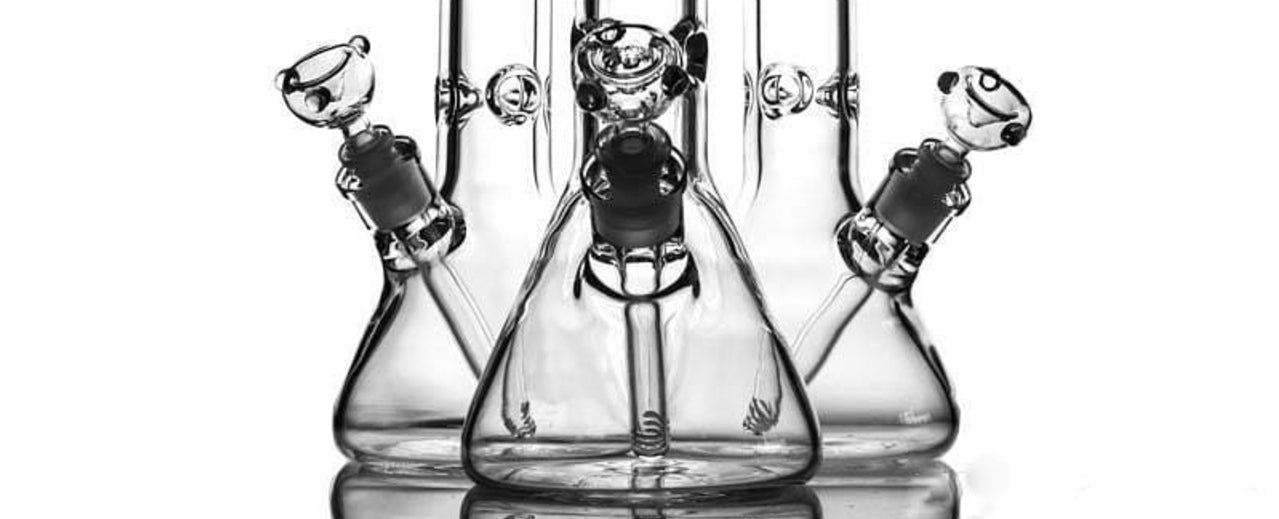 Everyone loves a good beaker bong. These glass water pipes and acrylic bongs are sleek additions to any collection. More than just pretty to look at though, beaker bongs are a great way to enjoy your favourite herb. Their design allows for an elevated bong experience, given that the shape of the beaker naturally lessens backsplash in the water, and the beaker base provides more stability. They also offer the chance for typical bong variations such as percolators and coils. Whether you want to use yours as a bong with flower or fit it for concentrates, whether you want a mini beaker or a perc bong, or if you want a straight tube or bent neck, beaker bongs tend to be most seasoned smokers' bong of choice.

In this article, we're going to help you narrow down the long list of possible best beaker bongs and pick the one that's perfect for you. Whether you're looking for something with loads of personality like a spine bong or Diamond Glass, or you want something simple, this list has something for everyone on it. So let's get started!



Known for quality, you can't go wrong with the Helix glass beaker bong. Photo: @cozumelglass
Though the price on this mini beaker bong may seem high, Helix US water pipes are worth every penny. The Helix glass beaker bong, though small, provides an incomparable smoking experience. Each and every Helix pipe by Grav, including this small beaker glass bong, has their iconic mouthpiece with three air-intake holes, allowing the smoke to spin into a braided pattern, providing the smoothest hit you've ever taken from a bong.

Why we think this is one of the best beaker bongs available:

Cool, smooth hit every time

Small enough that it's portable


Comes with one-hitter bowl, K-clip, and showerhead downstem

Detachable bong style makes for easy cleaning
Standing at 18 inches, the Tank MAX is one of the tallest beakers on the market when it comes to 9 millimeter thickness. This piece is simple and strong and is an essential piece to any smoker's arsenal. Whether you're experienced or just starting out, you can't deny the beauty and function that this piece offers. Its no-nonsense, easy to clean design offers superior function and stability that the glass market has never seen before. It's also backed by the Tank Lifetime Warranty so it's a no-brainer. Tank stands by the American craftsmanship of their pieces and this one is no exception.
What we love!
18 Inches
9MM thickness
Incredibly strong
Easy to use and clean
Free bong bag with purchase
Free Shipping in USA
LIFETIME WARRANTY



Which pattern would you choose? Photo: @chiefinbuds
This beaker bong has a unique design that allows it to come in a wide variety of colors and patterns. The Eyce beaker bong is made of food-grade silicone, which means it won't break when you drop it, it's flexible, you can pull each piece apart for easy cleaning, and it's easy to store.

What we love!
Flexible and lightweight - Makes it beyond easy to travel with, but beaker base keeps it sturdy


Silicone construction makes it nearly indestructible

The detachable aspect combined with the flexible structure makes cleaning a breeze

Comes in unique colors and patterns

Large stash jar hidden and magnetic lighter holder, allowing you to keep everything in one place

Beautiful and you can choose which color you'd like, what's not to love? Photo: @GlassCity

This beast of a clear beaker bong is definitely a choice piece for some long-term smokers. A tall beaker bong, its design is unique and it has an ice catch, and it all comes together in one classic beaker glass piece. These beaker bongs come in three colors, green, blue and black. The structure of this bong is a little closer to the retro bong style most are familiar with.
What we love!
Constructed with thick, high-quality glass, as all Grace Glass pieces are, so you can trust that it will last

Convenient ice catch for cooler and smoother hits

Decent size

Unique design
Looking for something a little out of the ordinary? Photo: @dankstop
This incredibly sturdy bong is a must-have for anyone with butter fingers or less than trustworthy friends. Look, it's not a knock on any friends out there - things happen! Thankfully this 7mm thick, classically designed glass beaker bong from AMG is here to limit the chances of great glass tragedies. The beaker-style base makes the base of the bong sturdier while also making it easy to clean. Combine that with a removable diffuser downstem that functions as a perc, cooling off the the smoke, and you've got a winning combo.This is a must have for any virtual shopping cart!
What we love!
One of the most durable bongs on the market


Removeable diffuser downstem for easy cleaning and more filtration

Choose your height



If you prefer a sophisticated look, this might be a good choice for you! Photo: @everyonedoesit
If you like taking huge rips that produce major smoke, the Four Twenty Glass Beaker Bong Black Beard is the piece for you. This sturdy, large bong is made of borosilicate glass that is seven millimeters thick, so you don't have to worry about fragility. Black Beard is one of the best beaker bottom bongs that we've had the pleasure of trying. It comes with a built-in slit diffuser, breaking up the smoke to make a smoother, cooler hit. That, in combination with the ice catch, create the smoothest and coolest hits allowing you to take larger rips than you ever thought imaginable.

What we love!
Double cooling action with the slit diffuser and ice catch

Thick, sturdy glass makes it hard to break

Bowl comes with handle for easy use



We could get lost in the swirl details on this one! Photo: @Glass Bongs
The Goosebump Glass Bent beaker bong by Chongz may not be as large as a 2 foot bong or a 4 foot water pipe, but it certainly packs a punch. This piece will help you get huge rips without being cumbersome in your hands or making you hit it on a table. The bent mouthpiece makes it more comfortable to hit and the seven-millimeter thick glass helps to keep it protected, but you may want to consider a beaker sneaker to protect your piece. It comes in four different colors, all of which we offer.
What we love!
The curved mouthpiece makes it easier and more comfortable to hit

The size makes portability and storage easy while also making it more comfortable to hold

The thick glass keeps it from breaking easily

Affordable price




Grace Glass makes a second appearance with this stunning milky glass. Photo: @wujo_stirling
The sharp look of these beaker bongs definitely helps their ranking. Grace Glass's Milky Beaker Bong is a superb glass beaker bong with a straight tube neck, complete with a spiral percolator that filters and cools down the smoke for a nice, smooth, cooled-down hit. It comes in three different colors: white (pictured above), gray, and black. This large perc beaker bong stands at top bong brand a whopping 34 centimeters tall and is made of thick and sturdy glass.

What we love!
Sturdy glass making it harder to break

The milky color scheme for a unique and sharp appearance

Spiral percolator makes each hit smooth and cool



Prone to breaking things? Get this silicone bong! Photo: @Nucleus
This close to 2 foot bong is constructed of food-grade silicone that's virtually indestructible, easy to clean, and is even dishwasher safe. This large bong provides the same great smoking experience as a glass 2 foot bong, but without the fragility and with the fun addition of coming in a wide variety of bright colors. It's also got a relatively mini beaker, so it won't take up as much space as you may initially imagine. The Nucleus silicone bong is a detachable bong, making it even easier to clean.

What we love!
Silicone construction makes it virtually indestructible, highly flexible, and easy to clean

Flexibility and light weight makes it easier to transport


The height of this bong will please anyone that loves tall bongs



Only the best, smoothest hits with this DankStop Beaker Bong. Photo: @DankStop
You can't get a smoother hit from a beaker bong than you can from this Dankstop glass beaker bong with a tree perc. As the smoke travels through the 4 arm tree percolator, then passes the ice placed in the ice catcher, it is cooled down tremendously before reaching your throat. This bong is the perfect clear perc beaker bong for the experienced smoker that prefers the best experience. It comes in three colors.

What we love!
The percolator and ice catcher combo make for an unbelievably smooth hit

The reasonable size makes storage easy and holding it comfortable

Simple and classy design

Get as high as the trees with this tree percolator bong from DHC! Photo: @DailyHighClub
Similar to the last bong we mentioned, DHC's Double Tree Perc beaker bong is a beast at producing smooth, cool hits. This glass beaker bong is compatible with thousands of 14-millimeter add-ons and comes with an ice catch for yet another cooling option. This large beaker bong is definitely a favorite among serious smokers.

What we love about this perc bong:

The double tree percolators make for the smoothest hits you'll ever take

Convenient size with wide base


Compatible with 14-millimeter add-ons

Ice catch for even more cooling options


We love the glow of the light as it passes through frosted glass. Photo: @EDIT


This large bong is the king of smooth hits. With the new UFO percolator and the option to add ice, every hit taken out of this glass beaker bong is smoother and cooler than the previous. Constructed of four-millimeter-thick borosilicate glass, this beaker bong is pretty durable, but you might want to invest in a bong base protector like a beaker sneaker for added protection.

What we love!
The ridiculously smooth hits

Milky glass design looks sleek and unique

UFO percolator makes for smooth, cool hits



You'll be coming back for more after smoking with the UFO perc! Photo: @Dankgeek
This great 2 foot bong is the choice piece for experienced smokers. These beastly beaker bongs pack a punch. It's 13 inches tall with a removable diffused downstem, beaker base, and showerhead percolator. When you use this bong with ice, thanks to the triple pinch ice catch, your hit will be smooth as silk and cooler than you ever thought possible. This piece is definitely a beast, and, considering the great features, we think it's set at a totally affordable price.

What we love!
Height - you just can't beat a tall bong with a sturdy beaker base!

The showerhead percolator and ice catch make for smooth and cool hits like you wouldn't believe

Variety of colored glass accents to choose from


Has a simple design

High-quality construction



This one might be worth getting in different colors, just an idea... Photo: @Nucleus
Similar to the 2 foot Nucleus silicone bong, the Skinny Neck is a mini beaker bong made of silicone. It's flexible design makes it easy to clean and perfect for travel. It's lightweight, detachable, and dishwasher safe. It's only 8.25 inches tall and incredibly lightweight.

What we love!
Compact size and detachable construction make cleaning and travel a breeze

Dishwasher safe so it's super easy to clean

Comes in a wide variety of colors

High-quality construction and made of virtually indestructible silicone



Sharing is caring, and it's easy with the Grav Spoon. Photo: @gravlabs
This one-of-a-kind piece takes the classic beaker bong design and converted it into a spoon! The classic beaker base sits at the bottom of a 4" spoon with the carb on the right. It comes in a variety of colors and is extremely affordable.

What we love!
One-of-a-kind design

Glass beaker bong without the water



Get as high as these diamonds are bright! Photo: @diamondglassinc

This impeccable piece of art by Diamond Glass is a beautiful frosted glass beaker bong with gold metallic detail. This piece definitely gets major style points for its appearance; every detail has been considered from the gold details to the glass bowl. This beautiful piece of work is made of seven-millimeter-thick glass and is handcrafted by Diamond Glass. It's definitely an impressive, showstopping piece worth adding to your digital shopping cart!

What we love about this Diamond Glass beaker bong!
Unique and stunning design

Thick glass preventing breakages

Large glass bowl

Ice catch for smoother, cooler hits


Looking for something a little more fun? Photo: @vicelandwaterburyvt


This unique beaker bong is the perfect bong for any Rick and Morty fan. It's made of extra-thick seven-millimeter glass, helping to keep your bong protected without a beaker sneaker, as that would cover the unique paint. Beyond its unique paint design, this glass beaker bong has an ice catch and a removable downstem with six diffusion slits to help you get a cool and smooth hit and produce more bubbles.


What we love!
The unique, custom paint design

Smooth, cool hits every time

Sturdy glass



All the necessary parts for a successful toke! Photo: @PrettyPipeShop

This detachable bongs has one of the coolest constructions on this list. This bong is customizable. It comes with a coil perc and a tree perc in addition to the beaker base and 18-millimeter glass bowl. This beast of a bong can be as large as you want to make it or as small as you want because of its detachable construction. You can customize the smoothness and coolness of the hit you experience by changing out each piece.


What we love:
Detachable bong makes it easy to clean, customizable, and easier to replace should any component break (because you won't have to purchase a whole new bong)

Multiple percolators make for the smoothest hits

Detachable construction makes storage and transportation easy

Capability to convert into banger for concentrates
Conclusion
Beaker bongs tend to be favored in the smoking community, even with the older crowd who refer to it as a retro bong. These bongs are designed to get you the smoothest and coolest hit possible. They're perfect for putting ice in and many have multiple percolators, allowing you to get unbelievably smooth and cool hits each and every time.

As you can tell from the list above, there are many different types of beaker bongs to choose from. Consider the size and durability of your future bong. Does colored glass or a bong with a design appeal to you? Do you want something with some height, a wide base, a unique neck? And, most importantly, how does it move the smoke through its structure: is it smooth or rough? Do you lose flavour? Does your budget allow for something gorgeous and quality like Diamond Glass beaker bongs, or do you need something simple and über portable? All of these questions are ones worth asking before you choose to invest any amount of money in a new bong. Once you've thought it out carefully, we know you'll enjoy many toking moments with your new bong!
Have you tried one of these bongs? Let us know what you thought in the comments below!
.

Written by Megan Medeiros (BA)
Megan Medeiros has a bachelor's degree in English and is currently working on a master's in English at James Madison University. She's the owner and operator of Medeiros Writing, and has been working as a cannabis writer for the past three years, mostly following the legal climate of marijuana, especially in areas like California, Colorado, Oregon, Canada, and other legal areas.
This post contains references to products from one or more of our advertisers. We may receive compensation when you click on links to those products. For an explanation of our Advertising Policy, visit this page. All photos were sourced from Pinterest.com | updated 2021
Stay home & get your daily
needs from our shop
Start You'r Daily Shopping with Nest Mart
Best prices & offers
Orders $50 or more
Free delivery
24/7 amazing services
Great daily deal
When you sign up
Wide assortment
Mega Discounts
Easy returns
Within 30 days