10 best Bob Marley baby clothes ever!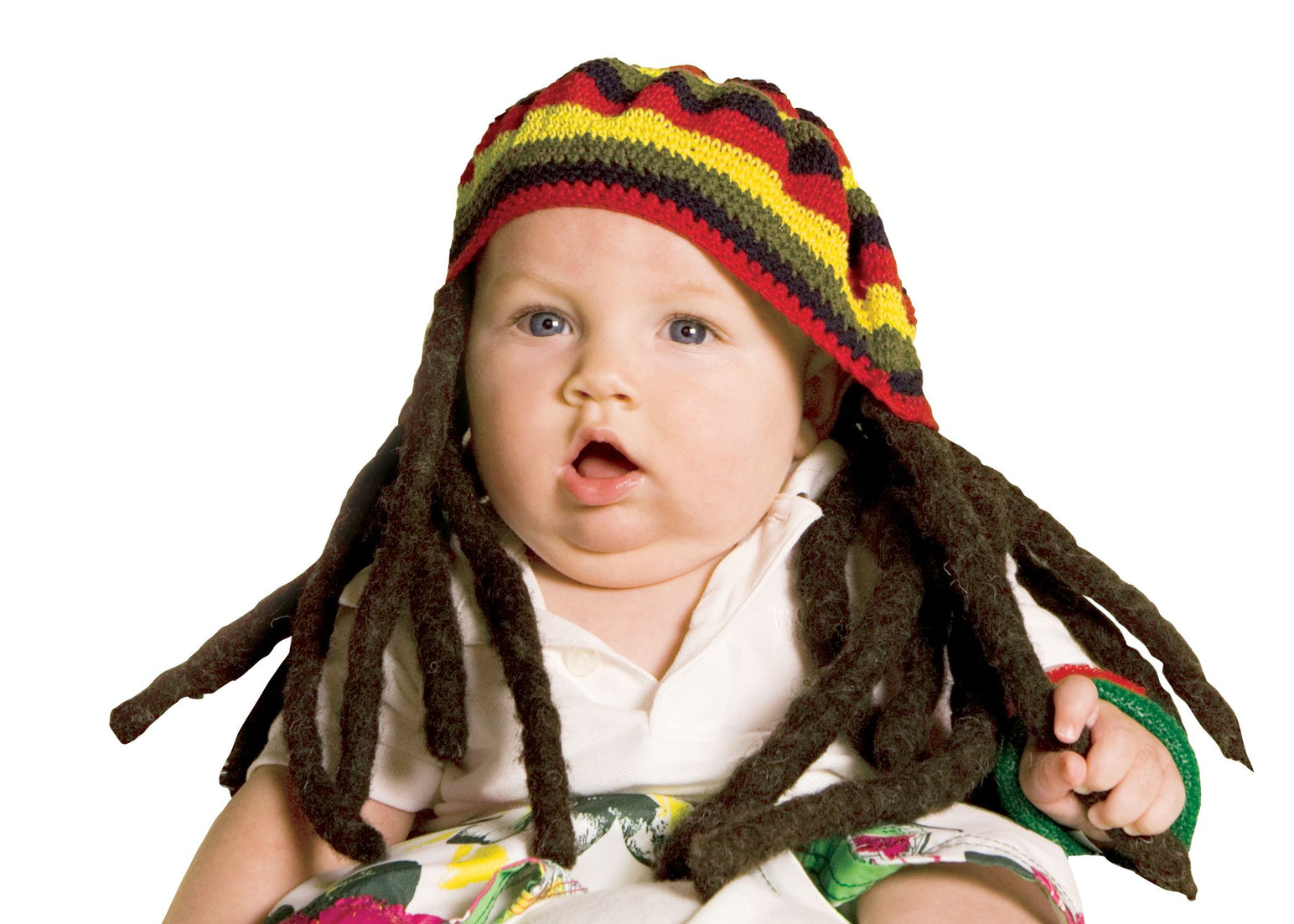 Bob Marley has been the stoner icon for ages now. His face has become synonymous with good times and fat blunts, not to mention the ever-present and incredibly iconic red, yellow, and green color scheme, borrowed from the flag of his home country, Jamaica (ironically, cannabis wasn't - and still isn't - legal in Jamaica). Between his musical innovations, his outspoken activism for the legalization of marijuana, and his distinctly Rastafarian-infused music, Bob Marley is recognized worldwide as a champion of Jamaican culture and cannabis activism.
At this point, the Jamaican icon can be found on clothing, wallets, backpacks, flags - you name it, he's on it. You can even dress your little ones in tiny Rasta-themed clothes! We've picked out the best of the best baby clothes to give your kids a little reggae vibe of their own.
 

Classic rasta design
High quality
Durable

This cotton onesie covers everything Marley-related you could want. The red, yellow, and green tie dye, the Jamaican flag, and the reggae star's face. Best of all, it's also particularly high quality; unlike some novelty baby clothes, this onesie is made to last and will stay together through wash after wash. The next time you've got a baby shower to attend, try surprising them with this awesome romper.
 

Iconic Marley logo
Correct sizes
Free shipping

The message in this classic song was more than just a catchy lyric. Bob Marley advocated for the spread of peace and love in place of war and hate. Now your kids can spread that message as well with this snapsuit. You can hit "add to cart" confidently knowing the size will be appropriate for your toddler, and you can enjoy the free shipping as well!
 

Nice light bodysuit
Cute
Comfortable fabric

If the black fabric is too hot for your baby's summer wardrobe, you can get the same iconic "One Love" message in a nice, light, 100% cotton bodysuit. This time the message is packaged with a playful font and a peace sign, instead of the Jamaican colors. The next time you shop for a baby shower, you won't have to search any further than this Bob Marley baby romper.
 

Stylish
Cleans up easily
Comfortable fabric

If "A is for apple" then "B" must surely be for? You got it - Bob Marley. This adorable find is the perfect way to add a little reggae to your toddler, and it does so without any cannabis culture references (other than the man himself). This is the perfect outfit to get (or give) when you want to display your Rasta culture in a more subtle way.
 

Heavy fabric
Durable
Cute

This is another of our favorite rompers. The classic song lyrics are written in a retro text style coupled with the eye-catching colors. It's a bit heavier fabric than most of the other rompers on our list, and they run a bit big, so either buy a little smaller than usual or plan to get something your kid will grow into.
 

Great tie-dye
Quality printing
Durable

If you need more tie-dye (of course you do), this one is awesome. Instead of any text, this romper just has the singer's face printed on the front. We found the sizes under 12 months were all pretty typical, but they ran a bit small above that point.
 

Adorable
Super soft
Easy to wash

This is one of the cutest romper/t-shirts we've seen. The bright green fabric is sure to stand out in a group of kids. It's super soft and flexible, so your kid is certain to love wearing it as much as you love seeing them in tiny Bob Marley merch. 
 

Affordable
Easy to take on/off
Comfortable

This onesie is easy to get your kid in and out of with its new button design. It's also super affordable. If your kiddo is harder on clothes than others, you can easily stock up on a few of these Bob Marley rompers and have a spare one or two on hand.
 

Easy changing
Cleans well
Soft fabric

Whereas Bob Marley had "Roots, Rock, Reggae," you can have a roots rock baby. The 3-snap closure makes changing time easier than ever, and the tagless design means it won't irritate your baby's skin. Show off your roots while keeping your baby comfy and warm in this great bodysuit.
Bob Marley Jamaica Stripe Baby Romper - $24.93
 

Easy diaper changes
Cute stripe pattern
Durable fabric

We loved this striped bodysuit so much it had to make our top 10. The Bob Marley emblem on the front is simpler than the others we've featured, and it doesn't include the standout color pattern he's associated with. Your kid can rock this romper for a more subtle tribute to your favorite reggae artist.
Conclusion
We just adore these Rasta-inspired baby clothes. You can even sport your own Marley gear and match your kids (although they probably can't grow dreads like yours). Always take a second to read reviews and see if sizes run big or small. We're sure you and your kid are going to love these bodysuits, especially when you show them off to your fellow reggae fans.
.

Written by Megan Medeiros (BA)
Megan Medeiros has a bachelor's degree in English and is currently working on a master's in English at James Madison University. She's the owner and operator of Medeiros Writing, and has been working as a cannabis writer for the past three years, mostly following the legal climate of marijuana, especially in areas like California, Colorado, Oregon, Canada, and other legal areas.
This post contains references to products from one or more of our advertisers. We may receive compensation when you click on links to those products. For an explanation of our Advertising Policy, visit this page. All photos were sourced from Pinterest.com | updated 2021
Stay home & get your daily
needs from our shop
Start You'r Daily Shopping with Nest Mart
Best prices & offers
Orders $50 or more
Free delivery
24/7 amazing services
Great daily deal
When you sign up
Wide assortment
Mega Discounts
Easy returns
Within 30 days