Best Cannabis Drinks That You Need To Try in 2021
What is behind the steady rise of cannabis drink THC water CBD drinks in Canada and America?
The obvious benefits of being able to consume reasonable amounts of CBD and/or THC without smoking or vaping for those who are against either. Liquid form is perfect for low amounts of toxins. Especially if you're mindful of what you put in your body, our list mainly contains healthy low sugar alternatives to alcohol, in the form of sparkling water, lemonades, seltzers, and alcohol-free imitation "beer".
With varying amounts of thc and cbd per ml, these beverages range for 2mg, 10mg, all the way up to 20mg and beyond. An interesting part of this is the idea that weed drinks can (for some particular social stoners) replace alcohol in a social setting.
In 2021 there's been a large trend (mainly in young people) of actually caring about your health. Increasingly, people are stopping smoking and vaping, and even drinking alcohol.
That doesn't necessarily mean younger people don't want to party, and those over the age of 21 should be legally allowed to choose THC drinks as a substitute for alcohol. With that being said, is it any surprise that large beer manufacturing companies started taking notice a few years back.
Are alcohol brands invested in Cannabis-infused drinks?
Constellation Brands, a large beer importer, said its plans to sell Cannabis-infused alcohol are still under discussion. Bill Newlander said cannabis drinks will be a $50 billion industry in the US. It is close to half the size of the beer market.
Drinking your herb provides an alternative to smoking, which is obviously a much healthier way to consume. Cannabis THC water and CBD drinks are on the rise in all legal countries over the world, so we decided to make a list of our top cannabis drinks , infused beverages, and provide a deep dive into the cannabis drink industry.
Editor's choice - Voila cannabis-infused sparkling water with all natural ingredients
We at WeedRepublic believe the smart choice is always the healthiest, and we therefore introduce Voila! A simple concept - Containing only natural fruit flavors (imagine a cannabis beverage without artificial sweeteners or added sugar!) - and a fizz provided naturally by mother nature, these CBD and THC infused drinks contain as close to zero calories as possible.

These all-natural drinks contain 10mg of THC, making them a perfect microdosing option. Drinking them when you need throughout the day will offer light-relief, and their various flavors will leave you drooling for more. The available flavors at Voila are:
Blue Raspberry
Guava
Orange Cream
Mango
If you've tried overly-sugary and frankly unhealthy cannabis drinks before, we recommend you give this cannabis-infused sparkling water a try.
Close but no cigar - Rebel Coast Cannabis-infused beverages Seltzer collection
Rebel Coast Cannabis Infused wine is a fruity drink with a kick. If you love to be social, adventurous and creative then this fermented flight of flavors will take you on an extraordinary experience that's perfect for any evening. They may call it "party" juice but we just call it taste…with benefits! Go ahead, sip away when partying or comfortably sombering in your place.
Think about your favorite glass of wine and what made the flavor stand out. Now imagine combining those qualities with some select cannabis extracts at 40 milligrams per bottle—that's what Rebel Coast does best! THC infused drinks are dominating the cannabis industry, and Rebel Coast is one of our favorite cannabis drinks. Rebel is one of the few companies that are not "non-alcoholic" replacements for alcohol, and instead infuse the two. Weed and alcohol together? Maybe in small doses I can see it working.
A Milder Choice - Nano hemp-infused CBD Water 10 mg by Living
Not looking to blow your face off with THC? Try some all natural CBD hemp-infused water instead. This 10mg CBD water by Living will make a great alternative infused drink, especially for those who are looking to take the edge off.
Breaking stereotypes of cannabinoids not being water soluble, the makers of Living CBD water has put just enough mg of cbd in these bottles to help with minor ailments. A perfect weed drink for those looking for a low dose, low strength solution, but which still provides a slight buzz and is a refreshing beverage. Official research is still lacking into the benefits of CBD and cannabis in general, but it is at least known to help with:
Problems with sleep
Nausea
A lot of people are looking to have the health benefits of cannabis, without feeling completely off their faces. Fair warning though, some CBD products can still be pretty potent, as we found out when we took the world's strongest CBD product.
A Sweet Alternative - Strawberry Hibiscus (2mg CBD/4mg Delta-8 THC) from Gem Jane infused drinks
For those of us with a sweeter tooth, but still wanting to watch the calories, this Strawberry, Chamomile, and Hibiscus Blossom blend is sweetened with natural agave and contains a well-proportioned and well-balanced dose of 2mg CBD/4mg Delta-8 THC per serving. Natural ingredients and only 2 mg of CBD and a little bit more THC, wrapped up in a delightful sparkling pop can.
The taste can be compared to a weed strain such as Strawberry Lemonade - and this product could be almost described as a cannabis-infused strawberry lemonade. Sound tasty? It does to us. This relatively low-dose per serving is perfect for those who are just looking for light relief, but for some newcomers (particularly older people) even this could make them feel a little funny. Always be careful and make sure to consult a doctor before using any of these drinks for medicinal use.
Hot on the Menu - Tea and Coffees - Hot Mocha Coffee cannabis beverage by Catapult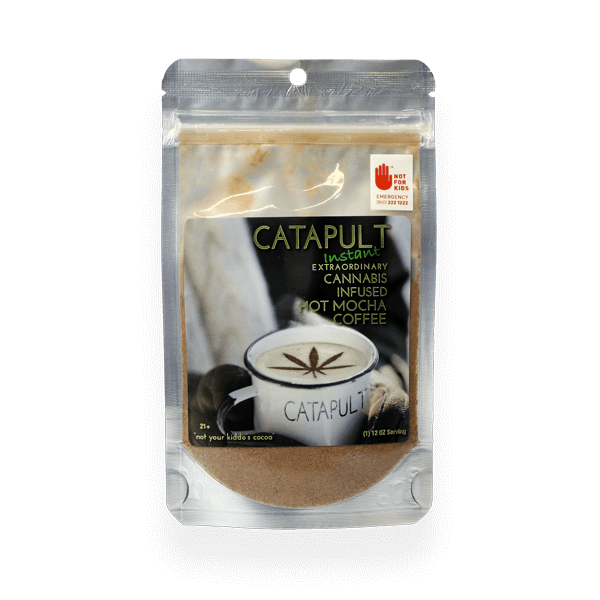 Remember when the only buzz you expected out of your coffee was from caffeine? (And maybe, if you were feeling extra loose, a little Irish whiskey or Baileys?) Well America's increasingly insatiable appetite for marijuana is turning THC coffee into the latest fad and one company has even suggested they are using Starbucks as their business model. Producing pot-infused coffees ain't cheap but James Hull who produces Catapult in Washington says he maintains high quality standards thanks to his attention to detail. This leads to a low profit margin, but a superior product.
This wild combination of caffeine and cannabis is a favorite of coffeeshops in Amsterdam, and it's a well-known fact by stoners that a coffee and a high combination is second to none. That is why infsued beverages with coffee and THC/CBD are becoming more and more popular. What are the legal restrictions surrounding cannabis-infused drinks and beverages?
Kikoko Herbal Tea Cannabis Beverages
Kikoko produces a range of low dosing herbal teas that are specially designed to assist you in areas like sleep, sexual activity mood, and pain relief. Each tea includes a distinct blend of cannabinoids terpenes and other therapeutic herbs for a well received effect. For consumers using CBD, an herbal Sympatea high CBD is the ideal final touch for a stressful day, relaxing and reducing stress. Sensuali-Tea is for those that enjoy sex while feeling the benefits of moderate THC (7 mg). It is designed to increase libido and heighten
Lagunitas Hi-Fi Hops ABSOLUTEXTRACTS
Lagunitas is a fresh looking and refreshing sparkling beverage that's inspired by IPAs. The company, which has had years of experience making the best beers in California, developed this alcohol-free drink with hops for when you need to chill out but don't want to be hungover or break your fast before an evening event. What makes Lagunitas unique are its three THC drinks: Unplugged (18:1 ratio), Tuner (5:5) ,and Reverb (10mg straight up). A perfect alternative for a night out with a group of friends who are all drinking, and for those who don't want a hangover in the morning!
Legality of Cannabis drinks and infused beverages - Where can I drink a weed drink?
In states with legalized recreational marijuana are the only places you can drink marijuana infused beverages in. Sometimes these beverages are allowed if they only get in stores where the alcohol is not being sold as it's not usually the case.
The age limits for products are the same as the legal age for marijuana products in state law. As a result despite being legal for hemp the situation with hemp - products ought to be easier. The word "hemp" can not be freely used but you are also allowed if you say something like "brewing with hemp seeds". In practice, it is almost as confusing.
Just like with most of the cannabis industry, there is some confusing elements, especially surrounding thc and cbd. In places where THC is illegal, any mg of THC can sometimes make the whole product illegal, even if CBD isn't illegal. You should always be extremely careful with the laws surrounding thc and cbd.
Generally, however, small amounts of mg of THC are allowed, even in "cbd infused" cannabis beverages. If you are a newcomer to cannabis, we recommend taking no more than a 10mg dose of either CBD or THC. You can easily increase the dose, but especially with mg of THC, ou should try your best to be careful. Stoners who are seasoned should know their own personal dosages, and everyone is different.
Do CBD drinks have THC in them?
Normally, Yes. Some CBD drinks are made with low THC weed and others are made from hemp plants with little to no THC content. Nevertheless, THC is an active ingredient and can end up finding its way into the product too, even if the drink is advertised as "CBD". There are some that are 0% THC, and they will be legal in more places across the world. The main reason for the confusion is the often confusing rules between THC and CBD
CBD oil often comes from industrial hemp and always contains some trace amounts of THC, more than enough to get you a good high effect but not enough for it to be considered illegal or dangerous by any means. However, CBD drinks like those found in coffee shops that are plain iced coffee usually don't come from industrial hemp- they're just regular joe (which is great if you do want a CBD drink). So if you're not looking
Conclusion
So, what does the future hold for Cannabis drinks? It's hard to say. Maybe it will be a $50 billion industry by 2025 and we'll all have our own personalized cannabis-infused drink at home that makes us feel great as soon as we walk through the door in the evening. Or maybe people will get fed up with THC water being so readily available everywhere they go, and decide not to purchase infused beverages anymore because of this saturation. We can't predict how things are going to unfold over time--but one thing is certain: there is still plenty of room for innovation in this market - and plenty of room for further legalization across the world.
Stay home & get your daily
needs from our shop
Start You'r Daily Shopping with Nest Mart
Best prices & offers
Orders $50 or more
Free delivery
24/7 amazing services
Great daily deal
When you sign up
Wide assortment
Mega Discounts
Easy returns
Within 30 days