10 Best Dog Treats on Amazon Your Pooch Will Love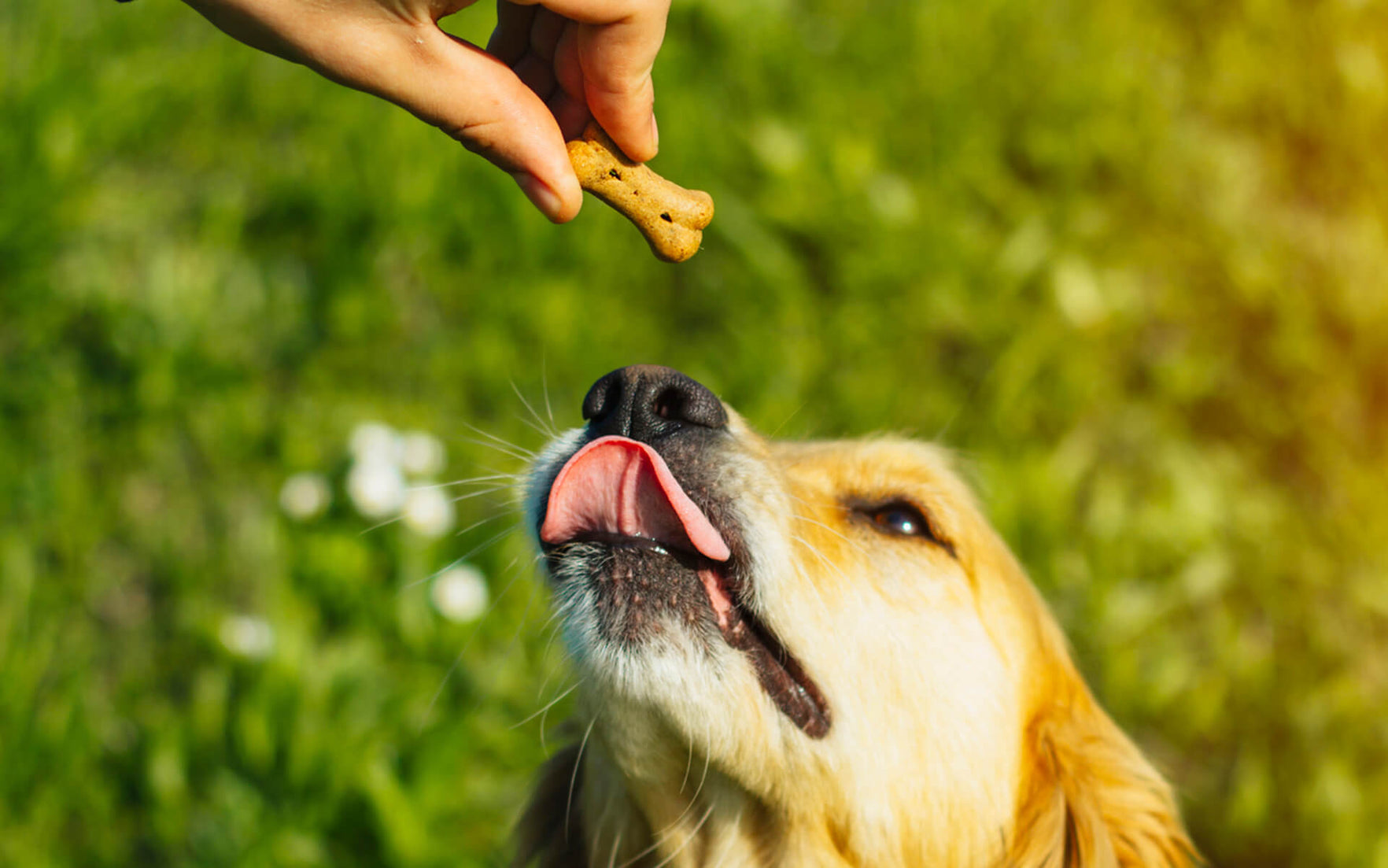 Anyone who owns a dog knows they aren't just a pet - your dog is a part of the family, and you'll want to treat them as such by giving them the best CBD products and hemp-infused treats available. Of course, no two canines are the same, so you'll want to be on the lookout for the CBD treats that best meet their needs and will provide the benefits they can get the most from. 
What added benefits do CBD dog treat products offer? 
One of the best benefits any high-quality CBD or hemp oil dog treat will provide is anxiety relief. Dogs get anxious and restless for a variety of reasons from separation anxiety to individual phobias, and CBD infused treats will help to calm them down. Your dogs lower stress levels may even reduce destructive habits such as tearing up rooms, chewing on furniture, and being overly rambunctious. Also, this calming effect will help aggressive behaviours and excessive barking because CBD oils will help your dog chill out the same way you do. 
Other benefits will depend on the product's ingredients, so you'll want to keep in mind the needs of your dog as you shop around for the right treats. We've found treats that, when a part of your dog's regular diet, help with boosting their immune system, reducing inflammation, developing stronger bones, shinier coats, healthier skin, and so much more.  
To help you with finding the best products to meet you and your pooch's needs, we have combed through Amazon and other sellers to find the best CBD and hemp dog treats that you'll want to think about buying for your furry friend. 
 

High dosage of hemp oil
Long-lasting anxiety relief
Large container size
Great value
Added calming ingredients

Our staff pick offers the longest lasting anxiety relief you can find in dog treats on Amazon. Premium Care calming treats for dogs are made with a high dosage of hemp oil and hemp seed powder, which means each dog treat will last longer than other brands. With 120 treats per container made from all natural ingredients, you won't need to replace these treats for a long time to come. These treats are also made with chamomile extract, valerian extract, and passion flower, which means they'll relieve the stress your pupper feels from separation anxiety and thunderstorms while reducing aggressive behavior and barking. 
 

Reduces chronic pain
Reduces joint inflammation
Provides building blocks for joint movement
Long-lasting anxiety relief

Sometimes you'll want your dog treats to do a bit more than relieve anxiety, and FurroLandia's hip and joint relief treats on Amazon have you covered when your dog needs relaxation and pain relief. These treats for dogs will help reduce chronic pain in your dog's joints, reduce inflammation, and help improve joint movement by supplying the building blocks for added lubrication where it's needed. With glucosamine, hemp seed meal, and hemp oil as all natural ingredients, these treats are perfect for dogs that need relaxation along with nutrition for joint health.
 

Great for picky eaters!
Great for larger dogs
High-quality CBD

If you're looking for dog treats made with CBD oil and a familiar flavor your dog will love, then MediPets CBD Beef Wraps are one of the best products you're looking for. These treats contain 3 mg of CBD per treat and 100 mg of CBD per container. This product is perfectly designed to aid in your dog's happiness and wellness by making CBD a part of their daily diet without compromising on flavor.
 

Offers an immune system boost
Increases energy levels
Great price!
Unique and interesting flavor

To help your dog build a better immune system, Holistapet's all-natural CBD dog treats contain blueberries, flax seeds, and sweet potatoes. These natural ingredients offer not only a unique flavor combination but also immune system protection and a huge boost to the strength of your dog's cardiovascular system. These CBD dog treats are perfect for helping your canine rebuild their immune system and stay happy and healthy.
 

Great flavors
Reduces excessive barking
Reduces aggressive behavior

What pooch doesn't love the classic taste of bacon treats? What better way is there to improve on that flavor than with added cheese and the best CBD oil possible? These calming CBD dog treats do just that to give your canine a familiar taste they love along with the anxiety relief and reduction in aggression CBD is known for. These dog treats are great for reducing aggressive behaviour, helping reduce the amount of constant barking your dog might do, and, of course, reducing anxiety related to anything from separation to past traumas. 
 

Made in the United States!
Wide-ranging benefits
Boosts overall health and well being 
Boosts activity levels

Available on Amazon and made in the United States, these dog treats are packed with everything needed to supercharge your dog's health and wellbeing. Hemp oil, kona berry, green lipped mussel, and many other ingredients make this the perfect treat for boosting your dog's energy levels while helping to build their digestive system, immune system, heart, and flexibility. The 74 minerals packed into these multivitamin hemp treats will be the best part of your dog's diet for making sure they get everything they need to stay relaxed, energized, and as healthy as they possibly can be.
 

Interesting flavor combinations
Compact size for traveling
Added calming ingredients

Once again Holistapet offers CBD dog treats with an interesting flavor combination your dog is sure to love. These all natural, green apple and peanut butter flavored treats contain 5 mg of CBD per treat along with L-Theanine and chamomile to help lower your canine's anxiety levels when they need it the most. These treats are perfect to have if your dog feels intense anxiety during thunderstorms or travelling, and the compact packaging makes them easy to pack when you need to be on the road or out of the house with your canine. 
 

Specialized for older dogs
Offers relief for stiff joints 
Provides building blocks for stronger bones

Maybe your pup has gotten along in their years, and you need hemp oil treats for more than just anxiety relief for them. These treats are made with organic hemp oil and organic hemp powder to help reduce the pain of aging in your dog. Other ingredients make it a valuable hemp treat  relieving stiff joints, encouraging healthy skin, nails, and fur, and building stronger bones and cartilage in your senior dog. Adding these dog treats to your canin's diet will make sure they get everything they need to comfortably live long into their golden years. 
 

Promotes good dental health
Keeps skin healthy and fur shining
Supports the heart and immune system
Great alternative to soft chews

Soft chews aren't the only treat your dog will love to have made with the best CBD or hemp oil. These dental sticks are made with hemp, salmon, krill oil, and bone broth to provide a wide range of benefits to your canine. As dental sticks, they primarily help remove the tartar build up on your dog's teeth, but they also provide benefits for your dog's skin and coat health while helping to boost and support their heart and immune system.
 

Great product for pain relief
Reduces inflammation
Helpful combinations of nutrients
Optimal Omega 6 and Omega 3 ratios

No one likes to see their dog in pain, and these CBD dog treats make sure your canine gets the pain relief they need when times are tough. No matter what they're going through, Holy Leaf CBD dog treats are packed with the ingredients necessary to relieve pain, reduce anxiety, and support the body's response to inflammation. Along with CBD oil, these treats contain lots of fatty acids, tocopherols, and an optimal ratio of Omega 6 and Omega 3 to help support your canine when they need it the most.
Conclusion
All of these great dog treat products will reduce anxiety and help relax your dog, but hopefully, you've also found something that provides a benefit you didn't know could be available in a dog treat. Whether you're getting products from Amazon or another trusted distributor, your dog will be thankful you picked up any of these all-natural CBD dog treats. Just remember to check each of these products for how many treats your dog should get based on their size and breed, and you'll see the benefits from these dog treats in no time. 
Author bio:
Megan Medeiros is a freelance writer and editor in Harrisonburg, Va. She's the owner and operator of Medeiros Writing, providing freelance writing, editing, and social media management services. She's been working as a cannabis writer since 2017, mostly following the legal climate of marijuana, especially in areas like California, Colorado, Oregon, and Canada and reviewing CBD products and vapes. She has a bachelor's degree in English and is a second-year Master's candidate at JMU.
Stay home & get your daily
needs from our shop
Start You'r Daily Shopping with Nest Mart
Best prices & offers
Orders $50 or more
Free delivery
24/7 amazing services
Great daily deal
When you sign up
Wide assortment
Mega Discounts
Easy returns
Within 30 days