Best Hemp Shoes for Men's and Women's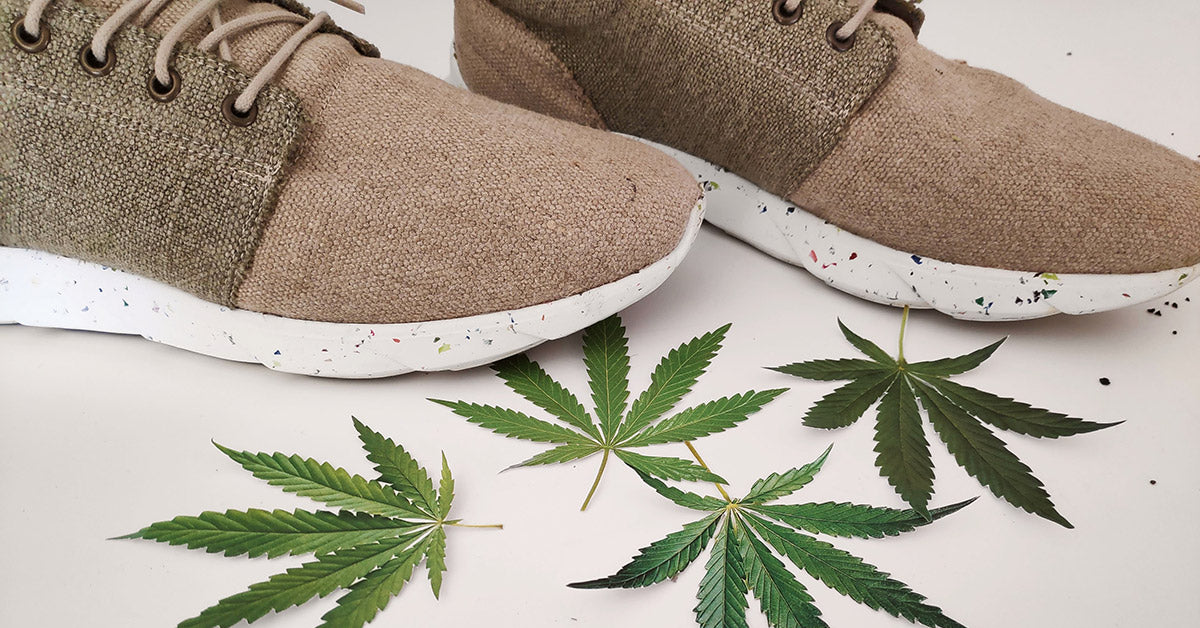 As society becomes more environmentally conscious, the search for easy ways to reduce our carbon footprint grows, and wearing hemp seems like a better and better idea! Hemp grows sustainably and easily without the use of herbicides or pesticides so most of it is actually organic. 
Hemp also has anti-microbial properties and is breathable so your new favorite footwear doesn't hold onto odors. Hemp is strong and hypoallergenic, so it makes a durable and practical material for every body. Perhaps the best of these benefits, hemp is biodegradable! 
All of these hemp products are available in an online store, but even with changing search filter settings, it can be hard to see the footwear and price that are best for you, so we compiled a list of our favorites including: boots, sneakers, dress shoes, sandals and other hemp footwear! Here's a list of the best hemp footwear right now. 
 

Zippered access
Breathable and moisture-wicking
Ethically handmade by professional shoe artisans 
Organic hemp upper
biodegradable hemp boots
Eco friendly

The Milano hemp boots are handmade with organic hemp shoes women. They have a zipper access so you don't have to worry about lacing up to put them on or untying them to take them off. These boots are made with 100% European Hemp so they're breathable and UV resistant. They're elastic free and completely biodegradable, talk about a small eco-footprint!
 

Extra durable material
Sturdy hemp upper
Versatile sneakers
Sole and tread give extra traction
A great price - they're on sale!

This men's Adidas hemp shoe is available exclusively through Journeys. One of many hemp shoes, Adidas hemp shoes stand out because of the double-stitched overlays on the hemp upper for added durability. The Bucktown Athletic Shoe has a lace closure ensures a secure fit and further customization. These men's hemp Adidas shoes are great for everyday use and have a rubber outsole to give flexible traction. For those looking for durable and stylish hemp shoes mens, these are some of the best footwear on the market!
 

Extra durable
Great arch support
Non-slip bottom
Natural hemp on both the top sole and strap

Your search for the best Summer flip flop ends here. Rainbow's Double Layer Hemp Top and Strap with Arch Support Sandals come in Black, Brown and Natural and are available on Rainbow's online store. They have a hemp top sole and a 1" hemp strap, and are double stitched with high quality bonded nylon thread and triple glued for maximum durability. Their double layer construction gives you more arch support, so these hemp flip flops are super comfy and good for your feet!
 

Reinforcements enhance durability
High performance for outdoor activities
Perfect for everyday use
Made with hemp and recycled polyester
Casual and classy

Astral combined recycled polyester with hemp to create the best lifestyle and outdoor performance shoe. The hemp material used in the shoes' uppers makes them breathable, durable, and rot-resistant. They have great traction and provide balance on any terrain because of their Balanced Geometry™ and G® Rubber outsoles. They also have welded reinforcements at the toe, heel, and eyestay, and come with water-resistant laces. 
 

Hemp canvas uppers
Beautifully simple design
CLAE is offering a 15% off deal 
High-quality textiles in many colors
Breathable

This hemp sneaker features an elegant yet simple design yielding a vibe of relaxed sophistication. The solid (but subtle) rubber sole promotes comfort and flexibility. These hemp shoes have hemp canvas uppers and are dyed only with water-based dyes. High-quality textiles and a lovely design make this hemp shoe a great choice for those looking for environmentally-friendly shoes to wear every day.
 

Anti-microbial sockliner 
Machine washable
Super flexible
Also sold as men's hemp slip-on shoes
Excellent verified customer reviews

This casual and minimalist shoe is perfect for nature lovers looking for hemp footwear that is breathable and sustainable. These hemp running shoes are super easy to put on and have a natural barefoot feel. Because of their flexible structure, wearers can even fold the heel back to wear them as clogs. Just when we thought all of these benefits couldn't be topped, these are machine washable so you can keep them smelling and looking fresh!
 

Comfy hemp slippers
Super breathable
Casual and cool
Fresh "no ledge" design
Natural hemp material

If you're a fan of Sanuk's Sidewalk Surfers, these are the perfect hemp loafers for you! The hemp canvas shoes are designed with an innovative "no ledge" sole wrap. They come in several colors and are available directly from the Sanuk website or in-store. Among other hemp shoes for sale, these are surely the most comfortable on the market - and at a reasonable price! 
 

Eco-friendly
Office appropriate
Breathable and comfortable
Hypoallergenic 
No dispersed dyes

If you're searching for environmentally friendly and classy footwear, look no further than these professional hemp dress shoes! Fit for the office or a night out, these beauties are hemp vegan shoes, unlike many dress shoes that are made of leather. Rawganique takes a firm stand to reduce animal cruelty in the fashion industry while creating superior products that are breathable and not treated with nasty chemicals. Available now on Rawganique's online store, these men's hemp shoes are elastic-free and even biodegradable!
 

Waterproof and breathable
Perfect for active lifestyles
Insoles are tree growing cork
100% eco friendly and vegan
Modern design makes use of recycled shoes

These natural hemp shoes from DopeKicks are made of incredibly strong cannabis hemp fibers. The soles are made of recycled shoes, and the insoles are made of natural sustainable cork! DopeKicks hemp tennis shoes are waterproof and breathable to promote your best experience. This innovative hemp footwear sells out fast, so make sure to keep tabs on their restock dates! If you sign up with DopeKicks 8000 Kicks now, you can reserve a pair with a 10% discount!
 

Ultra-comfy yoga mat drop
Flexible and durable
Super cute and versatile
Machine washable

When it comes to hemp shoes womens sections can be a little lacking; the search to find the best hemp footwear can be discouraging. That's why we're so excited to show you these best selling and comfy organic hemp shoes! Unlike other hemp footwear, these slip-on sneakers can be dressed up or down to match a sundress, pants, and even a bathing suit! This super cute hemp made shoes are super flexible and even have a yoga mat drop in comfort. If you sign up with Sanuk now, you can get 10% off of your first order's price!
Conclusion
While most hemp footwear fits a more casual style, designers are starting to focus on more elegant and professional styles so you can find the right natural hemp footwear to "fit" your life! Most hemp footwear is machine washable. Imagine throwing your dress shoes in the washing machine!
While cruelty-free and sustainable footwear products may be tough to search for and filter through, it is so important to do so, because it takes care of us AND our planet (most shoes take around 1,000 to degrade). Hemp footwear is breathable and rot-resistant, and most are vegan-friendly. Did we miss any? Let us know in the comments what your best experience with hemp footwear is!
.

Written by Megan Medeiros (BA)
Megan Medeiros has a bachelor's degree in English and is currently working on a master's in English at James Madison University. She's the owner and operator of Medeiros Writing, and has been working as a cannabis writer for the past three years, mostly following the legal climate of marijuana, especially in areas like California, Colorado, Oregon, Canada, and other legal areas.
This post contains references to products from one or more of our advertisers. We may receive compensation when you click on links to those products. For an explanation of our Advertising Policy, visit this page. All photos were sourced from Pinterest.com | updated 2021
Stay home & get your daily
needs from our shop
Start You'r Daily Shopping with Nest Mart
Best prices & offers
Orders $50 or more
Free delivery
24/7 amazing services
Great daily deal
When you sign up
Wide assortment
Mega Discounts
Easy returns
Within 30 days