Plain Jane CBD Review | Plain Jane CBD Cigarettes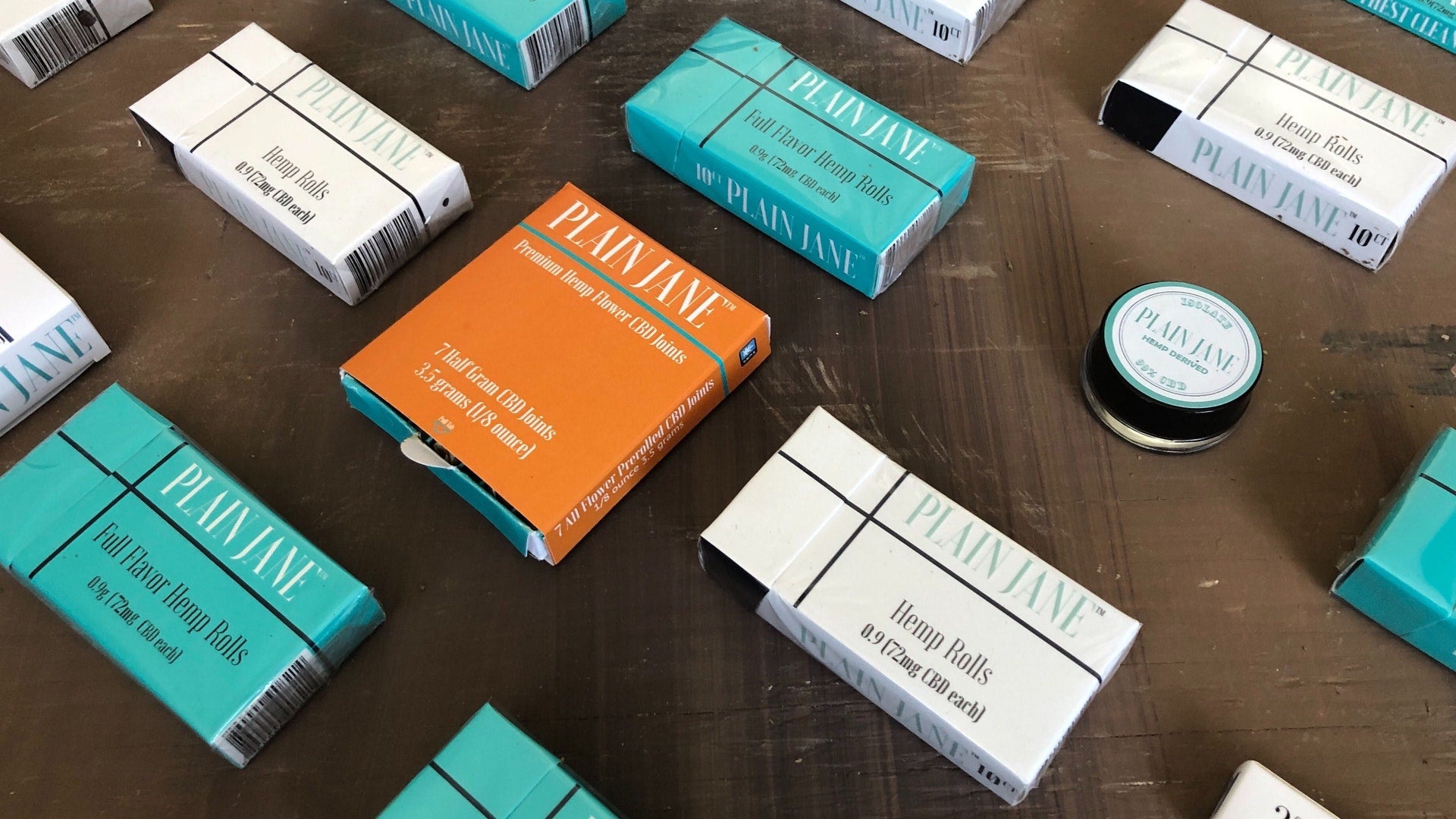 Ever wanted to smoke "in the wild" but haven't felt comfortable lighting up a spliff or a CBD hemp flower cigarette? I don't blame you. It can be an uncomfortable experience making eye contact with the little lady sitting next to you at the bus stop when you light up that strong-smelling flower and she looks at you judgingly. 
That is where Plain Jane comes in. When I first bought the packet I was a little confused, are these really Plain Jane CBD cigarettes or are they just cigarettes? 
But after taking them out and inspecting the packaging a little bit closer, they're very obviously hemp plain jane CBD cigarettes. The gimmick here is that they are low odor hemp pre-rolls but still with a high quality, which all contain smooth, all-natural Oregon Hemp. They have 3 different strains available:
Elektra
Lifter
Sour Space Candy
I got my hands on some Elektra and it's a cross between Resin Berry and ACDC hemp strain and tastes great. Don't let the lack of a smell put you off, the taste is still fantastic. Lifter and Sour Space Candy I couldn't try, but Lifter is hemp hybrid of Suver Haze and Early Resin Bud, giving it a herbal flavor. Sour Space Candy is a much more fruity strain and is a cross between Sour Tsunami and Early Resin Berry. These strains have been tailored specifically for this purpose and are of very high quality.
This was my favorite thing about Plain Jane, the available flavors mean that you have a great choice of CBD flower to smoke in your Plain Jane CBD cigarettes. They are tightly rolled into a filtered cigarette with rice paper, and if you know anything about skins or rolling papers you will know that rice paper is ideal for preserving the flavor of your cigarettes. It's full of terpenes and if you feel like you need a break and want to feel more relaxed, then these Plain Jane hemp CBD cigarettes may just be for you.
Where is Plain Jane located?
Plain Jane is located in Oregon, USA, the center of business is based in a place called Medford. Alongside this, they have many small working family farms in which the hemp plant is avidly grown in compliance with the US Department of Agriculture. They have lots of different products available such as CBD Flowers, Cigarettes, and Joints. If you're ever in that part of Oregon, we recommend you stop by and check it out!

Which hemp cigarette is best?
Here we have another pack of pre-rolled hemp cigarettes. These are slightly different as they are totally legal in all 50 states of the USA! They contain no tobacco, no nicotine, or even THC. No THC you say? Why would you be interested in that? Here's why; CBD pre-rolls are not psychoactive. This means that for all of your weed smokers out there, it might be a very mild dosage of the good stuff, however, for those of us who need a helping hand when it comes to sleeping, stress or even anxiety, it's perfect. 
These "hemp-ettes" or Hemp Plain Jane CBD Cigarettes are made in the USA, with a fantastic range of different kinds, from Pineapple Blaze to Wild hemp sweet. As a frequent smoker, I've found I have little to no sleepless nights, where I'm either craving a cigarette or a spliff.
Check out these "Hemp-ettes" for a clear example of what I'm talking about. 
For a more conclusive list, check out our article 10 BEST CBD CIGARETTES IN THE WORLD RIGHT NOW - THE ULTIMATE GUIDE!
What are hemp rolls?
Hemp rolls or hemp cigarettes are legal hemp cigarettes, which makes smoking a lot safer and easier. They consist of ground-up hemp flowers, which contain the non-psychoactive ingredient CBD. Unlike regular marijuana cigarettes, or "Spliffs", these contain no nicotine, which means they have no addictive qualities and don't really get you stoned.
What are the best CBD cigarettes?
Browsing for the best CBD cannabis cigarettes can be a long process, however Plain Jane, as the name suggests, is a downright basic pre-roll designed to suit you to a tee. If you're looking for something different, then I am your guy. I'm here as your savior in white to show you the best pre-rolled hemp cigarette on the internet. Check out these hemp-ettes, or cannabis hemp Plain Jane CBD cigarettes.:
Most people who write articles like this often make up some total codswallop, however this CBD cigarette is my absolute go-to for pre rolls. This particular pack by Hemp Trance is derived only from organic hemp, with an all natural and low THC content. For some people, they see 0.3% THC as being too weak, however I think low THC is very important for CBD  cigarettes. Like in Plain Jane, and all other CBD Pre rolls, the ambition is to relax your body, and gently massage those CBD receptors, if you want to get high, consult Mr. Brown. 
Your ideal CBD cigarette should be hand trimmed and naturally dried in sunlight. These pre rolls are just that and more. 
Farmers who comply with organic procedures deserve the highest attention. Certain farms across the world exploit both labour and plant, these companies are amongst many we would strongly advertise against funding. Hemp Trance is a registered company, who use no pesticides. As a final note, if you have psychopathic tendencies, there is a menthol option!
Going back to the original context, the Plain Jane compares greatly with these other products. Plain Jane is, however, different, as you can smoke it outside with little to no notice from passers-by. For some reason in our society, there is less stigma with people who smoke cigarettes with tobacco and harmful chemicals, and 0 stigma against those who choose to drink on the streets.
 CBD cigarettes and hemp rolls are going to take the world by storm, and which better way to start your new smoking revolution than with an original, homegrown classic like Plain Jane.
.

Written by Megan Medeiros (BA)
Megan Medeiros has a bachelor's degree in English and is currently working on a master's in English at James Madison University. She's the owner and operator of Medeiros Writing, and has been working as a cannabis writer for the past three years, mostly following the legal climate of marijuana, especially in areas like California, Colorado, Oregon, Canada, and other legal areas.
This post contains references to products from one or more of our advertisers. We may receive compensation when you click on links to those products. For an explanation of our Advertising Policy, visit this page. All photos were sourced from Pinterest.com | updated 2021
Stay home & get your daily
needs from our shop
Start You'r Daily Shopping with Nest Mart
Best prices & offers
Orders $50 or more
Free delivery
24/7 amazing services
Great daily deal
When you sign up
Wide assortment
Mega Discounts
Easy returns
Within 30 days