Specktra CBD - Aromatherapy & CBD Combined For Maximum Therapeutic Relief!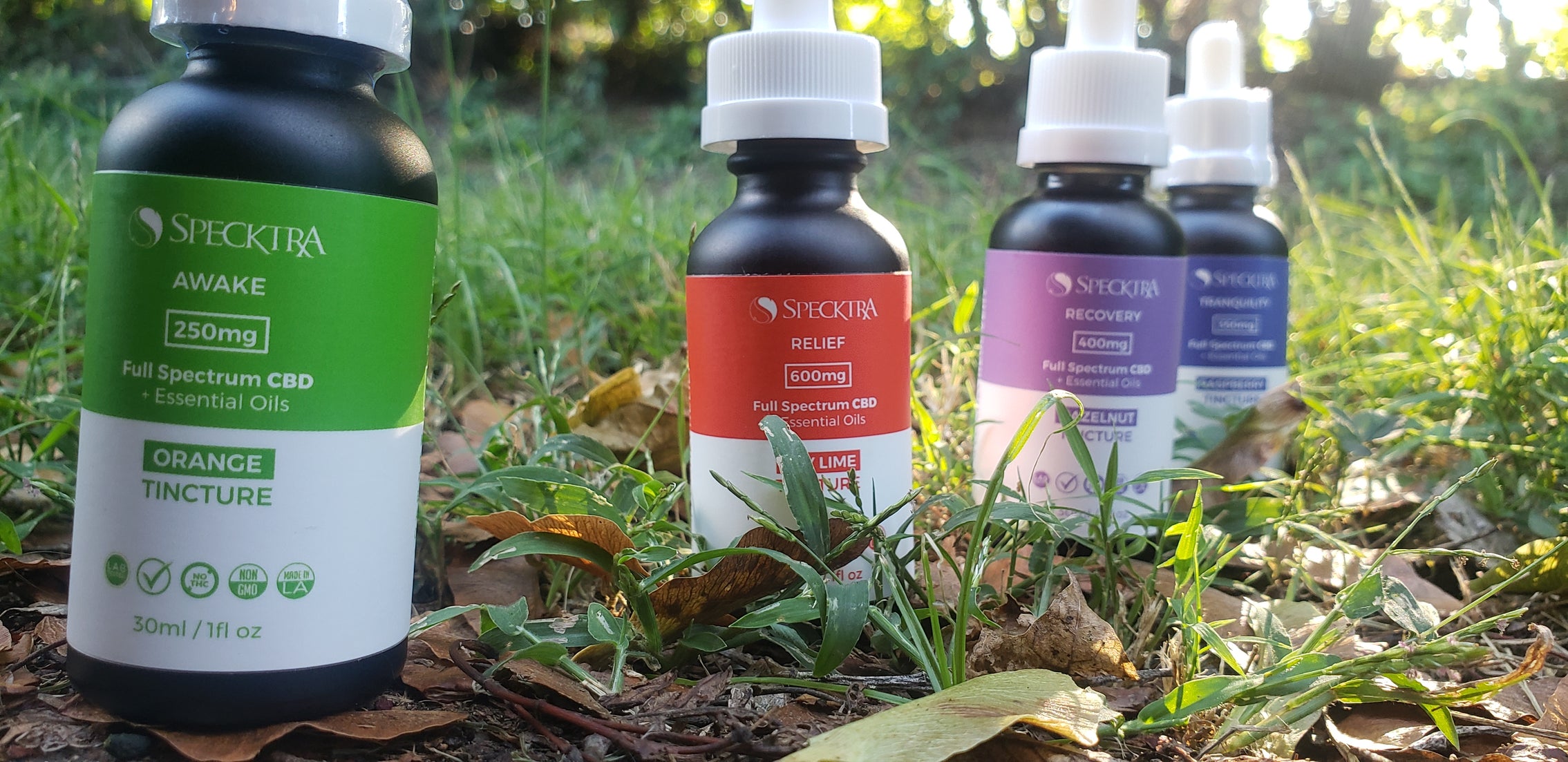 Specktra CBD is a name to remember. We've all heard of the amazing powers of CBD by now, but with so many available on the market, how do you know which ones to choose? Especially with the somewhat murky legal situation surrounding CBD, finding a company and product you can trust can be rather difficult, considering CBD still remains largely unregulated. We're here to help!
We just tried all of the products from the incredible brand Specktra CBD. What sets this brand apart from the rest is their use of not only full-spectrum CBD, but also a balance of terpenes, phytocannabinoids, and organic essential oils. This in combination with their careful strain selection makes for a product that's more customized to achieve the results you want. 
In this article, we'll review the following CBD products from Specktra CBD and walk you through the ups and downs of their line:
"Relief" tincture for pain

"Relief" disposable vape pen for pain

"Relief" patch for pain

"Recovery" tincture for sleep

"Recovery" disposable vape pen for sleep

"Tranquility" tincture for anxiety

"Tranquility" disposable vape pen for anxiety

"Awake" tincture to improve focus and wakefulness

"Awake" disposable vape to improve focus and wakefulness
As you can see, we have quite a bit to cover, so let's get started!
Relief Tincture
Price: $69 / Dosage: 600mg / Purpose: Pain Relief 
The Specktra CBD Relief tincture contains a strong dosage of CBD along with a balance of carefully selected essential oils, phytocannabinoids, and terpenes designed to get you the maximum pain relief. It's a subtle and delicious key lime flavor and, though the texture is pretty oily, it doesn't have a bitter taste to it at all.
.
Review
Specktra CBD oil was highly effective in relieving back and joint pain. To my surprise, it didn't make me sleepy (which strong doses of CBD will often do), but just pleasantly relieved my pain. It should be said that, while I found this product to be highly effective, you shouldn't expect it to be a pain reliever like a narcotic will be. It relieves pain in a similar way as a heating pad, ice, or an anti-inflammatory would; it's a subtle relief but it's nice relief.
What We Liked
The effectiveness: Specktra CBD worked well and worked fast; we experienced the start of relief within about 10-15 min.

The taste: I'm not much of a key lime person and frankly, expected this to be too pungent for me. I was pleasantly surprised to find that it was actually a subtle lime flavor and rather enjoyable.
What We Didn't Like
Using the dropper: The dropper that came with the bottle is hard to fill up. I was only able to get it half-full every time I used it. This is true of all their oils, but it is only a very minor problem or inconvenience.
Relief Disposable Vape Pen
Price: $69 / Dosage: 400mg / Purpose: Pain relief
This disposable pen is the same great mix as the oil, but at a slightly lower dose. The pen itself is really high quality, especially for a disposable pen and comes with a gram cartridge. While the vape pen is every bit as effective as the oil, it takes a little more to get the same results and they don't last as long as with the oil. This comes in a nice grapefruit flavor that's powerfully citrusy and delicious. 
Review
I really liked the flavor of this vape pen and the quality of the vape itself; it makes for a great smoking experience. This pen really rips; it gives you nice full hits but is still smooth as can be. My favorite thing about it is that it comes with a whole gram; a lot of these types of products only come with a half-gram.
What We Liked
The smoking experience: These little disposable vapes really pack a punch. They deliver smooth, large rips that will satisfy any smoker.

The flavor: The grapefruit flavor is probably my favorite out of all the vape pens we tried; it's just barely ahead of the passion fruit flavor. It's nice and citrusy and just tastes clean.

The effectiveness: As we said before, this is a very high-quality product that's highly effective. 

The convenience: Let's be real, you can't always dose out oil and it's not the easiest to take with you somewhere. The vape pen is way more convenient and you don't even need to charge it.
What We Didn't Like
The lower dosage: While this is a great product from Specktra CBD and is still as effective as the oil, I would've liked it to be the same dosage; especially when you end up getting lower doses with hitting a vape than the oil anyway. 
Relief Patch
Price: $17 or $99 for a 6-pack / Dosage: 60mg / Purpose: Pain relief
The relief patch from Specktra CBD is designed to be more of a topical treatment, like creams and ointments. It comes with the same great ingredients as the rest of the "Relief" line, but with the added benefits of being a topical treatment. This patch is waterproof and designed to last up to four days.
Review
This was one of my favorites out of the whole relief line. The idea behind it is to apply it to a flat, veiny area to improve your absorption. It's fast-acting, long-lasting, and highly effective. 
What We Liked
It's fast-acting: Because it's a topical treatment, this patch acts fast and is highly effective.

It's long-lasting: You can wear this patch from Specktra CBD for up to four days of excellent all-natural pain relief.

It's waterproof: Not only will this patch last four days, but you can shower or swim with it on, no problem!

The price: This patch is highly affordable and long-lasting so it's well worth the investment.
 What We Didn't Like
Finding the right place to put this patch can be a little tricky
Recovery Tincture
Price: $50 / Dosage: 400mg / Purpose: Induce sleep 
One of the top things CBD is known for alongside pain and anxiety relief is helping to induce sleep in those struggling with insomnia. Like Specktra's other products, Recovery is complete with additional phytocannabinoids, terpenes, and essential oils that all promote sleep as well as the full-spectrum CBD, extracted from a strain known to promote sleep. This tincture is hazelnut flavored.
Review
Sleep is one of the major reasons I, personally, use CBD and this one really gave the other brands I've tried a run for their money. I recommend taking it about 30 minutes before your desired bedtime. You'll have good, restful sleep through the whole night.
What We Liked
The effectiveness: This CBD is highly effective in treating insomnia. Not only will it help you get to sleep, but it will help you stay asleep. It promotes positive restful sleep.

The price: This CBD is really reasonably priced, especially when you consider just how effective it is.
What We Didn't Like
The flavor: I've never been one for hazelnut and this oil from Specktra CBD was no exception to that. It's a minor complaint that can be easily overlooked, but I didn't care for the taste.
Recovery Disposable Vape Pen
Price: $57 / Dosage: 300mg / Purpose: Induce sleep
The Recovery disposable vape pen from Specktra CBD is definitely one of a kind. Like their Relief pen, this comes with a one-gram cartridge. It's blackberry flavored and highly effective. You only have to draw on the pen consistently for it to turn on and provide you with a nice smooth rip.
Review
I found this vape pen to be more effective than any of the CBD cartridges I've tried to date. A common problem amongst the e-juice version of CBD is that you get a lower dosage in each hit than you would from a full dosage of the oil. That's not a problem with Specktra's Recovery pen; it was just as effective after a couple of rips as the oil was, despite being a lower dosage.
What We Like
The effectiveness: This pen is highly effective in promoting restful sleep. You won't be up all night and you won't have any trouble falling asleep after taking a good dose.

The flavor: Like the key lime flavor, the blackberry flavor is nice and subtle. It's delicious and clean-tasting.

The convenience: The convenience of the disposable vape pen is unmatched by much of anything. You don't have to hit a button, charge it, or worry with transporting the oil.
What We Don't Like
The lower dosage: While it was still effective, I would prefer a higher dosage in the cartridge; bare minimum, I would like it to be the same dosage as the oil.

Tranquility Tincture
Price: $40 / Dosage: 350mg / Purpose: Anxiety Relief
The Tranquility line from Specktra CBD is designed for anxiety relief and boy is it effective! This oil provides you with fast-acting and long-lasting relief from your anxiety and nerves and gets you to a headspace where you can function more effectively. 
Review
Tranquility from Specktra CBD has to be my favorite product from Specktra. It's fast-acting and incredibly effective. The oil is long-lasting enough to get you through the toughest part of your day without needing to take another dosage, though your results may vary as everyone is different. It'll settle your anxiety and your nerves without putting you to sleep or having any of the negative side effects that tend to come along with the prescription anti-anxiety medication.
What We Liked
The effectiveness: Tranquility is a highly effective product that works quickly and lasts a long time.

The price: This product is extremely affordable.
What We Didn't Like
We don't have any complaints about this product! It was amazing!
Tranquility Disposable Vape Pen
Price: $44 / Dosage: 250mg / Purpose: Anxiety relief
The Tranquility vape pen from Specktra CBD is the same great product as the Tranquility oil with the convenience of the disposable vape pen. Though its dosage is 100mg less, it's no less effective. It comes loaded with a one-gram, watermelon-flavored cartridge.
Review
I found this pen to not only be highly effective but incredibly convenient. Due to the small size of the pen, you can fit it virtually anywhere to take it along with you discreetly and put an end to your anxiety wherever it might crop up.
What We Liked
The effectiveness: As we've said several times now, the Tranquility line is truly amazing and highly effective for treating anxiety.

The portability and convenience: With the small size of the cartridge, it's easy to store anywhere, take with you, and use discreetly no matter when your anxiety decides to flare up.
What We Didn't
The flavor: Like with hazelnut, I've never been much of a fan of watermelon-flavored things and this pen was no exception. The watermelon flavor is highly potent and unpleasing to me, but the product is worth pushing through it.
Awake Tincture
Price: $30 / Dosage: 250mg / Purpose: promoting focus and wakefulness
This CBD is designed to keep you awake and get through your day with natural energy and a calming focus. As with all Specktra's products, this is designed with a mix of full-spectrum CBD and a balance of specific phytocannabinoids, terpenes, and essential oils to ensure you get the results you're after.
Review
While I liked this oil, I don't have many purposes for it in my own life. I didn't find get many results from it, but it may just not be the oil for me. However, the taste was nice and I did find that it didn't make me sleepy.
What We Liked
The taste: The light orange flavor of this oil is really nice and clean tasting.

The price: This is the most affordable of Specktra's products. 

The low dosage: If this CBD is one for you, the low dosage is nice and keeps it from putting you to sleep, so you can get through your day.
What We Didn't Like
As I said in the review, this oil wasn't the right one for me. I honestly would go with the other products well before purchasing this one again, but I also don't have much of a problem focusing.

Awake Disposable Vape Pen 
Price: $39 / Dosage: 150mg / Purpose: Promoting focus and wakefulness
The Awake disposable vape pen had my favorite flavor of all the products: passion fruit. It's effective for what it is and tastes great. The pen itself is the same great quality as the others we've already talked about. It comes with a half-gram cartridge, instead of a gram.
Review
As I said with the Awake oil, this line simply isn't the oil for me. The vape pen has such a low dose that it doesn't have any noticeable effects for me. That being said, it has a nice flavor and works as nicely as the other pens.
What We Liked
The taste: This cartridge, in my opinion, has the best taste of all the Specktra products. The passion fruit flavor is delicious and subtle, not overbearing. 

The convenience: The disposable pen itself is just as convenient and portable as the others. Due to its low dosage and affordability, this is also a great one to take around if you want a CBD cartridge to satisfy your craving for the physical act of smoking.
What We Didn't Like
For me, the Awake line isn't all that effective and this particular item is a very low dosage. It was about the same as hitting a nicotine-free e-cig.

The size: This particular disposable vape pen comes with a smaller cartridge than any of the others, at just a half-gram rather than a gram.


Conclusion 
All in all, we truly loved the Specktra line. All of their products are affordable, highly effective, and well designed. Specktra's claim to fame is their customized formulas to help treat specific conditions, rather than expecting customers to use one type of CBD as a cure-all without knowing the strain its made from or the lab results of the product. Specktra provides the lab results for each of their products on their website in an effort to be completely transparent with their customers. Finally, a CBD brand you can trust and a way to find specifically designed CBD for your conditions and/or ailments.
.

Written by Megan Medeiros (BA)
Megan Medeiros has a bachelor's degree in English and is currently working on a master's in English at James Madison University. She's the owner and operator of Medeiros Writing, and has been working as a cannabis writer for the past three years, mostly following the legal climate of marijuana, especially in areas like California, Colorado, Oregon, Canada, and other legal areas.
This post contains references to products from one or more of our advertisers. We may receive compensation when you click on links to those products. For an explanation of our Advertising Policy, visit this page. All photos were sourced from Pinterest.com | updated 2021
Stay home & get your daily
needs from our shop
Start You'r Daily Shopping with Nest Mart
Best prices & offers
Orders $50 or more
Free delivery
24/7 amazing services
Great daily deal
When you sign up
Wide assortment
Mega Discounts
Easy returns
Within 30 days