Blue Dream Cannabis Strain | Real Blue Weed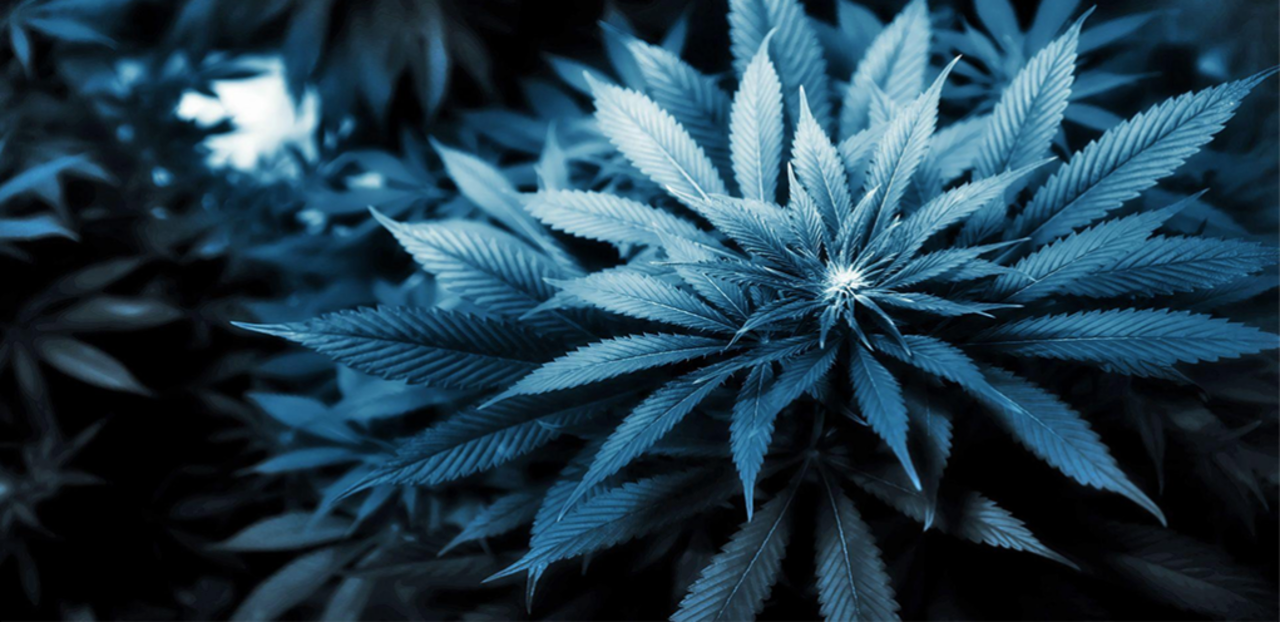 God damn, if you haven't tried this strain you're in for a treat! It's the perfect 50/50 indica/sativa cross that'll leave tokers in a state of both euphoria and relaxation like no other. Here's a little insider's knowledge for you next time you find yourself in Amsterdam: there's a great coffee shop located close to Amsterdam Centraal Station. Guess what it's called? Coffeeshop Centraal! They sell Blue Dream for 12 euros a gram, and it's definitely the real deal. If it's not in stock try one of their other tasty strains, but ask for Blue Dream first! You won't regret it.
Dreaming of holding that Blue Dream, photo: @dv8arts_lastlife
What is Blue Dream?
Blue Dream was created in California, and is one of the most legendary strains to come from the West Coast. If you've tried this strain, you will know why it has legendary status. By taking Blueberry (indica) and crossing it with Sativa Haze, this masterclass in breeding produced one of the most balanced indica-sativa crosses available. This comes to a culmination when you take in your first toke, after which you'll immediately feel both a relaxing body experience and a cerebral euphoria. Both novices and experts alike are dazzled by the 50/50 balance of Blue Dream.


Blue Dream hybrid
Blue Dream is one of the most legendary marijuana strains to be bestowed on the rest of the world from the undisputed kings of crossbreeds, Cali. Despite having a much better Seed Bank culture, and despite remaining true to their landrace roots, the Netherlands simply cannot compete with the ingenuity of the Cali growers. As Cali weed becomes more and more in-demand, staples like Blue Dream are in high demand in Amsterdam and other parts of the world.


Blue Dream genetics 
Blueberry (indica)

Sativa Haze (sativa)
This is the reason this strain isn't really a #dankenstein strain. Blue Dream crossed with something else (such as Super Blue Dream) would be a dankenstein strain. Blue Dream is part of the Haze Revolution, which began in California. This took the sativa genetics of the South American landraces, and applied it to current indicas. This created a wave of balanced hybrids, which proved to be massively popular. Blue Dream is no different. It's truly a match made in heaven!
Blue Dream THC percentage
The exact Blue Dream THC percentage is always hard to say, as it depends on the phenotype you've got, and this depends on the clipping or on the seeds used to grow the buds. However, it's normally over 20%. The average range is from 21-26.5% THC, which is a pretty potent kick.
Blue Dream CBD content
Blue Dream has a CBD content of around 2% depending on the phenotype. This is what makes it so balanced. It is also what makes Blue Dream such a fantastic mmj (medical marijuana) strain.

Blue Dream price
As mentioned before, there's a coffeeshop in Amsterdam called Coffeeshop Central that sells this strain for 12 euros a gram. That's incredibly cheap for a West Coast classic, so next time you're in dam you should definitely check it out.
If you're in California, the price is just the standard price for mid-shelf flower, around $15 a gram.
Blue Dream taste
Get your flower
vapes
out for this one. Blue Dream's strain tastes great in a blunt, bong, joint, any form really! But flower vapes really bring out the flavors of your buds, especially if you
grind 
those buds up first. Once ground up, you will find that you can still smell the haze, which brings with it hints of lemon. The main taste of Blue Dream is:

Blue Dream oil, wax, shatter, edibles etc.
Blue Dream is an incredibly popular choice for vape companies. This is also true of wax, shatter, etc. This is because it's a balanced, haze-based hybrid, which is incredibly popular. Whether the companies actually use Blue Dream plants, or whether they just purchase the terpenes is another matter. If you get true Blue Dream shatter, wax, or oil, you will not regret it. 
If you can find the plant of Blue Dream (for example at Coffeeshop Centraal) you can easily make an edible out of it. Simply vaporise the weed first, and then, afterwards, mix it with an oil or a fat, and then cook or simply eat. You could also decarboxylate your weed and then create an edible, but this is a bit more difficult. Just remember that you're not going to smoke the decarbed weed, so you actually want it to be slightly brown. You should still be able to smell it's sweet aromas while you're cooking!

Extreme Blue Dream
Extreme Blue Dream or Super Blue Dream is Blue Dream x Super Silver Haze. It gives the Blue Dream a sativa-dominant effect which can be incredibly potent, and should be used with caution.



Blue Dream, up close and personal, photo: @

edward_splifforhands
Get that vape on, photo: @

chefsensei1
| | | |
| --- | --- | --- |
| Blue Dream General Effects | Blue Dream Medical effects | Blue Dream Side Effects |
| Happy 100% | Stress Relief 100% | Cottonmouth 100% |
| Euphoric 90% | Depression 95% | Dry Eyes 45% |
| Uplifted 80% | Pain 75% | Dizzy 30% |
| Relaxed 80% | Fatigue 35% | Paranoia 25% |
| Creative 60%  | Lack of Appetite 30% | Anxiety 20% |
Blue Dream grow / flowering time
Blue Dream is an easy to grow strain that takes around 10 weeks to grow in an indoor set-up. In an outdoor set-up you can expect to be able to harvest in early October.
Blue Dream seeds
The seeds are hard to find. As is typical of West Coast strains, they were created by breeders and not seed banks. The Dutch are much better at sharing their strains, and as such a lot of these strains are hard to come by. You can buy some seeds online, but whether they're real Blue Dream or not is up for debate.
Blue Dream yield 
Blue Dream's yield is high, with a whopping 21oz. a plant. You should top this plant early, as they can grow more than 5 feet tall. For tips on how to top your plant, check out the video above.


Blue Dream looking dreamy, photo: @strange_and_exotic_marijuana
Blue Dream is
Neither indica nor sativa-dominant hybrid. It is a perfect balance between the two.

This helps create a sense of euphoria, while also allowing you to remain calm and relaxed

The combination of the two can be a great anti-depression medication, though you'll want to try it to see if it works for you.

Blue Dream is best smoked in vape form through a flower vaporizer.

The seeds are online, but whether they're real or not is hard to say.
Have you tried Blue Dream before? Leave your thoughts on it below!
.

Written by Megan Medeiros (BA)
Megan Medeiros has a bachelor's degree in English and is currently working on a master's in English at James Madison University. She's the owner and operator of Medeiros Writing, and has been working as a cannabis writer for the past three years, mostly following the legal climate of marijuana, especially in areas like California, Colorado, Oregon, Canada, and other legal areas.
This post contains references to products from one or more of our advertisers. We may receive compensation when you click on links to those products. For an explanation of our Advertising Policy, visit this page. All photos were sourced from Pinterest.com | updated 2021
Strains
Stay home & get your daily
needs from our shop
Start You'r Daily Shopping with Nest Mart
Best prices & offers
Orders $50 or more
Free delivery
24/7 amazing services
Great daily deal
When you sign up
Wide assortment
Mega Discounts
Easy returns
Within 30 days