Lemon Skunk Cannabis Weed Strain Review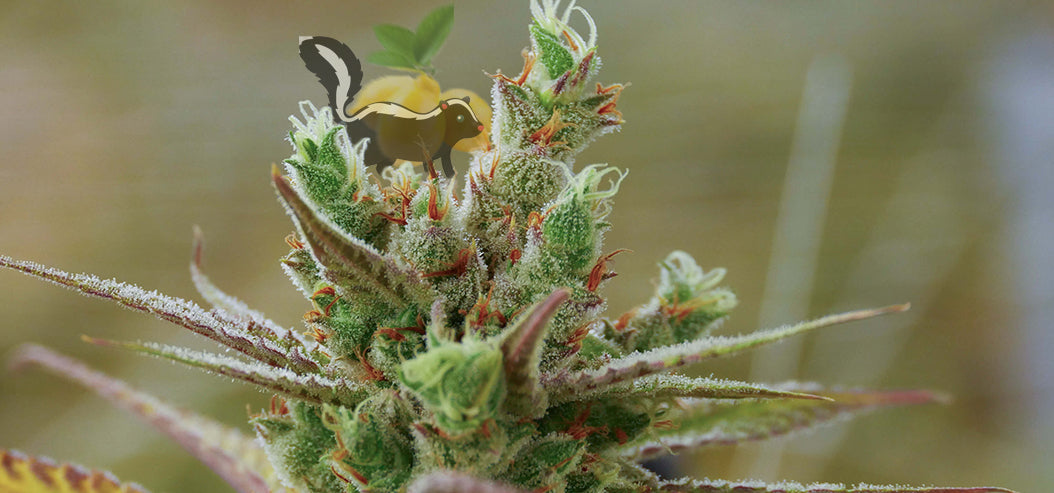 A popular strain for over a decade, Lemon Skunk Weed Strain has deep roots in the cannabis community having been praised by legends in the industry. With a bright, powerful flavor and powerful effects, this high-THC strain is a terrific smoke.
Hybrid : 60% Sativa, 40% Indica
14-22% THC
Lineage: Two unknown Skunk strains
Flavor Profile: Lemon, pungent, skunk, citrus, sweet.
 Effects
The Sativa buzz hits you right away with a clear-headed, stimulating head high. Ideal for listening to music, introspection or light activities, Lemon Skunk Weed Strain won't bog you down as much compared to other strains, particularity Indica-dominant ones.
Roughly a couple hours after it's initial cerebral high, light sedation will start to hit. This strain won't couch lock you like other, more powerful indicas will either, however it will leave you slightly tired.
Lemon Skunk is rather low in CBD and CBN, so keep that in mind if you're looking for a medical cannabis strain.
Effects
| | | |
| --- | --- | --- |
| Lemon Skunk benefits | Lemon Skunk medical benefits | Lemon Skunk side-effects |
| Stimulating |  Stress relief |  Dry mouth |
| Energetic |  Pain relief |  Dry eyes |
| Clear-headed |  Depression |  Paranoid |
|  Euphoric |  Fatigue |  Anxious |

Lemon skunk Weed Strain has a delicious and powerful citrus profile to it. If you've ever tried Super Lemon Haze, you'll understand how Lemon Skunk Weed Strain donates a lot of its flavor and odor to it. It has a light and rich citrus opening flavor, which transitions to a heavy, mouth tickling skunk flavor. Notes of other citrus fruits can be felt, and both lime and tangerine both come to mind.
| | |
| --- | --- |
| Aroma | Flavor |
| Lemon | Citrusy |
| Skunk | Sweet |
| Lime | Skunky |
| Pungent | Pungent |
The strain has a nice, bright, and powerful smell to it. Like opening a bag of citrus or smelling a bottle of Lemon Pledge, there's no doubt your nostrils will be happy with this one. The skunky aroma is also quite powerful, filling the room with its distinguishable scent quickly.
History
Famously created by DNA genetics, two unknown skunk phenotypes were bred together to create one of the most popular strains we know today. One of the seeds originated from Las Vegas by one brilliant grower who shared his cuttings with high-end growers in Amsterdam back in 1999.
By 2007 it had won first place in the High Life Cup for DNA Genetics who had crossed it with what we know to be Skunk #1. Now the strain can be found commonly worldwide in various coffee shops and dispensaries.
While the DNA Lemon Skunk is the original of the citrus skunk beasts, plenty of seed banks now carry slight variations on this plant with great potential too.
Lemon Skunk Weed Strain has served as a strain which breeders have created some other great strains with such as: Super Silver Haze, Lemon Skunk Diesel, Double Tangie Banana, Lemon Haze, Loud Lemonade and more!
Awards:
1st place, High Life Cup, 2007
1st place, Spannabis Champions Cup, 2008
Everything you need to know about growing Lemon Skunk!
Prized for its high yields, resilient genetics, and top-quality smoke, Lemon Skunk Weed Strain is a solid choice for beginners wanting a high yield on their first crop.
For those looking for a stealthy, low odor and short strain to grow, we would recommend looking elsewhere. The plant produces powerfully skunky buds during the growing stages.
Once Lemon Skunk Weed Strain begins flowering, it gains height quickly! Make sure you have ample space to work with!
Lemon Skunk grows tall and large with a strong aroma to it. It's not uncommon to get THC yields up to and around 20% on your first go.
Lemon Skunk Weed Strain is a fairly versatile strain, reacting fairly well to SCROG/SOG (screen of green/sea of green) grow methods.
Flowering time (indoor): 7-8 weeks.
Yield (indoor): ~400-500g/m2, ~1.0-1.6oz/ft2.
Yield (outdoor): ~750 grams.
Harvest time (Outdoor): Early October
Size: Large, tall.   
Odor: Strong, pungent.
Difficulty: Easy
Summary of Lemon Skunk
With an impressive history, great to grow for both beginners and experts, and an amazing quality smoke, Lemon Skunk Weed Strain is definitely a strain worth trying.
As a fairly common strain, it's not surprising to get an eighth (3.5 grams) for around $20-$30, depending on your area and the quality.
Originally hand-selected by one of the biggest names in the whole industry, Arjan Roskam, if it's impressive enough to get his high regards, there's no doubt it'll more than satisfy you!

For another lemon weed strain, check out our Lemon Kush and Lemon Haze reviews!
.

Written by Megan Medeiros (BA)
Megan Medeiros has a bachelor's degree in English and is currently working on a master's in English at James Madison University. She's the owner and operator of Medeiros Writing, and has been working as a cannabis writer for the past three years, mostly following the legal climate of marijuana, especially in areas like California, Colorado, Oregon, Canada, and other legal areas.
This post contains references to products from one or more of our advertisers. We may receive compensation when you click on links to those products. For an explanation of our Advertising Policy, visit this page. All photos were sourced from Pinterest.com | updated 2021
Stay home & get your daily
needs from our shop
Start You'r Daily Shopping with Nest Mart
Best prices & offers
Orders $50 or more
Free delivery
24/7 amazing services
Great daily deal
When you sign up
Wide assortment
Mega Discounts
Easy returns
Within 30 days