Strawberry Cough Cannabis Review | Golden Strawberry Strain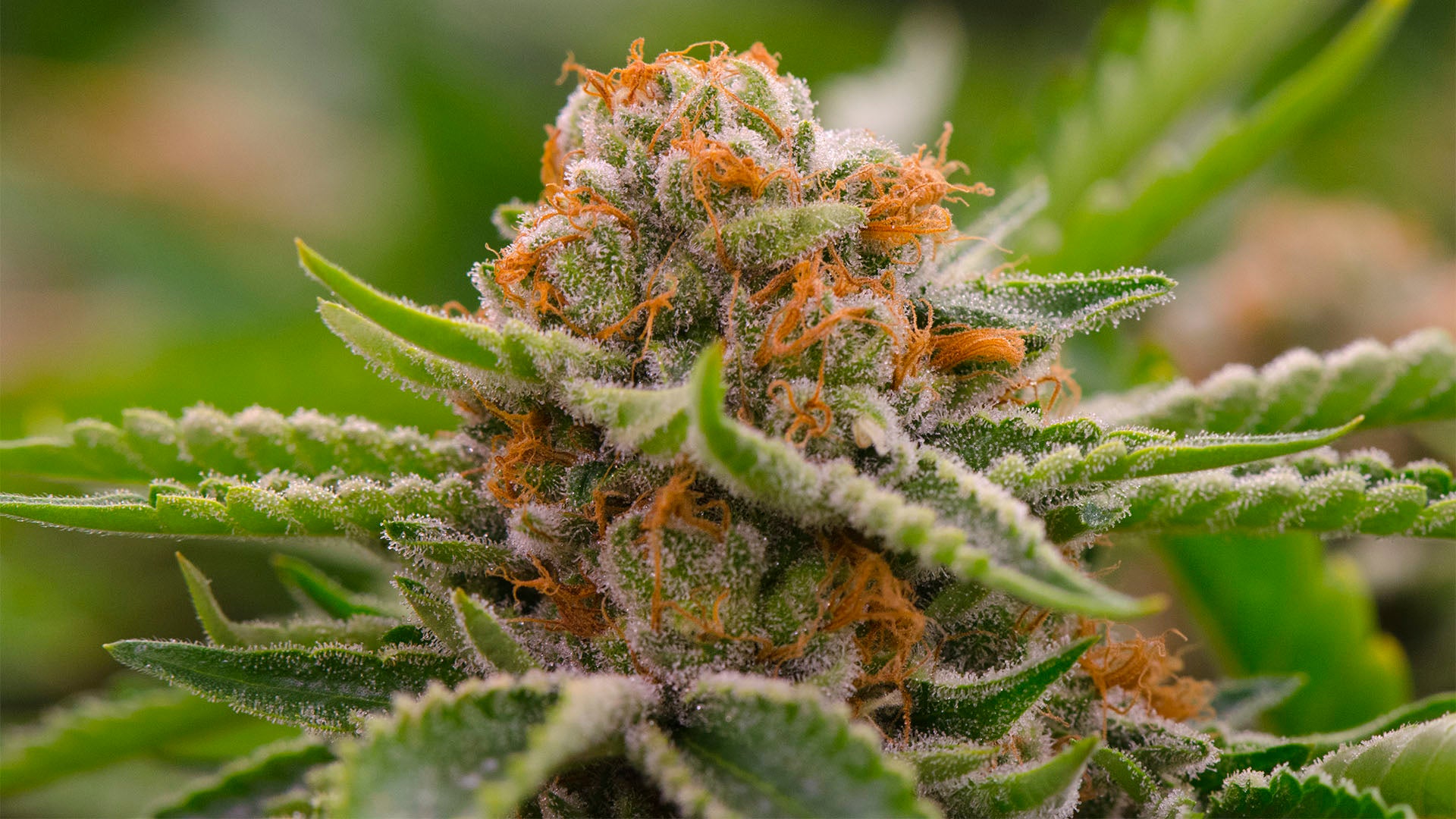 Strawberry Cough Strain is one of those strains that have elevated people's idea of cannabis altogether as the universal cure or a magic trick that makes everything better. This comes from the strain's fine balance on multiple levels – it's an 80/20 sativa-dominant hybrid with an average of 15 to 20% THC that produces a mellow, yet lasting euphoria and palpably mediates anxiety in social situations, yet it's also a great companion to have in your precious "Me Time". It's perfect for those who suffer from depression, simply need a mood booster, want to spice up their relaxing experience, or need a little push to make friends and feel at home even when they aren't.
Faithful to its name and the myth surrounding it, Strawberry Cough Strain instantly does two things: first, it envelops you into an intoxicatingly sweet and pungent strawberry aroma, and then, it makes you cough оut a strawberry-flavored cloud.
Background and History
When you look at Strawberry Cough's background and acclaims, it's no wonder the strawberry weed strain is regarded by so many as the epitome of cannabis's multi-dimensional magic. Strawberry Cough reviews generally read like straight-up love letters. 
First off, it was developed by former High Times editor Kyle Kushman in 2000. As the legend goes, he was given a clone which had grown next to a little strawberry field somewhere in Connecticut – something Kushman was more than inclined to believe as soon as the flower's tangy aroma took over him and gave him goosebumps. He dubbed the strain Strawberry Fields but didn't stop there as he saw the potential for something more. He combined it with a Haze plant, hence giving birth to the sweet strawberry harmony that is the Strawberry Cough strain Strawberry Cough Weed Strain we know and love today.
Kushman managed to build up quite a hype around his new creation in New York City's underground cannabis market. When the time was right, he moved to California to cultivate the Strawberry Cough genetics and make history.

Related Strawberry Cough Strain Info and Other Trivia 
Strawberry Cough Strain won the title of Best Flower in the 2013 Cannabis Cup.
Strawberry Cough Lineage: Strawberry Fields and Haze
Contrary to a common misconception, Strawberry Cough Kush is a wrong name since the strain is sativa-dominant and kush refers to indica. 
Strawberry Cough is actually a parent - its child is called Blueberry Cough which is something like its medical version. 
If you want to try similar-tasting fruity delights, other strawberry strains include the golden strawberry strain, the sour strawberry strain, and cherry strawberry strain. 
 Physical Characteristics
The buds of Strawberry Cough more or less reflect its hybrid nature. In fact, interestingly enough, the Strawberry Cough Strain bud structure is more indica-esque, with solid, compact leaves, but the buds' conical shape, reminiscent of a pinecone is where the sativa dominance shows.
One of Strawberry Cough's most noticeable characteristics is how thoroughly interlaced the bright green buds are with reddish pistils. Top that off with an abundance of amber trichomes that make for somewhat yellowish cloudiness, and you get quite a colorful Cough OG Strain, both on the inside and the outside.


Tasting Notes
Strawberry Cough Strain is a berry delight, its scent isn't skunky or musky in any way. The strain is famous for its overwhelmingly sweet aroma and the fruity cough that its densely-packed buds unleash when they're combusted into smoke. The scent can have a touch of pepper to it, giving the sweetness a slight kick and possibly some watered eyes.
| | |
| --- | --- |
|  Aroma | Taste |
| Strawberry  | Strawberry |
| Saccharine with a hint of pepper  | Sweet  |
Recreational Effects
What makes Strawberry Cough Strain so coveted and unique is that it charges you with energy that is not only physical, but spiritual and mental, an intensity you can channel into a number of diametrically opposite activities. 
Euphoric Mental Buzz
Strawberry Cough is like a mental elevator that gives you a smooth ride straight up. The Strawberry Cough THC levels are certainly high, but not high enough to knock you out unless you go overboard.
On the one hand, it's the kind of strain that triggers chattiness, deep conversations, giggles, divergent thinking, a reflective state of mind, and lets you dive headfirst into your ideas and inner world. This is why Cough OG Strain is considered one of the best and sweetest creative juices.
Motivation
On the other, Strawberry Cough is the kind of weed that gives you energy. It charges you with the motivation to take care of work and chores, including mundane tasks you would normally postpone forever. People also feel the urge to go out and interact with people– which makes for a particular altered state of mind for those with social anxiety.
Relaxation and Art Appreciation
This divergent state of mind translates into a deeper, multi-dimensional appreciation for your favorite recreational activities. For example, your favorite TV series becomes more immersive and addictive, its messages more resonant, its vibe more haunting.
One thing to be wary of is not to overindulge as the cerebral effects and divergent state of mind can hypothetically morph into anxiety. Anyway, balance is always a good thing to keep in mind, and if you do so, Strawberry Cough is arguably the best weed strain for anxiety. 
Medical Effects
The anti-anxiety properties of Strawberry Cough constitute one of the strain's most distinctive traits which pervade the experience, whether it's recreational or medical. Getting rid of anxiety isn't just extremely helpful in social situations. On the contrary, it can help patients feel hopeful and focus on making the most out of their treatment instead of getting sucked into a loop of anxious thoughts that soon morph into despair.   
When it comes to its strictly physical properties, Strawberry Cough Cartridge can alleviate pain and produce some munchies, but generally speaking, it's true healing potential lies in the mental realm rather than the physical one. This is why for those who seek the best of both worlds, a good idea might be to combine it moderately with weed strains for pain like something a little CBD-richer.
If you don't want to experiment too much by mixing different strains together and you face the dilemma: "sativa or indica for pain," remember: indica for pain is always a safe choice. 
The strawberry weed strain can be vaped as well - a Strawberry Cough Cartridge drops to get you feeling dope. You can get yourself a Strawberry Cough cartridge or a strawberry vape pen, but keep in mind vaping Cough at night isn't too recommendable. Besides being weed that looks like strawberry, this strain is certainly the kind of weed that gives you energy. If you're going to be vaping cough syrup, it's best to do in the morning or mid-day. 
FYI, if you like your vapors, be sure to check out a Eureka Vape cartridge review - the vapor won the award for best cannabis concentrate last year. 
| | |
| --- | --- |
|  Recreational Effects | Medical Usage |
| Creativity  - 100 % | Depression - 100% |
| Focus - 80% |     Anxiety - 80% |
| Energy - 60% | Pain - 60%  |
| Euphoria - 60% | Loss of Appetite - 20% |
| Cotton Mouth - 40% | Nausea - 20% |
Growing Tips
As if Strawberry Cough's balanced, multi-dimensional properties weren't enough to make you think there's something special about this strain, the growing process behind it has to be the ultimate proof of its magical quality. Because when it comes to nature and its fruit, easier actually does often mean better. Easier is a sign that everything comes naturally, spontaneously, the way it was intended, almost like magic.
In that spirit, Strawberry Cough is one of the easiest and undemanding strains to grow, producing high yields with low maintenance.
It's generally meant to be grown indoors as one of its only demands is warmth, between 70 and 85 degrees Fahrenheit. If you do grow it outside, it would need to be in the right climate, especially at night when temperatures go down.
Its creator Kyle Kushman strongly recommends using organic nutrients to harness Strawberry Cough's full potential, preferably in a soil garden. Nevertheless, the fruity strain is easily grown in soil, coco, and hydro.
Growing Techniques
The main thing you need to keep in mind is pruning away unnecessary foliage and giving the canopy a nice breeze throughout. Other than that, Strawberry Cough doesn't require any special training to grow potent and bushy.
Strawberry Cough flowering time: 9 weeks
Overview
If we haven't managed to get our message across, we're big fans of Strawberry Cough, and it's hard not to be! Unless you are looking for a very specific strain like a heavy indica whose effects lie outside of Strawberry Cough's sweeping properties, the fruity flower is a sure recipe for joy. For those looking to unleash their creativity, dive headfirst into their ideas and swim for hours until they reach the depths of their minds where Eureka moments await, Strawberry Cough is the best submarine one could hope for. 
.

Written by Megan Medeiros (BA)
Megan Medeiros has a bachelor's degree in English and is currently working on a master's in English at James Madison University. She's the owner and operator of Medeiros Writing, and has been working as a cannabis writer for the past three years, mostly following the legal climate of marijuana, especially in areas like California, Colorado, Oregon, Canada, and other legal areas.
This post contains references to products from one or more of our advertisers. We may receive compensation when you click on links to those products. For an explanation of our Advertising Policy, visit this page. All photos were sourced from Pinterest.com | updated 2021
Strains
Stay home & get your daily
needs from our shop
Start You'r Daily Shopping with Nest Mart
Best prices & offers
Orders $50 or more
Free delivery
24/7 amazing services
Great daily deal
When you sign up
Wide assortment
Mega Discounts
Easy returns
Within 30 days