Sweet Tooth Weed Strain Review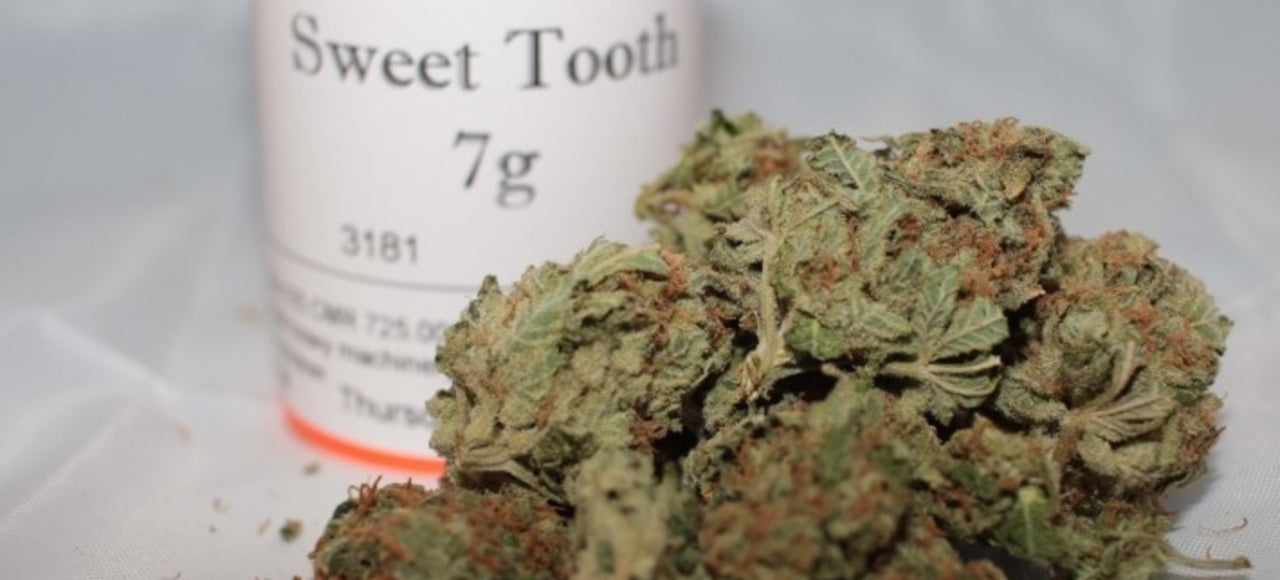 Thanks to Sweet Tooth's potent, trichome-covered buds, this strain is a High Times Cannabis Cup winner from 2001. It also has a sweet taste, which should fully be appreciated inside a flower vape. It is a potent strain known as a landrace cross, which means it is two or more landrace strains crossed together. Sweet Tooth weed strain and other such landrace crosses are forerunners of what is known as 'dankenstein' strains, which are landrace crosses crossed together to make a seriously freaky and potent marijuana strain.


Is your sweet tooth aching yet? Photo: @

hightimesmagazine
Exploring the Sweet Tooth Strain and Its Effects on Behavior
While purple flowers are a beautiful addition to any garden, did you know they may also have some interesting effects on human behavior? One strain, in particular, known as Sweet Tooth, has been studied for its potential to suppress certain impulses in the brain. But what is Sweet Tooth, and how does it work? In this article, we'll explore the history and effects of this popular strain, including the connection between Sweet Tooth and purple flowers. We'll also delve into some of the more controversial topics surrounding this strain, such as claims of animal-human hybrid babies and the "Big Man Baby" phenomenon. Join us for a fascinating look at Sweet Tooth and its impact on the world of cannabis.
Sweet Tooth indica-dominant hybrid
Sweet Tooth weed strain is definitely worthy of being called a vape strain. This is because the flavour is so absolutely delicious that you don't want to ruin it by burning it up. Of course, smoking it in a blunt will also taste pretty good, but it won't taste anywhere near as good as inside a flower vape. Sweet Tooth strain is an indica-dominant hybrid, which has a decent dash of sativa inside it, keeping the mind pumping, whilst the body dissolves into a relaxing indica high. However, this strain probably isn't what some would call a social strain, so if you're looking to go out for the night, you should probably try a different strain. If you're looking for something to introspect with, and you're down for a nice chill night, Sweet Tooth weed strain could be just your ticket.


Skunk Teeth, Purple Tooth, and Sweet Tooth OG are also different names from this strain. There is always a lot of confusion with names of strains, simply because there are so many, and because people wrongly call different strains the same name. Stick to the correct name, Sweet Tooth strain, and you'll be fine.


Sweet Tooth strain genetics
As mentioned previously, this strain is what is known as a landrace cross. This means it's a cross between two or more landrace strains. Sweet Tooth strain is a cross between:

It was created by Barney's Farm, who is one of the most famous seed and coffeeshop companies in Amsterdam. This is good for a number of reasons, but mainly because it means that you can go and experience this strain at their coffeeshop in Amsterdam. It also means you can buy their seeds directly online from the original breeder, ensuring the authenticity of what you're smoking.


Sweet Tooth THC percentage
The average indica-dominant hybrid has around 12.5% THC. Sweet Tooth Strain is a bit more potent than that, with an average of around 14%. Sweet Tooth's strongest phenotype, however, has up to 19% THC. That is pretty high for a strain that was concocted in the late 1990s, early 2000s. Compared to today, weed was a lot less strong back then.


Sweet Tooth pricing
As discussed before this strain is available in Amsterdam, and the seeds can be bought online. This means that, in general, the price of Sweet Tooth is much lower than a rarer strain. A true dankenstein strain in a coffeeshop in Amsterdam can cost up to $45 a gram. Sweet Tooth is likely to cost $10-15 a gram. The difference is pretty huge and makes it a great choice for those who want to try a delicious strain without paying out of your ears.


Sweet Tooth taste
Sweet Tooth has a predictably sweet taste with undertones of both pine and wood. Please try this strain inside a flower vape, because you'll truly appreciate the taste if you do. The best thing about using a vaporizer is that you can eat the already vaped bud, to get high all over again!


Sweet Tooth oil, wax, shatter, edibles, etc.
Marijuana is a wonderful thing, and you can make oil, wax, shatter, edibles, etc. out of any strain. It doesn't matter what the strain is. The only difference is the number of crystals that cover the strain. In general, the more crystals the better the strain is for making waxes and oils.
If you're making edibles, please ensure that you decarboxylate your weed first. This is an incredibly important part of the process, and without it you're effectively wasting at least 80% of the potency. As mentioned before, you can take the already vaped bud from your flower vape, and eat it again. This is because vaping perfectly (at lower temperatures) decarboxylates your weed for you. Simply mix your decarbed weed with a fat or an oil and you're good to go.


Sweet Tooth bud, photo: @

_klustafucked




Sweet Tooth weed, photo: @

_klustafucked

Sweet Tooth General Effects

Sweet Tooth

Medical Effects

Sweet Tooth Effects

Happy 100%
Stress Relief 100%

Cottonmouth

 

100%
Relaxed 95%
Insomnia 90%

Lethargy

 30%
Euphoric 75%
Lack of Appetite 80%
Paranoia 15%
Uplifted 70%
Pain 75%
Headache 10%
Sleepy 45% 
Headaches 65%

Dizzy 5%

Sweet Tooth is a fantastic, indica-dominant strain, which will bring about relaxation and a little bit of a cerebral buzz. It's a very chill strain, and probably shouldn't be smoked before parties. It's great for getting in some quality you-time, so put some music on, lie down and let Sweet Tooth soothe you into a euphoric state.


Sweet Tooth flowering time
Sweet Tooth is a very quick flowering strain. It grows in around 40-55 days, which is very fast and is therefore very favorable for growers.


Sweet Tooth Growing tips
Thankfully this strain is mold resistant, making it an east first grow for the inexperienced. It can also adapt to extreme conditions, meaning if you mess something up it won't necessarily die straight away. The enormous resin content makes it a very favorable strain for those who want to make concentrates. It is highly recommended that you support the branches during the final weeks of flowering because Sweet Tooth has large, resin-covered buds, which may droop if you don't support them.


Sweet Tooth seeds
The best thing about Dutch strains is that you don't have to worry about snake oil salesmen. The Dutch are very intelligent, and they realized that if they made a strain that everyone loves, they could make absolute bank from selling the seeds online. That is what most of them do. Barney's Farm, Sensi Seeds, Royal Queen Seeds, and much more. This is a Barney's Farm strain, and the seeds are available from their website.


Sweet Tooth yield
Sweet Tooth will offer a huge yield of highly potent buds. It also yields purple tinges, which cause some people to call this strain Purple Tooth. 


Check out

 this sweetly growing strain of Sweet Tooth! Photo: @

yeanutyutteryandwich

What is Sweet Tooth marijuana strain?
Sweet Tooth is a very famous strain, hailing from a period of growing history that is called the landrace crosses. It was the beginning of an era and has yielded some of the most famous strains. Sweet Tooth may not be toker's most exciting strain compared to newer strains, but it's still a great way to spend a relaxing afternoon!
Indica-dominant hybrid

Pretty well balanced, but not in the middle

Stress Buster

Great nighttime strain

Will induce sleep, an hour or so after smoking

A bit of a cerebral buzz, but nothing major

Not a social strain, definitely one for introspecting
Have you tried Sweet Tooth before? Tell us what you thought about it in the comments below! 
.

Written by Megan Medeiros (BA)
Megan Medeiros has a bachelor's degree in English and is currently working on a master's in English at James Madison University. She's the owner and operator of Medeiros Writing, and has been working as a cannabis writer for the past three years, mostly following the legal climate of marijuana, especially in areas like California, Colorado, Oregon, Canada, and other legal areas.
This post contains references to products from one or more of our advertisers. We may receive compensation when you click on links to those products. For an explanation of our Advertising Policy, visit this page. All photos were sourced from Pinterest.com | updated 2021
Strains
Stay home & get your daily
needs from our shop
Start You'r Daily Shopping with Nest Mart
Best prices & offers
Orders $50 or more
Free delivery
24/7 amazing services
Great daily deal
When you sign up
Wide assortment
Mega Discounts
Easy returns
Within 30 days