White Rhino Review | White Rhino Weed Strain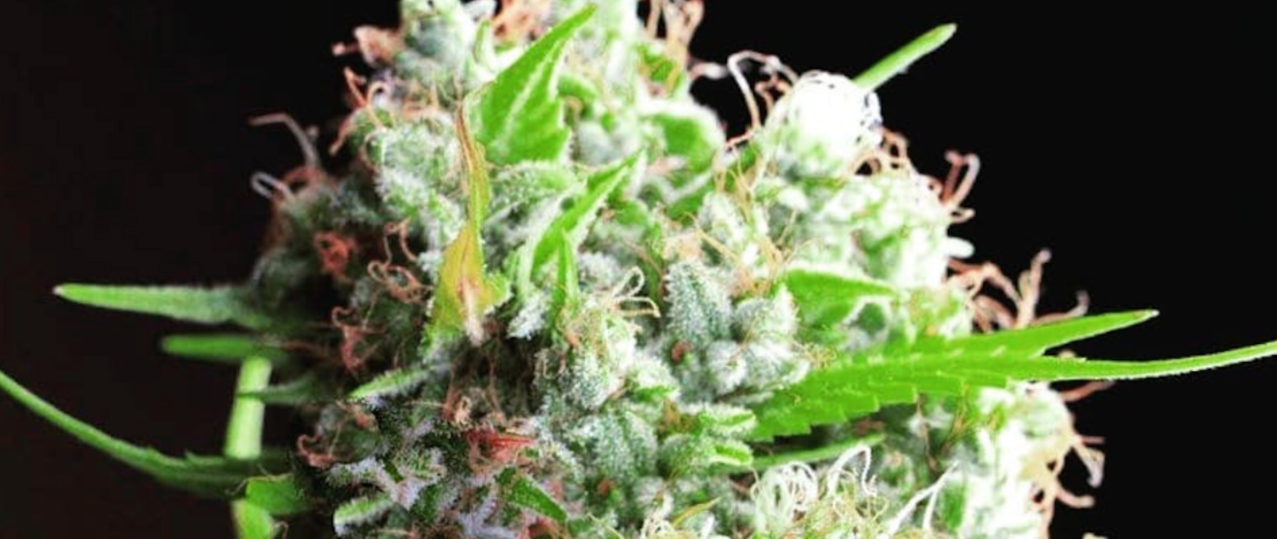 White Rhino Strain was originally created in Amsterdam by one of the best-known seed companies, Green House Seeds co. This company normally mixes famous strains with landrace strains, which is precisely what White Rhino Strain is. This indica strain, a cross between White Widow and an Afghani landrace strain, has a high THC content that will leave tokers relaxed, happy, and maybe a little hungry.
White Rhino looking mighty tasty! Photo: @floridadispensaryguide
White Rhino strain info
White Rhino Strain was created by Green House Seeds co. This is good news for a number of reasons. Firstly, they're simply considered one of the best, producing numerous fantastic combos. Secondly, Green House Seeds co. seeds are usually easy to come by, as the Dutch seed companies realized that they could make a lot of money simply from selling seeds, and not purely selling weed.


White Rhino weed strain

is an almost pure indica. We say "almost" because it's an original indica strain crossed with an indica landrace strain. This is very common for the Dutch seed companies to do, and they were likely crossing these two strains for a reason. The strain itself is pretty old, having been created around 1996. It's 20% sativa, 80% indica, meaning that it has strong indica effects, but also a slight cerebral buzz.


White Rhino genetics 
White Widow (Brazillian x South Indian landrace strains)

Afghani landrace strain
As mentioned previously, the Dutch seed companies loved creating landrace crosses. White Rhino is no different, as they took White Widow, which is a cross between Brazilian and South Indian landraces, and crossed it with an Afghani landrace strain. This delightful cross is an overwhelmingly indica strain, but don't forget the 20% sativa that is inside this strain.


White Rhino THC percentage 
White Rhino weed strain's official THC percentage is 20.19%.


White Rhino CBD percentage
White Rhino also has 0.11% CBD and 0.05% CBN. This helps balance the strain, and makes it a lot more of a medicinal strain that wouldn't otherwise be possible without this small amount of CBD.
White Rhino price
Thanks to White Rhino seeds being easy to come by, as well as it being a well-established strain at over 20 years old, White Rhino Strain won't hurt your pocketbook too much. Saying that Green House Seeds is actually one of the most expensive coffee shops (although it's definitely worth it for its amazing choice of strains and ridiculously high-quality buds) so if you go there you'd probably pay about $12 a gram. The average price in Amsterdam is around $8 a gram. 
White Rhino taste
Woody

Earthy

Pungent

Lemon
Most landrace strains or landrace strain crosses taste a little bit fruity. White Rhino is no different, as it has the terpene limonene inside it. The interesting thing about this is that this is the same element that gives lemons their taste. As such, this strain is definitely one to grow yourself and then put into a flower
vape
, so you know that it's all organic.


White Rhino oil, wax, shatter, edibles, etc.
White Rhino is a fantastic choice for oil, wax, shatter, etc. This is because it has large amounts of crystals and trichomes covering the strain. This is a concentrate enthusiast's favorite thing, so if you're looking to make concentrates you should definitely pick this strain up.
Edibles are easy to make with basically any strain, so just get some White Rhino and make sure that you firstly decarboxylate the weed. We have a great guide to decarboxylation which you can find here. You could also just use already vaped bud (AVB) which means you can get high once from vaping your weed, and then get high again with your AVB. This recycling of the buds makes this one of the most cost-efficient and healthiest methods of smoking weed.



White Rhino waiting to be ground up, photo: @badbabyrose
Whoa, check out those nugs! Photo: @ilikebignugs


White Rhino General Effects

White Rhino

Medical Effects

White Rhino Effects

Relaxed 100%
Stress Relief 100%
Cottonmouth 100%
Sleepy 80%
Pain Relief 90%
Dry Eyes 80%
Happy 75%
Headaches 85%
Anxiety 35%
Euphoric 70%
Insomnia 80%
Dizziness 25%
Hungry 45% 
Muscle Spasms 75%

Headache 25%

As a landrace indica cross, this strain is very sleepy. This can be perfect if that's what you want, so if you're looking to sleep well, or for help with insomnia then look no further. However, don't smoke this strain in the morning if you're trying to get active. It will have the exact opposite effect. Couch lock will ensue, you will feel drained of energy completely.
If you are feeling overly sleepy and you've lost all your energy, then either have a coffee, a cold shower, or both. This will help you get some energy back and you'll feel less stoned. If you're looking for the best strain to help with sleep, then you should smoke an indica like this. Wait for an hour or two before sleeping, though. The cerebral buzz from this strain will probably keep you awake for an hour or so if you start thinking, so just be wary of that.

White Rhino flowering time
Indoor 9 weeks
Outdoor by the first week of October (Northern hemisphere)

White Rhino Grow tips
A very short plant, White Rhino reacts incredibly well to both SoG and ScrOG techniques. The plant is a classic indica and is very short and bushy. This makes it incredibly easy for SoG techniques. For more information about what SoG is, see the video above.


White Rhino weed seeds
White Rhino seeds are available online from the original breeder. This is the best thing about Dutch strains. The Californians may have some amazing strains out there with ridiculous THC percentages, and some crazy concentrates with up to 99% THC, but when it comes to reliable growing and easy to access strains, then the Dutch trump (mind the pun) the Californians every time. 
White Rhino yield
White Rhino yields Indoor 900g/meter squared

White Rhino yields Outdoor 1200g/plant



It's fun to watch your babies grow up! Photo: @theultimate1_420

Green House Seed Company
Green House Seed Co. is run by the company you probably saw on the Vice documentary where they go out and try to find landrace strains. If you haven't seen it, check it out here:
They were created in 1985 and they are one of the most popular seed banks in the world. It helps growers partner with seeds & strains that suit their needs, medicinal, or recreational. They only allow you on their site if you're from a country that currently has legal weed.
Green House Seed Co. was founded by Arjan Roskam and Shantibaba, and is managed by Franco Loja. The series about them hunting for rare landrace strains is incredibly interesting, and their coffee shops are some of the best in Amsterdam (provided you're willing to pay the price; it's very expensive.) They also have some Californian strains in Amsterdam, so this could be a great place to try some #dankenstein strains. The dankenstein strains are some of the most psychedelic strains in existence.
What is the Medicine Man strain?



Photo: @michiganjamedicineman
This strain is often confused with its close relative, White Rhino. This is because they're both landrace strain crosses. Medicine Man is effectively a better-bred version of White Rhino. They are both the exact same landrace strains crossed together, but after many backcrosses, Medicine Man was created. This strain is known for:
Treating chronic aches, pains, and migraines

Reducing stress & anxiety

Could help treat seizures, although more evidence is needed

Closely associated with the White Rhino strain
People also get White Rhino confused with the following names, most of them are probably just the same strain:
Black Rhino weed

Purple Rhino strain

Nirvana White Rhino (this is Nirvana Seeds version of White Rhino)

Rhino 8

White Rhino OG Kush
White Rhino marijuana
This strain is a very popular indica-dominant hybrid, which is split 80/20. It's popular for its medicinal benefits and for its easy-to-access to seeds. The plant is also fairly easy to grow and is a heavy yielder. The White Rhino buds also make fantastic concentrates, making it a popular option for those who want to make homemade concentrates.
Indica-dominant hybrid

80/20 indica/sativa split

Very heavy, sleepy high

Perfect for sedation and relaxing at night

Strong strain, 20% THC potency

Created by Green House Seeds co. which is a mark of quality
Have you tried White Rhino before? Leave us your thoughts below! 
.

Written by Megan Medeiros (BA)
Megan Medeiros has a bachelor's degree in English and is currently working on a master's in English at James Madison University. She's the owner and operator of Medeiros Writing, and has been working as a cannabis writer for the past three years, mostly following the legal climate of marijuana, especially in areas like California, Colorado, Oregon, Canada, and other legal areas.
This post contains references to products from one or more of our advertisers. We may receive compensation when you click on links to those products. For an explanation of our Advertising Policy, visit this page. All photos were sourced from Pinterest.com | updated 2021
Strains
Stay home & get your daily
needs from our shop
Start You'r Daily Shopping with Nest Mart
Best prices & offers
Orders $50 or more
Free delivery
24/7 amazing services
Great daily deal
When you sign up
Wide assortment
Mega Discounts
Easy returns
Within 30 days