Skip to product information
Open media 0 in gallery view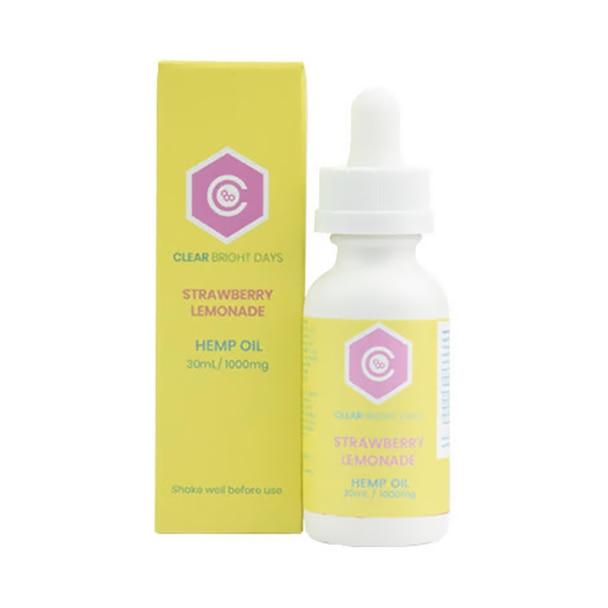 Clear Bright Days - CBD Tincture - Strawberry Lemonade - 1000mg
Whether it's a cold night in the middle of winter or a blisteringly hot day in the summer months, the smooth, refreshing tastes present in a strawberry lemonade are as
Barcode:
TIHEHW-QIS-XD-IUPGCF
Description
Additional info
Reviews
Description
Additional info
Reviews
Description
Additional info
Reviews
Whether it's a cold night in the middle of winter or a blisteringly hot day in the summer months, the smooth, refreshing tastes present in a strawberry lemonade are as tantalizing as ever. The two light flavors combine in such a way that neither is detracted from, but rather both greatly benefit from the union. Clear Bright Days' Strawberry Lemonade CBD Tincture provides all the flavor of the popular drink while offering increased mobility in the form of a portable bottle. Each of these bottles contains 30mL and 1000mg of full spectrum CBD. This hemp-derived CBD extract blends beautifully with the flavors, combining good taste and effectiveness into one oil. It has never been easier to get a hassle-free, daily supply of fruity goodness!

This item is perfect for those whose love of strawberry lemonade is rivaled only by their frustration with its inaccessibility. While many restaurants offer the drink, you would be hard-pressed to find one that lets you take the glass with you when you leave. Of course, bottles of the drink do exist and are available in many stores, but those bottles are large and clunky and don't offer the CBD boost that is present in Clear Bright Days' strawberry lemonade tincture. The tincture's bottle is an ideal size for storage in a bag or purse, making it a convenient lemonade treat that does nothing to reduce your mobility.

This product is best consumed through the use of the dropper that is included with the purchased bottle. Fill the dropper with the tincture and drip it into your mouth. For optimal absorption, drip the tincture under your tongue and let it sit there for a moment before swallowing the liquid. Focus on the effects that your body feels in the hour after your first serving before determining what serving size is best for you.
Best prices & offers
Orders $50 or more
Free delivery
24/7 amazing services
Great daily deal
When you sign up
Wide assortment
Mega Discounts
Easy returns
Within 30 days