Skip to product information
Open media 0 in gallery view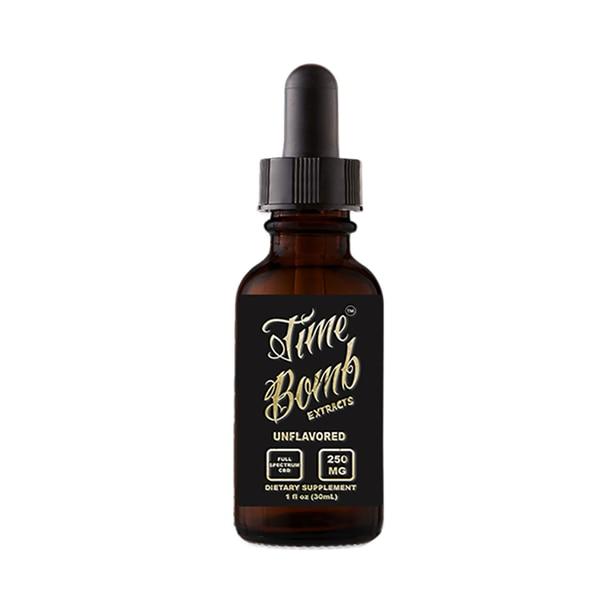 Time Bomb Extracts - CBD Tincture - Unflavored - 250mg-1000mg
Are you are unimpressed with the additives and flavor choices on the market? Or maybe you like the straightforward taste of CBD or are living a lifestyle that centers around
Barcode:
SMXWU-VUSLPW-LDVIKTQ-VD-XHDZTX
Description
Additional info
Reviews
Description
Additional info
Reviews
Description
Additional info
Reviews
Are you are unimpressed with the additives and flavor choices on the market? Or maybe you like the straightforward taste of CBD or are living a lifestyle that centers around purity. Regardless of the reason, if you want the natural, earthy taste of CBD, then Time Bomb Extracts Unflavored Tincture is here to save you! The Unflavored Tincture is concentrated with 250 mg of full-spectrum CBD to give you your daily boost. 

This small, easy to transport bottle can be used in many ways. You can drop the tincture under your tongue. A rule of thumb is to wait about one minute before swallowing it. This will allow the product to absorb faster. If you'd like to take a different route, feel free to get creative and add it to your favorite foods or drink at any time. Feel free to drop some Time Bomb Extracts Unflavored Tincture into whatever you want. 

To use the tincture, just unscrew the bottle and squeeze the dropper top. Depending on how you like your CBD serving size, let a few drops fall out or pinch the entire dropper-sized tube. Now it's your turn to let the CBD work its magic while you go about your day! This unstressful way to consume CBD will keep you loving this product and wanting more. Raw, clean CBD will keep your mind right to have the best day possible. 
Best prices & offers
Orders $50 or more
Free delivery
24/7 amazing services
Great daily deal
When you sign up
Wide assortment
Mega Discounts
Easy returns
Within 30 days