Skip to product information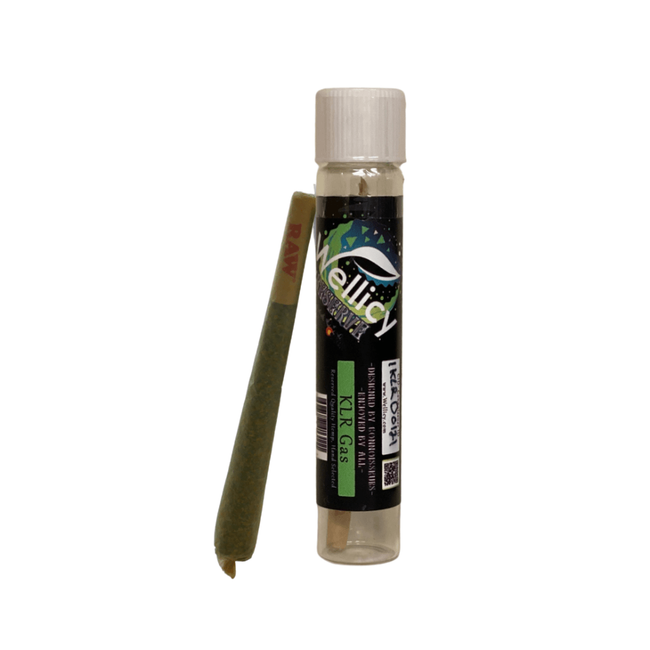 Open media 0 in gallery view
Description
Additional info
Reviews
Description
Additional info
Reviews
Description
Additional info
Reviews
Wellicy Reserve KLR Gas - 1 Gram CBD Pre Roll- Hybrid

The time has come and we here at Wellicy finally have the CBD pre roll of all CBD pre rolls!

We set out to craft a line of premium smokable hemp flower that is hand selected, hand trimmed, using only the most reserved strains of hemp flower that's hand picked by cannabis connoisseurs that's meant to be enjoyed by all!

The result is the Wellicy Reserve smokable CBD flower line that features strictly reserved quality hemp, that's hand selected by the cannabis connoisseurs here at Wellicy!

So the first release of our CBD flower line is the 1 gram Wellicy Reserve KLR Gas CBD pre roll.

The Wellicy Reserve KLR Gas CBD pre roll offers a pungent mix of gasoline and diesel overtones, while its magnificent aroma will be fuel dominant!

Also to mention, you will enjoy slight undertones of a woody spice and earthy hops that come with this pre roll! 


The flavor is as complex as it is pungent but we have no doubt that you will love this pre roll, and since it's a hybrid terpene profile you can blaze down on this CBD pre roll before hitting the gym, or spark it up after a long day when looking to relax and take it easy.

Now, one thing we wanted to do here at Wellicy is stand out from other companies when it came to our CBD pre rolls.

We think, actually we know we did that because unlike all the other companies you see dropping pre rolls into the market, we didn't choose to pick the same strain profile like all the other brands.

So put that Sour Space Candy or Lifter CBD pre roll you've smoke thousands of times and give the new Wellicy Reserve KLR Gas CBD pre roll a try and you won't regret it.

Furthermore we also leverage full on cannabinoid rich nugs, that others would reserve strictly for their 3.5 gram or larger containers, while using left over trim or even biomass to fill their CBD hemp pre rolls.

The reason we dislike the trim, shake, or biomass approach is the final product provides a harsher smoke that leads to excessive coughing and throat irritation.

We can assure you that the Wellicy Reserve KLR Gas CBD pre roll will be the smoothest pre roll you've ever sparked up in a Raw Cone!

Smoking flower is a classic consumption method with cannabis, and now you can consume your daily dose of CBD with the tasty Wellicy Reserve KLR Gas CBD pre roll.

CBD flower should be looked at as a full spectrum product, meaning it can contain up to 0.3% THC, so if you are drug tested we'd recommend staying away from smokable flower, and opt for a CBD isolate or broad spectrum CBD product. 

Additional Information:

Leverage Raw Branded Cones for the Best Smoking Experience
Under 0.3% Total THC
High-Grade, Smokable Flower
Purity Tested, No Metals or Pesticides

Size:

1 Gram Wellicy Reserve KLR Gas CBD Pre Roll

How to Use the Wellicy Reserve KLR Gas CBD Pre Roll

The Wellicy Reserve KLR Gas CBD Pre Roll is a high-grade, smokable flower that is designed to spark up and enjoy like any other pre roll!

You won't catch any shake, trim, or biomass in our pre rolls. Meaning each smoke sesh is as enjoyable as the last!

Other Wellicy Reserve CBD Pre Rolls:

Wellicy Reserve Delta-8 Pre Rolls:

Wellicy CBD Isolate Tinctures:

Wellicy Full Spectrum CBD Tinctures:

Wellicy Gummies: 

Recommended Storage

To preserve the outstanding quality of your Wellicy Reserve KLR Gas CBD Pre Roll, please store in a cool, dry place away from excessive heat, light, or humidity. 

Warning

The Wellicy Reserve KLR Gas CBD Pre Roll is not to be used during pregnancy or lactation. If you have a medical condition or take pharmaceutical drugs, please consult your physician before use. Keep out of reach from children.
Best prices & offers
Orders $50 or more
Free delivery
24/7 amazing services
Great daily deal
When you sign up
Wide assortment
Mega Discounts
Easy returns
Within 30 days