Skip to product information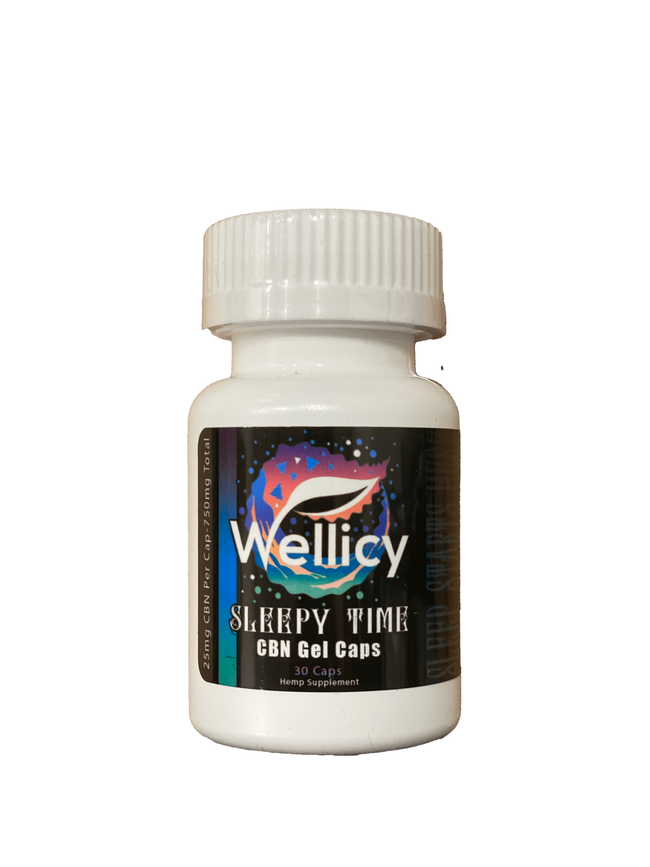 Open media 0 in gallery view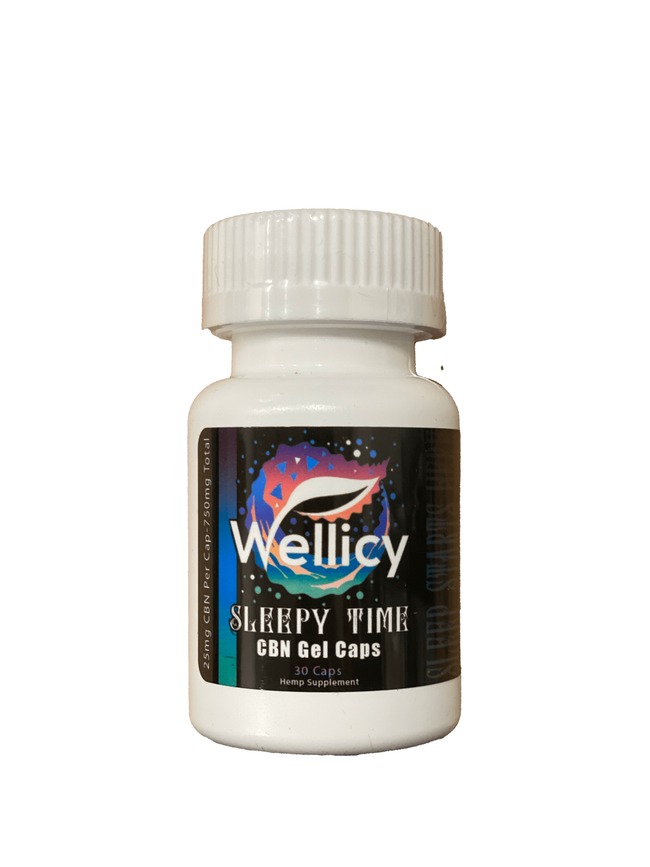 Wellicy Sleepy Time CBN Gel Capsules (750mg)
Wellicy Sleepy Time CBN Gel Capsules - 750MG CBN - 25MG/Capsules - 30 Count Looking for a new sleepy time hemp product that eliminates any use of melatonin? Well well
Description
Additional info
Reviews
Description
Additional info
Reviews
Description
Additional info
Reviews
Wellicy Sleepy Time CBN Gel Capsules - 750MG CBN - 25MG/Capsules - 30 Count


Looking for a new sleepy time hemp product that eliminates any use of melatonin?

Well well well, do we have something for you!

Introducing the all new Wellicy Sleepy Time CBN Gel Capsules!

These KO capsules are aren't stuffed with other ingredients or multiple cannabinoids, no these things are stuffed strictly with CBN!


That's right just CBN, now what makes CBN more potentially beneficial for sleep than using CBD?


We're happy you asked, CBN has many use cases such as potentially aiding with regulating your immune system and even has been potentially shown to relieve pain and inflammation based on preliminary studies but of course further research is required.

But of course, the one and only factor that matters when buying a product with CBN is that it has been shown to potentially and used mainly with helping with sleep and inducing relaxation.

Which is exactly what you want in a sleep product!

Every container of the Wellicy Sleepy Time CBN Gel Capsules is stuffed with 750mg of CBN in a 30 count bottle!

Each gel capsule of the Wellicy Sleepy Time CBN Gel Capsules has 25mg of strictly CBN.

All you gotta do is grab one gel capsule, a glass of water, and just gulp it down, then wait for your meeting with the sandman to bring you your sweet dreams!

And don't worry you're gonna meet the sandman fast because the Wellicy Sleepy Time CBN Gel Capsules typically being to go into effect between 30 minutes - 1 hour after consuming.

That's a benefit of using a gel capsule is that it goes into effect a lot quicker than other edibles, such as gummies that can take up to 2 hours for effects to be felt.

We here at Wellicy, strictly focus on quality over quantity and our customers know this.

So, of course it's easy for us to say and you to believe that we only use organically sourced hemp plants to derive our CBN and any other cannabinoid.

Additionally, each capsule is specifically formulated to not upset your stomach. You can chose to take your CBN capsule with or without food.

Grab your bottle of Wellicy Sleepy Time CBN Gel Capsules and get going on your journey for better sleep!

Looking for some education on CBN, well check out our "Official Guide to CBN"

CBN Strength:

Ingredients

MCT Oil
Deionized Water
Gelatin
Glycerin
Hemp Derived CBN

Serving Size:

1 Capsule
30 Capsules Per Bottle 

Recommended Storage

To preserve the outstanding quality of your Wellicy Sleepy Time CBN Gel Capsules, please store in a cool, dry place away from excessive heat, light, or humidity.

Warning

The Wellicy Sleepy Time CBN Gel Capsules are not to be used during pregnancy or lactation. If you have a medical condition or take pharmaceutical drugs, please consult your physician before use. Keep out of reach from children.
Best prices & offers
Orders $50 or more
Free delivery
24/7 amazing services
Great daily deal
When you sign up
Wide assortment
Mega Discounts
Easy returns
Within 30 days