How To Make Hash Butter - 6 Easy Steps That Will Blow Your Mind!
David and Leah Kaye Weathers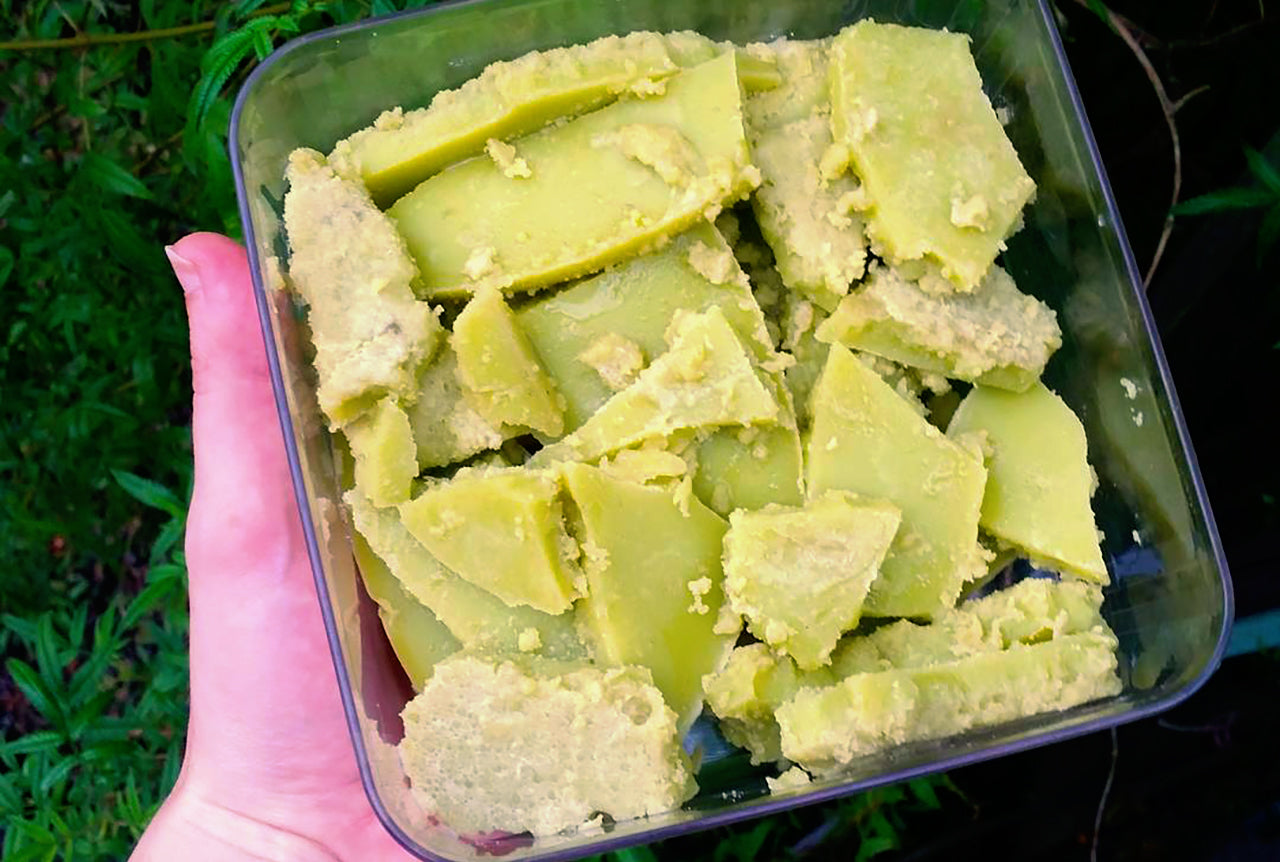 Are you aware of how to make hash butter? Hash butter is not exactly the same thing as cannabutter – or, to put it another way, cannabutter is like hash butter in the same way that your pet iguana is like Godzilla! That is to say that hash butter is hella strong; like seriously, so strong… depending on how it's made. You can, of course, reduce the amount of hash in the butter; or you could just make cannabutter, which is far less intense; but let's assume you want something monstrously strong, because maybe you have chronic pain issues, or maybe you take weed for your PTSD or some serious emotional issues, or perhaps you just want to get epically buzzed! You need to figure out the best option for how to make hash butter. So, whatever your reason, if you want something with a lot more heft than cannabutter, hash butter would be the thing for you!

(A cake of hash split apart, image source: Urban Growers Hash on Instagram)
What is hash, exactly?
Before you learn how to make hash butter, you have to understand the "hash" part of things. With the expansion of cannabis culture through legalization of medical marijuana and recreational marijuana in parts of the United States, in Canada and throughout the world, it follows that there are a number of marijuana newbies out there and so we'll clue you into what hash is exactly.  If you already know about cannabis hash, then you can skip this part or read along anyway, it's up to you.
Okay, so what is hashish or hash? Hash is one of the oldest and most widely recognized forms of marijuana concentrate. Where does it come from and how is hash made? Coating a cannabis plant's flowers, buds or nugs, are hair-like trichomes, and they contain the bulk of the THC and all other cannabinoids that result in you getting high. Separating those trichomes, and the tiny, sticky crystals that cover cannabis flower, called kief - which is much more potent than just plain pot because you have less plant matter and more cannabinoids - from the plant material and smooshing it into a brown 'dough' or paste is how you make hash. Usually kief accumulates at the bottom of your weed grinder or is sifted from loose, dry cannabis flower with a mesh screen, or sieve.
 

If you want to collect kief and make your own hash, a trusty grinder will make your life easier. We're suckers for this rasta themed 4-piece  grinder with pollen screen and think you'll understand why once you give it a go!

 



Most dispensaries will sell you either kief or hash, so you can pick some up that way, too. Water-based hash (bubble hash, temple hash, hand pressed) costs generally from $10-$30 a gram, depending on quality and your geographic location: chemically extracted hash (BHO, budder, wax, shatter, etc.) usually runs between $40-$100, again, depending on quality and location. Kief typically costs $20-30 from most dispensaries. Shop around, online or off, neither kief nor hash are difficult to find.




(Some cannabutter, image from Chaotic Munchies on Instagram)
Just a few words about cannabutter:
If you've never had or made your own medibles, or edible marijuana food, then you might want to try some from a dispensary or make your own with cannabutter or cannabisized veggie oil – which is how pot treats are generally made. Same idea as kief butter, just weaker – but never ever underestimate the power of medibles even made with less-intense cannabutter!
Eating pot can affect you differently than smoking or vaping it. When you eat marijuana edibles, the THC present in your cannabis is metabolized by your liver, which biochemically converts it to 11-hydroxy-THC, which is more efficient at crossing the blood brain barrier than when you inhale your pot into your lungs, thus chowing down on medibles may produce a far more intense and stronger high! We do happen to have recipes for weed cookies and cannabutter brownies that you might want to give a whirl before launching into making your own nummies with butter from hash – just sayin'.

Also, if you've only smoked leaf and not tried concentrates, you might want to smoke or vape some hash or other concentrates before you commit to consuming food made with hash butter – just so you can see the difference in how more potent cannabis concentrates are! Hashish has a very, very high concentration of THC, like around 40%, compared to various strains of cannabis that clock in at 10% to about 20-25% THC potency. So, again, cannabis hash is pretty strong – you have been warned!
 

 

Medium 2.5" Anodized Zinc Chameleon 4-Piece Grinder. 

This

 4-piece aluminum herb grinder

 features a zinc anodized finish that gives it the color-changing feature that never stays the same.

 

Thank you to @queer_entgineer who's Firefly  2 vape lit the way on a dope nighttime art prowl.

(Butter in aluminum foil, image from JC Warner Vt on Insta)
The actual hash butter recipe:
Time to get down to making up a batch of mighty-mighty hash kief butter! Here is a recipe we adapted from Sweet Sweet Bees:

*makes 1 cup of butter
What you will need:
Medium pot or heavy sauce pan
Whisk or wooden spoon
1 cup (2 sticks) unsalted butter
4 cups of water (2 cups of water per stick of butter)
Hash* – 2-3 grams per stick (mild), 3-5 grams per stick (moderate),  6+ grams per stick (Heavy medicating)
Heat-resistant container with a lid for storing your butter
Paper towels or kitchen towels.
(Marijuana and hash butter in a butter tub, image from Jahleil Rodriguez on Instagram)
Directions on How to Make Hash Butter:
*One key for when you want to know how to make hash butter? This is to make sure your hash is completely dry.. Any excess moisture in your hash will cause the butter and water to get soupy and it won't solidify properly.
Step 1: Start heating 2 cups of water on medium heat… get your butter and hash ready. On the side in a small dish or on a napkin start crumbling your hash into tiny bits, so it will dissolve easily. Unwrap your butter.

Step 2: Drop the two sticks of butter into the hot water reduce heat. It's important NOT to burn the butter and you don't want the butter and water mixture to boil. Burned butter is not a good thing! Use your whisk or wooden spoon and lightly agitate the water/butter mixture until the butter is dissolved.
Step 3: Once the butter is melted into the water, take the hash you crumbled in step 1 and add it to the water and butter mixture. Again, make sure the entire mixture is simmering and not boiling! Whisk a bit. You will notice the mixture will turn a brownish-green color. Simmer for a minimum of 30 minutes. Basic rule of thumb is the longer you simmer (very low heat) the more potent your butter will be. 30 minutes should be just the start. Ideally you can take 1-4 hours for a nice "simmer sesh". Remember to set a timer!

*The hash method is much simpler than using dry cannabis flower because with hash you eliminate having to strain your concoction thanks to the hash fully dissolving. 
Step 4: After your time is up, pour the mixture into a heat proof container like Tupperware. Place a lid on it and place in the refrigerator for a least two hours. I always leave mine over night.

Step 5: You will notice the water and butter have separated! Pour the water carefully down the sink and use a towel to hold the hash butter, so as not to lose any butter while dumping the water out.
Step 6: Pat dry your butter with a paper towel, to get the excess moisture off. Place your butter in a dry, airtight container. It can be stored up to 2 months.
That is the that of making yourself 1 cup of hash butter to then infuse into your cannabis cooking.
Looking for some inspiration now that you've got this tasty new hash butter?
Try out one of these awesome cookbooks and replace the butter called for in the recipe with your new concoction!
| | | |
| --- | --- | --- |
| | | |
| "Half baked" takes on a whole new meaning. Enjoy a Super Simple recipe from Tieghan Gerard! | We're not sure if Martha inspired Snoop to write this, but we're sure glad he did. Go "From Crook to Cook" with Snoop Dogg's cookbook! | Joanna Gaines is here to fixer upper your cooking skills with her "Magnolia Table" collection of recipes. |
| | | |
(Chunks of hash butter, image from Aloha Farms La on Instagram)
Summary:
Now you know the basic premise of how to make hashish. Assuming you have done this, gotten yourself some hash and followed this recipe, then you now have yourself some powerful, cannabis-infused hash butter! So, is your mind blown? If not, have yourself a tasty treat made from hash butter or put some on your baked potato – then your mind likely will be blown!
As to what type of cannabis strain to collect kief from to make your hash, that depends on what you want to get out of it – marijuana sativa strains tend to be uplifting and energizing, whereas indicas are more sedating and offer effective pain relief. And consider the time of day, you don't want to make hash from an indica and then be utterly couch-locked all day, unless that is entirely your intention and then have at.
How to make hash butter? Hash can be made from your own kief collection at the bottom of your grinder or purchased at your local licensed marijuana merchant. And from there it is literally six easy steps and you then have your own hash butter to mix into your favourite foods or even melt atop your crumbcake, put some in your coffee (ganjava), do with it whatever you wish to do.
One last reminder, this stuff is pretty hefty so maybe take it slowly at first, unless you have an incredible weed tolerance built up. But there you have it, hash butter - it's like cannabutter but with way way more attitude!   
.

Written by Megan Medeiros (BA)
Megan Medeiros has a bachelor's degree in English and is currently working on a master's in English at James Madison University. She's the owner and operator of Medeiros Writing, and has been working as a cannabis writer for the past three years, mostly following the legal climate of marijuana, especially in areas like California, Colorado, Oregon, Canada, and other legal areas.
This post contains references to products from one or more of our advertisers. We may receive compensation when you click on links to those products. For an explanation of our Advertising Policy, visit this page. All photos were sourced from Pinterest.com | updated 2021
How To
Stay home & get your daily
needs from our shop
Start You'r Daily Shopping with Nest Mart
Best prices & offers
Orders $50 or more
Free delivery
24/7 amazing services
Great daily deal
When you sign up
Wide assortment
Mega Discounts
Easy returns
Within 30 days