Why Fab CBD Dog Treats Are a Great Choice for Your Furry Friend?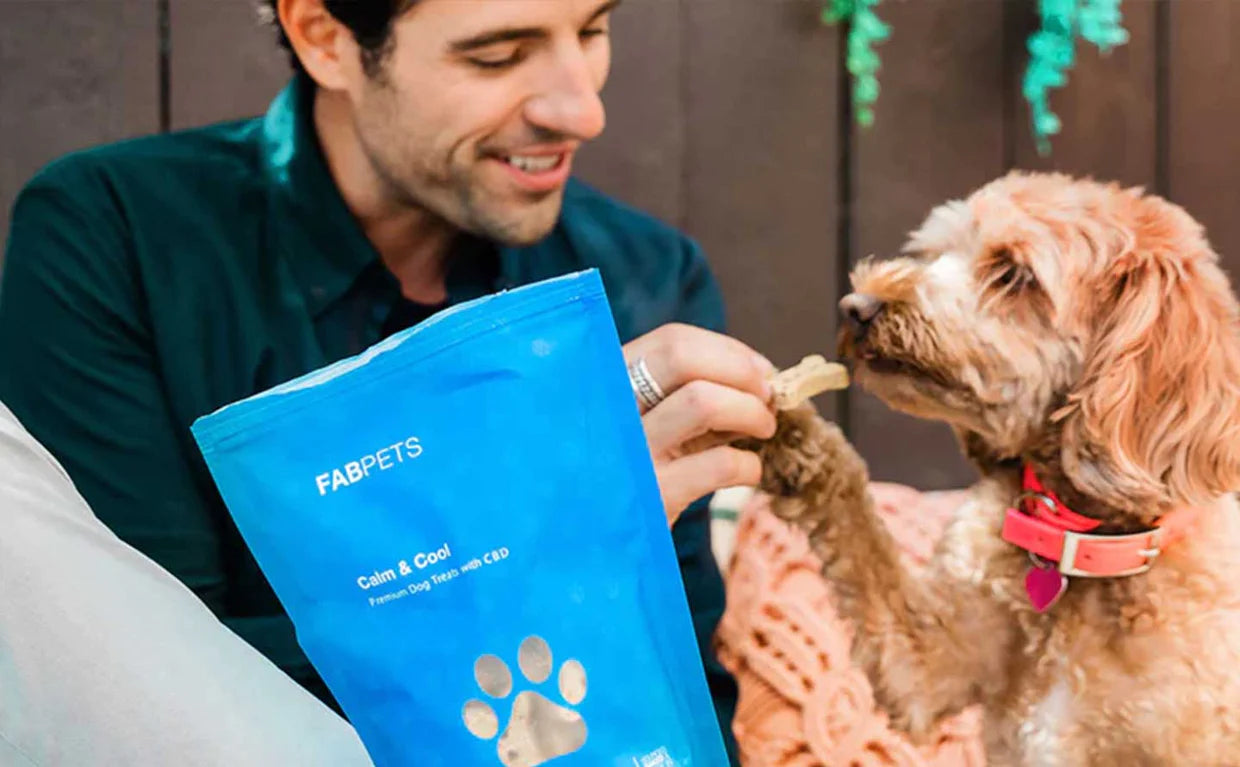 CBD isn't only for us, and it's also for our pets. They have an endocannabinoid mechanism similar to ours and therefore are equipped to interact with CBD and other cannabinoids. It's been found that THC isn't the best choice for dogs, so FAB CBD makes sure to use CBD with a broad spectrum within FAB CBD dog treats. This will provide the most comprehensive cannabinoid-based experience for your pet. Using FAB CBD dog treats to train your dog for a sweet reward or a regular supplement is possible.
Choose FAB CBD Dog Treats because they are a trusted brand. The ingredients are easy to find and well-tested. You also have 30 days of money-back assurance, which means there's no risk. FAB CBD dog treats are more appealing than other treats because they've developed products free of corn, wheat, soy, and dairy. The peanut butter and apple flavor is extremely popular, and the texture is deliciously crunchy but easy for dogs with a lot of seniority. Also, they created these delicious dog treats with passion.
How Can FAB CBD Dog Treats Help with Anxiety and Stress in Dogs?
FAB CBD dog treats are a favorite resource for owners to soothe their pets. As puppy parents, we all want to provide our dogs the best, including helping them settle down if they suffer from anxiety. But it's essential to ensure that the items you offer your dog are tested scientifically to be safe and endorsed by your vet.
The nervous system of dogs is overactive, as do humans, resulting in anxiety caused by stressors in their daily lives or during events like storms or fireworks. Fortunately, the FAB CBD dog treats are a great way to alleviate anxiety and stress in dogs. CBD is calming and helps relax, and allows your dog to feel at peace, even in an erupting storm. Additionally, if your puppy is hyperactive, the FAB CBD dog treats will often keep him peaceful.
FAB CBD Dog Treats for Joint Health: How They Can Help with Arthritis and Mobility
FAB CBD Dog Treats for arthritis and joint pain is good. CBD is a part of the endocannabinoid process, thus controlling the two significant elements of osteoarthritis inflammation and pain. This is why FAB CBD Dog Treats for joint pain is an excellent alternative to mobility treatments for dogs.
If you are looking for FAB CBD Dog Treats for joint pain, consult a holistic veterinarian and inquire about general guidelines. FAB CBD Dog Treats are an organic and natural remedy. The most significant benefit of FAB CBD treats for dogs is their meager chance of adverse unwanted side effects. These FAB CBD dog treats can improve your dog's overall health and help support joints.
FAB CBD dog treats help relieve pain in your dog and discomfort, which is another critical step in controlling joint pain. Dogs who regularly take FAB CBD treats have less joint pain, including stiff joints and limited mobility, significantly reducing their discomfort. Joint pain can also trigger anxiety for your dog, which affects their mental and physical health, and the anxiolytic effects of CBD help to manage these symptoms too.
Why Do You Need to Choose FAB CBD Dog Treats for Your Dog's Needs?
Different CBD producers have added CBD dog treats to their range of products. They are available in various flavors and strengths to choose from. Are you searching for brands that sell CBD Dog treats? You're in the right spot. FAB CBD offers CBD Dog Treats with a pre-measured quantity of CBD.
Pricing:
FAB CBD dog treats are priced at $34 for a packet. The delicious treats come with an incredibly crunchy texture, making them suitable for young and older dogs. FAB CBD also offers exciting deals that will save you money.
Potency:
Every FAB CBD treat for dogs includes 3 mg of CBD. Adjusting the CBD dosage is simple and ensures that both big and small dogs receive the correct amount of CBD. FAB CBD utilizes THC-free, broad-spectrum CBD to help your pet.
Ingredients and Flavor:
Regarding CBD dog treats, this company uses an incredible blend of ingredients free of corn, wheat, or soy. Besides broad-spectrum CBD, these treats include Peanut Butter, Tapioca Syrup, Oats, Coconut Oil, Apples, Passionflower, and Chamomile. In addition, it comes with an aroma of peanut butter and apple that promotes calm within your pup.
Quality:
FAB CBD dog treats contain natural, high-quality, simple ingredients that protect your pet. The company uses naturally-grown hemp grown in Colorado to produce CBD and other natural ingredients for safe dog treats. The product is also subject to tests by a third party to ensure its high-quality and purity.
What Should You Look for in a CBD Product for Your Dog?
If you are looking for a top-quality product for your pet, perform the same investigation as you did when searching for CBD supplements for yourself. Learn where the company gets its hemp from, its extraction process, and whether an independent lab tests the products. Check out any lab reports from third parties or verified reviews from customers and other publications written by reputable specialists in the field of CBD journalists.
Do all you can to purchase a top-quality product from a trusted and reliable brand. Additionally, feel free to speak with your pet's veterinarian if you have any queries or concerns about CBD treats. They can offer suggestions and help you find and provide the most effective CBD item for your beloved pet. Always adhere to the instructions on the label or bottle to determine the appropriate amount for your dog. The size of your dog determines the dosage.
CBD Dog Treats Vs. CBD Oil
CBD dogs' treats make a fantastic, fast, and easy substitute for CBD oil to treat your pet. Pet owners like oils because they can help dogs with more significant health issues. They can be dosed precisely and absorbed easily into your dog's bloodstream. The main drawback of CBD oil for canines is that it's difficult to administer and takes more time.
Doses need to be meticulously measured and could be dispensed onto food items if your dog isn't fond of the flavor. CBD dog treats such as the Calm & Cool Crunch CBD Dog Treats created by FAB CBD are fantastic because the dose is determined and available with various dog-friendly flavors for your dog at any time.
News
Stay home & get your daily
needs from our shop
Start You'r Daily Shopping with Nest Mart
Best prices & offers
Orders $50 or more
Free delivery
24/7 amazing services
Great daily deal
When you sign up
Wide assortment
Mega Discounts
Easy returns
Within 30 days