13 Best Glass Pipes | Hand Blown Glass Pipes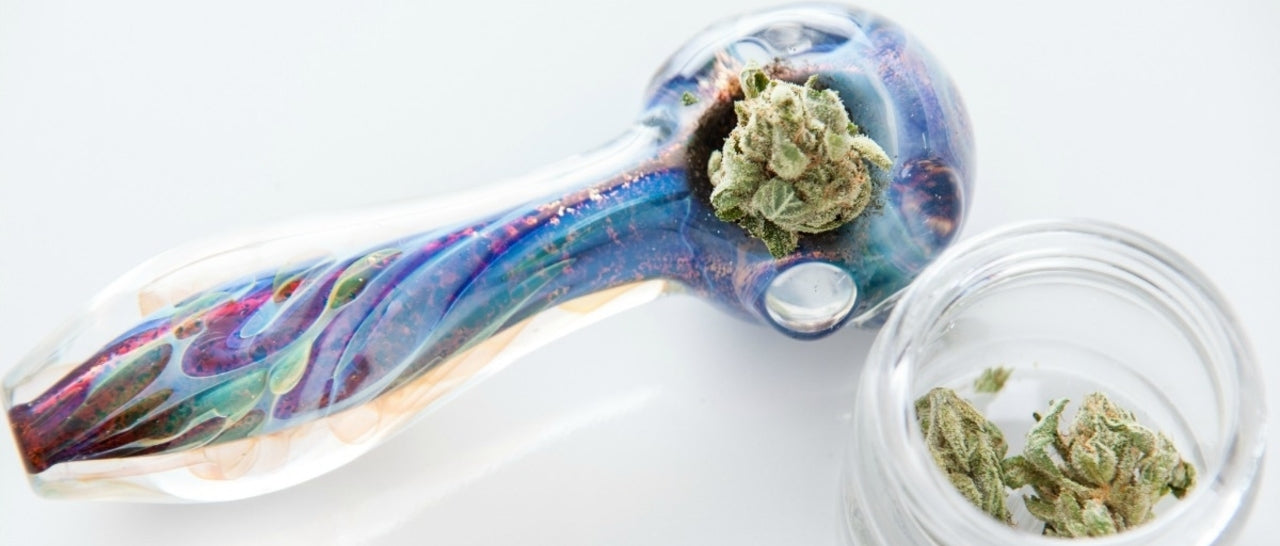 Curious about upping the ante on that rolled up joint?
Glass pipes are a great introduction into the world of bongs. When it comes to cannabis and bongs, sometimes it's easy to be distracted by all the
cool glass pipes 
in the market. Whether you're looking for a
cheap glass pipe
or unique glass that fits your unique personality, whatever it is, Weed Republic is sharing the 13
best glass pipes
. Whether it's those hippie pipes or high-end glass pipes, whatever it is, we share the best pipes for all price points, experience and styles.
Why go glass?
For more tokers, choosing among the many glass pipes – such as glass spoon pipes or those glass tobacco pipes for sale, glass is a material that provides a better smoke compared to other means of experiencing cannabis. The smoke that flows through glass is much smoother and cooler compared to
plastic bongs
, which can be hot when inhaled. No matter how unique the glass pipe is – whether it's a straight glass pipe or one of those
artistic glass pipes
that can take on the shape of random animals or objects – glass pipes are the way to go.
Another benefit that comes from using glass pipes is that you can accessorize the glass pipe to allow for more chambers or smokers. Have a small glass smoking pipe? Don't worry, you can enhance that small pipe into something bigger and better.
Don't think glass pipes are for you? Why not check out Weed Republic's post on
Bongs vs Pipes, which is Better – we settle this once and for all!
to see if this alternative is the one for you!
Without further ado...
GRAV LABS - Mini HELIX - $59.99
EASY TO GRIP, EASY TO RIP!


Our top choice for an outstanding and affordable helix glass pipe is the Grav - Mini Helix hand pipe. It is not overly large, measuring in at a comfortable 5 inches, so it fits into your hand with ease. Manufactured by respected Grav Labs, the helix hand pipe relies on the 'Venturi Chamber', which has three micro-holes with directional air-intake. Theoretically, these three micro holes make the pipe comparable to the much larger 3 chamber glass bongs. With each pull on the pipe, the smoke moves from the helix downstream into the chamber to create a cyclonic action. When it comes to a Grav Labs helix, it doesn't get any better than this impressive vortex pipe. 

 
As with most helix bubblers, this one is made of high-grade scientific glass. Also when compared to other chamber pipes, this one has a very deep bowl. Be ready to make an impressive smoke vortex with each rip. Many consider the helix a step above the popular vortex

 
gravity bong
 

because it does function as a vortex pipe in some ways, but it's just better.


Ready for one of the most unique pipes on the market? Photo: @weedrepublic


Looking forcheap Best glass pipes or maybe an artistic glass pipe that is almost so rare that no one else will have it? Then the Dragon Wrapped Glass Pipe by Dankstop is truly one unique glass pipe. Inspired by Dragon Ball Z, this pipe features a deep bowl for your dry herbs.

Made with thick glass, this is a versatile and portable pipe that will not only show off your anime passion but will also signal that you truly care about enjoying your time with Mary Jane. These glass spoon pipes retail for close to $100: however, at Weed Republic you can purchase it for $63.99 – making it an affordable glass pipe. Stick out from others who merely use a straight glass pipe. Why not wow them with one of these dragon wrapped glass spoon pipes? Still want to stand out, but dragons aren't your thing? Why not go on a mission to find a pink elephant pipe - that will be sure to stick out from the rest!

What we love:
   Thick construction
   American glass
   Colorful
   Deep bowl
   Dichroic
   Dragon Ball Z theme/inspired


Kalamazoo or pipe? No one has to know! Photo: @grasscity

Looking for a cheap glass pipe? Then the Coloured Glass Pipe by grasscity is the pipe for you. This straightforward, easy to use pipe is 4.7" long and features a deep bowl to hold your herbs or tobacco. This particular glass pipe uses the steamroller design, which is a design that gives the smoker a powerful and sometimes harsh hit. Due to the smoke being so concentrated, you'll experience a powerful hit even though the pipe itself is relatively small!
This unique design is one that makes experiencing cannabis both enjoyable and relaxing as it is somewhat similar to
Sherlock weed pipes
. Featuring a deep bowl, the smoker has ample space to fill up with dry herbs or tobacco. Whether it's a blue glass pipe or maybe a black glass pipe, whatever your color preference is, the coloured glass pipe is a budget-friendly pipe to add to any collection.
What we love about these hand pipes:
   Metal screen
   Easy to use
   Steamroller design
   Deep bowl
   Different colours
   4.7" length

Find a pipe that fits your personality! Photo: @Smokea

Looking for a compact and easy to tote around straight glass pipe? Grav's Taster Chillum is just for you! Better yet? You get to choose the size and graphics of this glass piece. The word
chillum
comes from the hindi word "cilam," which translates to pipe. This suits these cheap glass pipes, as they're compact and perfect for those one-hits.
Grav's Glass Chillum Taster Pipe is very similar to dichro glass pipes. They have the capacity to hold enough weed for one hit. You can choose whether you want a 12mm or 16mm long pipe, and you also choose which graphic design you want on the side. These super affordable pipes ring in at under $8 a pop, making this glass pipe great for both newbie tokers and those who are looking for a pipe that they can bring around and de-stress with. So head over to your favorite online headshop and order one now!
What we love about this smoking pipe:
   Customizable size and design
   Glass made
   Durable and compact
   Unbeatable price

We love this beautiful bong from Cheech & Chong! Photo: @Crazy Bill's
Why not enjoy a toke with this Cheech & Chong Glass Framed Water Pipe, available in amber, teal and green. This exclusive Cheech & Chong pipe is one that comes as a green glass pipe, but, more importantly, it also features a showerhead percolator. Unlike most green
best glass pipes
or really any of the unique glass pipes on the market – this water pipe has a glass thickness of 4 mm with a joint size of 14 mm.
Perfect for powerful and clean hits – if you are new to smoking or the world of glass pipes, these may be considered high-end glass pipes. However, one can rest assured it will be well worth the investment. A blown glass pipe, it's a straightforward way to enjoying a relaxing hit. The best part of this line of Cheech & Chong water pipes is that they come in different colours to suit the style you're looking for.
What we love:
   Sold with a collectible tie-dye box
   Certificate of authenticity
   15.5" tall
   Showerhead perc
   14 mm joint size
   4 mm glass thickness


Need a conversation starter? Photo: @everythingfor420

Looking for a fun way to enjoy your next hit? Why not buy the "I'm A Pickle"
Glass Pipe
by everything420. At a retail price of $14.20, this is one of the best artistic glass pipes that suits any budget.
Made with scientific glass (also known as borosilicate glass) this is a wobble
small glass pipe
that is 5.5" long. This green glass pipe features a deep bowl making it great for dry herbs. This Rick and Morty glass pipe is perfect for those on-the-go parties as it's discrete and compact, and with a borosilicate glass, smokers can rely on this funny "I'm a Pickle"
small glass pipe
.
If you are looking for a unique glass pipe, the I'm a Pickle are all handmade and
hand blown glass pipes
, which makes this glass blown pipe ideal for any smoker, newbie or not.
What we love:
   Deep bowl
   5.5" long
   Hand made
   Wobble safe
   Coloured borosilicate glass made



Going for the look of a wise old wizard? Photo: @everythingfor420
Are you fan of the classic, The Hobbit or Lord of the Rings, or maybe you're looking for a different take on classic
classic Sherlock pipes
? Release your inner Gandalf with The
best Glass Pipes
by Weed Republic. Measuring at 8", this long curved pipe replicates the pipes of Middle Earth.
For the fantasy and cannabis lover, this pipe truly combines the best of both worlds. Designed with intertwining colours and an elongated handle and mouthpiece, this makes smoking look classy and wise. This glass pipe has been called the "pipe weed" and is a fan favourite for glass pipe smokers, but also those who have a budget in mind. For under $10, smokers can purchase this glass pipe and feel as wise as Gandalf.
What we love about these Sherlock pipes turned Hobbit:
   Glass material
   8" long
   Two tone pipes
   Small bowl at the tip



Get a smooth toke every time with this coil perc bubbler. Photo: @The Bong Shop
Portable and versatile, this fun Spiral Blue Glass Pipe and Bubbler by The Bong Shop is considered a hammer bubbler. This cool glass pipe is one that can be used either wet or dry. Whether one uses the bowl with dry herbs or adds water to the chamber to bubble the smoke up, you'll have the option of getting whichever type of hit you want.
Standing at 17" tall, this all-in-one glass pipe is truly a masterpiece. Considered a butler glass or hippie pipe for its design, this glass pipe stands tall and offers a smooth punch. With a shot hole and chambers for additional accessories, the spiral blue offers a smooth hit with an easy to clean afterthought. With a retail value of $24.95, most tokers can expect to pay more, but with Weed Republic, you can rest assured you are going to get the best deal.
What we love:
   17" height
   Portable
   Glass made
   Body diameter 50 mm
   All in one design
   Use dry or wet when smoking


Compact and discrete, this may be your new favourite travel buddy! Photo: @Smokea 

Looking for a compact glass pipe? Then American-made Elevate Glass Joint Chillum Pipe is the perfect one. This glass joint pipe comes in different colours, which means any toker can find the perfect colour to suit their needs. This straight glass pipe by Elevate is made from a durable glass and Weed Republic is providing tokers with glass hand pipes that suit them.
Small and compact, this is one of the best glass pipes that provides a great introduction into the world of pipes and is a step up from standard blunts. At a retail price of $14.00 this is a pipe that can suit any budget and skill-set.
What we love about these hand pipes:
   Flat mouthpiece
   Multi-color choice
   American made
   3.75" long and .75" wide
   Easy to clean
Here to win the beauty contest! Photo: @Smokea


Get lost in the spin with these 7 Pipe Twisty Glass Blunt hand pipes. This specific glass pipe is considered a spoon pipe, and it is truly an aesthetically appealing on at that! To enjoy a hit from the twisty glass blunt, one simply lights the end and inhales. Then, after you've had your hit, simply twist the blunt clockwise and enjoy an ever-fresher hit.

Designed and made with the German SCHOTT's glass, this is a durable blunt that fairs far better than the traditional paper blunt. If you already have an array of bongs, you can take this $50 blunt and use it as an accessory to your bong.
What we love about these twisty-turny spoon pipes:
   2 mm thick German glass
   Fits 14 mm glass on glass joint
   Corkscrew design
   Portable and discreet
   Holds 1.5 grams

Enjoy every toke with this subtly beautiful bong. Photo: @smoke-nut
Looking for a European-made and designed glass pipe? Look no further than the Thick Glass Chamber Pipe by smoke-nut. This unique glass pipe is similar to that of a dichro with the exception that this pipe stands 12.2" tall. Though the Thick Glass Chamber Pipe is made with a strong heat resistant Pyrex, tokers can rest-assured that investing in this glass pipe is one that will most definitely replace those papers blunts you've been wrapping up over and over again.
Taking the bohemian style and applying it to this pipe, tokers can rest assured that this is one way to experience a smooth and clean hit. With a glass-on-glass joint, we assure you you'll enjoy the hits from this glass pipe.
What we love:
   Ice catcher included
   Colour changing
   Glass-on-glass joint
   Heat-resistant Pyrex
   14.5 mm joint
   12.2" tall
   400 ml capacity
Portable and cheap, take these $5 pipes anywhere with you! Photo: @Smokea

On a budget? Looking to experiment with how you consume your cannabis? Why not check out this rainbow of $5 Glass Hand Pipes? These straight glass pipes feature a deep bowl that makes using a pipe easy, enjoyable and straightforward. With lengths varying from 2.5" to 3", you can keep this in your pocket and tote it around with you. So, whether its a purple glass pipe or maybe a pink weed pipe, whatever the color, Weed Republic has the pipe for you.
Stop rolling blunts and start packing with these $5 glass hand pipes – they'll change the way you experience marijuana, won't make a dent in your virtual shopping cart budget, and, most importantly, you can use it over and over again.
What we love about these hand pipes:
   Only $5!
   Assortment of colours and patterns
   Ranges from 2.5" to 3" long
   Glass made
Whether it's those cute glass pipes or the sophisticated Sherlock weed pipes, glass is an easy pipe to use for newbie and seasoned tokers. Pipes do a great job of filtering and cooling the smoke before you inhale it, meaning you'll enjoy a flavourful and potent hit every time. Glass pipes truly are one of the easiest ways to enjoy your cannabis!
So, whether you are in the market to purchase your first glass pipe, whether it's a cheap glass pipe or a high-end glass pipe – remember these 3 advantages when checking out the market: 
Easy to clean – after smoking, simply rinse and wipe and good for the next use
Reusable – as they are made with glass they will last a long time meaning that no matter how much you spend, it will be well worth the investment.
Powerful, smooth hit – compared to bongs and pipes in the market, glass pipes offer a smooth and cooling hit; therefore, enhancing the smoking experience.


For more on the types of bongs to use, from materials and budget, visit Weed Republic and see the best bongs and pipes on the market today.
Questions or comments about the best pipes on the market? Leave us a comment below!
.

Written by Megan Medeiros (BA)
Megan Medeiros has a bachelor's degree in English and is currently working on a master's in English at James Madison University. She's the owner and operator of Medeiros Writing, and has been working as a cannabis writer for the past three years, mostly following the legal climate of marijuana, especially in areas like California, Colorado, Oregon, Canada, and other legal areas.
This post contains references to products from one or more of our advertisers. We may receive compensation when you click on links to those products. For an explanation of our Advertising Policy, visit this page. All photos were sourced from Pinterest.com | updated 2021
Stay home & get your daily
needs from our shop
Start You'r Daily Shopping with Nest Mart
Best prices & offers
Orders $50 or more
Free delivery
24/7 amazing services
Great daily deal
When you sign up
Wide assortment
Mega Discounts
Easy returns
Within 30 days