12 Best Sherlock Pipes | Grav Labs Sherlock Pipes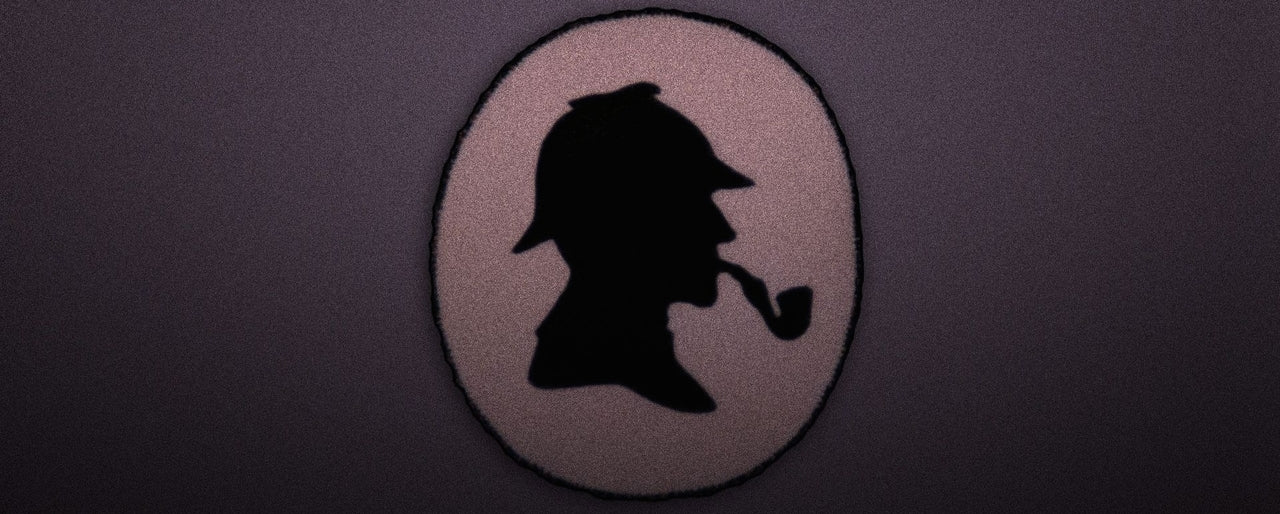 An homage to the famous Sherlock Holmes and the hand pipe he smoked from, the Sherlock Holmes vape pipe is perfect for anyone looking to add some stately character to their smoking profile!

The Sherlock Holmes pipe is dedicated to and was inspired by the original wooden Sherlock weed pipe. His was made from wood, and the everyday toker's pipe has evolved into glass Sherlock pipes. In a way it has become a Sherlock pipes for weed. The Sherlock pipe has become an inspiration and standard for pipes by Grav Labs Sherlock pipes to High Times pipes, just to name a few, but these brands (and others) look to take the Sherlock style and apply it to their own hand pipes.

The Sherlock weed pipe is so much more - the Sherlock pipes design can come as a Sherlock vape, or, for those who prefer something more compact, some brands offer a mini Sherlock pipe. Still unsure whether the Sherlock is for you? Consider the following question in terms of the cannabis experience with a Sherlock pipes – do you know the difference between a chillum vs. a pipe? A chillium pipe is one that is traditionally made of clay and is common in countries like India – another difference between the chillium and a token weed hand pipe is that the chillium is often used for "one hit" as opposed to pipes that are filled, packed and inhaled multiple times.

Have a token Sherlock moment with Watson and check out Weed Republic's array of Sherlock glass pipes, spiral glass pipes or the more common spoon pipe. Whatever your smoking style or preference, our inventory of glass pipes is sure to please you. Still not sure? Why not check out the
11 Best Glass Bongs in the World Right Now – Every Budget Covered
and see for yourself - who knows what hand blown glass pipes you'll find!

 


Beautiful colours and a beautiful design, we love this Grav Sherlock! Photo: @GlassHous

In the search for a mini Sherlock pipe that is also budget friendly? Why not check out the Grav Sherlock by dankgeek. This 4" multi-color glass pipe is truly a nice homage to the great Sherlock Holmes. What makes these Grav Sherlock pipes unique is that unlike most standard hand pipes on the market, these are a straightforward and easy to use pipe. They're also easy on the pocket book. It comes with a built-in ash catcher as well as a nice bowl to pack the herbs down into.

Simple and compact, you can carry this pipe in your coat pocket and pull it out for inspiration just as Sherlock did. Whatever your color choice, dankgeek offers 5 to choose from and the fact that it's budget-friendly (costing less than $20 a pipe), while most pipes in the market cost $100, is an added bonus. 

What we love:
Sherlock Holmes style

Various colours

Built-in ash Catcher

32 mm Borosilicate glass

4" long
 


Sign us up! These handy hand pipes are perfect for any gathering where you want to evoke Sherlock Holmes. Photo: @DankGeek
Choose from the rainbow with this pipe carb, the
Grav Hammer Sherlock
by dankgeek. This averagely priced Helix bong is shaped like a hammer and comes in over a dozen colors. Designed with a deep bowl for dry herbs, this is a compact and durable Sherlock. This particular pipe is an improvement or rather an enhancement to the original Grav Sherlock, so if you are looking for an update you won't be disappointed!

Thanks to its compact, 38 mm tubing and a strong borosilicate tube – tokers can rejoice with a new hammer pipe for their enjoyment. We'd be remiss if we didn't mention this unique pipe's flathead hammer shape, which means it can stand and support itself. Talk about magical!
What we love:
Over a dozen colours to pick from

Hammer style

4.5" long

Deep bowl

Built-in ash Catcher

Scientific glass

Are you sensing a theme here?
Looking to splurge? Maybe you are looking for a
BIGGER
hit? Check out
Grav Large Sherlock
by dankgeek, which is the larger version of the
Grav Sherlock
. With a built-in ash catcher and 32 mm borosilicate glass, you can rest assured if you were happy with the regular sized Sherlock by Grav, you will enjoy these larger Sherlock pipes. For some tokers, they ask how to clean your weed pipe when its smaller than a standard or typical glass pipe, but rest assured, the extra two inches makes it as easy and simple as cleaning a four inch.

These glass Sherlock pipes are a great way to enjoy your Mary Jane while not having to break the bank!

What we love:
Sherlock Holmes design

8 colours available

Built-in ash catcher

Thick borosilicate glass

6" long
 

Purple tokes for days... 


Have you ever seen a purple glass pipe? The
Grav Poker Sherlock
by dankgeek is a pipe that offers tokers the ability to buy a purple pipe. This Sherlock sitter pipe is one that comes in 10 different colours and is considered a mid-range pipe. Very much replicating that of the wooden pipe that the great Sherlock used while on a case, this pipe offers a deep bowl for packing in the herbs. With an array of colours to suit all styles and feels, throw one of these handy hand pipes into your shopping cart now and you'll be feeling like Sherlock Holmes in no time.

What we love:
10 colours to pick from

Helix bong

Sherlock Holmes style

Sitter pipe
 


Get twisted up in all the best ways with this Handheld Sherlock Bubbler.
In the market for unique, hand-blown glass pipes? Why not check out the
Handheld Sherlock Bubbler
by hemper. This under-$10, multi-colour glass Sherlock pipe is a great purchase for newbie tokers and those who are looking for a Sherlock to add to their collection. For seasoned tokers, they know that this unique, handheld bubbler can be used with or without water and that, because of the type of pipe, users will enjoy a smoother hit. Featuring a glass-on-glass joint to the bowl piece, this is compact and can be brought easily in comparison to typical bubbler bongs in the market. Not to mention, for $9.99, you can't go wrong with the Handheld Sherlock Bubbler!

What we love:
Large bubble

Glass pipe

Multi-coloured

Built-in bowl
 

If your friends ask why you've got a candy cane that smells like weed and costs 29 99, just go with it!


'Tis always the season to get jolly and holly when you've got the Candy Cane Sherlock Pipe by dankstop. Who says Christmas ends January 1st? Why not keep it going with this thick and themed Sherlock pipe. Featuring a curved neck and deep bowl, which allows for more herbs and tobacco to be packed, this Sherlock pipe has a side carb hole through which the smoker can control the airflow while inhaling. Designed with a comfortable mouthpiece, this holiday-themed pipe is a great way to keep the holidays going and keep the Merry-ness Merry with these unique, hand blown glass pipes!

What we love:
Coloured/themed glass

Bent neck

Thick glass

Deep bowl



Take a walk on the wild side with this pipe!

Who says smoking up has to be boring and from a standard bong? Why not use a novelty bong like an Elephant Head Sherlock Pipe by dankstop. These wilderness wonders can now be enjoyed in the comforts of your home – and really within your fingertips! The best part is you don't have to spend thousands on a flight down to Africa. The Elephant Head Sherlock Pipe is a great novelty pipe that has an unbeatable price tag that makes it affordable no matter your budget.

This unique and intricately designed glass is a Sherlock pipe in the shape of an elephant head. It features a deep bowl for dry herbs and a bent neck, which allows for a smooth flow of smoke, resulting in a smooth hit. This Sherlock is a pipe carb, which means there is a hole on the side that allows the toker to control the amount of airflow while inhaling. Elephant Head Sherlock Pipes are the perfect addition to any virtual shopping cart herd – but don't wait, you never know when they may go extinct!

What we love:
Vapor rig

Thick glass

Deep bowl

Bent neck
 


Go deep with the Cornucopia! But not deep into the pockets at 49 99. Photo: @J&C CBD
Looking for a unique Sherlock pipe? Then the
Sesh Supply Cornucopia Sherlock Bubbler
by dankgeek is the perfect glass pipe for you. A mid-range glass bubbler, this hand pipe is portable and is an ideal mix between Sherlock and glass pipe. Looking for that smooth hit? Fill the chamber with water, watch it boil, and let the vapour flow through your lungs as you inhale the smoothness.

Prefer to smoke dry? This hybrid pipe allows smokers to smoke with or without water to have the best of both worlds. Available in two different accents, it features a downstem diffusion, which, when water is added, smoothness is a guarantee! At Weed Republic, this Sesh Supply is the perfect glass pipe for newbies and seasoned tokers alike and the middle-range price at 49 99 makes it even more fitting.

What we love:
Sherlock style

Downstem diffusion

5.5" tall

Blue or white accents
 

Go old school with the un-coated wooden Sherlock pipe by Raw.



On the art of deduction, the
Raw Uncoated Wooden Sherlock Pipe
by Raw is almost identical to the hand pipe of the great Sherlock Holmes. This handmade wooden Sherlock pipe is a sustainable weed pipe that features a logo lasered onto the pipe. Its removable mouthpiece means you can accessorise this wooden pipe with a new mouthpiece when you feel the need to switch it up.

At 5.5" long, it is a compact and eco-friendly pipe. With a deep pipe, you can pack your dry herbs or tobacco in and enjoy a soothing and relaxing smoke. It's durable and comes with the perfect canvas carrying pouch, meaning you'll be able to take this uncoated wooden Sherlock pipe anywhere you so desire!

What we love:
Handmade in the USA

Removable mouthpiece

Carrying pouch included

5.5" long
 

Handmade with care to ensure a quality toking experience.

How do you pay homage to Sherlock Holmes when you are a fan of marijuana? Simple! You purchase the Juicy Handmade Wooden Sherlock Pipe by Smokea. This wooden Sherlock pipe is non-toxic and biodegradable and allows tokers to truly feel like Sherlock did with this wooden pipe. Designed with a finished enamel that prevents it from catching on fire – this non-toxic and biodegradable pipe is a great purchase.

Available in two different colours, red or blue, why not enjoy a toke with this sustainable Sherlock pipe? You can even feel good when you are done and looking to replace your Sherlock, becuase you can do so knowing it'll biodegrade back into earth. How fitting for smoking some natural cannabis!

What we love:
Available in red or blue

Sherlock pipe

Wooden design

4.75" long

Biodegradable
 

Beautiful design, beautiful tokes! We love this bubbler. Even more at just 29 99.


Looking for a simple, compact and discreet glass pipe? Check out the Hemper – Sherlock Bubble Rig by dankgeek. This glass bong resembles a tea pot and features a female joint with a male tobacco bowl. Designed with strong glass, and standing at only 7" tall, this compact Sherlock pipe is easy to take anywhere with you.

Featuring a downstem system, it allows for the diffusion of dry herbs or concentrates. The glass pipe is clear, but there are three coloured marbles that sit in its centre. Simple and compact, tokers can enjoy this travel-sized Sherlock Bubble rig.

What we love:

14 mm female joint

Male tobacco bowl

7" tall

Bent neck is a unique feature on a hand pipe


Compact and discreet

Well-priced at 29 99
 


Practice your scales with this smooth Saxophone Sherlock Pipe!

Getting high has never been so musically enjoyable as it is when taking a toke from a Saxophone Sherlock Pipe by dankstop. This clear saxophone-shaped Sherlock pipe is one that allows the user to watch the bubbles heating then enjoying a smooth, warm hit. With a deep bowl, users can pack in tobacco or dry herbs for their enjoyment. Designed with a Dewar's joint, this allows for a joint to be connected to the chamber which creates additional support. While it is a clear glass, there are different colours available that give off a unique accent and adds to the aesthetic appeal.

Made with a circular mouthpiece for the musician who enjoys a hit, this will make the experience smoothing and enjoyable. With an affordable price tag, Weed Republic offers plenty in stock and positive reviews.

What we love:

Deep bowl

Ash-catching curve

Marble support

Circular mouthpiece

Clear and coloured glass

Dewar's joint
Picking a Sherlock is not like picking a Grav lab sherlock pipes spoons or a standard Galaxy glass pipe. What separates the Sherlock from glass bowl pipes on the market is the unique curved mouthpiece which results in a smoother hit in comparison to straight pipes and mouthpieces. Buying a Sherlock can vary price point and can vary in intricacy. Whether you're looking to spend 19 99 or 49 99, there's a pipe out there for you to fulfill your detective daydreams.
Depending on the experience you're looking for, one might simply go with a pinch hitter pipe, or, for those are Lord of the Ring fans, a glass Gandalf pipe. Whatever your preference (or your budget) know that Weed Republic has an array of Sherlocks available. From a Galaxy glass pipe or a rainbow colour changing pipe – whatever your hand pipe desires, check out our Weed Republic inventory and posts for more to add to your virtual shopping cart!
Questions about finding the perfect Sherlock pipe? Drop us a comment below!
.

Written by Megan Medeiros (BA)
Megan Medeiros has a bachelor's degree in English and is currently working on a master's in English at James Madison University. She's the owner and operator of Medeiros Writing, and has been working as a cannabis writer for the past three years, mostly following the legal climate of marijuana, especially in areas like California, Colorado, Oregon, Canada, and other legal areas.
This post contains references to products from one or more of our advertisers. We may receive compensation when you click on links to those products. For an explanation of our Advertising Policy, visit this page. All photos were sourced from Pinterest.com | updated 2021
Stay home & get your daily
needs from our shop
Start You'r Daily Shopping with Nest Mart
Best prices & offers
Orders $50 or more
Free delivery
24/7 amazing services
Great daily deal
When you sign up
Wide assortment
Mega Discounts
Easy returns
Within 30 days