10 Best Bob Marley Bracelets On The Planet | Bob Marley Wristbands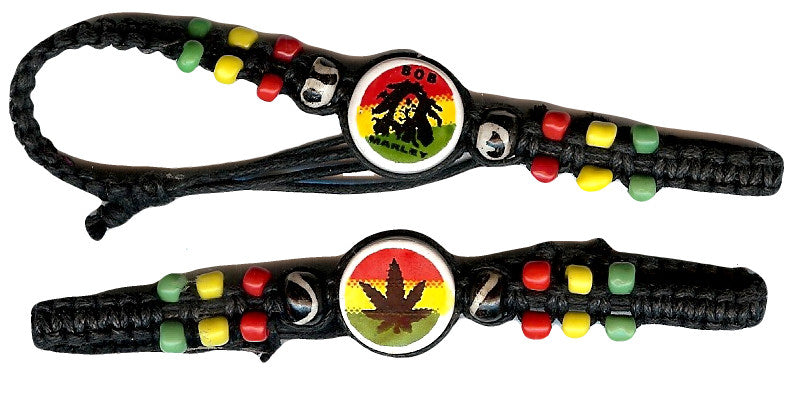 We know his music. We know the iconic red, green, and yellow stripes. And of course we know his love and advocacy for marijuana. Bob Marley is such a tremendous social and musical icon that it would be hard not to know and love his work. We've found the absolute best Bob Marley bracelets bracelets around so you can wear your love for your favorite reggae star on right on your wrist.
 

High quality leather
Wooden centerpiece
Durable and adjustable

Between its rustic look and rugged construction, this bracelet is our favorite way to show off a love of the rasta icon. The leather ties make for an adjustable bracelet that will fit even the largest (and smallest) wrists. While most Bob Marley gear is brightly colored or covered in pot leaves, this one is much more subdued and classy. Try this for a new way to show off your rasta fandom and you'll see why we love this bracelet.
 

Great price
5-in-1
Money-back guarantee

If a more typical Bob Marley bracelets rasta-inspired look is more your speed, check out this money-saving set of bracelets. Made to be worn in any combination, be it all together, just one at a time, or any mixing-and-matching thereof. This set gives you a ton of style possibilities for the price of one. It's also sure to please any fellow fan as a birthday gift.
 

Durable leather
Subtle look
Free shipping

Sometimes we want to wear our favorite reggae star's iconic symbols, but it just isn't always practical to walk around covered in pot leaves. This subtle Bob Marley bracelets are a perfect choice to display the classic red, green, and yellow pattern without making a statement about your smoking habits. This sort of plaited bracelet can be untied to any length, so it's sure to be the perfect fit.
 

Great price
Durable
Free shipping

This classic style Bob Marley bracelets has been in style for ages, and it's easy to see why. The brightly colored bands are interwoven intricately, giving you a sharp look when added to any casual outfit. It's adjustable up to 9 inches, although it can't be untied and adjusted in the way that some plaited bracelets can. 
 

Classic imagery
Durable leather
Low price

Ok, so far we've been looking at more subtle ways to pay homage to the Jamaican singer. This bracelet is the exact opposite of subtle. Featuring brightly colored bands and a bold pot leaf emblem, this bracelet will turn the head of every stoner, reggae fan, and Rastafarian in the room. The leather band is thick and durable, and the cord tied around it is completely adjustable to fit any size wrist.
 

Handmade quality
Extremely durable
Easy to adjust

Unlike most of the other mass produced bracelets, each one of these are handmade with care in the United States. The hand-tied surfer string bracelet features the classic red, green, and yellow colors, and is made of a super-high-quality wax-coated nylon so you can wear it without worry when you go swimming, kayaking, hiking - anything! Grab one for yourself and an extra for a loved one so you can wear your bond on your wrists.
 

Best-looking bracelet
Adjustable ties
Great gift idea

We cannot get over the look of this particular item. It's extremely bright and vibrant, and the way it's tied creates a totally unique and interesting appearance. Check out the other bracelet styles, available, grab a few, and use them in tandem to make a style that's all your own.
 

Retro fashion
Great price
Three-in-one

Who else remembers these now-old-school rubber Bob Marley wristbands? The ones that were all the rage in the mid-2000's, decorating the arms of practically every teen around? Well, now you can break out your retro fashion and couple it with your Bob Marley Wristbands appreciation. These rubber bracelets are perfect for wearing as a set (since they come in all three colors of the Jamaican flag), or to be worn individually and changed out from day-to-day.
 

Best bulk item
Durable rubber
Classic tie-dye

Speaking of those dated rubber Bob Marley bracelets, check out these classic tie-dye ones. They've got "Bob Marley" printed across the front, as well as the singer's face, so you can really wear your reggae pride on your wrist. Try using these as a party favor, or pass them out to your friends at your next concert.
 

Durable leather
High quality wood
Available with or without earrings

If you love matching accessories, this set is perfect. The earrings feature Bob Marley's classic "One Love" in rasta colors, while the bracelet bears and Bob Marley Wristbands the same rasta-colored wooden token and tri-colored bands wrapped around the sides. You could even pair the earrings with any of these other great bracelets to really make your own unique look.
Conclusion
Whether you need to wear it on the downlow or want to blast it out on high, these bracelets can suit your need. Always check sizing before placing your order, but, fortunately, almost all of these great bracelets are fully adjustable, so they'll fit just about anyone. There's a ton of space on your forearm available for accessorizing, so don't hesitate to get a few and mix-and-match your ideal look!
When you're done picking out the right Bob Marley bracelet, check out these topics to complete the look:
Best Bob Marley accessories
Where can I buy rasta t-shirts?
What are Bob Marley rolling papers?
Author bio:
Nick Branson is a writer and longtime smoker with a passion for science and education. His hope is to destigmatize the use of marijuana, both medicinally and recreationally.
Stay home & get your daily
needs from our shop
Start You'r Daily Shopping with Nest Mart
Best prices & offers
Orders $50 or more
Free delivery
24/7 amazing services
Great daily deal
When you sign up
Wide assortment
Mega Discounts
Easy returns
Within 30 days