Best Rolling Paper Substitute & Alternatives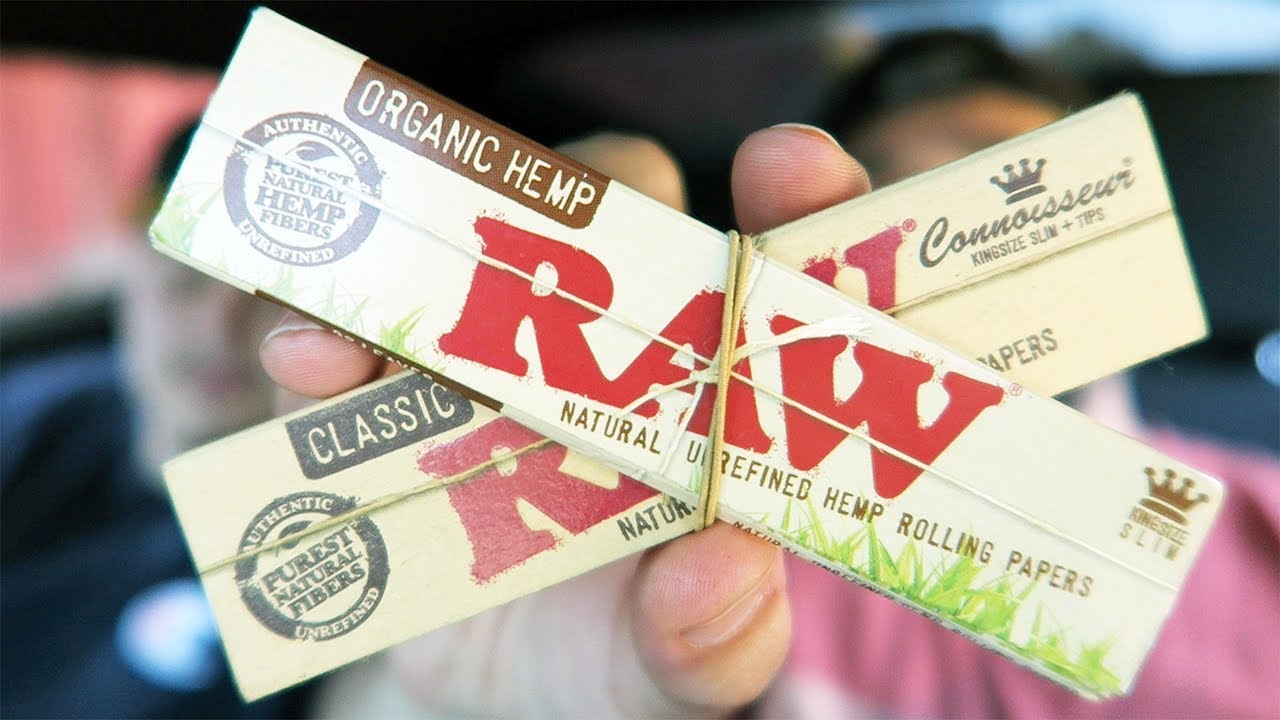 Prioritising where you buy your rolling papers may seem at first, a tad over the top. You might even be wondering what you're doing the searching for this article.
However, you came to the right place. We've all been stuck online browsing for rolling paper substitutes through a sea of endless suppliers and company names. You might have noticed lots of different types of packaging and words like "organic" thrown onto the label without any sort of further explanation. Famous names like Raw and Rizla may seem familiar, but the models of rolling papers they offer can be completely different in taste, touch, and sometimes smell. 
Why should you take extra care when browsing for rolling papers online? (You asked us, right?) Here's why; Harsh chemicals. 
White papers often contain Calcium Carbonate, or even Chlorine (yep, that's the stuff that makes your eyes burn in swimming pools). Lots of famous companies use these chemicals in their products in order to slow down the burn, which to some extent we are all, I'm sure, very grateful, however when smoking the devil's lettuce, you want to have the cleanest and smoothest hit.
Rolling paper alternatives, or "skins" tend to surprise you, their materials can vary from wood pulp paper to rice paper. Some burn slightly faster than others, while some can be seriously thin and delicate. Both kinds depend on the sort of spliff you're considering to roll. They even have vegan rolling papers on certain parts of the Internet. 
Using rolling papers alternatives is a new and revolutionary form of smoking. The tobacco industry is famous for its harsh environmental damage, not to mention its heavy amount of animal testing. They even used to use 'castoreum' which is found inside the beaver's castor sacs, for this they are killed and at risk of being endangered! 
Like all huge industries, customers are calling for organic and fair trade products. It's important for us to be able to differentiate between the ones you would like to buy. Here are just a few interesting tips you'll learn in this article:
What is the difference between raw and

organic rolling papers

?
How much should I pay for a packet of rolling papers?
Why do I taste harsh chemicals when I smoke with white papers?
We all love ordering a pack of mysterious but interesting skins from Amazon but just to help you along, we've compiled a comprehensive list of the very best rolling papers on the internet!
 

Organic
Wholesale
Cheap
Well-made
Easy to use

This pack of Stunna 45's Organic papers is the difference between mediocre and perfection. I'm not even exaggerating. We granted this our staff pick purely because of its value for money. This product comes complete with 50 rolling paper alternatives, containing 32 sheets in each pack! (that means it has 1,600 papers!). While we hope you don't smoke them all at once, (or make an insane deck-up) you can rely on these papers to get you through your year without getting damaged or worn over time. $tunna is a reliable and well respected brand name, with thousands of rave reviews which won't disappoint you!
These rolling papers are made from organic hemp, which is grown in the European Union. Hemp is a growing industry (no pun intended), which means that it's slowly but surely going to take the world by storm. This all natural and super cheap plant is famous all over the planet for its revolutionary cultivation speed and general usage opportunity. Now, relating back to this product, hemp fibres used in rolling papers are an incredibly fitting way to use this magnificent plant. So by spending your hard earned dollars on such materials is ethically good for the planet and good for you, well done!
 

Tobacco Free
Slow Burn
Affordable
Well-made
Miniature size

This 2x pack of 4 miniature sized blunt wraps is everything and more. Both ethically viable and super slow burning. These blunt wraps are made from hemp fibres, and completely additive and tobacco free! These mini rolls can hold around 0.8 grams of herb each, which makes them the perfect size for a session of smoking. 
If the amount looks too small, you can purchase a full box! This comes complete with 24 packs of blunt wraps for only $69.99. For us, blunt wraps are the true Cali way to smoke. There's nothing cleaner and more pure than a hit from a straight up organic, tobacco free wrap. This product also comes with a 'pokey downer' or "packing stick", to ensure that tight sealed wrap.
Don't waste time buying 2nd class blunt wraps from corner shops or markets. They have a famous history of having harsh chemicals inside. There is nothing worse than a cheap tasting cherry blunt wrap. We've placed this product high on our list for its ethical value and carbon footprint, alongside this you can rely on a clean smoke which will be very memorable!
 

Reliable
Slow Burn
Trusted Brand
Longevity 
Environmental benefits

Raw is a legendary name in the world of rolling paper alternatives. They have excelled and created many different kinds of paraphernalia for this culture of smoking. From grinders to cardboard filters, and even grinding stones! Here we have the classic skin, the widely regarded king of rolling papers. This particular product has a less processed and smooth burn, without harsh additives and chemicals which would usually affect the burning time and color of the rolling paper. RAW papers are pure products and have a very long life. They can be purchased in many different sizes and quantities at very fair prices.
Something that is a really important factor when buying recognized brands is the track record of pleased customers. There is a reason why this company is the king of rolling papers, and why they are the most popular company, and that is the environmental cost of the product… it's very low. Alongside this, there is of course the famous and sleep design which appears to be a cardboard pack wrapped with string. 
So, in a nutshell, these unrefined king skins are chart-toppers. A pure smoke guaranteed. It's a trusted company and a very ethical decision. You can find them in most shops, however, buying online is the wiser choice. 
 

Reliable brand
Slow Burn
Long Life
Quantity
Affordable
Attractive packaging

This second mention of the legendary company RAW is totally needed. This RAW 300 product is incredibly useful in your stash box. In a convenient size, with literally hundreds of rolling paper substitutes! As I'm sure you've read, there are 300 natural hemp gum skins in this pack, ideal for any smoker without convenient access to the store. Its recommended to use this product alongside any other partner company's rolling papers, you can always count on the Raw 300's to have your back.
Take a closer look, and you can see the pure hemp fibers that you're smoking. On the individual papers, you can see the company watermark, scribbled on there for a better burn throughout! Designed solely for those who want a longer and larger smoke, you can rely on this product to give you that clear and mesmerizing hit you deserve. 
 

Reliable brand
Arabic Gum
Quality
Cheap
Durable

OCB, along with RAW is a trusted brand amongst cannabis aficionados. Made with 100% flax paper, these natural rolling papers have a certain flair. The famous glossy packaging and sleek Arabic gum fibers are famous in the world of rolling papers. If you value quality materials and a smooth taste then these are the skins for you.
These OCB expert slim papers have a fantastic value for money and quick free delivery. This is truly one of the most trusted brands and we're sure you won't be let down!
 

Affordable
Value for money
Natural fibers
Highly rated from other customers
Effective smoke

Hornet is a very renowned brand in the new and upcoming world of cannabis smoking. They are taking the market by storm with their rolling trays, filters, and the king of all paraphernalia, Rolling papers.
Here we have the pleasure of introducing these kingsize natural gum rolling papers. Complete with 5 booklets, of 250 total rolling paper leaves. These papers have a slow burn, to ensure for no side-burns… if there's one thing we hate above anything else, is when rolling papers make a canoe in your spliff. 
Designed for rolling up those small but portable joints, these papers are smaller than most, however, they are built from strong natural gum, which means they won't rip while you're rolling.
 

Clean and cool design
Value for money
Long-life guarantee 
Good reviews

Basically, this one is on our list because it's awesome. We love the unique design behind this Hornet 5m rolling paper. Some of the wildest smoking sessions require the wildest rolling papers. At a house party, these papers will be sure to attract eyes to your massive joint. 
This product has 5m of natural gum paper. 5 meters of pure smoking heaven. Each purchase comes with 5 rolls. So unless you're awful at maths, that's a very very long joint. Whether you're an attention seeker or an introverted romantic, these mega-size rolling papers are the ones for you!
 

Reliable company name
Efficiency
Long-life guarantee 
Practical
Affordable

These Ultra-thin OCB premium king papers come hand in hand with a packet of cardboard tips. This is ideal for any smokers arsenal as we simply cannot find the effort to go shopping for many different types of smoking utensils. Let's be real, it's much more accessible for us to find both components together, this is why the OCB rolling papers with tips have made it onto our list. 
OCB is a popular brand name, made in France, and very popular all across Europe and now the rest of the world. They are made from 100% flax paper and natural Arabic gum. Like the sister packet (silver skins) they are a top priority for smokers who like what they know, and who know what they like. 
Each packet comes complete with 32 slow-burning natural Arabic gum leaves, and ultra-thin cardboard filters which can be conveniently tied up and stored for later.
 

Natural materials
Long-life guarantee 
Cheap
Reliable brand

These Elements king size papers are another very well recognized brand. Personally I greatly enjoy this smoke. They have a certain taste to them. These rolling papers are made from pure rice and contain no harmful chemicals, hemp, or pulp. These papers are unique, their ash is nothing but a small thin line which is made from the natural sugars in the sealing gum.
For any active smoker who needs a natural lift, this is the paper for you. We see hundreds of different products when analyzing the best of the best smoking equipment and the ones we've tried and tested are worthy of our list. Let's just say we've smoked with many different papers, and Elements are a reliable and continuously tasty brand.
 

Unique 
Larger Size
Cheap market value
Reliable brand
Ethical Materials 

These 'Glass' clear rolling papers will seem at first a little large but bear in mind, they are made from Asiatic cotton mallow, which is a completely natural plant. This means you can smoke a giant 'cigarette' guilt-free, without any ash!
What do we mean by 'free of ash'? Basically, clear rolling papers that use natural fibers and materials are ash-free, because of the sugars in the material. Unlike other rolling papers, these are unique because they require no gum, simply lick any part of your paper and stick. This means you can have a more personalized smoke in both size and cone shape!
These papers have rave reviews. Megan. D mentions, "Super Smooth!, when using these papers you can smoke it all the way to nothing and it will hit so smooth, I'm in love!" Basically, we too are in love with these rolling papers. They are exactly what you need after a hard day at work. You can choose your size and design at the link below. Enjoy!
 

Trusted Brand
Optional Tips
Affordable
Sleek design
Ethical Materials 
Natural fibers
GMO-Free

OCB is a renowned brand in the world of smoking, as we're sure you're aware. Manufactured in both lengths of long (king size) and short (normal). Both sizes are however favored in the world of cannabis. Sometimes, life calls for a deck up or an "L" Plate. These papers are organic and made from 100% hemp, pure and produced by organic farms.
The sticky stuff on the top of the skin is made from Arabic Gum. This is the usual material for rolling papers and is becoming more of an ethical source. These papers are in fact unbleached, as you can also imagine! Which means no harmful chemicals such as chlorine. OCB is a trusted brand and has been a lifetime accessory for smokers in Europe for years!
Each packet comes with 50 rolling papers, you can also choose whether or not you'd like some tips with your purchase! Check out the link below to see more information on what is best for you!
 

Easy to use
Natural fibers
Affordable
Reliable

This very simple product brought to us by Scotte is key if you're not very comfortable rolling. It's fine, rolling is difficult. Sometimes you have fat fingers too, which is also fine. If that's the case, and you have chubby little fingers, you needn't look any further for your match made in heaven. 
This product is a classic 1 ¼ size per cone. Each purchase comes with 40 separate cones, pre-rolled for your accessibility. These papers are translucent and smooth burning, using ethical materials such as hemp fibers and arabic gum. 
Both tried and tested by rollers and non-rollers, this product delivers. One thing we have to stress is that you need to pack down your herbs enough so that it burns properly, but not too much. This is a very important balance because if you overpack it, it might start bleeding brown gunk! So be careful, and enjoy this fine product!
Conclusion
There is a huge variety of rolling paper alternatives, and as we've mentioned before the reason that this is so important is that normal skins have chlorine, tobacco, and many other potentially unwanted chemicals inside. That is why we created this article, so you would have a point of reference when you came to choosing a new pack of skins. We all know what it's like to have some awful chemicals ruining your smoking experience, so take a look at our article and find some skins with a gum wrapper, or without. 
As you can see from this article there is a huge range of skins available, and they all have different products inside them. Take a look today and choose one for yourself. 
What can you use instead of Rizla's paper?
My personal favorite smoking utensil is actually a flower vaporizer. Why is this? Mainly because they're much healthier than any other alternative. Let's talk about this for a second. Let's say you choose a skin from this list, without any harmful chemicals inside, then you put some weed inside it, light it up, and inhale the smoke. Is this healthy? ABSOLUTELY NOT. Why not? Well, you can't inhale the by-products of combustion and expect them to be healthy. This is why I'm always recommending flower vapes. We have a fantastic article about the 10 best flower vaporizers in the world right now!
.

Written by Megan Medeiros (BA)
Megan Medeiros has a bachelor's degree in English and is currently working on a master's in English at James Madison University. She's the owner and operator of Medeiros Writing, and has been working as a cannabis writer for the past three years, mostly following the legal climate of marijuana, especially in areas like California, Colorado, Oregon, Canada, and other legal areas.
This post contains references to products from one or more of our advertisers. We may receive compensation when you click on links to those products. For an explanation of our Advertising Policy, visit this page. All photos were sourced from Pinterest.com | updated 2021
Stay home & get your daily
needs from our shop
Start You'r Daily Shopping with Nest Mart
Best prices & offers
Orders $50 or more
Free delivery
24/7 amazing services
Great daily deal
When you sign up
Wide assortment
Mega Discounts
Easy returns
Within 30 days