Blue Cheese Review Strain | Blue Cheese Weed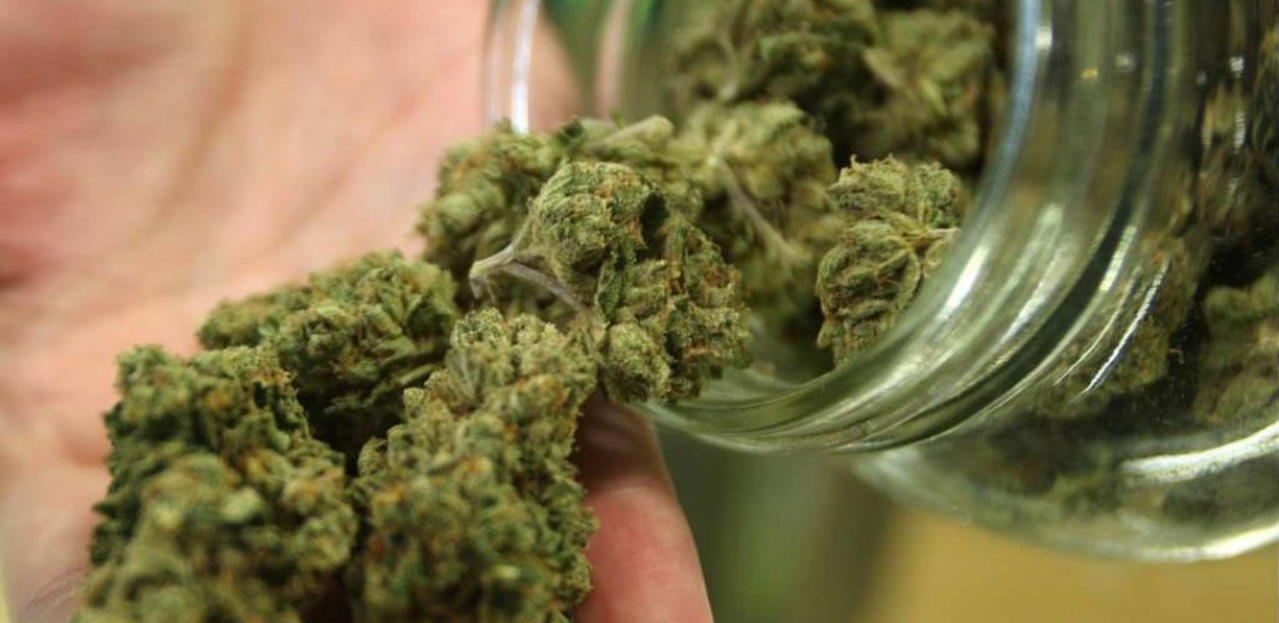 Blue Cheese Strain is an indica cross between Blueberry and U.K. Cheese (Skunk #1 phenotype) female. If you know Cheese strains then you'll be familiar with the sweet and savoury smell. This strain is fruity and whiffs of the typical Cheese smell. It's predominantly an indica, and can provide relief at night for pain and stress. Overall, tokers will find that it's pretty balanced. If you can fight past the potential couch lock, you will be overwhelmed by the euphoria that Blue Cheese brings. Get active if you can, and you will enjoy this strain to its full potential.

On the menu today is delicious Blue Cheese, photo: @floridadispensaryguide
Blue Cheese weed indica
Blue Cheese is a sort of indica-dominant hybrid because it has a clear and well-balanced high. Don't expect your weed to actually smell like blue cheese Strain just because of its name. It won't! It will pong like old school British Cheese (one of the only strains the Brits are famous for) crossed with sweet Blueberry. It's a fantastic combination, and Cheese hybrids always have a particular appeal like diesel or lemon strains.


BC Cheese strain genetics
Blueberry (indica)

Cheese (sativa-dominant hybrid)
Take two classics, one with indica pain relief and insomnia relief, cross it with UK Cheese, which is beloved for its energetic, euphoric high, and you've now got Blue Cheese Strain. This strain was created by Royal Queen Seeds, and was created specifically to cross two incredibly tasty strains together. Both also have potent healing properties. This strain is sometimes wrongly called Blue Cheese Kush or Big Blue Cheese strain.


Blue Cheese THC percentage
If you're buying from Royal Queen Seeds, who were one of the pioneers of the strain, they say that the THC content is 19%. This was a pretty high amount a few years ago and is good for novices in low dosages and intermediates in higher dosages.  Barney's Farm and Big Buddha Seeds also lay claim to the original Blue Cheese cross.
Just be warned. If you tried marijuana when you were younger, it was a lot weaker back then. Something like Blue Cheese Strain in a bong hit could knock you off your feet. Start small and build up your tolerance a bit first before hitting too much of this!
Blue Cheese weed price
Barney's Farm have this exact strain for around 15 euros a gram. This is a great price, and if you find yourself accidentally on purpose in Amsterdam, you should definitely check Barney's out. This is about the average price of mid-shelf flower in places like Amsterdam, California, Canada, etc.
What does Blue Cheese taste like?
Cheese (not like actual cheese, like Cheese)

Blueberry

Fruity

Sweet

Potent

Berry
If you're seriously wanting to use cannabis as a potentially life-saving medicine, you should consider using a flower
vape
. There are many advantages to using them. It's the second healthiest (after eating) method of taking the sacred herb, and it tastes amazing. You can recycle your Already Vaped Bud (AVB) and use it again to get a potent 5-6 hour edible high. Just ensure you're smoking organic buds and you're good to go.


Blue Cheese oil, wax, shatter & edibles
As mentioned above, you can make edibles with AVB. This is true of any strain, and you simply need to mix it with oil or fat in a blender or by hand. The easiest way to do this is to simply spread butter or margarine onto some toast and sprinkle your AVB onto it. It's that simple. This can give you a potent medical high, and you won't mind the taste. When vaped at a low to medium temperature, strains such as Blue Cheese retain a lot of their flavour.
You can also get a lot of different strains in vape, oil, wax, etc. formats. If you can't make it yourself then the only way to get it is to live in Canada or the US. In Amsterdam it's not exactly legal. Companies such as this one will sell through licensed dispensaries in North America. A lot of the time they are simply random strains with added terpenes. Sometimes these terpenes are fake. In all honesty these vaporisers aren't that healthy, but they are incredibly popular over on the West Coast. They are very handy, extremely discreet, and are great for top-ups during the day.

Beautiful nugs of Blue Cheese, photo: @donovanslaya

Are you as excited about those crystals as we are? Photo: @fueledbykush_fl

Effects:
| | | |
| --- | --- | --- |
| Blue Cheese General Effects | Blue Cheese Medical effects | Blue Cheese Side Effects |
| Relaxed 100% | Stress Relief 100% | Cottonmouth 100% |
| Euphoric 75% | Pain Relief 95% | Headache 60% |
| Happy 75% | Depression 85% | Lethargy 25% |
| Sleepy 45% | Insomnia 80% | Paranoia 20% |
| Uplifted 45%  | Inflammation 40% | Dizzy 15% |
As you can see from the negative effects of this strain, too much of a good thing is well...bad. Don't overdo it with this strain. It has some great relaxed and euphoric effects, which make for a perfect balance. This, when coupled with its flavour, is definitely very moreish.
However, if you smoke this in blunts all day, you'll likely end up with a headache. Drink plenty of water. If you've got cottonmouth really badly, make a cup of tea and wait for it to cool down. Once it's cool, down the whole thing, and your cottonmouth should be defeated.
Blue Cheese is an indica-dominant strain, but it's very close in the middle. This balance is what makes it such an effective anti-stress, anti-pain, anti-depression, and sleep aid medication. If you're using weed for sleep and you find that it's actually making sleep harder, try smoking it an hour before you go to bed.

Blue Cheese Growing Tips
This strain reacts well to hydroponics or SOG techniques. Checkout the video above for more information about SOG. This strain is very versatile and as such can also be grown in soil, inside and outside. Be aware that if you're growing outside you'll need constant sunshine. Blue Cheese is a hard-to-trim strain, but patience is a virtue when growing flower. Remember that it'll pay off in the end!


Blue Cheese flowering time 
Blue Cheese only takes 7-9 weeks to flower, which is considered a short flowering time. The plant will grow up to 140cm.

Blue Cheese seeds
There are 2 Dutch seed banks who sell variations of this strain:
Barney's Farm

Royal Queen Seeds
These are trusted seed banks, but there are always subtle differences between Blue Cheese seeds from one seed bank and the Blue Cheese phenotypes of another. This is the source of a lot of confusion in the cannabis field about different strains. The variance in this plant is insane, so do your research beforehand (you're off to a great start simply by being on Weed Republic)!
Blue Cheese yield
Blue Cheese is easy to grow and is a high-yielder. If that isn't a killer combination, then what is? You are likely to get around 500-600g per square metre, and as mentioned before the buds are leafy. This requires a lot of trimming, so get your trimmers out and get snipping!
 
Blue Cheese looking fresh! Photo: @fueledbykush_fl
Blue Cheese is:
An indica-dominant hybrid

Cross between two famous tasty strains

Cheese x Blueberry

Doesn't actually taste like blue cheese

Does taste like the Skunk phenotype Original UK Cheese

Very effective medication

Stress reliever

Blue Cheese also has sufficient THC content to curb depression
.

Written by Megan Medeiros (BA)
Megan Medeiros has a bachelor's degree in English and is currently working on a master's in English at James Madison University. She's the owner and operator of Medeiros Writing, and has been working as a cannabis writer for the past three years, mostly following the legal climate of marijuana, especially in areas like California, Colorado, Oregon, Canada, and other legal areas.
This post contains references to products from one or more of our advertisers. We may receive compensation when you click on links to those products. For an explanation of our Advertising Policy, visit this page. All photos were sourced from Pinterest.com | updated 2021
 Have you tried Blue Cheese before? Tell us what you thought below! 
Strains
Stay home & get your daily
needs from our shop
Start You'r Daily Shopping with Nest Mart
Best prices & offers
Orders $50 or more
Free delivery
24/7 amazing services
Great daily deal
When you sign up
Wide assortment
Mega Discounts
Easy returns
Within 30 days