Blueberry OG Kush Strain Review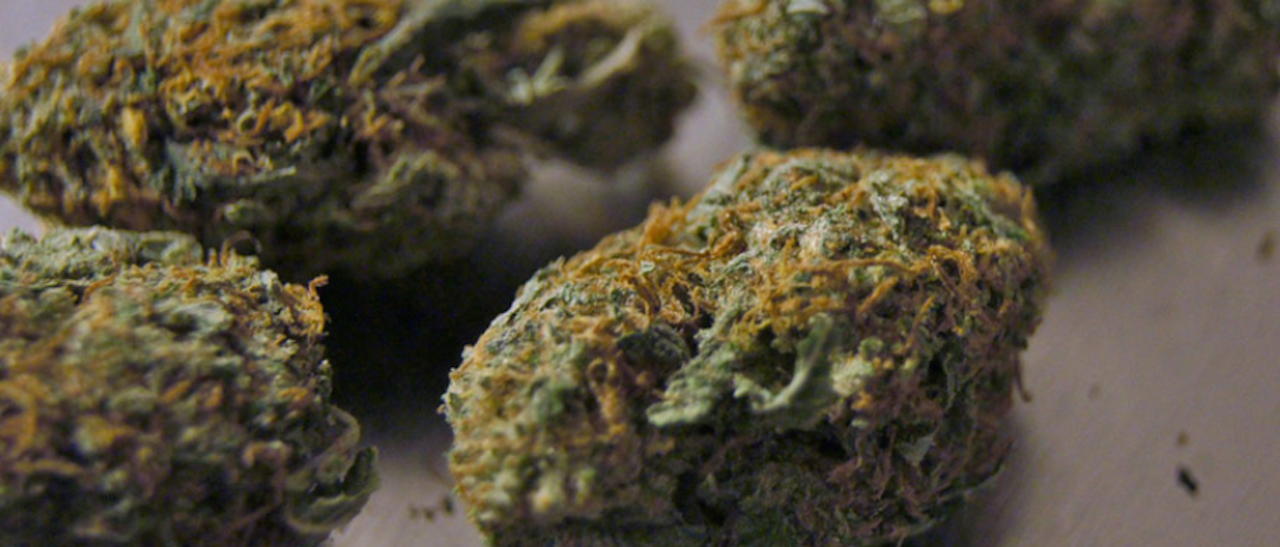 Blueberry Kush or Blueberry OG should not be confused with the strain Blueberry. Obviously, its parentage includes Blueberry but with one important difference; it has been mixed with OG Kush. This gives Blueberry the kushy flavor which is so highly sought out. This strain is overwhelmingly an indica, as both its parent's strains are as well. Blueberry is not a Sativa or a hybrid; it's a pure Indica, whereas Blueberry Kush Strain is an Indica-dominant hybrid.
Background
Blueberry Kush is predominantly an indica that was created in Oregon. She truly is a cocktail. O.G Kush and Blueberry OG Kush are two very famous strains coming out of Cali so to mix them together make this strain a certified #dankenstein. These crazier and crazier combinations just become more flavourful and more potent as they are continuously crossbred.
Blueberry Kush THC Content
The average indica contains around 12% THC, but Blueberry Kush  Strain contains a whopping 24% THC making it a very potent Indica strain. It's very likely to make you feel sleepy and may even induce the infamous couch-lock that glues you to your couch cushions.
How much does Blueberry Kush cost?
As this is another boutique strain, it's very expensive. What makes this strain even more expensive is how hard it is to find. Overall, you're looking at around $20 per gram for this strain. You may be able to pay less, but whether it's actually Blueberry OG or not is another issue.
Blueberry Kush Lineage
This Blueberry Kush strains star-stud lineage is what makes it such a sought-after strain. It's one of those strains where you can appreciate the breeding complexity of not only mixing the two flavors but also the two Indica-dominant effects. The end result of breeding a baby from OG Kush and Blueberry is truly amazing.
OG Kush
Blueberry OG Kush is one of the most famous strains across the world and is known for its Indica-dominant effects and frankly amazing kushy tastes.
Blueberry
Originally created around the 1970s, this strain is a staple in both the breeding and the smoking world. Also known for its Indica-dominant effects and beautiful berry taste, it has become a worldwide favorite. For some pictures of Blueberry OG weed, take a look below.
 


Dank and crystalized trichrome Blueberry Kush bud, photo: @g.r.o.w_203

Blueberry Kush Tasting Notes
Berry

Blueberry

Sweet

Kushy

Earthy

Pine

Wood
Can you get Blueberry OG wax, shatter, oil or edibles? 
You can make literally anything with any strain. Just get the plant matter and make some edibles with them. It's really easy. Just remember to cook your weed beforehand so that it's fully psychoactive and ready to go. The only place you're likely to find this strain ins shatter format already is in the dispensaries across the states. Below you can see a picture of some cooking oil made with Blueberry Kush Strain, which frankly sounds absolutely delicious.


Homemade Blueberry Kush cooking oil for edibles, photo: @stayhopefullyhighedibles

Blueberry Kush Effects
| | | |
| --- | --- | --- |
| Blueberry Kush Effects | Blueberry Kush Medical | Blueberry Kush Side Effects |
| Relaxed 100% | Pain Relief 100% | Cottonmouth 100% |
| Sleepy 75% | Stress Relief 90% | Paranoia 40% |
| Happy 70% | Depression 60% | Dry Eyes 30% |
| Hungry 50% | Insomnia 50% | Anxiety 15% |
| Euphoric 50% | Fatigue 40% | Dizzy 10% |
As this strain is an indica, it's definitely recommended that you take it at night time or during the evening. If you smoke this when you first wake up or during the day, you may find that you're way too lethargic to do anything. Couch-lock may set in, so just have this strain if you're struggling to sleep or if you just want to relax in the evening.
Blueberry OG Growing Tips
This Blueberry Kush strain takes about 8 weeks to flower and it's a very hard strain to grow. The video above is completely filled with useful information for growing this specific plant. You can also learn very useful information about Blueberry OG Kush how to make clones which can give you more growth once you have one single plant.
This strain can only really grow outside in a climate like California. Though, an inside grow is possible pretty much anywhere. Blueberry Kush is a pretty needy plant and you will have to keep checking up on her, but the eventual buds will be worth it!
Blueberry Kush Seeds
The best place to buy seeds is always direct from a big company, and thankfully Barney's Farm. This means that you can buy the seeds from a well-known company, and you'll know the seeds are legit.



A healthy indoor Blueberry Kush plant, photo: @aurora_aj34
Blueberry Kush Overview
If you are looking for an overwhelmingly indica strain, look no further than Blueberry Kush Strain. The tasty strain comes from an infamous lineage of kushy and blueberry flavours coming from its parent lineage, Blueberry and OG Kush. This strain will relax you to the max and help relieve stress. She is definitely a nighttime strain so wait until the end of the day to enjoy her company. Because of its fantastic taste, this strain is suitable for use with a flower vape.


Have you enjoyed the effects of Blueberry OG? Tell us below.
.

Written by Megan Medeiros (BA)
Megan Medeiros has a bachelor's degree in English and is currently working on a master's in English at James Madison University. She's the owner and operator of Medeiros Writing, and has been working as a cannabis writer for the past three years, mostly following the legal climate of marijuana, especially in areas like California, Colorado, Oregon, Canada, and other legal areas.
This post contains references to products from one or more of our advertisers. We may receive compensation when you click on links to those products. For an explanation of our Advertising Policy, visit this page. All photos were sourced from Pinterest.com | updated 2021
Strains
Stay home & get your daily
needs from our shop
Start You'r Daily Shopping with Nest Mart
Best prices & offers
Orders $50 or more
Free delivery
24/7 amazing services
Great daily deal
When you sign up
Wide assortment
Mega Discounts
Easy returns
Within 30 days