Cannabis Caviar | Sun Rock Weed Strain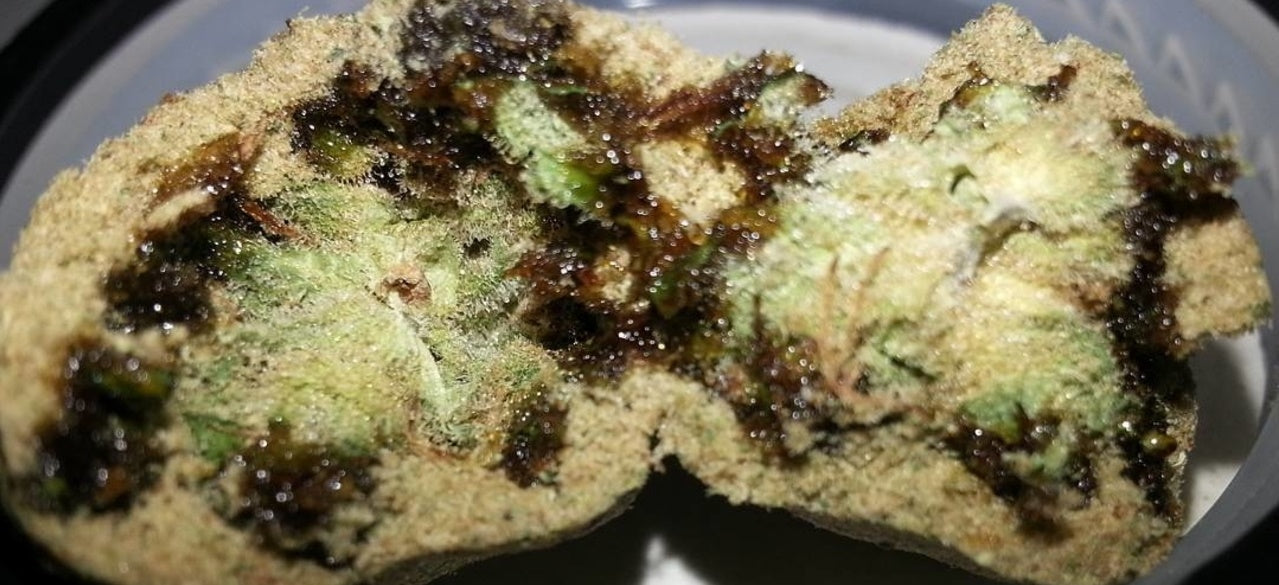 What is Cannabis Caviar Weed Strain?
Marijuana buds are some of the most versatile treats known to humankind, so its no surprise that we have found a way to turn the resin glands of a precious marijuana bud into something from the heavens - moon rocks, or, marijuana caviar. Whatever extravagant name you call them by, you're going to want to try this caviar marijuana asap!

Get fancy and step into true luxury with the cannabis masterpiece that is cannabis caviar.Photo: @thecannimedic
Cannabis Caviar, or Caviar Gold strain, Caviar Concentrates, Caviar Weed strain, Marijuana Caviar, Caviar Moon rocks, are basically the same thing as moon rocks. These are all names for the same concept of very high-quality marijuana buds that have been dipped in hash oil and then rolled in a layer of kief. Moon rocks are exceedingly potent with some Cannabis Caviar 'strains' containing up to 91% THC. This is due to the extremely high quality of strains often used in the ingredients, as well as the incredible potency of kief and cannabis oil. This extravagant combination makes for one hell of a high. There are many top-shelf weed strains which may be chosen to be made into Cannabis Caviar weed strain, but the most common are:
KGB strain
Mochi Strain
THC Diamonds
Platinum weed
God Bud strain
Grapefruit weed
Black Diamond cannabis
Glue tap strain
Caviar weed strain is mainly sold by dispensaries in North America, although you can definitely find coffee shops abroad that may sell them. Caviar Buds are almost always high quality and extremely strong. When I say strong, I mean knock you on your butt strong - or, some might say they'll send you to the moon you get so high, thus the name moon rocks. So if you are a new cannabis user, be cautious when smoking marijuana caviar.
Subject Line: What's the best bong to enjoy my moon rocks in?

Text Messages for Customer Reference: With its showerhead downsteam and Dewars Seal, this Grav Labs Upright Bubbler is hands down the best option to turn your precious kush into tasty, well-filtered vapor.

All rights reserved on this beaut of a stock image.

Caviar Gold Cone
A variant on moon rocks, this form of caviar marijuana is just as potent.
Turantula Cone - rolled and dipped in kief. Photo: @penguindontplay
 These are also known as pure cannabis cigars, torpedo weed, or tarantula cones. These are basically blunted (or what Americans would call joints) of pure, high-quality marijuana-infused with a hash oil concentrate and then rolled in kief. This slightly strange process makes for an exceptionally potent high, but not for the best smoking.  Another name for these is Moon Sticks, as they're basically mooning rocks but in blunt format.
Waste not a single puff of your precious moon stick thanks to the HEMPER Straight Neck Bubble Bong.

 

Put your cannabis caviar in when it has reached what would otherwise be its end and pass it around so you can fully finish it.
What is a moon rock?
Beautiful moonrock ready for smoking. Photo: @iron.lotus.buds


A moonrock and Cannabis caviar weed strain  are actually the same things, simply with different names. Some people call them Cannabis Caviar weed strain, some people call them moon rocks - caviar marijuana, marijuana caviar - tomato, tomatoe. However, some people argue that moon rocks always have the extra layer of kief at the end of the process, and cannabis caviar does not. This very small difference is probably the only way to distinguish the two products. Confused yet? Us too. The concentration of THC in moon rocks is typically 51%. This was an extremely high level and unheard of when they first arrived on the market. Then Sun rocks showed up on the scene.
What are Sunrocks?
Definitely a step up from your average fish eggs, you're going to need more than a medical marijuana card to get your hands on this truly potent caviar marijuana.
Radiant Sunrock dazzling in its high-grade concentrate coating. Photo: @lui_bee_
Sunrocks are a more recent and improved adaptation of Cannabis Caviar weed strain or Moon rocks. Sunrocks take cannabis to an entirely new level in THC levels and potency. They have essentially upgraded moon rocks, using only OG top shelf strains and with THC concentration levels reaching up to 90%. Sunrocks are covered in a thick coat of high-grade extraction concentrates and lightly dusted in pure kief. Due to this light kief covering, you can often see the actual marijuana bud underneath, unlike moon rocks, which are often covered in a thick coat of kief. 
To make sunrocks simply follow these steps:
Make sure you have the highest quality OG cannabis ingredients

Next, you want to saturate it with a strong cannabis oil concentrate, like BHO or Co2. E

nsure that they are pure and have been through a vacuum oven.

Once all the contaminants are removed, cover the OG buds in a thin layer of BHO. 

You shouldn't really be able to see the BHO on the buds.

Cover the entire bud in a light dusting of high-quality Kief.

And voila! You have your own homemade marijuana caviar sunrocks.
If you're toking gourmet cannabis topped with caviar, you're going to want to enjoy every puff.

This 18" x 9mm Thick Straight Tube Glass bong from Maverick Glass is rated with 5 stars for a reason. It tokes like a champ!

Tall and slender for the smoothest hits - we think this stock photo really got that across!

Sunrocks vs. Moon Rocks vs Cannabis Caviar Weed Strain - Which are the strongest?
This is a very common question surrounding these products. Which is the strongest? Well, sunrocks are definitely considered to be the creme de le creme of these three products. After that, it would almost certainly be moon rocks, as they're always covered in kief. Finally, you would have cannabis caviar. Now, obviously, this is completely and utterly dependent on the process used to create each product. In regards to potency, it generally goes in this order of strongest to least strong: Sunrocks > Moonrocks > Cannabis Caviar.
Prices of Caviar Gold, Moonrocks & Sunrocks
As you might expect, all three of these products can be quite expensive. That is because they take top-shelf weed (already very expensive) and then dip it in hash oil or cover it in Butane Hash Oil (BHO). Both hash oil and BHO, in general, are considered to be relatively expensive. Finally, they are rolled in kief, which is also an incredibly expensive part of the weed. These kief balls, as they could be known, are at least $40 a pop. They're probably going to cost more than this, depending on where you are in the world. However, the average THC levels in regular flower marijuana are nothing when compared to the average THC levels of these caviar nuggets, meaning these little fish eggs are well worth their price tags.

Why is cannabis caviar weed strain sometimes called Caviar OG?
This is related to the fact that companies will normally use OG strains as their starting bud when creating marijuana caviar. If you use OG strains, then you will almost always call a final product something with OG in the title. The OG is a nod to the master strain and is a sure sign of both qualities, as well as potency. Cannabis Caviar, sometimes known as Caviar OG, is particularly popular in places like Colorado and California. 
It is important to also be aware that there is a strain called Caviar OG as well, which some people may get confused with the concept of cannabis caviar weed strain. It's still a great strain, so don't be too disappointed if you get confused, but it's not proper marijuana caviar. Guess you just have to enjoy what you have and be a little more precise next time you buy! There are worse problems to have if you ask us.
 

If you prefer to smoke your caviar marijuana as a concentrate then you'll need an excellent dab rig to help you do that.

We love the Mini Clear Bent Neck Dab Rig! It's cute, well priced, and is easy to dab from.

Imagine the stock picture of this cute lil' rig stacked about 5x - then you've got just about the height of the real thing!

For those of you who want a more intimate moment with their moon rocks, we suggest the Classic Helix Hand Pipe from Grav.

The unique Venturi Chamber will send the smoke swirling before you inhale it, meaning you get to enjoy a smooth hit of your caviar cannabis.

This looks like it was taken from @gravlabs's ig (which is dope, you should definitely check it out), but it was actually a stock photo! Sign me up thanks - more of these, please!



Beautiful, flowered bud of Caviar OG strain, not to be confused with the cannabis concentrated goodies that are Cannabis Caviar OG. Photo: @ralph_rosinburg
How to smoke Cannabis Caviar, Moonrocks, and Sunrocks?
Here are some tips on how to get the most out of your marijuana caviar smoking experience.



Glass bowl freshly packed with some yummy looking Cannabis Caviar goodness. Photo: @napse30
When you're paying such a ridiculous price for something, you're going to want to ensure that you're getting the best possible smoking experience out of it. For example, you're missing out on a large percentage of the potency if you don't manage to get all of the kief on a moon rock. These products can also have the tendency to be a little sticky, making the smoking process even trickier. You obviously don't want to waste any of the THC magic that surrounds your little marijuana space rocks. The best way to smoke cannabis caviar, moonrocks, and sunrocks is as follows:
Get a flat, smooth, hard surface

Place your moon rocks, sunrocks, or cannabis caviar onto the surface

Cut it into small pieces with a sharp knife or tool

Cannabis Caviar, Moonrocks and Sunrocks typically have a greasy texture making them harder to light or keep a cherry. However, if you sprinkle your cut pieces on top of some flower, it should smoke better and be much easier to light.
You can alternatively roll up your Caviar/Moonrocks/Sunrocks into a blunt or joint by grinding up flower buds with a high-quality grinder and sprinkling the small cut pieces on top
Be aware that caviar wax is incredibly potent and may result in an extremely powerful high or even knock you out completely.

With this in mind, sit back, light it up, and enjoy the bliss ride.

What happens if you soak your weed in E-liquid?


Cannabis E-Liquids. Photo: @foolishmf



Cannabis is not water-soluble. As such, you need certain liquids which are soluble for Cannabis in order to get high from vaping.  E-liquids are an infusion of herb or concentrate mixed and heated with propylene glycol, vegetable glycerin, and/or high-proof alcohol. However, you would need to decarboxylate your weed before soaking, in order to convert the THCA into activated THC. If you skip this important step then you will be smoking inactive THC (THCA) and will not achieve a marijuana high. There are companies in California that sell THC-infused E-liquids, which is a much easier solution to creating these E-liquids yourself.
While this process will not result in marijuana caviar of any type, it's still a great way to create a potent high.
What is Cannabis Caviar Weed Strain?
Whether you're buying Sunnrocks, Moonrocks, or Cannabis Caviar, they are all basically the same thing: marijuana dipped in hash oil and then rolled in kief. They differ mostly in the quality of ingredients and THC concentration levels, but in general, the terms are almost interchangeable. These innovative, modern, and extremely powerful cannabis creations have enhanced the marijuana market and have created the potential to reach an entirely new level of high for cannabis users. 
Moonrocks, sunrocks, and cannabis caviar are all basically the same

They are top-shelf or OG buds dipped in hash oil and rolled in kief

Hard to smoke, but smoke best in a bong or bowl, sprinkled in small cut up pieces on top of the flower

Not recommended for newer marijuana users

Can have up to 90% THC potency

Very potent, but also extremely flavorful with wonderful aromas

.

Written by Megan Medeiros (BA)
Megan Medeiros has a bachelor's degree in English and is currently working on a master's in English at James Madison University. She's the owner and operator of Medeiros Writing, and has been working as a cannabis writer for the past three years, mostly following the legal climate of marijuana, especially in areas like California, Colorado, Oregon, Canada, and other legal areas.
This post contains references to products from one or more of our advertisers. We may receive compensation when you click on links to those products. For an explanation of our Advertising Policy, visit this page. All photos were sourced from Pinterest.com | updated 2021
Have you tried Cannabis Caviar before? Let us know what you thought in the comments below!
Stay home & get your daily
needs from our shop
Start You'r Daily Shopping with Nest Mart
Best prices & offers
Orders $50 or more
Free delivery
24/7 amazing services
Great daily deal
When you sign up
Wide assortment
Mega Discounts
Easy returns
Within 30 days