Deadhead OG Strain Kush | Deadhead OG THC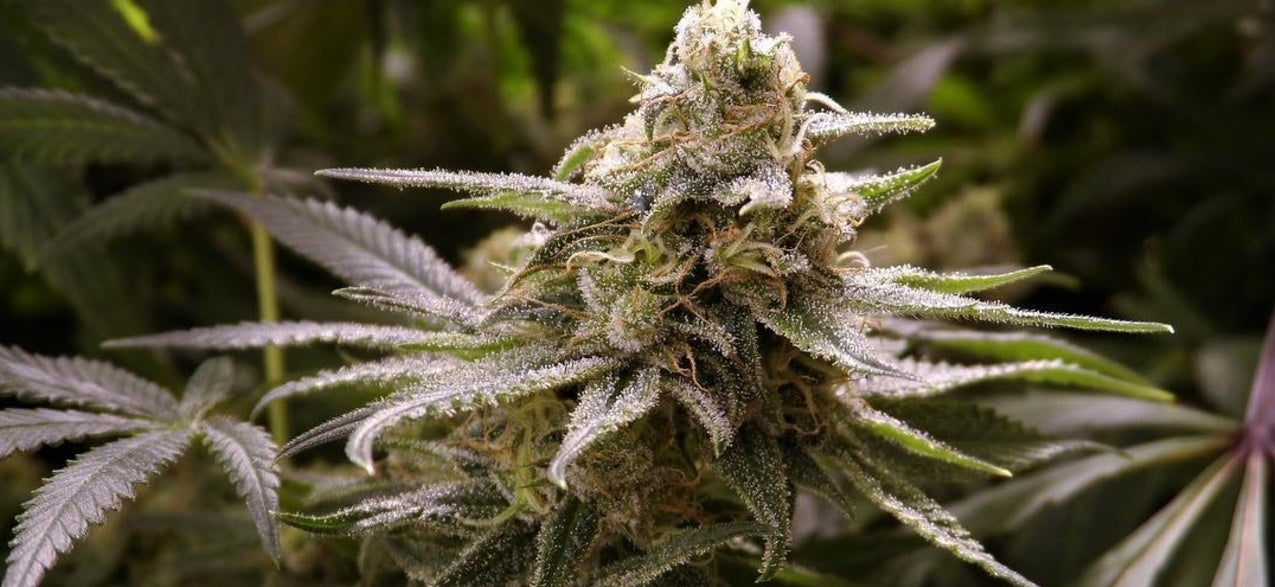 Deadhead OG Overview
Deadhead OG Strain was first created in 2011 by master breeder Skunk VA of Cali Connection. Over the years, Deadhead OG Strain, a crossbreed of the popular Chemdawg 91 and SFV OG Kush, has earned quite a reputation not only in the Bay area but also across the globe. 
Deadhead is a 60:40 Sativa leaning strain and is well known for giving its users a buzzing cerebral high accompanied with a relaxing body feel. A relatively potent and mentally stimulating strain, Deadhead OG is ideal for morning and midday use as it generally increases focus rather than making users feel stoned or dazed.
Deadhead OG Strain is renowned for its pungent piney aroma and strong taste, earning it other names such as Pine OG, Doomsday Diesel, Skulls weed, and Grateful Dead weed.
Crystal covered Deadhead OG - 7 weeks into flower. Photo: @pudsbuds
What is OG Weed?
The origins and meaning of the acronym OG are somewhat of a mystery.  Most believe that it stands for either "Ocean Grown" or "Original Gangster," with the majority leaning towards the latter of the two. Strains with OG in its name are related either directly or through crossbreeds to the legendary OG Kush.
OG genetics are often the dominant allele present in a crossbreed strain, giving buds of the OG family a frosty-white sparkle due to the high number of trichomes that cover it.
Deadhead OG Info
Deadhead OG Strain is a crossbreed of Chemdawg 91 and the heavy indica, SFV OG Kush. These two strains account for roughly 60% and 40% of Deadhead OG's genetics. First bred in 2011 by renowned breeders Cali Connection, the genetics of Deadhead OG Strain can be traced back to the Hindi Kush mountains of Afghanistan and Pakistan.
Deadhead is a 60:40 Sativa leaning hybrid strain, although some phenotypes can be more balanced at 50:50. Apart from its popularity amongst recreational users, this strain is well-known in the medical community for being an effective treatment for physical aches and mental conditions such as PTSD and depression. Deadhead OG's effects and characteristics are similar to the already famous Chemdawg OG as both share similar genetics, but Deadhead packs an even stronger punch of THC!  
Deadhead OG THC percentage
Deadhead OG Strain is a potent strain. The average Sativa leaning hybrid strain contains 14% THC, while Deadhead OG has an average THC concentration of 20%, with some labs testing strains containing up to 25% THC. This powerful strain should be treated with caution and newcomers should stick to low doses.
If you wish for something less potent but still want that stimulating cerebral high, including effects of euphoria and elevated focus, we can recommend you try out Blueberry Blast strain and Grateful Breath strain.
Deadhead OG Price
Deadhead OG Strain is a relatively affordable strain because it is fairly easy to grow with plants typically having a medium to high yield. It is widely available on the West Coast, costing 5 to 7 dollars a gram or 18 to 25 dollars an eighth. Buyers in the Netherlands can expect to pay 7 to 9 dollars a gram.
Deadhead OG Taste
Deadhead OG Strain is known to have a very pungent smell with some even comparing its scent to diesel, so think twice before using this strain if you are trying to keep your consumption discreet. It is often described to have an earthy fragrance with notes of sweet pine and wood. While it is quite a smooth strain, if you think it is a bit harsh, you can use a flower vaporizer! No plant material is combusted in a flower vaporizer, allowing for an even smoother and delicious toke!  
Deadhead OG Shatter, Edibles, etc.
Any strain of marijuana can be used to make edibles, shatter, wax, etc. Deadhead OG is a particularly good choice because of its high concentration and relatively low cost.  Before creating any of these, remember to grind the weed well before use! When making edibles, always make sure you decarboxylate your weed first. Otherwise, you can always use already vaped bud (AVB) by simply mixing the weed with an oil or butter! Best enjoyed with some fresh toast!
Frosty Deadhead OG Cola. Photo : @nugshots


Freshly trimmed Deadhead OG buds. Photo : @cannamaine
Deadhead OG Effects
| | | |
| --- | --- | --- |
|  Deadhead OG Overall Effects | Deadhead OG Medicinal Effects | Deadhead OG Negative Effects |
| Relaxed | Stress | Dry Mouth |
| Happy | Depression | Dry Eyes |
| Euphoric | Pain | Dizziness |
| Focused | Headaches | Anxiety |
| Uplifted | Inflammation | |
As a sativa leaning hybrid strain, Deadhead OG is great for morning and midday use. Its mental effects are highly stimulating and can elevate your mood, eliminate stress and lift your spirit within minutes of consumption. While being ideal for social events with friends, Deadhead is also a "go to" strain for many who require increased focus and productivity, with its effects generally lasting for 2 to 3 hours. With this cerebral high generally comes a gentle and relaxing body high, making this an absolute gem for those suffering from body aches and muscle spasms.
As its name suggests, high doses can make you feel anxious and very lethargic. If you do feel unwell, you should take a cold shower, prepare a warm drink, or simply have a lie down in bed. You will feel better shortly.
Deadhead OG Flowering Time
Deadhead OG has an average flowering time of 9 weeks although it is recommended that you wait for a minimum of 7 to 8 weeks to maximize quality.
Deadhead OG Growing Tips
Deadhead OG Strain is quite a tough and hardy plant, making it suitable for beginner growers. It can be grown both indoors and outdoors. If growing outdoors, temperatures should be maintained between 19 to 27 degrees Celcius (66-80 degrees Fahrenheit) to ensure optimum yield, with flowers ready to be harvested in late September to early October (Northern Hemisphere).
Deadhead is also well suited to growing techniques like a sea of green or hydroponics. Plants can become bushy and reach a tall height, so make sure you give them sufficient space to grow.
Deadhead OG Yield
This strain has a moderate to high yield; one can expect to harvest 60 grams of fresh bud per square foot.
Deadhead OG Seeds
Deadhead OG seeds can be found in a number of dispensaries across the West coast, with both feminized and regular seeds available from the seed company, Cali Connection. They also sell Chemdawg 91 seeds and SFV OG seeds if you want to sample its parent strains.
Deadhead OG in full flower. Photo: @cannamaine
What is Deadhead OG Strain?
Deadhead OG is undoubtedly a great strain. Whether it be for social activities or to increase your focus and productivity, Deadhead OG has become a much-loved strain since its creation in 2011. A crossbreed of Chemdawg 91 and SFV OG Kush, this sativa leaning hybrid guarantees strong cerebral effects and a relaxing body high. Offering users feelings of euphoria, happiness and relaxation, Deadhead OG is an excellent choice for patients suffering from stress or physical pains.
Stress Buster

Seeds sold by Cali Connection, the original breeders

60:40 Sativa leaning hybrid

Cross of Chemdawg 91 and SFV OG Kush

Strong earthy aroma and taste

High THC percentage @ 20%

Good choice for Social Activities, Increased Productivity and Relaxation
Tried Deadhead OG? Let us know what you thought in the comments below!
.

Written by Megan Medeiros (BA)
Megan Medeiros has a bachelor's degree in English and is currently working on a master's in English at James Madison University. She's the owner and operator of Medeiros Writing, and has been working as a cannabis writer for the past three years, mostly following the legal climate of marijuana, especially in areas like California, Colorado, Oregon, Canada, and other legal areas.
This post contains references to products from one or more of our advertisers. We may receive compensation when you click on links to those products. For an explanation of our Advertising Policy, visit this page. All photos were sourced from Pinterest.com | updated 2021
Stay home & get your daily
needs from our shop
Start You'r Daily Shopping with Nest Mart
Best prices & offers
Orders $50 or more
Free delivery
24/7 amazing services
Great daily deal
When you sign up
Wide assortment
Mega Discounts
Easy returns
Within 30 days